Top Rock Albums Of All Time (And There Are No Beatles In Sight)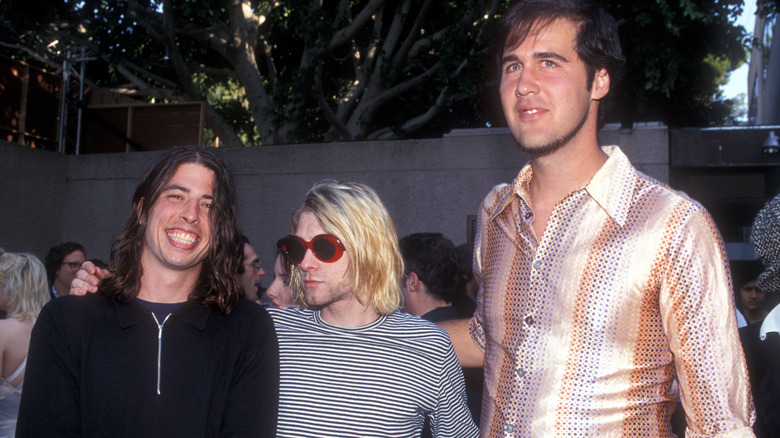 Kevin.mazur/Getty Images
It's an all-but-impossible question to answer — what rock album is your favorite, and why exactly does it rank at the top of your all-time list? Naturally, we decided to look inward and put our Grunge staff to the test to do just that.
This question is made far more difficult when you look back at the history of rock and realize that it encompasses so, so much. Rock dates back decades and has led to a multitde of additional related genres, like classic rock, psychedelic rock, and alternative rock. So many terrific artists, so many legendary albums, so many solid memories ... and yes, such a hard decision to make.
We looked back at our favorites and picked the best of the bunch — according to us, anyway. If there is one thing Grunge staff knows, that's definitely music (and true crime, and history, and science, of course). Let's take a look and dive in to our faves, and why we chose them.
Tyler MacDonald -- Songs for the Deaf by Queens of the Stone Age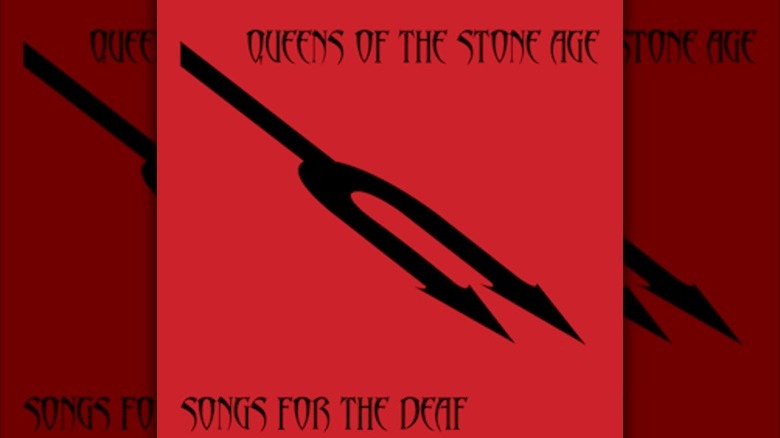 Interscope Records
Probably not even my favorite Queens of the Stone Age album, but "Songs for the Deaf" was the one that got me into them in high school and started me on the path to Josh Homme's other projects like Kyuss and the Desert Sessions. Regardless of whether you think the concept aged well or is just annoying now, it's their quintessential work in many ways and far and away their highest-charting album. They gradually moved away from the more bass-heavy guitar production on albums after this, making this one feel like a capstone to their earlier sound.
It's also "the album with Dave Grohl on drums," the last of their work with the manic contributions of bassist Nick Oliveri (an energy that's noticeably absent on later albums), and just a great mix of dark, moody, poppy, heavy, and everything in between.
April Snellings -- Heart by Heart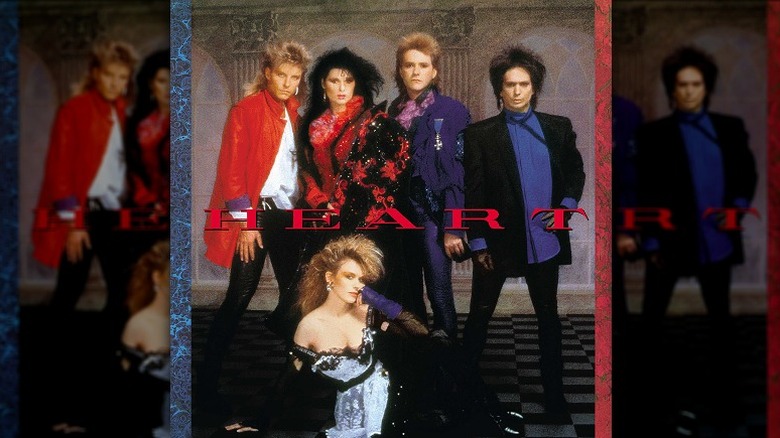 Capitol Records
By 1984, Heart had become music-industry pariahs. Dropped by their label and turned away by five more, the band made a last-ditch effort to right the ship. They signed with Capitol Records on the condition that they'd delegate some of the songwriting duties to label-picked hitmakers and recruited Ron Nevison, an engineer-turned-producer who'd worked with The Who and Led Zeppelin, to produce what some members feared would be their last album. Gone were Ann Wilson's flute and (mostly) Nancy Wilson's beloved acoustic guitars. This album would be 10 tracks of slick, radio-friendly rock that occasionally even flirted with glam metal.
People who hadn't bought a Heart album in years were suddenly complaining the band had sold out, but plenty of listeners felt differently. The album went platinum five times over and earned the band their first Grammy nomination and their first No. 1 single ("These Dreams," co-written by some dude named Bernie Taupin). Three more tracks would crack Billboard's top 10.
Heart's comeback album has as many detractors as devotees, especially among rock purists who are turned off by its unabashed attempt to appeal to the MTV set. But I've been in love with it since the day it dropped — it's an airtight collection of sing-into-your-hairbrush bangers and moody ballads that still hits just right. Thanks to tracks like "If Looks Could Kill" and "The Wolf," it was also my gateway LP to the harder stuff, setting up my obsession with prog-metal masterpieces like Queensrÿche's "Operation: Mindcrime" and Crimson Glory's "Transcendence" a few years later.
Amy Beeman -- Nevermind by Nirvana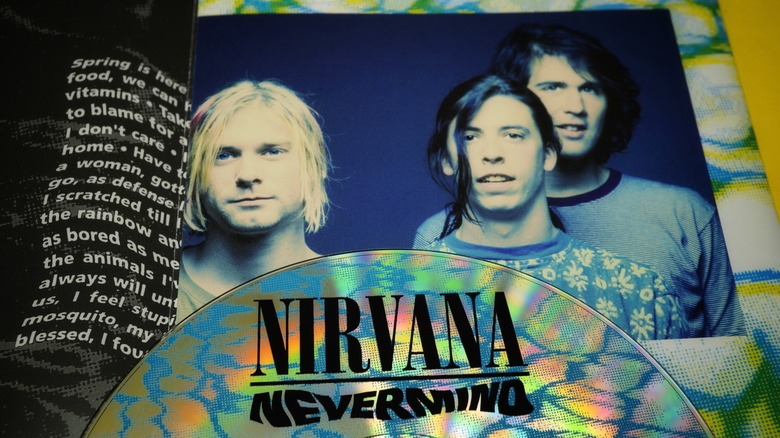 Stefano Chiacchiarini '74/Shutterstock
In September 1991 when Nirvana's "Nevermind" was released, a generation swooned. The band did something intangible with their 12-song sophomore effort, and if we knew exactly what it was then everyone else would do it too. Nirvana's "Nevermind" hits hard yet feels raw and vulnerable. Its punk-influenced songs are fused with singable melodies and lyrics that don't make a lot of sense but made perfect sense to us. 
I was 16 when the album came out. That year I used a fake ID to get into a nightclub for their "alternative night." When "Smells Like Teen Spirit" came on, suddenly the entire jam-packed dance floor was jumping up and down in unison like one organism with everyone losing their everloving minds. It was glorious. Somehow, Kurt, Dave, and Krist gave us something we didn't even know we needed. They hit a nerve and we were so there for it. The songs on that album still scratch some unnamable itch for me.
Three decades later the album plays like a greatest-hits record because the songs — which have easily stood the test of time — have so thoroughly permeated the rock landscape. "Nevermind" was bigger than the sum of its parts. It was lightning in a bottle, and no album since has had such an undeniable cultural impact on the entire beautiful genre that is rock 'n' roll, baby.
Elizabeth Hlavinka — OK Computer by Radiohead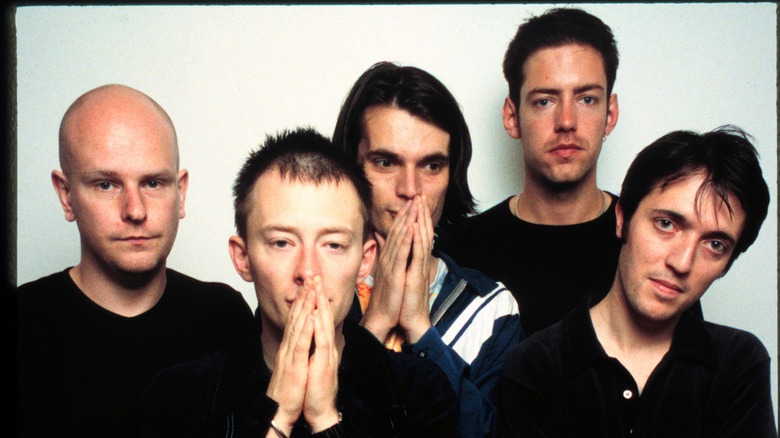 Jim Steinfeldt/Getty Images
As I climbed onto the bandwagon of Meta's new Thread, a creeping anxiety spread through me: I had just granted yet another social media platform access to my sensitive data. It's the same claustrophobic dread expressed in a 2023 Black Mirror episode, as well as one of the best rock albums of all time, one that was before its time in depicting the oppression of consumerism and the powerlessness we sometimes feel as we watch technology win over the human soul.
I was introduced to Radiohead through my older brother's bandmates, learning all of the words to singles like "Creep," in middle school before jumping into the heavy hitters like "OK Computer" in college. Like our parents before us, my friends and I bought the record on vinyl and hosted listening parties as you do with any rock classic. Soon, "Creep" hardly compared to "Karma Police" — our new anthem.
Always a band to push the boundary of what rock is, Radiohead infused the album with a melancholy cyber-rock vibe that crescendos in explosive guitar riffs. Although frontman Thom Yorke told Rolling Stone the album was inspired by feeling estranged after years of touring, it became emblematic of that sinking feeling — or rage, or panic — you feel within a sea of people on their phones. Michael Stipe perhaps summed up that subterranean homesick alien feeling the album invokes best, saying it was a "yearning, emotive, grounded urge to create something real."
Kathy Benjamin -- Be Here Now by Oasis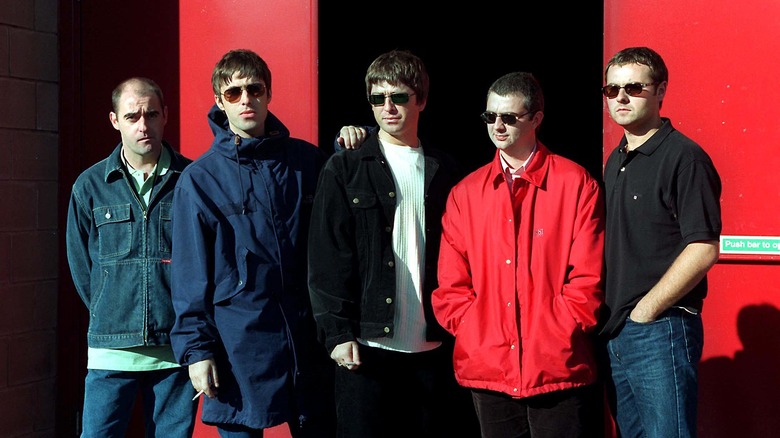 Brian Rasic/Getty Images
Rolling Stone includes two Oasis albums on their 500 Greatest list. "Be Here Now" is not one of them, which is a glaring oversight. No album is a better example of rock 'n' roll distilled.
The follow-up to "(What's the Story) Morning Glory?," 1997's "Be Here Now" was hugely critically acclaimed and commercially successful when it was released, hitting No. 1 on the charts in 15 countries, and No. 2 in the U.S. It went single or double platinum in eight countries, and six times platinum in the United Kingdom.
More recent evaluations have been a bit harsher — including from Noel Gallagher himself — but it does not get more rock 'n' roll than a group of young men who got too famous, too fast, and then tried to make a career-defining album under enormous pressure using just a mountain of cocaine. The then-cool Johnny Depp played guitar on one song. Five of the tracks are seven minutes or longer; one is almost 10, for no good reason (who needed radio airplay in the '90s, right?). The lyrics are so nonsensical that they loop back around to genius ("'Cause you see me, I got my magic pie/Think of me, yeah that was me, I was that passerby"). It's so overloaded with sound that you will always hear something new, making it an album where your opinion will change with time or even within one listen. You can argue about its brilliance or lack thereof for hours in a pub. It is what rock should be.
Simon Barnes – Dookie by Green Day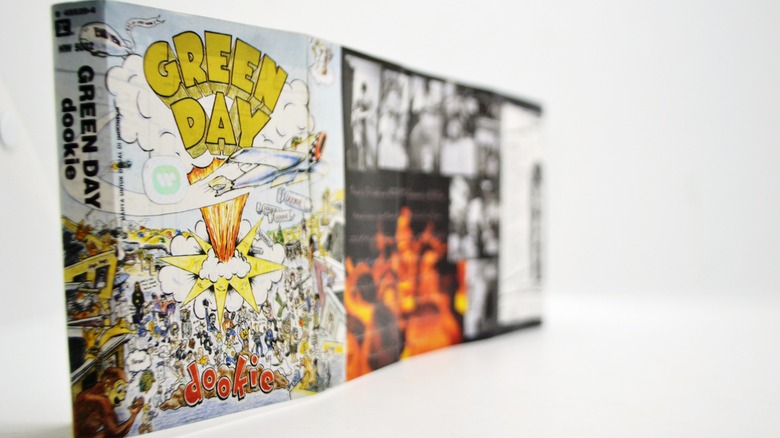 Cahyaning Srengenge/Shutterstock
With the winds from the success of Nirvana's "Nevermind" blowing behind its back, "Dookie" made the previously underground punk rock band Green Day superstars, arguably reviving an increasingly bleak early '90s rock scene. Paving the way for bands such as Blink 182 and Fall Out Boy, Green Day had thumbed its nose to the insular punk community and opened up punk rock to the masses. Released in early 1994, "Dookie" was a world apart from the band's forgettable first two albums, eventually selling over 20 million copies worldwide and nabbing Green Day a Grammy.
Knowing absolutely none of this, "Dookie" was the first album I bought in my early teens, a milestone unto itself. Whether it was the unpretentious "Where's Waldo?" cover art, the occasional radio plays caught in the evening, or a mention by one of the cooler kids in my class, that's where a week's worth of paper round money went. And what an investment: After one listen on the family CD player, I promptly taped it, and into the Walkman it went, becoming my entire playlist for months. Green Day's raging 1995 "Insomniac" would eventually supplant it, and many other bands would follow, but "Dookie" broke the seal.
"Dookie" was an awakening for me, and a jarring one too. In contrast to grunge's navel-gazing, smoldering teenage angst found a solid sounding board with Billy Joe Armstrong's blunt wit. Other albums may be more emotionally impactful, and others more cathartic, but "Dookie" did both best — and 30 years later, perhaps still does.
Erin Allen – Bloodletting by Concrete Blonde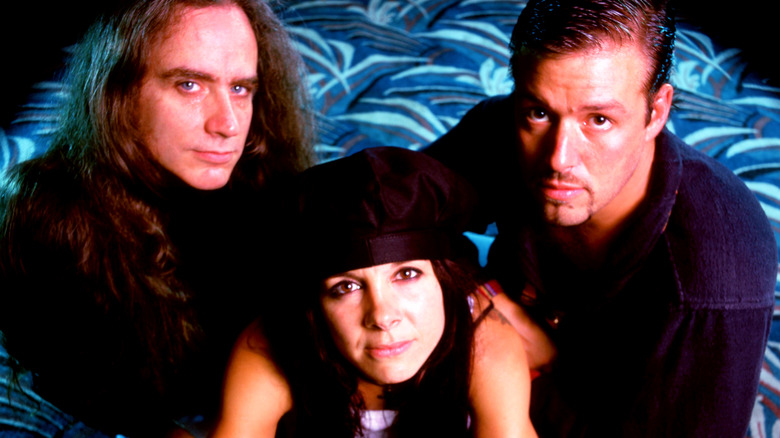 Bob Berg/Getty Images
Concrete Blonde had been on the scene for a few albums before 1990's "Bloodletting" made waves — thanks in large part to heavy radio play of the don't-call-it-a-power-ballad single, "Joey," which peaked at No. 19 on the Billboard Top 20 and even made it to No. 1 on Billboard's Alt Rock chart. The album itself did achieve moderate success, going gold in 1991. At a time when grunge music was starting its fast ascent into the phenomenon it would become, "Bloodletting" (and Concrete Blonde) was the goth-alt-rock we didn't think we needed but did.
Let's face it — Johnette Napolitano is a badass, with her bass licks and deep alto voice a balm to the artful noise that defined the decade. Sure, "Joey" is an incredible song that cuts like a knife when you hear it, but let's not overlook the album's title track, "Bloodletting." It set my Anne Rice-loving heart on fire with its moody, sexy escalation into all-out rock banger that I've been jamming to ever since. Given equal attention should be lesser-known gems — like "Caroline," another showcase for Napolitano's haunting voice, or "Tomorrow, Wendy," a tear-jerker that does end the album on a sad yet introspective note. But that's okay because you can then put the track "Bloodletting" on repeat or even jump up and down with abandon to "Days and Days."
I had the privilege of seeing Concrete Blonde in 2010 at the 9:30 Club in Washington, D.C., during their "Bloodletting" 20th-anniversary tour. Even decades later, the band and songs stood the test of time — and I could still sing along to every one.