The Tangled History Of Ringling Bros. And Barnum & Bailey Circus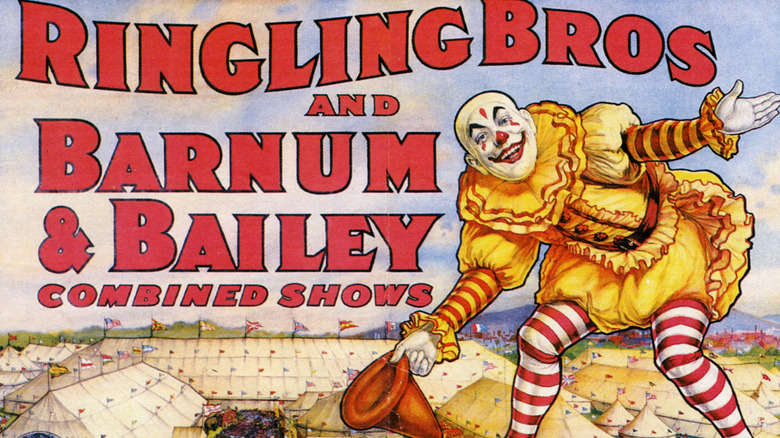 Transcendental Graphics/Getty Images
The Ringling Bros. and Barnum & Bailey Circus was popularly known as "The Greatest Show on Earth" for good reason. At one time, the circus featured thousands of performers and animals, performing in small towns and cities around the country. Under its massive, colorful big top tents, the show boasted incredible acrobatics, stunts, sideshows, and exotic animals. For many, the arrival of the circus would be their only opportunity to see any of these things in their lifetime.
The show was a combination of many different circuses which had merged over its 150-year history, and its string of names came from some of the most famous performers that America had ever seen, many of whom were at one time rivals. The circus was constantly evolving, and in its long history produced some of the most fascinating performers in American history. However, its legacy is marred by stories of mistreatment, both of its human performers and the animals under its care. This is the tangled history of the Ringling Bros. and Barnum & Bailey Circus.
It started with military camels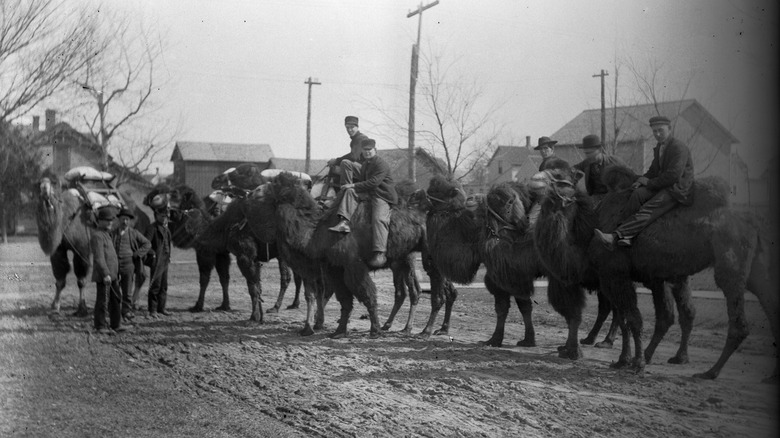 Wisconsin Historical Society/Getty Images
The story of the Ringling Bros. and Barnum & Bailey Circus begins with a much smaller traveling show: Dan Castello's Circus & Egyptian Caravan. As described in Stuart Thayer and William L. Slout's "Grand Entree," the show was run by experienced showmen Castello and William C. Coup. It was small, and primarily consisted of trained performing horses, ponies, and mules which did comedy routines with clowns. It also had eight camels, which Coup and Castello had acquired from an unlikely source.
In the mid-1800s, the rapid expansion of the United States, paired with the gold rush, had created a situation in the West where the relatively small military was attempting to police a large amount of land. One proposed solution was camels. As described by Military Review, the U.S. Army acquired 75 camels from around the world to start the Camel Corps. In theory, it was going to be a mounted cavalry, allowing U.S. soldiers to ride into battle on camels and make it easier to travel long distances cheaply. The plan was widely seen as a joke, however, and soon, the U.S. Army was selling the camels for the modern equivalent of less than $2,000 each.
Castello and Coup promoted the camels widely. The animals were at least partially responsible for the show's success, but it is believed that Castello and Coup may have failed to properly care for their stars, as it seems that some of the double-humped camels had to be replaced with single-humped ones.
The most famous man in America: P.T. Barnum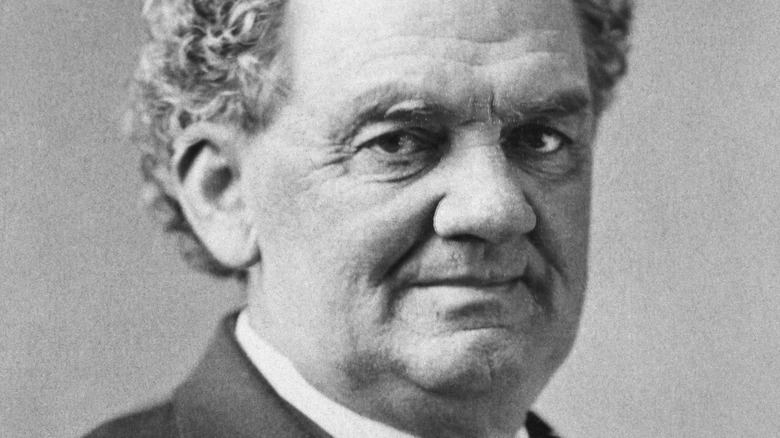 Bettmann/Getty Images
While still on their first tour of the country, Dan Castello and William C. Coup approached a potential collaborator: P.T. Barnum. Barnum was 60 years old, and a larger-than-life figure in the American consciousness, but Castello and Coup were determined to get his attention.
Barnum transformed American entertainment, fascinating thousands of fans a day with oddities both genuine and fake at his American Museum. Today, Barnum has a complex legacy, marred by stories about the treatment of those who worked for him. The museum included human beings on display, including a Black man named William Johnson who, as noted by a 1999 article in The Journal of Blacks in Higher Education, was billed as "a creature, found in the wilds of Africa." In reality, Johnson was a cook from Connecticut. This wasn't an anomaly for Barnum: His very first traveling show starred an elderly Black woman named Joice Heth, who Barnum claimed was 161 years old. Heth was enslaved, and Barnum claimed her as property.
Barnum joined forces with Castello and Coup, transforming their small circus into a massive show named P.T. Barnum's Grand Traveling Museum, Menagerie, Caravan and Hippodrome.
Taking the show on the road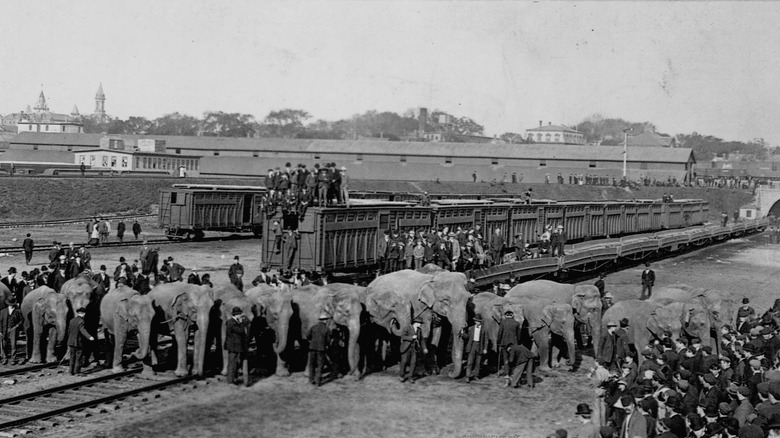 Library Of Congress/Getty Images
After 1872, the show was billed as "The Greatest Show On Earth" due to its impressive performers and animal menagerie, but its most truly innovative contribution to circus history was its mode of travel — circus trains.
As described in an issue of Trains Magazine, William C. Coup was responsible for developing a system of packing an entire massive circus onto a train for cheap transport. After a performance was over, everything was packed into a carefully labeled railroad car, which was later hauled onto a train made up of flat platforms waiting to carry the show across the country. There was a designated car for everything associated with the show, from chairs for the audience to sit in to giant papier-mache heads. The animals, performers, and staff all traveled the same way.
At its peak, Ringling Bros. & Barnum & Bailey Circus would require three trains and a total of 98 train cars to travel. Coup and Dan Castello would not be with the show at its height, however, breaking off from Barnum in 1875.
Barnum's rival joins the show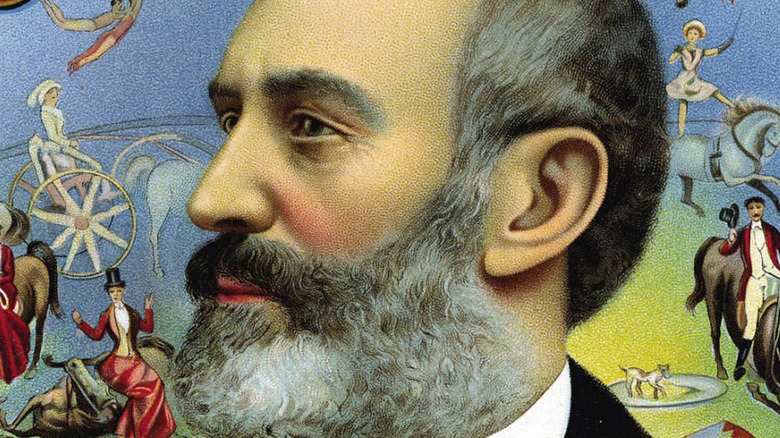 Buyenlarge/Getty Images
James A. Bailey was, for a time, P.T. Barnum's most serious competition. As seen in an article in The New York Times from 1891, even in his own time, Bailey was referred to as "the creator of the modern circus." His show was also a traveling one, crossing entire continents. His circus, co-owned with James E. Cooper, performed in England, Australia, and across South America, merging with several British circuses and becoming larger and larger. Unlike Barnum, he wasn't interested in being a showman, and was never the face of his own circuses. Bailey preferred to work behind the scenes.
In 1879, one of the elephants in Bailey's show gave birth. As noted by Time, Barnum was desperate to buy the new baby, offering Bailey a fortune. Bailey was a keen businessman, and began advertising the price Barnum had offered. The following publicity led the two to merge circuses, and in the following year, the two became partners, and the famous Barnum & Bailey Circus was born. 
Their differences complimented each other. While Barnum was the face of the show, aggressively promoting it and attracting hordes of fans to the circus, Bailey oversaw every detail of the day-to-day operations.
Jumbo the elephant was the star of the show
London Stereoscopic Company/Getty Images
The circus was made up of many performers, animals, and oddities, but the show's star was Jumbo, known as the world's largest elephant. He was internationally beloved and brought joy to more than 20 million people, but behind the scenes, Jumbo's life was a horrendous tragedy.
Jumbo was born free in Africa, but when he was four years old, his mother was killed by humans and he was sold to the London Zoo. There, he was beloved by the people of London, but elephants are social animals, and he had to live completely alone. Although he was still very young and should have been in his prime, Jumbo began showing signs of deteriorating mental and physical health, including episodes at night that resembled PTSD. As noted by the Journal of Victorian Culture, there was talk of putting Jumbo down, but instead, he was sold again — to P.T. Barnum.
For three years, Jumbo was the star of the show, bringing in countless fans, but he was not well cared for. As reported by CBC Docs, researchers who examined Jumbo's bones determined that he spent his life chained, in pain from poor nutrition, and forced to give rides which permanently damaged his joints. Jumbo was killed at the age of 24 while being led across train tracks, while in the wild, he might have lived to be 70 years old. Nonetheless, his bones remained an attraction at the show.
Albert, Otto, Alfred, Charles, and John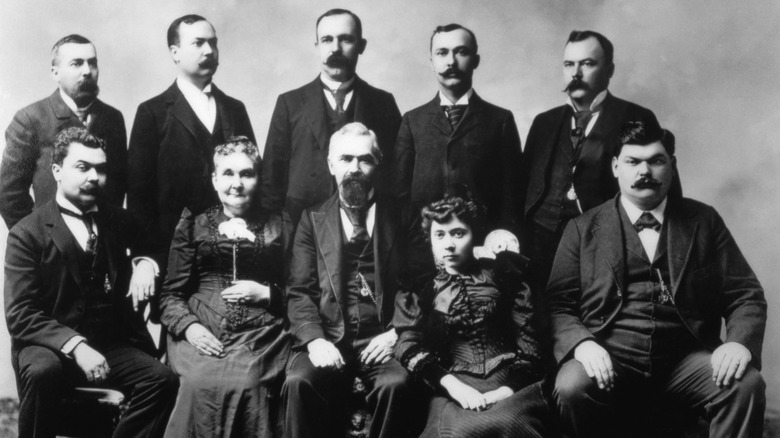 Bojan Brecelj/Getty Images
The titular Ringling brothers were indeed family. One day the brothers Albert, Otto, Alfred, Charles, and John Ringling happened to see a small circus coming off of a steamboat in Iowa. They were hooked.
As described by the Wisconsin Historical Society, the five were soon putting on Vaudeville shows together, dancing, singing, and playing instruments. Each would develop a specialty, with Albert choosing the acts for their show, Otto managing their finances, Alfred promoting the circus, Charles producing, and John planning their route across the country.
At first, they traveled the Midwest, sometimes with their brothers August and Henry, in a small wagon, acquiring animals for their acts, including a donkey and a pony. In 1888, they purchased an elephant, which made it enormously popular. By 1900, they were one of the biggest traveling shows in America, acquiring other animals, acts, and even entire circuses into their own show, becoming the main competition for Barnum & Bailey.
The circuses divided up the country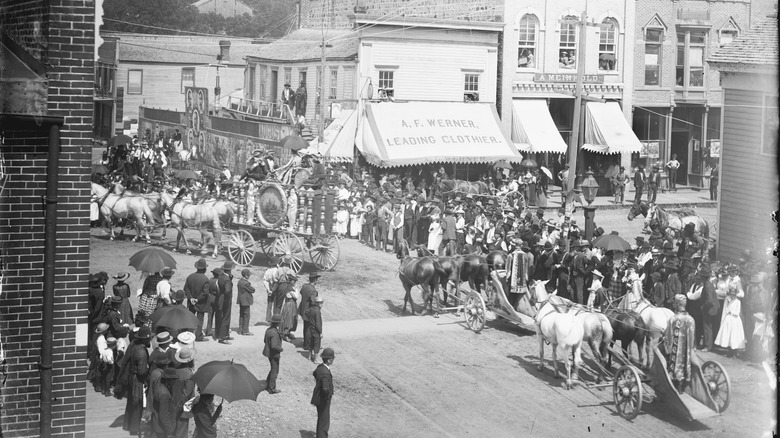 Wisconsin Historical Society/Getty Images
In 1891, P.T. Barnum perpetrated one final hoax: he had his obituary printed. Having enjoyed the tributes that flooded in after his death, the 81-year-old showman actually did die, leaving James Bailey to run the show. In 1897, Bailey took the circus abroad for five years, and when he returned, he found a new circus dominating the United States: The Ringling Brothers.
Initially, John Ringling had paid special attention to where they took the circus so as not to tread on Bailey's toes. As described by the Wisconsin Historical Society, the Ringlings set up their base in Chicago, far enough away from Barnum & Bailey's territory in New York that they wouldn't be directly competing for audiences. For a while, the circuses divided up the country, and never took their shows behind enemy lines. This truce would last until 1906, when Bailey died. Then, the Ringlings quickly bought Barnum & Bailey.
They initially kept the two massive circuses separate. When the United States went to war in 1917, however, many of the men employed by the circus, both behind the scenes and in the ring, left to fight in World War I, leaving the Ringling Brothers with a shortage of workers. As described in Les Standiford's "Battle for the Big Top" (via Time), audiences would soon be at an all-time low as the Spanish Flu epidemic spread through the United States, making attending the circus a dangerous proposition. As a result, the Ringlings were forced to combine the shows.
Lost to debts, saved by a gorilla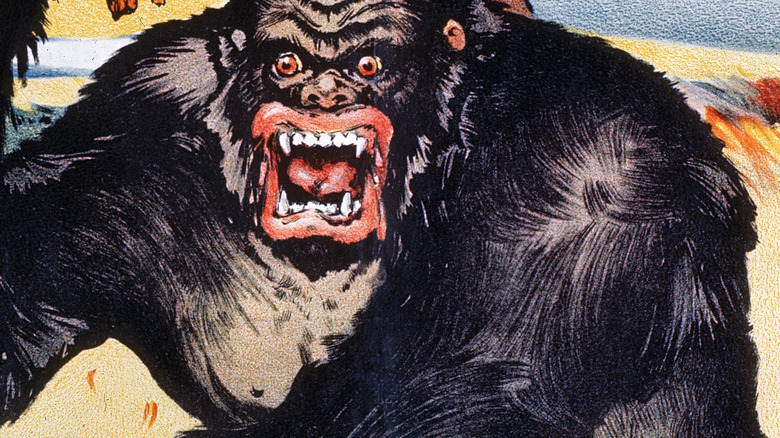 Al Fenn/Getty Images
Ringling Bros. and Barnum & Bailey Combined Shows was enormous, employing more than 1,000 people and featuring almost 2,000 animals — but it was not too big to fail. Although it continued to grow, absorbing other circuses, it was unprepared for the Great Depression. In 1932, its debts had become so overwhelming that John Ringling, the last surviving member of the original Ringling Brothers, lost control of the show. His nephew, John Ringling North, would buy the show back and return it to its former glory in 1937 with the help of an enormously popular animal: Gargantua the gorilla.
It is believed that Gargantua weighed 550 pounds and was the largest gorilla ever to be held in captivity. As described by the Hartford Courant, Gargantua was found alone as an infant and brought aboard a ship bound for America. While onboard, his face was horrifically burned with nitric acid, which would scar him for life. He was raised like a human child by a family in Brooklyn who cared for him and treated his wounds, but when he grew too large, he was sold to the circus. 
He revitalized the struggling show as audiences rushed to see the massive gorilla. Unfortunately, they did not know how to care for a gorilla, and he was fed a massive amount of sugary treats and was unable to get proper exercise. The beloved Gargantua died at the young age of 20 — only half of his natural lifespan.
The Hartford Circus Fire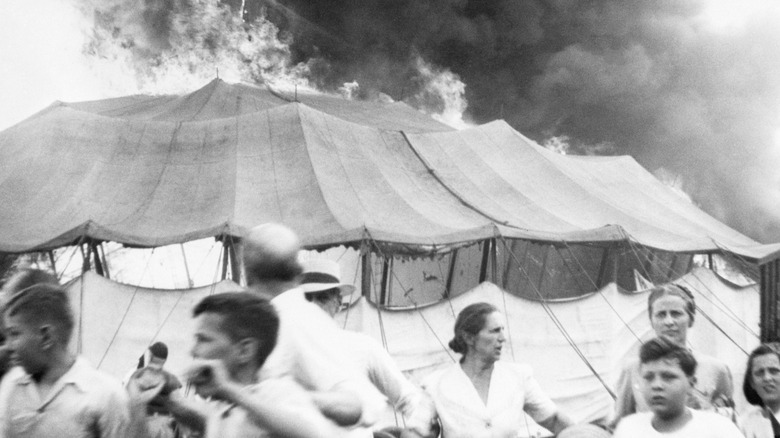 Bettmann/Getty Images
The image most associated with the show is probably the impressively large, colorful circus tents where the acts were performed for crowds of excited fans. The show traveled and performed in all weather conditions, so the tents were waterproofed with a combination of paraffin and gasoline. Both of those were highly flammable, and in 1944, during a performance in Hartford, Connecticut, the tent caught fire. The resulting blaze killed 167 people and injured 682 more.
At the time of the fire, there were around 8,000 fans inside the tent, many of whom were children. As pieces of the flaming big top began falling on the crowd, panic erupted. To survive, throngs of people were forced to rip their way out of the tent. After ten minutes, the tent's structural supports also burned, and the big top collapsed. Everyone who was unable to escape before that moment was trapped inside while the tent burned.
Circus organizers were convicted of manslaughter for the deaths, and Ringling Bros. and Barnum & Bailey Circus had to pay the modern-day (as of 2023) equivalent of more than $84 million. Six years later, however, a man named Robert Segee from Ohio confessed to having set the fire intentionally.
Its iconic performers changed the circus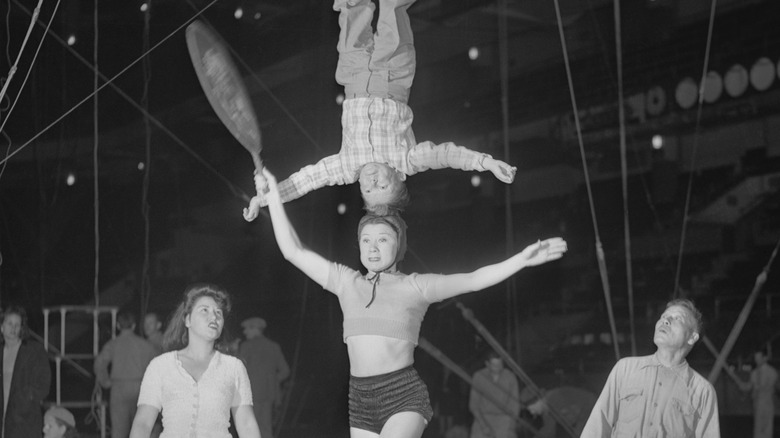 Bettmann/Getty Images
For the 150 years that versions of the circus were in operation, it was home to performers of all kinds who delighted and shocked audiences worldwide. Some of these performers thrilled audiences with athletics and death-defying stunts. One of the biggest early stars of the American circus was Lillian Leitzel, who, as described by NPR, would hang from rings more than 50 feet up and then launch herself into the air, spinning the entire time. The Zacchini Brothers also astonished fans by flying through the air, after being recruited by John Ringling in 1929. The brothers were launched from a cannon at more than 90 miles an hour.
Some of the most prominent circus performers were famous for their appearance as well as their showmanship. P.T. Barnum had begun his career presenting human attractions, and this tradition carried on in the form of sideshows where little people, tattooed ladies, people with missing limbs, and conjoined twins performed for the crowd. One of these was the famous bearded lady Annie Jones, who was first presented to audiences at only 9 months old, and went on to become a spokesperson for Barnum & Bailey.
Clown college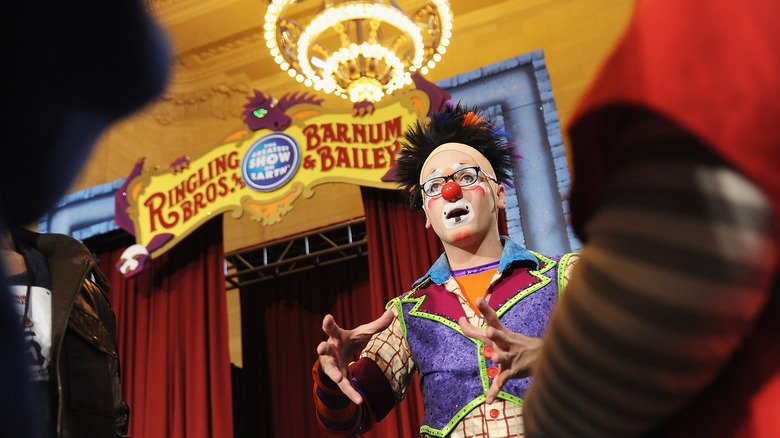 Michael Loccisano/Getty Images
In 1967, the circus changed hands in an elaborate ceremony in the Colosseum. Israel and Irvin Feld bought the Ringling Bros. and Barnum & Bailey Circus for the modern equivalent of over $90 million. The Felds eliminated the sideshows from the circus in an attempt to make the show feel more "wholesome," but were interested in preserving the history of the circus in other ways.
As detailed in an article by People, Irvin Feld was particularly concerned that the distinctive style of clowning that Ringling Bros. and Barnum & Bailey was known for would be lost. By the time the Felds acquired the circus, the majority of the clowns were older, and Irvin Feld was concerned that without a new young clown cohort, the show would soon struggle to find professional clowns to work in the show. To combat this, they founded the Ringling Bros. and Barnum & Bailey Clown College to teach new generations of clowns.
A legacy of animal cruelty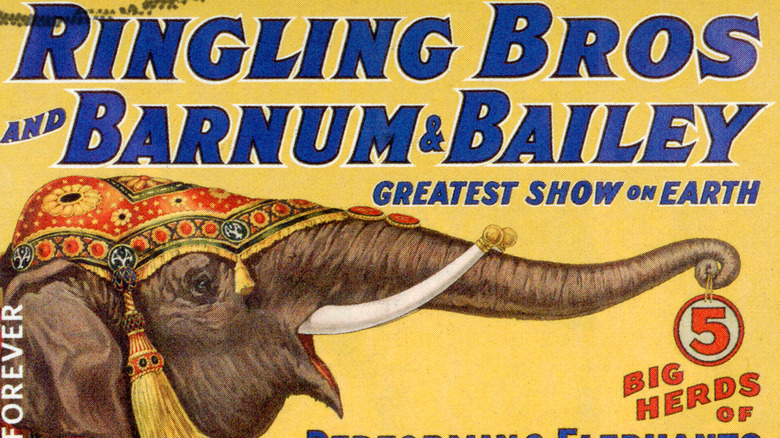 Oldrich/Shutterstock
In 2017, Feld Entertainment announced that the Ringling Bros. and Barnum & Bailey Circus was ending. This was primarily because of multiple accusations of animal cruelty, leading to expensive lawsuits.
Feld Entertainment described their elephants as living charmed, comfortable lives, but under oath, Kenneth Feld admitted that brutal training methods, including electric shock and physical beatings, were regularly used. One investigation, published by Mother Jones, looked into the treatment of a three-year-old Asian elephant named Kenny. His harrowing story echoes that of his predecessor, Jumbo, who had been forced to work at the circus over a century before. In the wild, Kenny would likely still have been nursing from his mother, but at the circus he was always chained or performing. The investigation uncovered that he had been forced to work while sick, against a vet's instructions. Ultimately, Kenny died of his illness, which was never diagnosed. Kenny was not the only one: 23 baby elephants, all bred by the circus, also died under similar circumstances.
Since 2021, the former circus elephants of Ringling Bros. and Barnum & Bailey have been moved to White Oak Conservation Center, a sanctuary where the elephants are free to explore and live in a natural environment, undirected by humans. In March of 2023, it was announced that the circus would return with only human performers.