What Juana Barraza's Life In Prison Is Really Like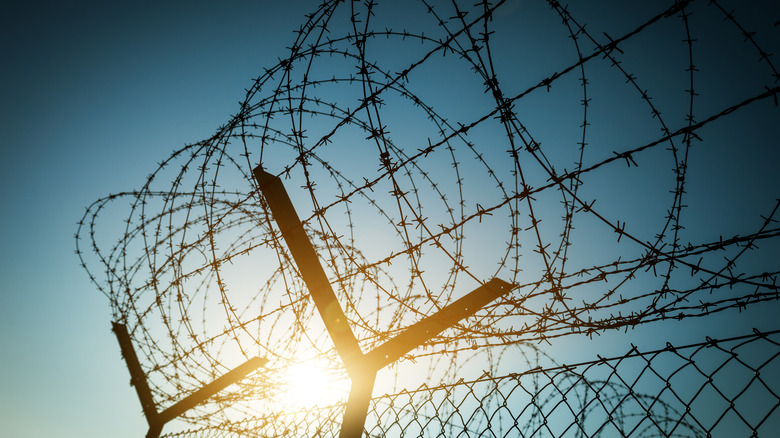 Leopatrizi/Getty Images
On January 25, 2006, after a three-year pursuit of a mysterious serial killer who preyed on elderly women around Mexico City, the police finally caught a break. Unfortunately, it came too late to save Ana María de los Reyes Alfaro, an 84-year-old woman the killer had strangled with a stethoscope and stabbed that day, according to The Guardian. The victim's tenant found her corpse and alerted the police about the woman he'd just seen rushing away. The suspect's name was Juana Barraza, who turned out to be, among other things, a Luchadora, or masked wrestler. A judge eventually sentenced her to 759 years in prison in 2008 for 16 murders and 12 robberies, according to "The Little Old Lady Killer: The Sensationalized Crimes of Mexico's First Female Serial Killer." But police believed she was responsible for as many as 46 killings, per Oxygen.
Barraza is serving her sentence at Santa Martha Acatitla, located on the outskirts of Mexico City, where overcrowding, drugs, and a lack of resources for prisoners are rampant. She was briefly married to a fellow inmate from the men's section of the prison and turned to cooking to pay for the daily necessities lacking in the Mexican institution, per El Pais.
Wrestler, serial killer, and popcorn vendor
Juana Barraza was born in 1956 to a teenage mother who became an alcoholic and sold Juana off to a man when she was 12, allegedly for three beers. She blamed her childhood trauma for her crimes. "I hated old women because my mom mistreated me," Barraza told investigators (via Oxygen). "She always cursed me. She gave me away to an old man and I was abused."
Before she was identified as the Mataviejitas (the Little Old Lady Killer), Barraza was known by another name — La Dama del Silencio, or Lady of Silence, a wrestler who wore a pink mask with a butterfly design. Besides wrestling, Barraza, who was a single mother, sold popcorn on the streets of Mexico City, per El Pais. Police said she also dressed up as a home aid worker, got inside the homes of elderly women, and strangled them to death with whatever was available, including stockings and electrical cords.
Lost love and tacos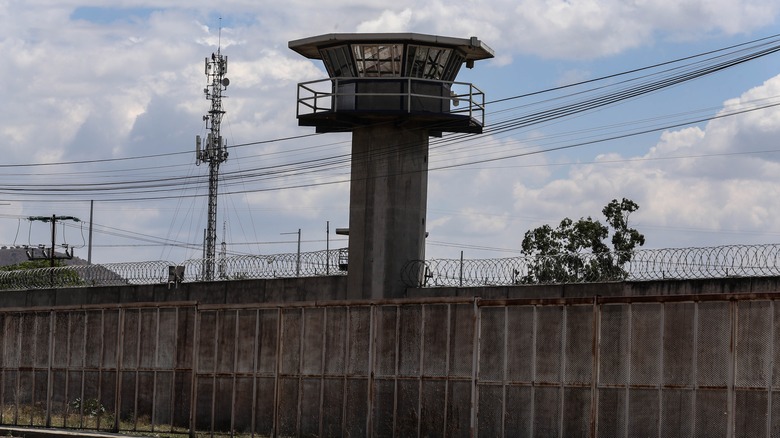 Octavio Hoyos/Shutterstock
In Santa Martha Acatitla where Juana Barraza is serving her time, she spends three days a week making tacos that she sells in the prison courtyard. Her specialty is Yucatan-style slow-roasted pork, according to El Pais. In 2015, she married Miguel Ángel, an inmate also serving time for murder. Their courtship occurred through letters, but the marriage only lasted a year.
Life in the prison is filled with loneliness, suicide attempts, and drugs, according to Patricia Aridjis, a documentary photographer who spent more than seven years photographing inside various women's prisons in Mexico, including Santa Martha Acatitla. "Life is limited by watching towers, guards, gates, and schedules," she told Prison Photography. On top of this, Itari Marta, who runs a prison theater group where Barraza is incarcerated, told The Guardian in 2015 the prison is overcrowded and there's "a chronic lack of resources." "Items the inmates need — such as sheets, blankets, clothes, and shoes — should be provided by the institution, but they are not. You have to pay for everything in jail, but very few have the money," she said.