Why Mark Twain's Home Is Said To Be Haunted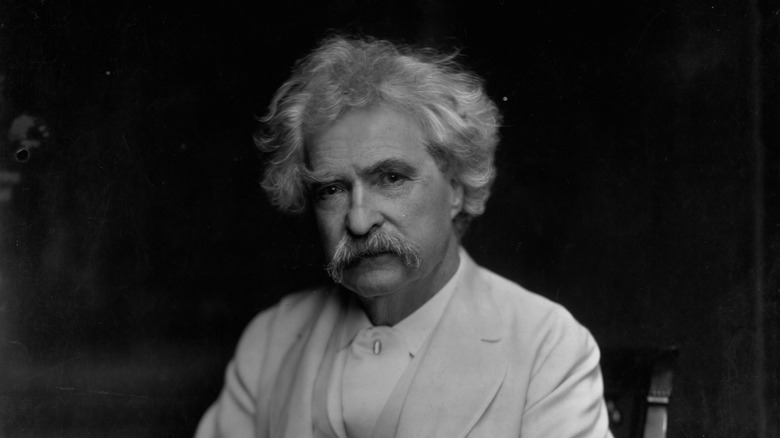 Library Of Congress/Getty Images
The American author Samuel Langhorne Clemens, better known by his pen name Mark Twain, is revered for creating some of the most enduring literature of the 19th century. "The Adventures of Tom Sawyer," "The Adventures of Huckleberry Finn," and countless other works including Twain's non-fiction and journalism have become foundational to the identity of the United States, while Twain himself has gone down in history as one of the country's greatest humorists and wits.
Mark Twain was incredibly prolific, though there was one genre popular at the time that he failed to embrace: gothic fiction, writing that was overtly macabre, suspenseful, and often supernatural. In fact, Twain only wrote a single notable ghost story during his career. It was titled simply "A Ghost Story," and, rather than attempting to scare his readers, Twain decided to play it for laughs, parodying the genre which, perhaps, he believed took itself too seriously. However, Twain himself has more recently become a figure of interest to paranormal investigators, in particular the home he kept with his wife, Olivia Langdon Clemens, in Hartford, Connecticut between 1874 and 1891. In recent years, strange phenomena have been observed by visitors to the house, which is now a tourist attraction, so much so that ghost tours of the house have grown increasingly popular.
The Clemens family of Connecticut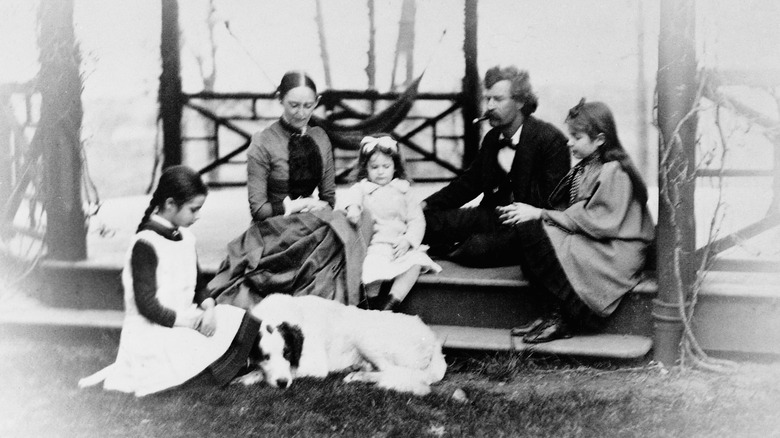 Fotosearch/Getty Images
Mark Twain settled in Hartford, Connecticut in part to take advantage of the area's wealthy literary society, as well as for its outstanding natural beauty. Here, Twain and Olivia Langdon Clemens would raise their three daughters: Olivia Susan Clemens, known affectionately as "Susy," who was born in 1872; Clara Langdon Clemens, born in 1874; and Jean Lampton, born in 1880. A son, Langdon Clemens, was born in 1870, but died of diphtheria at the age of 19 months.
Susy was especially doted upon after the tragic death of Langdon. Despite their loss, the Clemens family reportedly lived contentedly in Connecticut, where Twain wrote some of his best-loved work, including "Huckleberry Finn" and "A Connecticut Yankee in King Arthur's Court." However, illness among the Clemens children eventually took the shine off the family home, with Jean becoming diagnosed with epilepsy in 1896, preventing her from enjoying the nature and wildlife of Hartford that she so loved. Five months later, tragedy stuck again, with Susy, age just 24, dying from spinal meningitis at the Clemens' Hartford house. Heartbroken, the family left Connecticut soon after.
Hartford hauntings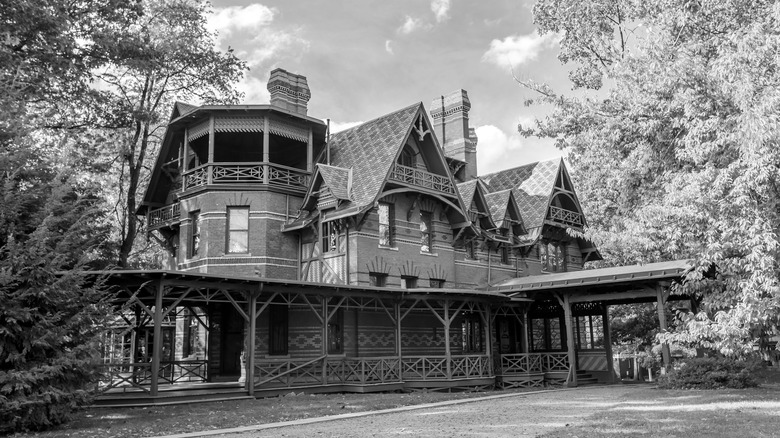 f11photo/Shutterstock
Today, the Clemens family home in Hartford, Connecticut where, before the tragic final years of Mark Twain, he and his wife Olivia Clemens raised their family is known as the Mark Twain House & Museum, which attracts nearly 100,000 visitors per year amid a calendar of events celebrating the writer and his life.
However, the Mark Twain House has also developed a reputation as a haunting hot spot. According to Steve Courtney's "We Shall Have Them With Us Always," a book chronicling ghostly encounters at Twain's family home, visitors have reported smelling cigar smoke in various rooms of the house, which today is smoking-free. Some say that this is a manifestation of Twain's own smoking habit, noting that during his lifetime he was known to smoke more than twenty cigars a day. Objects have also been reported to have moved of their own volition in the house.
More eerily still, visitors have reported sightings of a woman in a white Victorian nightgown, walking from room to room. The figure is believed by some to be that of Susy, and has attracted ghost hunters seeking evidence of paranormal activity. Visitors can also investigate for themselves, with regular ghost tours now in operation at Twain's former home.