Inside Sinead O'Connor's Relationship With Singer Peter Gabriel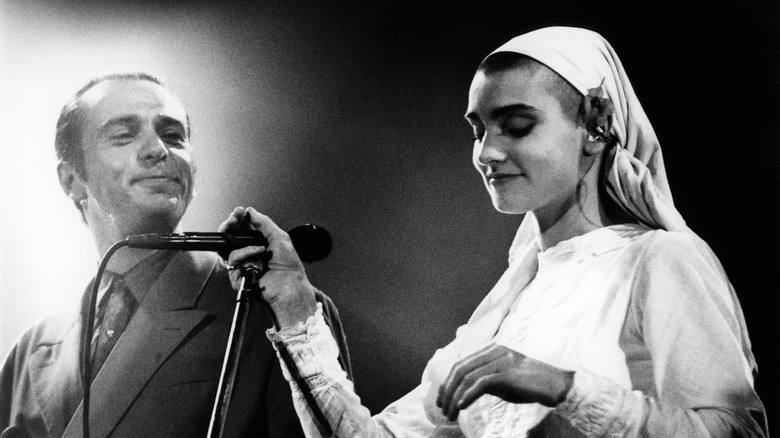 Michel Linssen/Getty Images
Considering how emotional music is, when you combine it with the intimacy of performing together and the forced closeness of touring, it's not surprising that musicians hook up with each other all the time. While some of those relationships become iconic and catapult the two people in them to even greater levels of fame, sometimes performers decide to have a quieter romantic entanglement that the public doesn't find out about — or at least don't have officially confirmed — for years.
In the 1970s and '80s, Peter Gabriel was one of the biggest stars in music, first as a member of the English band Genesis and then as a solo artist. He hadn't slowed down by the early '90s, either, winning Grammys in both 1992 and 1993. The beginning of the decade also saw the Irish singer Sinéad O'Connor have a massive smash hit with her 1990 cover of Prince's "Nothing Compares 2 U." Of course, the two stars would be bound to cross paths at some point.
But would sparks fly between them? According to O'Connor in her memoir "Rememberings," which was published two years before she died in July 2023, the answer was yes. Here's the inside story of Sinéad O'Connor's relationship with singer Peter Gabriel.
The pair collaborated musically in the 1990s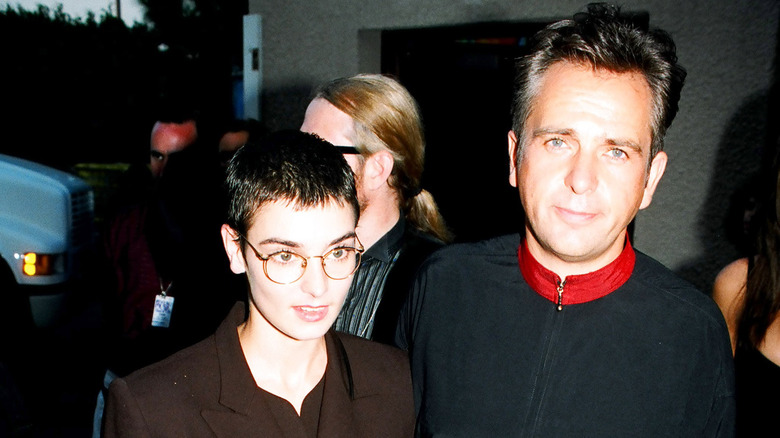 Jeff Kravitz/Getty Images
While Sinéad O'Connor says she and Peter Gabriel were involved romantically for a short time in the early 1990s, they initially got together to work on music. The pair met when they both performed at an Amnesty International charity concert in Chile in 1990. Over the next few years, O'Connor ended up performing backing vocals on several of his songs, and appeared in the video for one of them, "Blood of Eden." In 1993, O'Connor joined Gabriel for several stops on his "Secret World" tour, including dates in Dublin, Ireland, and London, England. 
It was during this period of collaboration that O'Connor says the two got involved in more than a creative way. She wrote a song about her time with Gabriel after it was over called "Thank You For Hearing Me," a lyrically repetitive track that mostly sings his praises, except for the lines "Thank you for breaking my heart/Thank you for tearing me apart." She wrote in her memoir that, over time, it became her favorite song to sing live and that she was extremely proud of it.
Peter Gabriel has never acknowledged his relationship with Sinéad O'Connor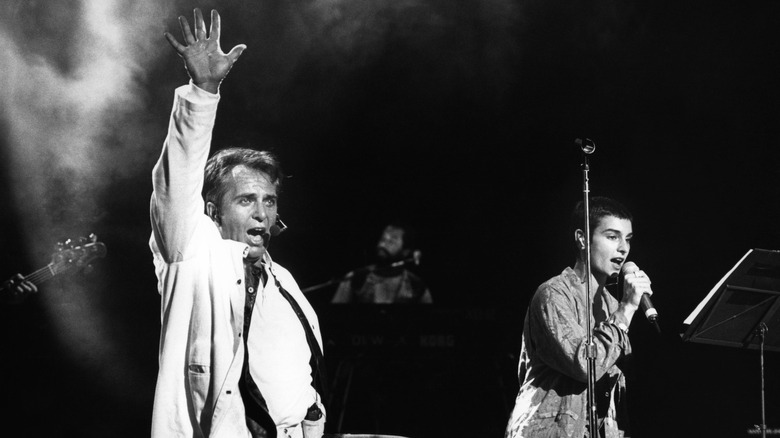 Ebet Roberts/Getty Images
A few years before Sinéad O'Connor and Peter Gabriel met, the latter's marriage to his first wife fell apart, and they divorced. So, he was single and ready to mingle when he started collaborating with O'Connor. In her memoir "Rememberings," she claimed this led to a romantic relationship, although not one that was heavy on the romance bit. 
In the book, O'Connor explained in vulgar terms that she felt Gabriel used her for sex. She told The Guardian, "I was really hurt because he had chased me for about a year as if he was madly in love with me. He was the type of dude who you'd be away with and he'd put a note under the door to tell you he's just about to go out on a date with another girl. And he'd get you down for the weekend and then say, you know this isn't going to go any further." She added, "Because of Peter, I've always drilled it into my sons that you must never tell a woman you love her to get her into bed."
Gabriel, for his part, has never admitted to a romantic or physical relationship with O'Connor. After his divorce, he initially moved in with actor Rosanna Arquette, although the timeline with O'Connor doesn't seem to overlap that relationship. After O'Connor's death on July 26, 2023, perhaps Gabriel will finally be able to talk about what did or didn't happen between them.