The Meaning Behind Closer To Fine By The Indigo Girls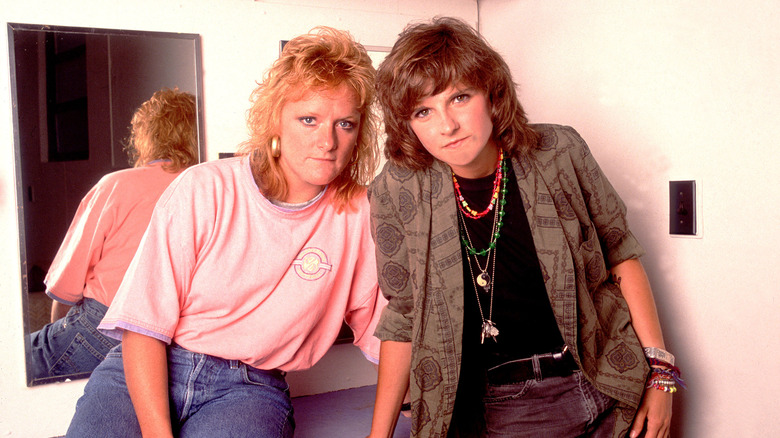 Paul Natkin/Getty Images
The Atlanta, Georgia duo Indigo Girls have been a mainstay in the folk rock firmament since they first broke out from indie obscurity and into the mainstream with the release of their self-titled sophomore album in 1989. Typically, both the thoughtfulness of their lyrics and the mesmeric dynamism of their harmonies are on show in their biggest songs, such as "Closer to Fine," the opening track on their self-titled album. Released as a single in 1989, "Closer to Fine" did what it needed to in supporting the album which went on to become double platinum and a classic in the duo's oeuvre. 
Written by Emily Saliers — one of four she composed on the album, with the other six having been penned by Amy Ray — the song is written from the point of view of a narrator who is seeking answers to life, and, in their quest, climbs mountains, visits professors, and turns to the Bible, among other things. Ultimately, though, they decide there is no single secret answer to be found, and realize that the more willing they are to accept that there is nothing "definitive" about life, the "closer to fine" they feel about living it. The reassuring conclusion of "Closer to Fine" is one reason it continues to reverberate with listeners — the song features prominently in the 2023 "Barbie" movie, released almost a quarter century after the song was recorded — but as Saliers has explained in several interviews, the song is also a personal one.
Porch thoughts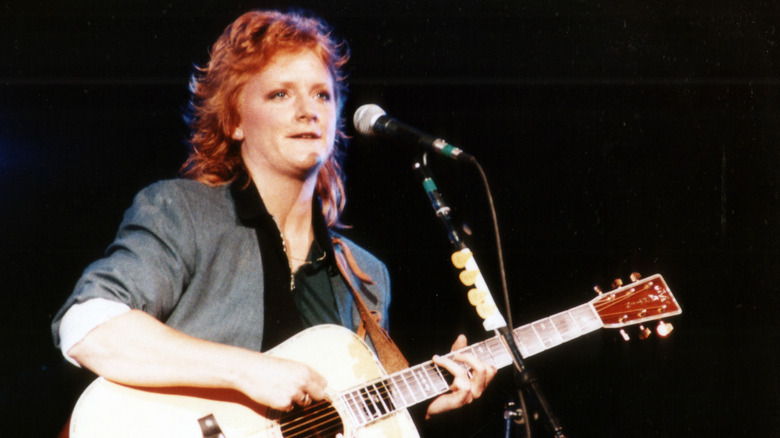 Jim Steinfeldt/Getty Images
The Indigo Girls began writing and performing together at high school in 1985, and though their debut album, 1985's "Strange Fire," did little initially to find them an audience, the duo's dedication to songcraft left them in a good position for when a major label eventually came knocking.
"Closer to Fine" writer Emily Saliers was also well primed for penning the philosophical and reflective songs that would become the Indigo Girls' signature thanks to her upbringing and her close relationship with her father, Don, a theologian and professor at Emory College, where the Indigo Girls also studied. Don is also a musician in his own right and a composer of devotion music which profoundly affected the young Emily as she developed as a songwriter in the 1980s.
However, the song also reflects its writer's doubts that the answers to life can be found in universities. Emily revealed in an interview with Behind the Vinyl (via YouTube) that she wrote "Closer to Fine" on the porch of a cabin in Vermont, where her family would often take their vacations. "It was pretty idyllic," she recalled, noting that the cabin had no electricity. "At the time I had graduated from college and I was thinking a lot about ... the insular world of academia, and how the one thing I learned in school is that you can't believe everything you read or hear."
Is the story in the song real?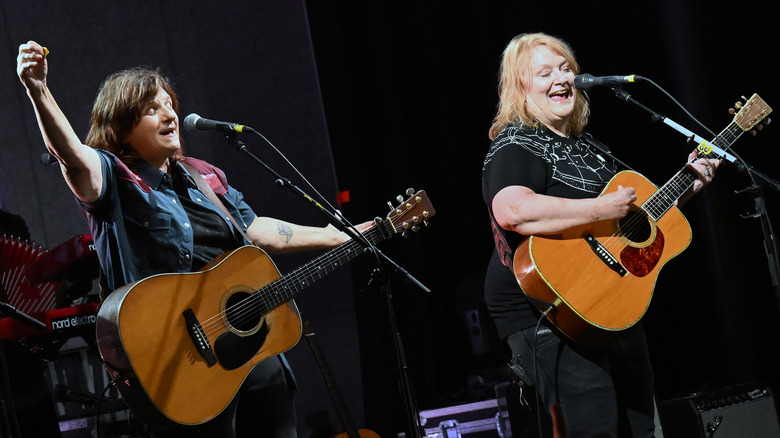 R. Diamond/Getty Images
Emily Saliers' feelings toward academia come across in a couple of wry lines in "Closer to Fine," which describe a "doctor of philosophy" who "had a poster of Rasputin and a beard down to his knee." Though the philosopher is in a position to judge the narrator's thoughts, the song notes that "he never did marry or see a B-grade movie," i.e., that in dedicating himself to obscure higher thoughts he is disconnected from the actual stuff of real life, suggesting, then, that he isn't the oracle of wisdom that the narrator hoped for.
Though Saliers had certainly been a student, she revealed in an interview with Songfacts that the philosopher wasn't based on an actual person, but was an amalgam of people she had encountered as a student. "I remember in high school one of my teachers had a poster of Rasputin on his door. You know, and his pictures just looked so bizarre to me, and always struck me. And I sort of put those images together, and it was sort of a poke at academia and the way it can sometimes be removed from reality."
However, there is one part of the song that is truly autobiographical: those lines that describe being in a bar a 3 a.m. to "seek solace in a bottle or possibly a friend." Saliers recalled in the same interview that the Indigo Girls started out as a bar band, that would do three sets per night for 13 nights in a row, ending at 3 a.m.