Massively Popular Musicians The Grammys Snubbed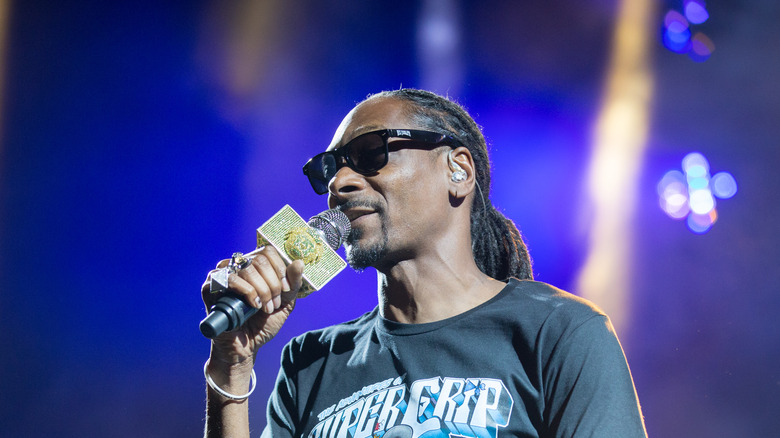 Sterling Munksgard/Shutterstock
The Recording Industry Association of America's annual awards for achievement in music, the Grammy Awards, have been around for quite some time. How long, one might ask? Well, "Grammy" is short for "Gramophone," so ... that long. For decades, the awards have been doled out during star-studded ceremonies, recognizing excellence in performing, recording, songwriting, and even such things as liner notes, music videos, and film scores. The hallowed institution, presided over by folks who are supremely dedicated to the artistic integrity of the music business, is famously dead-on with its nominations and awards year after year, having offered up nary a divisive decision in its long history.
The preceding sentence, of course, is one big, fat, honking lie. As it turns out, music fans and critics are just a wee bit opinionated, and the decisions of Grammy voters often seem to be based on something other than artistic merit — money, perhaps, or maybe greenbacks, or moolah. Whatever the case may be, the Grammys get it blatantly, offensively wrong early and often — and while it would be impossible for virtually any single nomination or award to please everybody, there sure seem to be a lot of times when they are specifically calibrated to please nobody, up to and including the artists receiving them. These are some of those times.
Metallica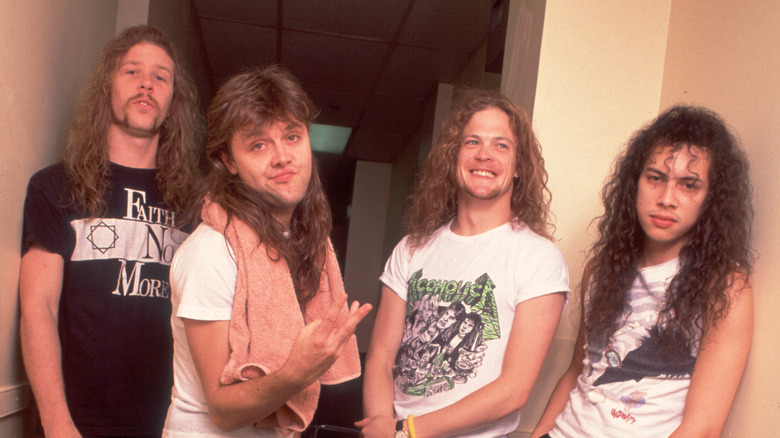 Paul Natkin/Getty Images
Grammy Awards categories are not set in stone, and every so often, a new one will be introduced, often when a formerly niche genre becomes too popular to ignore. Such was the case in 1989, when the Grammys established an award for Best Hard Rock or Heavy Metal Recording, causing rockers and metalheads everywhere to throw up the devil horns and bang their heads in celebration. The nominees were mostly suitably rocking: Jane's Addiction, Iggy Pop, and AC/DC all got nods, along with — for their masterful LP "...And Justice For All" — Metallica, who seemed to be a shoo-in for the award. Oh, and also, for their LP "Crest of a Knave," Jethro Tull — a band whose frontman, Ian Anderson, is known for wielding that most metal of instruments, the flute.
Jethro Tull is not, was not at the time, and never had been a hard rock or metal band, but that somehow didn't stop them from taking home the Grammy in that category over Metallica, a band with "Metal" right there in their name. Nobody was more confused than Anderson,  who told St. Louis radio station KSHE in 2022 that Metallica had been "gentlemanly" about the whole situation. He also pointed out that, at the time, he predicted that Metallica would take home a Grammy the following year — and indeed they did, winning the Metal Performance statue (which had been split off from the Hard Rock category) for their epic, classic tune "One."
Public Enemy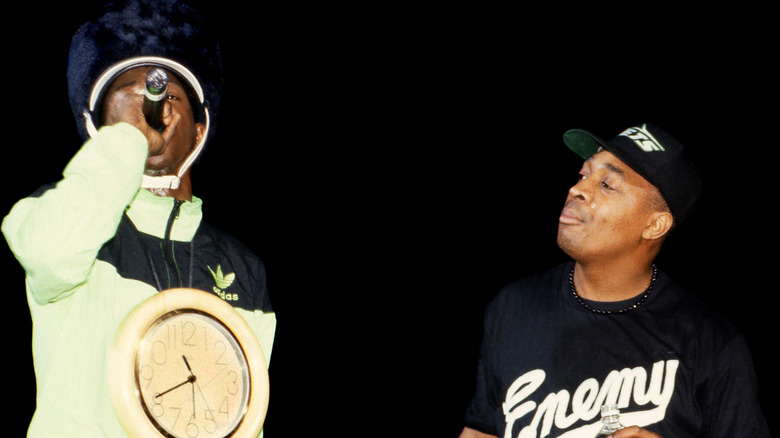 Raymond Boyd/Getty Images
Along with contemporaries like KRS-One and X-Clan, Public Enemy were among the first to hang their hats (and in the case of hype man Flavor Flav, clocks) on the mantle of "conscious rap," which used to be a thing that existed. The band were calling out institutionalized racism, drug policies disproportionately targeting people of color, and other social ills long before it was cool — and their message, delivered in frontman Chuck D's booming baritone over the cacophonous, blistering audio collages of production team The Bomb Squad — resonated with listeners of all colors and backgrounds. Between 1988 and 1991, Public Enemy dropped three platinum albums, and at the 32nd Grammy Awards, held in 1990, their landmark single "Fight the Power," which appeared on the soundtrack to Spike Lee's classic film "Do the Right Thing," was up for a statue for Best Rap Performance.
The other nominees in the category, with the possible exception of De La Soul's "Me, Myself, and I," were of the more poppy variety — and "Bust a Move" by Young MC, a classic if undeniably lightweight tune, ended up lifting the Grammy right out from under "Fight the Power." Unfortunately, Public Enemy's loss foreshadowed the fate of "Do the Right Thing" — a masterful, incendiary picture that in 1990 would fail to garner a Best Picture Oscar nod. The statue went to "Driving Miss Daisy," a non-masterful, non-incendiary, shamefully whitewashed portrait of race relations in the Jim Crow era.
Frank Ocean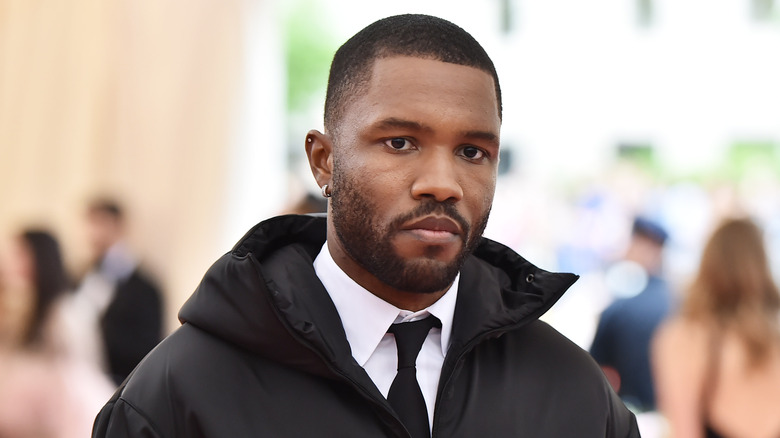 Theo Wargo/Getty Images
Even the most enthusiastic fans of popular music would have to admit that it's the rare artist who comes along to really shake things up with a wholly unique sound and aesthetic. But, in the early teens of the 21st century, Frank Ocean fit that bill perfectly. An affiliate of avant-garde rap outfit Odd Future, Ocean's music blends elements of virtually every genre — a little Hip Hop here, a little rock there, a little R&B over here — yet manages to sound like wholly its own thing. He's drawn comparison to the likes of Prince and Stevie Wonder, and his 2012 debut LP "Channel Orange" was hailed far and wide as an instant classic — so when it scored a nod for the coveted Album of the Year trophy, and Ocean himself was nominated for Best New Artist, most observers figured they should just go ahead and hand both trophies over. 
And ... nope. The former award went to Mumford & Sons for their LP "Babel," a middling record that garnered mixed reviews from critics, and the latter went to Fun., a "new artist" whose first LP "Aim and Ignite" was released in 2009, and whose 2012 hit album "Some Nights" is literally the last we've heard out of them. "Channel Orange" did win the award for Best Urban Contemporary Album, a category so darned relevant it has since been discontinued and replaced with a completely different category.
The Kinks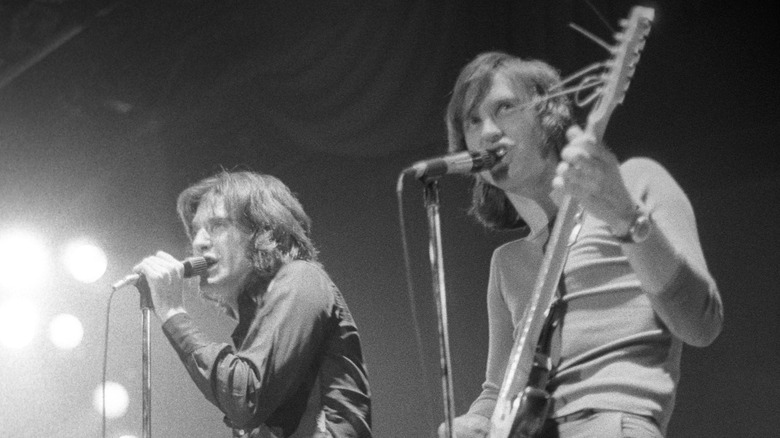 Icon And Image/Getty Images
When discussing the British Invasion of the mid-to-late '60s, there are, of course, two bands that fans and critics wax poetic about — the Beatles and the Rolling Stones. Which is fine — hey, they deserve it — but no discussion of wildly inventive British rock groups sporting genius songwriters is complete without mention of the Kinks, one of the coolest, quirkiest, flat-out greatest bands ever. Driven by the talents of the Davies brothers, lead singer and songwriter Ray and lead guitarist Dave, the Kinks are deserving of all the accolades; they've sold 50 million records, helped to invent hard rock by way of the fuzziest guitar yet recorded on their landmark 1964 single "You Really Got Me," and are first-ballot inductees into the Rock and Roll Hall of Fame. What they are not, though, are Grammy winners. Check that: Grammy nominees.
That's right — one of the top-selling, most influential, most wildly innovative, and creative bands of all time has never garnered so much as a single Grammy nomination. In 1999, "You Really Got Me" was inducted into the Grammy Hall of Fame, a kind of consolation prize for songs and artists that should have been awarded boatloads of statues, but were not. In 2016, Ray Davies received an even better consolation prize: he was awarded a knighthood by the Queen of England, who knew a ripping good band when she heard one.
Bob Marley and the Wailers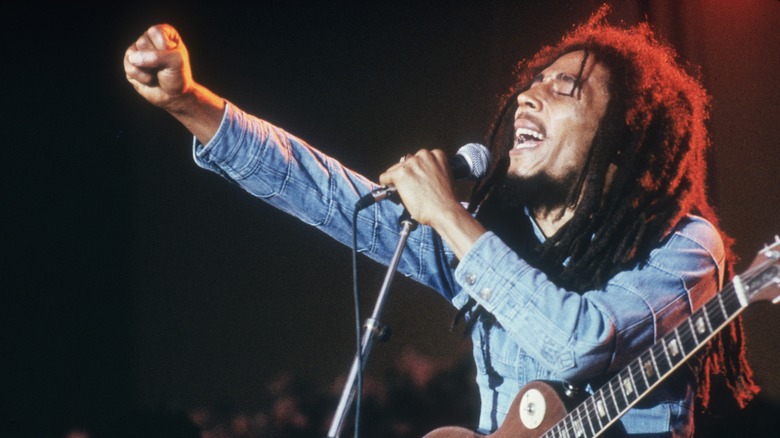 Hulton Archive/Getty Images
It's one thing for the Grammys to exclude obviously game-changing artistic triumphs and iconic recording artists from the party; those are just kind of par for the course. It's quite another to snub a singularly genre-defining artist, so let's get this straight: Robert Nesta "Bob" Marley embodied reggae music in a way that few artists did their respective genres. He re-formulated traditional Jamaican ska, injecting elements of American R&B and rock, to produce an entirely new sound; with his band the Wailers, he cut the first proper album in the entirety of the reggae genre, 1973's "Catch a Fire." He elevated the form into a global phenomenon, selling 43 million albums, and is a Rock and Roll Hall of Fame inductee. Statistically speaking, the chances are good that you have a copy of his 1984 Greatest Hits album, "Legend," sitting around somewhere, and no album title has ever been more fitting.
It is an absolute crime, then, that Marley — whose untimely passing in 1981 at the age of 36 devastated the music world — was never nominated for a Grammy, even posthumously. His influence, though, has loomed large over the Best Reggae Recording category: his Wailers bandmates Peter Tosh and Bunny Wailer have both scored wins, as have his sons Ziggy, Damian, and Stephen. 
Queen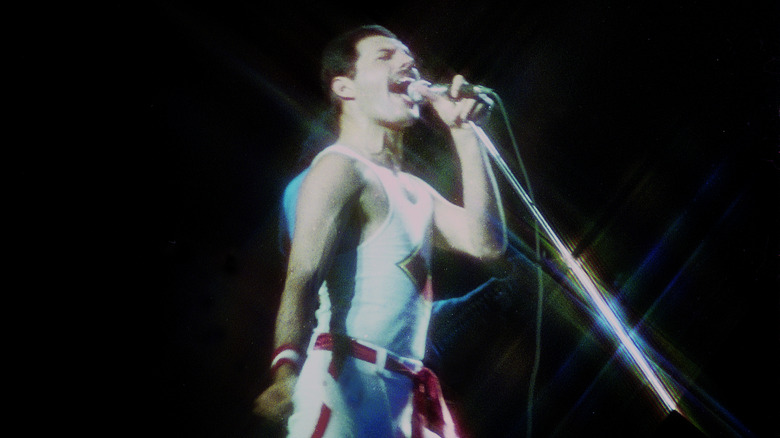 Bill Tompkins/Getty Images
Iconic British band Queen only scored four Grammy nominations in their storied career, winning none — but it's the details of their first two nods, and subsequent losses, that should make any music aficionado's blood boil. First, let's state the obvious: Frontman Freddie Mercury is widely considered to be among the greatest vocalists of all time, and Queen's 1975 single "Bohemian Rhapsody," which Mercury wrote and is probably his magnum opus, features one of his most brilliantly nuanced performances. The song was fittingly nominated at the 19th Grammy Awards in 1977 in two categories: Best Pop Vocal Performance and Best Arrangement for Voices. As detailed in "Queen: The Early Years" by Mark Hodkinson, the song's more elaborate passages required up to 180 overdubs, with the band recording and re-recording vocals for hours on end, day after day, for three weeks. It was perhaps the most ambitious vocal arrangement in all of rock at the time — and it lost the Grammy to "Afternoon Delight" by Starland Vocal Band.
To add insult to injury, Mercury's stellar lead vocal wasn't enough to score the Grammy over the maudlin, sappy performance of Chicago vocalist Peter Cetera on their hit single "If You Leave Me Now." Queen would be twice-nominated again a few years later, for Hard Rock Performance for "Another One Bites the Dust" and for Producer of the Year — losing to "Against the Wind" by Bob Seger and the Silver Bullet Band, and Billy Joel producer Phil Ramone, respectively.
Snoop Dogg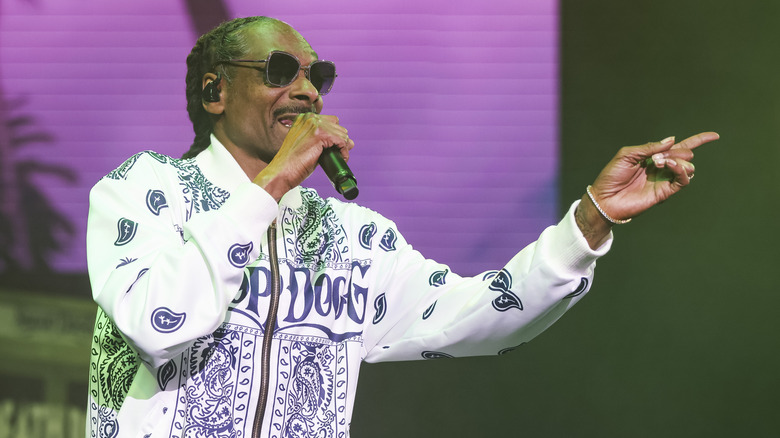 Scott Legato/Getty Images
Calvin Broadus, the MC known as Snoop Dogg, is ... okay, you know what? He's Snoop Dogg. Nobody has to pretend they don't know exactly who he is and what he's about: he dispenses laid-back yet gangster-y rhymes, could smoke your weird uncle Dave under the table, and is flagrantly cool in that effortless way that only the coolest of the cool can pull off. Debuting alongside legendary producer and rapper Dr. Dre as a teenager in the early '90s, Snoop became a pop culture icon seemingly overnight; his rhymes anchored Dre's 1992 masterpiece "The Chronic," and his 1993 solo album "Doggystyle" was the first debut to enter the Billboard chart at No. 1, not to mention the fastest-selling album ever by a solo artist at the time. He has, of course, been nominated for a boatload of Grammys, 16 in total — and he has never won.
Snoop's first nomination came all the way back at the 36th ceremony in 1994, for his appearance on Dre's smash hit single "Nuthin' But a 'G' Thang"; the song lost the Best Rap Performance Grammy to "Rebirth of Slick (Cool Like Dat)" by Digable Planets. His most recent was at the 56th awards in 2014, for his reggae effort "Reincarnated" (as Snoop Lion); he lost to a live album by Ziggy Marley, which ... well, there's no shame in that. It seems unlikely Snoop will ever take home a statue, but as cool as he is, he probably doesn't care in the least.
Nirvana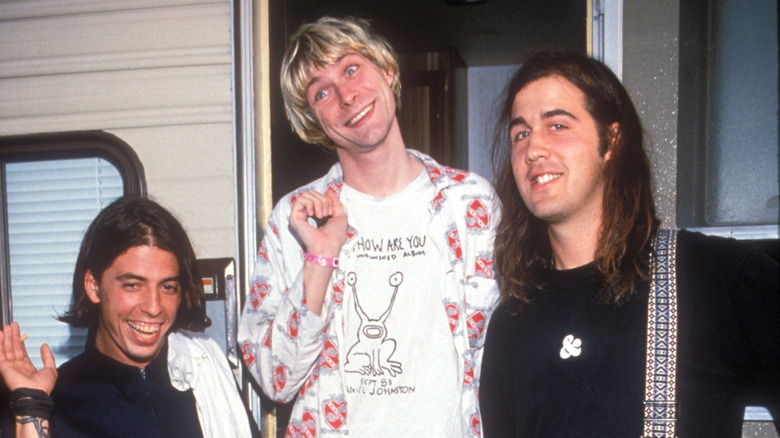 Kevin.mazur/Getty Images
One could easily make the case that legendary trio Nirvana is among the most influential bands of all time. They didn't single-handedly steer hard rock away from hair metal and power ballads; they had some help from their peers in bands like Pearl Jam, Soundgarden, and Alice in Chains. But if you were old enough to understand anything in 1991, then you immediately understood upon hearing their single "Smells Like Teen Spirit" for the first time that everything had changed. Its sound, its attitude, its sonic palette; everything about it was nothing like anything else on the radio at the time, and the album that birthed it, "Nevermind," was similarly an atomic bomb on the landscape of popular music. Fittingly, "Nevermind" received a Grammy nod at the 34th awards in 1992 — but not-so-fittingly, it was nominated only in the "Best Alternative Album" category, and not for the more prestigious Best Rock Album award. Even less fittingly, it lost — albeit to "Out of Time" by R.E.M., a mega-selling album with significant, if not quite comparable, cultural reach.
The following year, "Smells Like Teen Spirit" was nominated twice, in the Best Hard Rock Performance and Best Rock Song categories — losing to "Give It Away" by Red Hot Chili Peppers and Eric Clapton's acoustic version of the Derek and the Dominos classic "Layla," respectively. Nirvana would go on to be nominated three more times, winning only once — in the "Best Alternative Music Performance" category for their "MTV Unplugged" appearance. The win came at the 38th awards in 1996, nearly two years after frontman Kurt Cobain's death.
The Beatles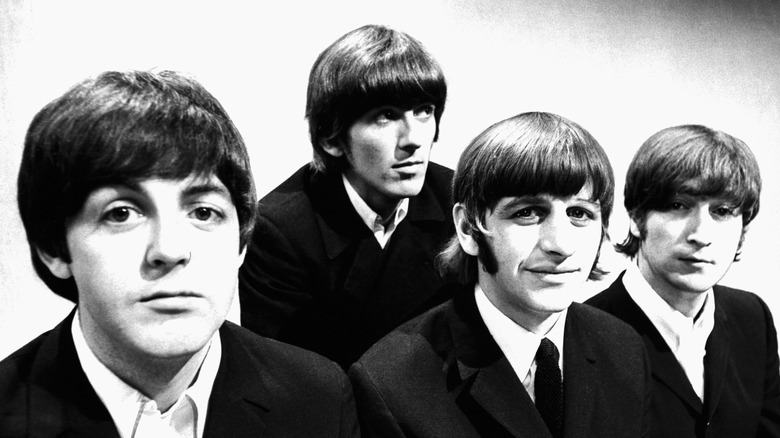 Hulton Deutsch/Getty Images
The Beatles don't need any introduction. They're generally considered to be the single greatest rock band of all time, and sure, they've scored a whole bunch of Grammy nominations — 23 in total, notching seven wins. But that doesn't mean they were immune to snubs, and at the 12th Grammys in 1970, the Fab Four earned perhaps the most deserved nomination of their career, only to lose the award to a highly questionable competitor.
The nomination was for Album of the Year for "Abbey Road," their final recorded LP, and one of the greatest of all time. The album is simply lousy with classics: John Lennon's "Come Together," George Harrison's "Here Comes the Sun,"  Paul McCartney's "Oh! Darling," and a second side suite that weaves together over a half-dozen tonally disparate songs into a startingly cohesive whole. "Abbey Road" is nothing short of a masterpiece — and it lost the Grammy to the self-titled sophomore effort from jazz-rock outfit Blood, Sweat & Tears, an LP which it's safe to say has not enjoyed exactly the same level of cultural significance.
Radiohead and Eminem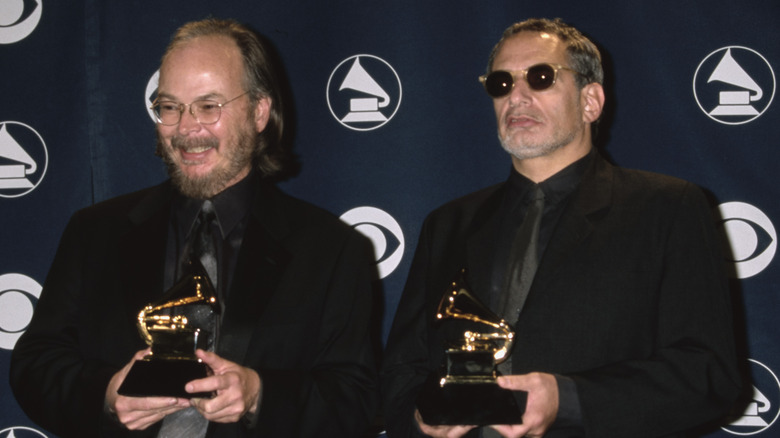 Michael Ochs Archives/Getty Images
Legendary rock band Radiohead and ridiculously talented rapper Eminem may seem like a bit of an odd couple, but they have at least two things in common. First, in 2000, they both dropped albums that constituted radical artistic statements, and redefined what could be done in their respective genres: Radiohead's "Kid A" and Eminem's "The Marshall Mathers LP." Second, both of those albums were nominated for, and lost, the Album of the Year award at the 43rd Grammys in 2001, to an absolutely shocking competitor: "Two Against Nature," the comeback album by veteran classic rockers Steely Dan.
To be fair, Walter Becker and Donald Fagen (pictured above), the only two consistent members of Steely Dan over the years, are unfairly talented musicians and songwriters who have contributed tons of classic songs to the annals of rock, not to mention at least a couple of rock's all-time great albums in 1977's "Aja" and 1980's "Gaucho." But "Two Against Nature" was simply a decent album — far from being their greatest work, and little-remembered today. Radiohead and Eminem have both won their fair share of Grammys — but in 2001, they both got robbed.
The Cars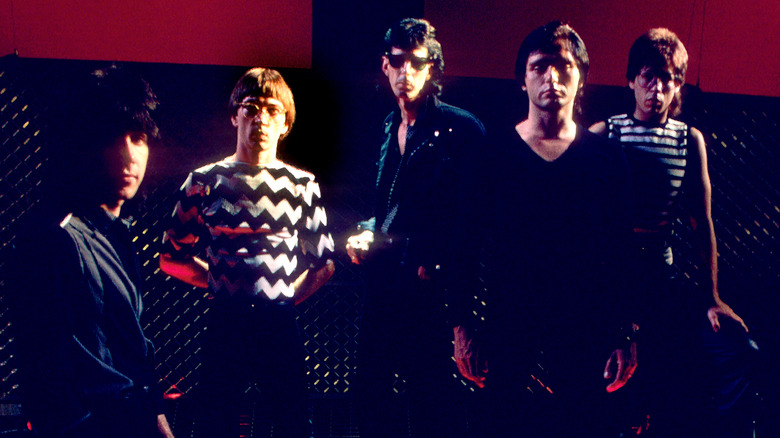 Ron Pownall Photography/Getty Images
Coming out of Boston in the late '70s, the Cars sported a sound quite unlike other bands of their era, and one that arrived fully formed with their debut single, 1978's "Just What I Needed": punky yet poppy, hot yet cool, with the scorching lead guitar of Elliot Easton comfortably sharing space with the chilly synthesizers of Greg Hawkes, and the songwriting and vocal talents of bassist Ben Orr and guitarist Ric Ocasek on full display. Rock-solid drummer David Robinson completed the five-piece, who were deservedly nominated for Best New Artist at the 21st Grammys in 1979. They lost... to disco duo A Taste of Honey, who were riding high on the success of their (sarcasm alert) monumental, world-changing single "Boogie Oogie Oogie."
Inexplicably, A Taste of Honey also managed to beat out future stone-cold legends Elvis Costello and Toto; they only ever managed one more top 10 hit, 1981's "Sukiyaki," before fading into obscurity. Today, they are mainly remembered for ... well, for winning a Best New Artist Grammy over several far more deserving talents. Unfortunately, the snub set a trend for the Cars, who would go on to score five more nominations — but nary a win.
Creedence Clearwater Revival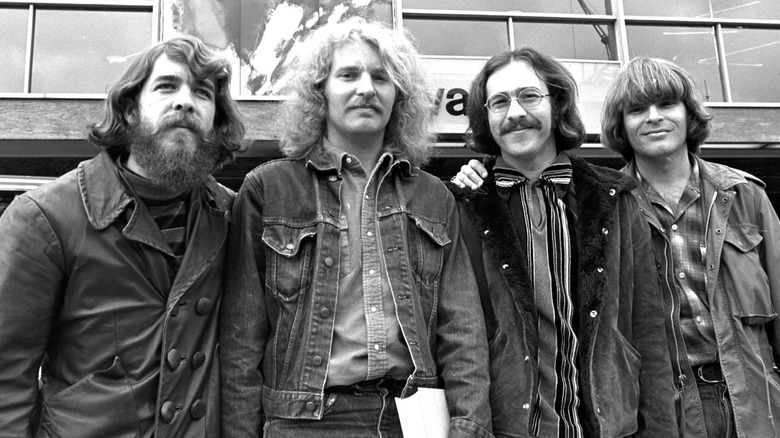 Chris Walter/Getty Images
Creedence Clearwater Revival, anchored by the songwriting, vocal, and guitar talents of frontman John Fogerty, is one of those bands that seem to get overlooked in those "greatest of all time" discussions, which frankly is a crime. Ask any classic rock fan to name one of their tunes, and they'll probably automatically return "Proud Mary." Then, they'll think about it for a minute, and start rattling off a whole freaking laundry list of classic songs: "Bad Moon Rising," "Down On the Corner," "Fortunate Son," "Up Around the Bend," "Who'll Stop the Rain," — one could do this all day. The band is a national treasure, having sold over 28 million records and earned an induction into the Rock Hall of Fame. They were never nominated for a single lousy Grammy.
As if to set this right, Fogerty went on to earn eight nominations as a solo artist, even finally winning one at the 40th Grammy Awards in 1998 in the Best Rock Album category, for his LP "Blue Moon Swamp." Of course, one might reasonably argue that nobody really remembers that record, and that there may have been other nominees — including U2's uneven but ambitious "Pop" and "The Colour and the Shape," the sophomore effort from Foo Fighters — who were slightly more deserving. After getting snubbed for his brilliant work for decades, though, one could make just as strong a case that Fogerty deserved to be on the other end of the snubbing for once.