Minnie Wallace: The Teen Accused Of Killing Her Husband In 1885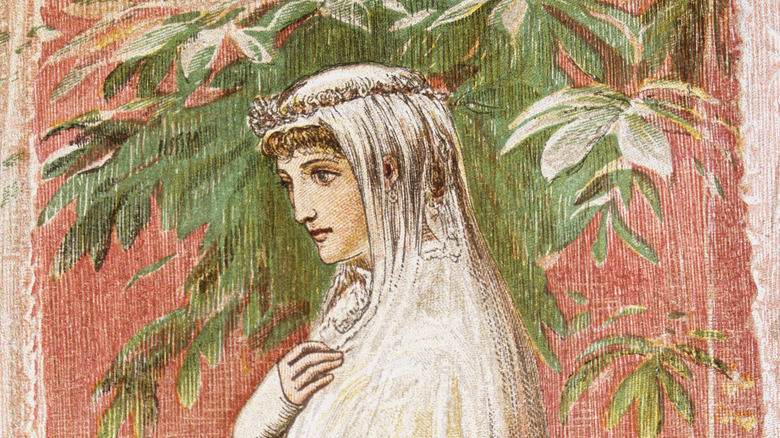 Hulton Deutsch/Getty Images
The story of Minnie Wallace — later known as Minnie Wallace-Walkup, and, even later, Minnie Wallace-Walkup-Ketchum — was one of the most scandalous pieces of tabloid fodder of the late 19th century. As told by Larry E. Wood in his history anthology "Murder & Mayhem in South East Kansas," Wallace was the daughter of a New Orleans lawyer who in 1885 married J.R. Walkup, the mayor of Emporia, Kansas, whose second wife had just died the previous year. Walkup was 48. Wallace was just 16. Despite the enormous age gap, most Emporians approved of the marriage and believed the pair were well matched.
But within weeks, Walkup was dead. An autopsy showed that he had been poisoned — he had deadly levels of arsenic in his system. On her husband's death, Wallace-Walkup, who was due to inherit around $500,000  — almost $16 million today – was now accused of being responsible for his death. Minnie Wallace-Walkup was arrested, and charged with the murder of her older husband. The various stages of Minnie Wallace-Walkup's murder trial were headline news in Kansas and beyond, often gracing the front page of the paper as the biggest talking point of the day.
Murder by poisoning?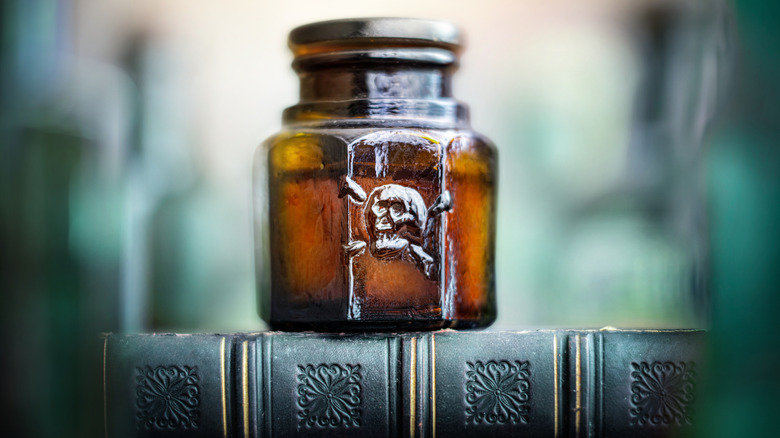 Triff/Shutterstock
Today, for an autopsy to find arsenic in a person's system would — unless they were working in a specialist lab — be overt evidence of foul play. However, in the late 1800s, arsenic was everywhere, from people's clothes to even the wallpaper that hung in their living rooms. And, of course, the Victorians — who medicated themselves with heroin, cocaine, and more — also attempted to use it for health purposes. Specifically, Wallace-Walkup claimed as her defense that her deceased husband had been taking arsenic pills purposefully as a supposed "aphrodisiac" during the few weeks he had been married to his teenage bride. Wallace-Walkup's defense team also presented evidence that the late mayor suffered from syphilis and that he had been using the substance to treat his ailments.
As these were both known uses of arsenic, the jury chose to believe Wallace-Walkup's testimony, and she was sensationally acquitted. Though the teenager had gone through the justice system and emerged with her freedom, her notoriety — and her grace, nerve, and apparent beauty which the newspapers often commented on — ensured she remained something of a celebrity in the years that followed, especially with regard to the deaths of men with whom she grew acquainted.
Minnie the serial gold digger?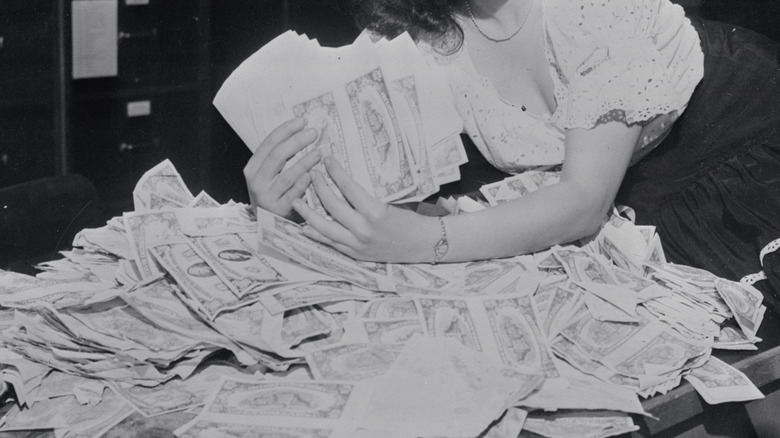 Bettmann/Getty Images
The death of Minnie Wallace's first husband and the subsequent trial that made her a constant presence in the Kansas newspapers remains the most famous part of her story. Though crowds reportedly celebrated with Wallace the day she was acquitted, many still privately believed that she had a hand in the death of J.R. Walkup, especially after the suspected teen murderer was later linked with a number of other suspicious deaths.
A feature published in the Iowa newspaper The Des Moines Register in 1918 — more than three decades after her fateful marriage to Walkup — gives a sense of the position Wallace held in the public's imagination. After the trial, Wallace attempted to avoid the public eye, returning with her mother to her hometown of New Orleans before traveling through America and Europe. However, she made headlines again in 1897, when another wealthy man, a retired lumber merchant named John B. Ketcham, was found dead at Wallace's residence in Chicago, which she had purchased with her inheritance from Walkup.
Wallace then claimed that she and Ketcham had secreted married two months previously, but had kept their relationship a secret and, as his wife, was entitled to a share of his estate. Though Ketcham's brother made a legal challenge to block Wallace's inheritance — and she was sued by her own attorney, who later claimed that the marriage certificate was fraudulent — Wallace, now referred to as Mrs. Ketcham, was bequeathed around $200,000 and was found guilty of no wrongdoing.
A double tragedy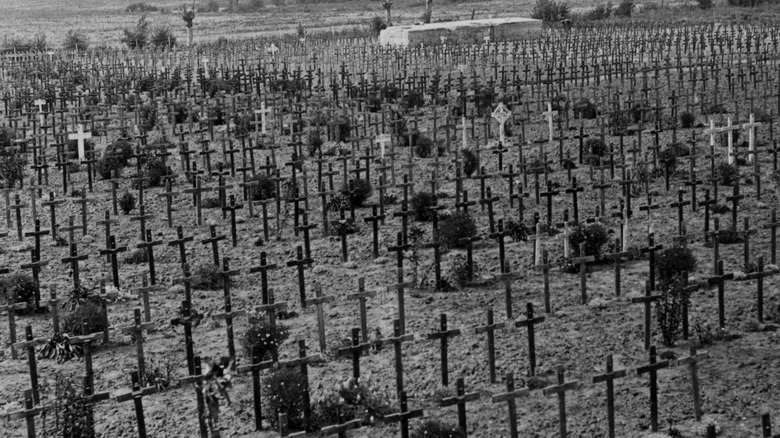 Print Collector/Getty Images
But Minnie Wallace's headline-grabbing love life was far from over, and, sadly, its final act was to take a devastating turn. According to the 1918 Des Moines Register article, throughout the court challenge brought against Wallace by her own attorney, she had as a constant companion yet another older man — De Lancy H. Louderbeck, a wealthy Chicago financier. 
Louderbeck had a wife, but after meeting Wallace at a ball became besotted with her. Over the years that followed, Louderbeck reportedly gave Wallace millions of dollars, left his wife, and built Wallace premises of her own in his house. But Louderbeck's obsessive love for Wallace was upended when, out of the blue, she sent him a telegram announcing that she had married an English army officer. Heartbroken, Louderbeck died by suicide.
Newspapers speculated that Wallace might finally have found true love with her English husband. But in a final twist, the man was killed in action in World War I. Throughout her life, Wallace was accused of being a gold digger, but, ultimately, she came to be regarded as a tragic figure.