The Tragic Murder Of Dancer O'Shae Sibley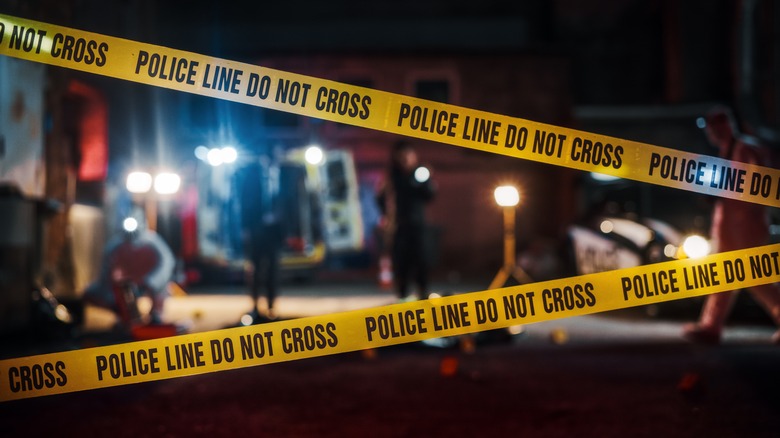 Gorodenkoff/Shutterstock
In late July, 2023, 28-year-old New York dancer O'Shae Sibley was stabbed and killed outside a Brooklyn gas station and in the immediate aftermath, New York police were investigating Sibley's murder as a hate crime, according to CNN. Reportedly, Sibley, who was Black, was killed when men confronted Sibley and others as they "vogued" to Beyoncé's music. "Vogue" is a style of dance with a long history in New York's Black and Latinx LGBTQ+ community, according to the National Museum of African American History & Culture.
Those who knew Sibley said he was an openly gay man, and his death follows a 2022 ABC7 News report that anti-LGBTQIA+ hate crimes in New York City were on the rise. The men who approached Sibley and his friends allegedly shouted homophobic remarks before the attack happened. Meanwhile, a June 2023 report from the ADL and GLAAD reported incidents of harassment and attacks on LGBTQIA+ populations were surging across the United States, while New York City, among other areas, saw the biggest increase, according to the ADL-GLAAD report.
The dispute was caught on camera
According to further reporting from ABC7 News, O'Shae Sibley's confrontation was captured on convenience store surveillance camera footage, seen above. In it, Sibley and friends are seen filling up on gas when an unnamed teenage male approaches the group. From there, a confrontation ensued, according to witnesses, which escalated as words were exchanged, resulting in Sibley's murder. Witnesses identified the 17-year-old unnamed suspect as someone from the area.
Sibley's friend, Otis Pena witnessed the incident and attempted life-saving measures at the scene before Sibley was transported to nearby Maimonides Medical Center and pronounced dead. In a Facebook post, Pena said Sibley was murdered, 'because he's gay, because he stood up for his friends ... His name was O'Shae and you all killed him. You all murdered him right in front of me."
New York Mayor Eric Adams also wrote on social media, "O'Shae Sibley's life and beautiful spirit were cut short by homophobia. Bigotry can never take root in our city. Being a New Yorker means knowing and loving people of all backgrounds. We'll bring justice for O'Shae's family and loved ones. His dancing joy will live on."
Beyoncé honored Sibley on her website
As news of O'Shae Sibley's murder spread, Beyoncé posted "Rest in Power O'Shae Sibley" on her website homepage. Longtime New York film director Spike Lee also shared a message honoring Sibley on Instagram. Sibley was a student studying dance at the Alvin Ailey American Dance Foundation, Ailey Extension, and in response to the murder, the foundation said in a statement (via CNN), "The Ailey organization mourns the tragic death of O'Shae Sibley, following an attack outside of a Brooklyn gas station on Saturday night. O'Shae was a cherished and devoted Ailey Extension student. He had incredible energy in the studio and was loved by instructors and fellow classmates."
Also in response to Sibley's murder, Darian Aaron of GLAAD said (via TIME), "O'Shae Sibley's shocking murder follows a disturbing rise in violence and harassment against LGBTQ people across the U.S. This cannot continue. No one should have to fear for their safety just for being themselves." As of this report, a suspect had been identified in connection to Sibley's murder, but no arrests were made.