Negasi Zuberi: What We Know About The Man Accused Of The Kidnapping In Oregon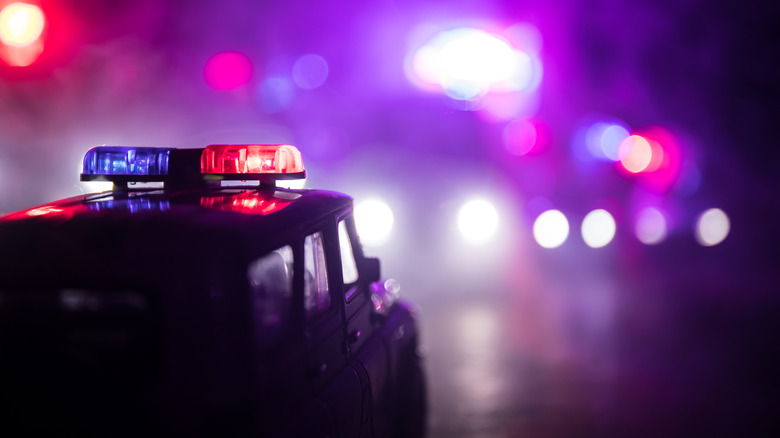 zef art/Shutterstock
The following article includes descriptions of sexual assault.
On July 16, 2023, 29-year-old Negasi Zuberi was arrested in Reno, Nevada in connection with a kidnapping and assault that shocked Klamath Falls, a small town in southeastern Oregon, The Washington Post reported. Zuberi is accused of kidnapping a Seattle sex worker on July 15, 2023, while posing as an undercover police officer. Reportedly, Zuberi used a Taser to threaten the woman, who he then placed in restraints. Zuberi drove her hundreds of miles south to Klamath Falls near the border of California. She was sexually assaulted along the way.
Once back in southeastern Oregon, police say the woman was locked in what has been described as a cinder block "dungeon" built by hand in the garage of Zuberi's home. She then used her own fists to break free and get help. Once he discovered she was gone, Zuberi fled the area. Authorities say since 2016, Zuberi has lived in several states and gone by a number of different aliases including "Sakima," "Justin Hyche," and "Justin Kouassi," among others, The Washington Post and Associated Press reported.
Investigators also suspect Zuberi may be connected to a number of assaults across the country, some of which involved drugging women's drinks. When the Seattle abduction happened, Zuberi reportedly lived with his wife and two children, and had only been in Klamath Falls for six months, NBC News reports. Zuberi was confronted by law enforcement in front of a Reno Walmart, at which time he cut himself and tried to destroy his phone, per Oregon Public Broadcasting.
He built the cinder block dungeon himself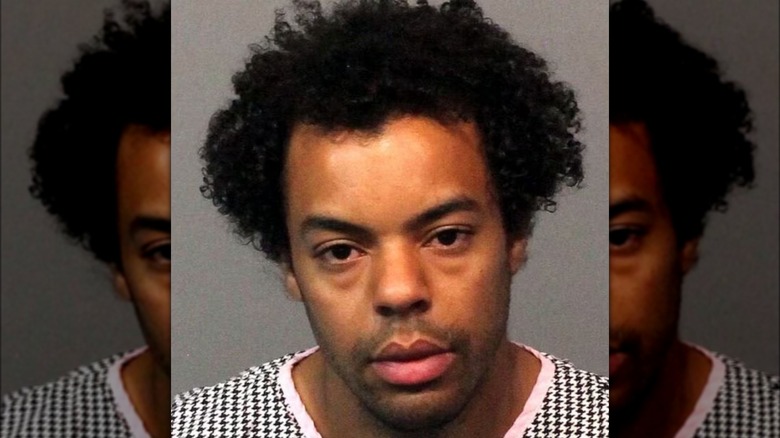 Washoe County Sheriff's Office
As the Associated Press reports, Negasi Zuberi carefully planned the Seattle abduction in what he called "Operation Take Over," based on handwritten notes discovered in Zuberi's Klamath Falls residence. In those notes, Zuberi wrote he would abduct a sex worker — or a woman who might not be missed or whose disappearance might not be investigated, according to the FBI. Those notes also included sketches of the cinder block dungeon in which the kidnapped Seattle woman was kept captive. The door was positioned in such a manner to only be opened from the outside.
Referred to as "Adult Victim 1" by the authorities as of this report, Assistant Special Agent in Charge Stephanie Shark of the FBI Portland Field Office said the kidnapped woman "beat the door with her hands until they were bloody in order to break free. Her quick thinking and will to survive may have saved other women from a similar nightmare." "While she may have helped protect future victims, sadly we have now linked Zuberi to additional violent sexual assaults in at least four states, and there could be more," Shark added in an FBI statement.
As well as sexual assault, in the past Zuberi also allegedly physically assaulted the mother of his children, among other individuals, and failed to comply with a former landlord seeking to evict him, USA Today reported. In at least one separate incident, he posed as a police officer,  authorities say.
Zuberi drove to Seattle with his cell phone
Part of Negasi Zuberi's plan to abduct a woman and keep her captive in the basement of his home, he noted he should not take his cell phone to keep his whereabouts private, but he failed to do so. Data from Zuberi's phone placed him in Seattle on the date the abduction happened, and the kidnapped woman's cell phone also followed the path he took from Seattle to Klamath Falls. States Zuberi may have resided in before the Seattle abduction include California, Washington, Colorado, Utah, Florida, New York, New Jersey, Alabama, and Nevada, according to the FBI.
As of this report, Zuberi was awaiting extradition from Nevada to Oregon, charged with interstate kidnapping and transporting an individual across state lines with the intent of criminal sexual activity. In a press conference (via Oregon Public Broadcasting), FBI Assistant Special Agent in Charge Stephanie Shark (pictured) said that evidence so far uncovered against Zuberi "points to an individual's ongoing and escalating pattern of violence targeting women in multiple states throughout the country."
When he arrived in Klamath Falls, Zuberi went by "Sakima," according to neighbors. "He's not overly friendly, but he's not a jerk or anything like that," Zuberi's Klamath Falls neighbor, Melanie McClure, told NBC News. "Nothing stood out to me that would speak to anything like what he's being accused of ... I guess I'm surprised that I didn't notice anything. Here's the thing — anybody can hide anything."
If you or anyone you know has been a victim of sexual assault, help is available. Visit the Rape, Abuse & Incest National Network website or contact RAINN's National Helpline at 1-800-656-HOPE (4673).