Who Was American Sculptor Altina Schinasi?
The question of good taste in the world of art and design is a source of much tension and debate, particularly among creators. Instinctively, one would argue that good taste would be a vital characteristic of those who are in the business of producing beautiful or otherwise aesthetically pleasing things. According to Salvador Dali: "It is good taste, and good taste alone, that possesses the power to sterilize and is always the first handicap to any creative functioning" (via Dali Universe).
But when it comes to taste, there is very little evidence that Manhattan native Altina Schinasi — who on August 4, 2023, was honored with a Google cartoon celebrating what would have been her 116th birthday — was ever limited by her sense of aesthetic judgment. Across the internet, Schinasi is described primarily as a sculptor, however, this is just one of the many art forms she engaged in during her long life. As well as creating art, she was also a designer and inventor, with one very special design for which she will forever be remembered. As The New York Times reflected in the headline Schinasi's 1999 obituary: "Altina Schinasi Miranda, 92, Designer of Harlequin Glasses." The frames, also popularly known as "cat-eye glasses," came to adorn some of the most famous faces of the 20th century.
Era-defining women's frames
The story of Altina Schinasi's early life sets the tone for exploring how she came to create her iconic frames. Schinasi (pictured) was born in 1907, into a family that was fabulously wealthy thanks to the efforts of her father, Moussa, who after migrating from Turkey became an American millionaire after inventing a patented design for a cigarette rolling machine. Moussa's inquiring mind and eye for design certainly passed to his daughter, who developed artistic interests in her youth. As her skills developed, she began a career as a window dresser for various Manhattan stores.
It was during this time that Schinasi became aware of the dearth of fashionable glasses frames for women in the window of a nearby opticians shop, and became determined that she could develop a new design that was both elegant and fashionable. Her Harlequin frames, which she brought to market in the 1930s in partnership with the high-end optical boutique Lugene, and her sleek design soon became a major fashion item, worn by countless screen heroines such as Lucille Ball, Audrey Hepburn, and Marilyn Monroe. In 1939, she received Lord & Taylor's American Design Award for the already iconic frames.
Boundless curiosity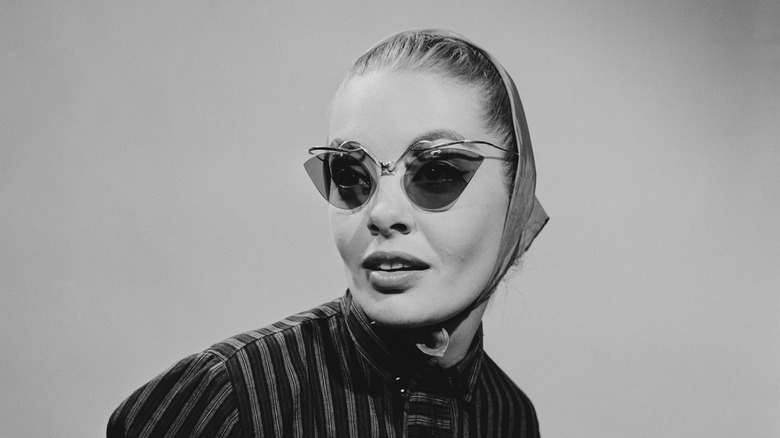 Archive Photos/Getty Images
Altina Schinasi went on to develop several other patented designs for glasses frames in the early 1940s, but seemingly she was not happy to rest on her laurels. Before long, she sold her assets in Harlequin frames and moved to Los Angeles to establish herself as a filmmaker, having previously studied art and painting. There, she produced a successful short film taking as her subject her former art tutor, George Grosz, which was nominated for an Academy Award and won the Grand Prize at the Venice Film Festival. Schinasi later befriended Martin Luther King Jr., about whom she — as a supporter of the Civil Rights Movement — also hoped to release a film , per Harlem World.  Schinasi created several other patents during her lifetime, including a design for an adjustable picture frame, and various hypodermic syringes. In her later years, she also gained some attention for her innovative furniture designs. She lived out her final years in Santa Fe, New Mexico.