What Happened To The Inventor Of The Trapper Keeper?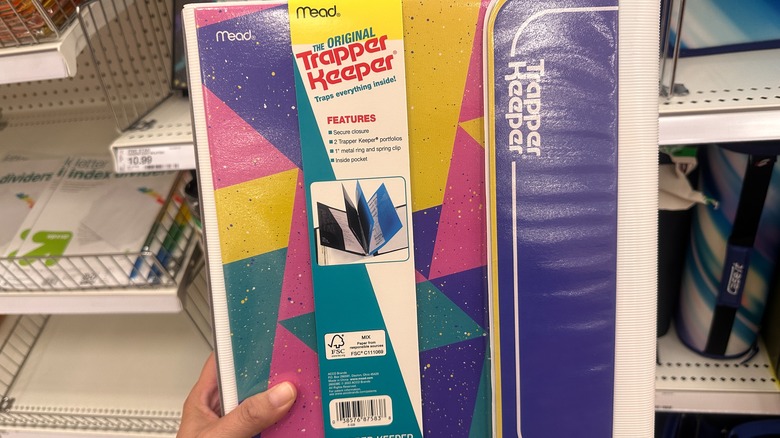 melissamn/Shutterstock
If you were a kid in the 1980s or 1990s, there's a good chance you kept your homework and other school-related papers in a Trapper Keeper, that fantastically well-organized binder that seemed to have a space for everything and kept it all in place without falling out. The man behind what would become a phenomenal best-seller for its Ohio-based manufacturer Mead (now part of Acco Brands) was E. Bryant Crutchfield, according to The New York Times. "We rolled it out, and it was just like a rocket," Crutchfield told Mental Floss in 2017. "It was the biggest thing we'd ever done. I saw kids fight over designs in retail."
The Trapper Keeper, which consisted of a three-ring binder with a secure flap aka the Keeper, held removable folders with angled vertical pockets that kept papers from slipping out thus earning the name Trappers. Crutchfield, after his slam-dunk idea sold 75 million products, left Mead in the 1990s and went to work for the Atlanta-based paper company Georgia-Pacific for a decade before retiring in 2004, but it was his Trapper Keeper that solidified his professional (and pop culture) reputation.
Not an accident
E. Bryant Crutchfield was born in 1937 in Greenberg, Alabama, and earned an applied design degree in 1960 from Auburn University, per The New York Times. By the 1970s, Crutchfield was head of Mead's New Ventures department when he came up with the idea for the Trapper Keeper, but it was no single stroke of genius. Deep market research led to the product's development.
Over a period of several years, Crutchfield and his team conducted interviews with a series of focus groups, including students and teachers, and relied on feedback cards from actual school children during the test-marketing phase in Wichita, Kansas in 1978, to help perfect the Trapper Keeper. Crutchfield told Mental Floss it was "no accident" but rather "the most scientific and pragmatically planned product ever in that industry." Mead launched the Trapper Keeper nationally in 1981 and it was a massive hit and continued to be for more than a decade.
Functional and fun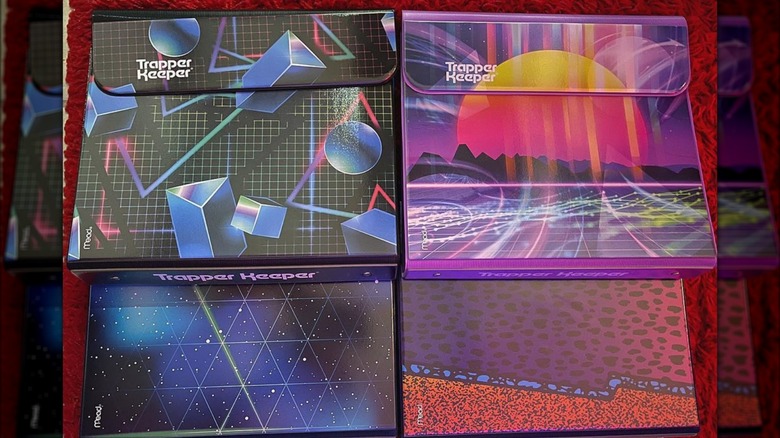 Instagram
While the Trapper Keeper's design did indeed make for a well-organized school day, it was the outside of the Trapper Keeper that really set it apart from its competitors. "When I first went to work, all school products were drab and boring," Crutchfield told Mental Floss. Crutchfield's idea to feature a variety of images on the outside covers, from soccer players to Garfield to very 1980s abstract graphics in bright colors, appealed to a wide variety of kids.
Kicking off the advertising campaign on MTV in 1981, just as the music channel was exploding in popularity, also helped, per "The Perfection of the Paper Clip: Curious Tales of Invention, Accidental Genius, and Stationery Obsession." But like most pop culture crazes from Cabbage Patch Kids to slap bracelets, the Trapper Keeper eventually lost its appeal and Mead discontinued the product in 2002. Crutchfield would rack up seven patents in his long career in the school supplies business before his death at age 85 in Marietta, Georgia, on August 21, 2022, of bone cancer, per the Dayton Daily News and The New York Times.