The History Of The Beatles' Yellow Submarine Is More Complex Than You Realize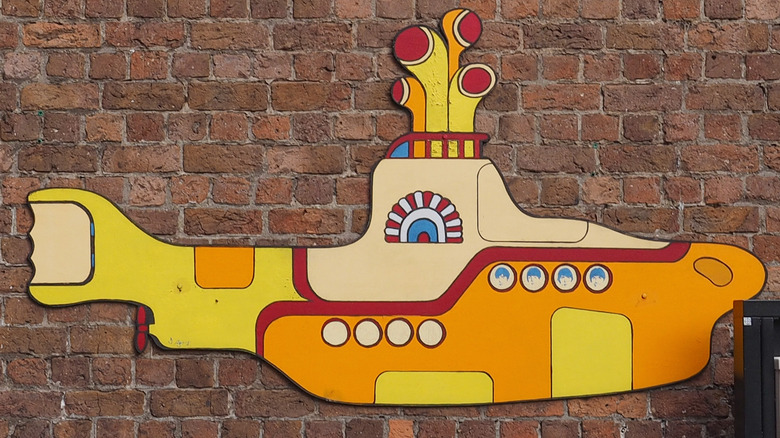 Claudiodivizia/Getty Images
What's wrong with a little whimsy in music? The respective members of The Beatles have long maintained that that's all "Yellow Submarine" was. Paul McCartney, put forward as the primary writer, said that the idea came from a Greek candy and that the song was meant for children, per Walter Everett's "The Beatles as Musicians: Revolver Through the Anthology." The actual writing was a joint effort by McCartney and John Lennon, the former providing the chorus and the latter incorporating a melody he already had in the works, with a few lyrics thrown in by singer Donovan Leitch. Written "with Ringo [Starr] in mind," McCartney told the Ivor Novello Awards in 1967 (via The Beatles Ultimate Experience); "Yellow Submarine" was Starr's featured vocal track on the "Revolver" album.
The silly, child-friendly nature of the song gave it a broad appeal, even among people who didn't normally go for The Beatles' music according to Robert Rodriguez's "Revolver: How The Beatles Reimagined Rock 'n' Roll." Others found it an irritating and irrelevant piece of fluff. But some critics saw something more than a novelty tune. Interpretations have ranged from a call to utopia, a protest against the Vietnam War, and a coded advertisement for barbiturates. And recently unearthed demo recordings have suggested that the song's origin, at least on Lennon's part, ran deeper than a fun chant for kids.
John Lennon's melody for Yellow Submarine was originally a personal lament
Paul McCartney has consistently maintained that, for him, "Yellow Submarine" was a fun children's song. That's what he told the Ivor Novello Awards in 1967 and it's how he's quoted as remembering the song in "The Beatles Anthology." "I quite like children's things," he said, "so it didn't seem uncool to me to have a pretty surreal idea that was also a children's idea." He had Ringo Starr in mind as the singer because of the drummer's way with kids, though "Anthology" quotes Starr as saying, "I don't actually know where they got the idea for ["Yellow Submarine"]."
John Lennon was just as insistent that "Yellow Submarine" was primarily McCartney's work. "We virtually made the track come alive in the studio," he said (per "Anthology"), "but based on Paul's inspiration." He framed his contribution as help with the lyrics and the melody, which he already had in the works for something else. But early work tapes included on a re-release of "Revolver" in 2022 (via YouTube) show just what Lennon had in mind when he first composed that melody.
The lyrics Lennon sang to this early version aren't about a whimsical submarine, but a young man who was born into an uncaring environment. "I had no idea until I started going through the outtakes," producer Giles Martin told Rolling Stone. "But it's beautiful in a way, where you realize that there's so much depth behind it."
The title has an unfortunate coincidence with drugs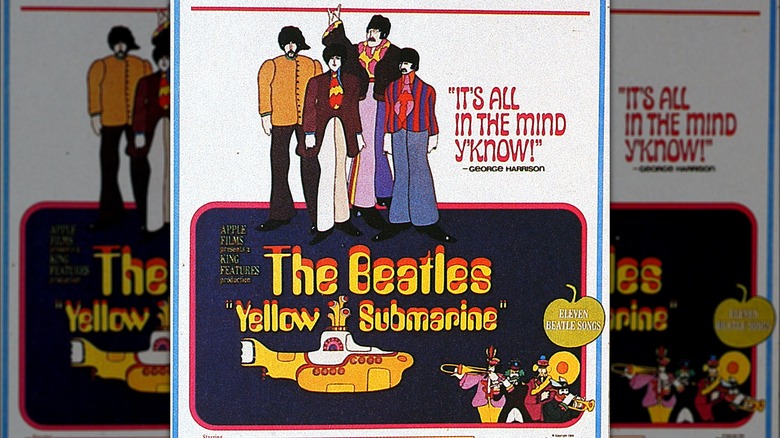 Gab Archive/Getty Images
Per Walter Everett's "The Beatles as Musicians: Revolver Through the Anthology," "Yellow Submarine" took a lot of effort in the recording studio. Paired with "Eleanor Rigby" as a double A-side single, it topped the U.K. charts for four weeks according to The Beatles' official website. It also gave The Beatles the title for their third film (one they did very little work on, per the BBC), the animated cult classic "Yellow Submarine."
That didn't mean everyone was enamored with the song. Peter Doggett called it "culturally empty" in his book "There's a Riot Going On: Revolutionaries, Rock Stars, and the Rise and Fall of the '60s." Walter Everett quoted Nicholas Schaffner as saying the song had "some incredibly disarming and idiotic lyrics ... with an equally simple and ridiculous melody" in "The Beatles as Musicians." But others found it objectionable for its perceived promotion of a dangerous drug. Per Robert Rodriguez's "Revolver," a connection was made between the yellow submarine of the title and Nembutal, a barbiturate that came as a yellow capsule. The drug had a bad reputation for contributing to Marilyn Monroe's death.
This interpretation lacked any motive for The Beatles to plug Nembutal. And many interpreted the song in a positive light, albeit far removed from its child-friendly intentions. Countercultural groups in the U.S. and U.K. would modify the chorus for use in strikes and antiwar protests.