The Meaning Behind Jamming By Bob Marley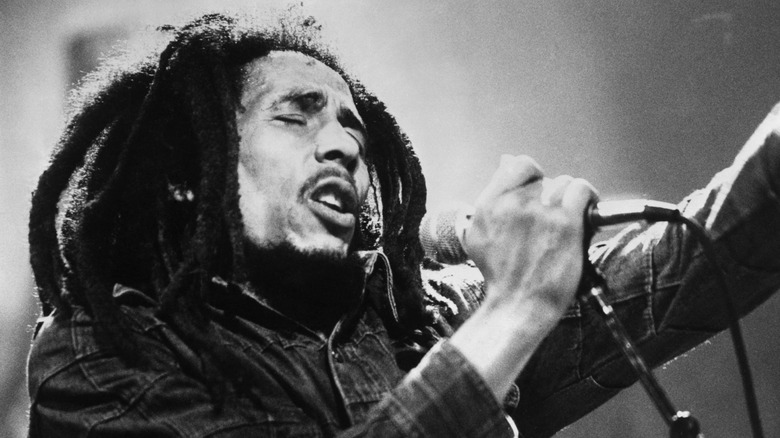 Echoes/Getty Images
In an Island Records recording studio in London, England, Bob Marley and his bandmates, the Wailers, were in the midst of a frenzy of recording new music. It was early 1977 and it had only been a few months since three men had broken into Marley's home in Kingston, Jamaica, and sprayed the interior with automatic gunfire, wounding Marley, his wife Rita, and two others, per Billboard. A bullet grazed the singer's chest and lodged in his left arm. And now he was recording the music that would end up encompassing two albums: "Exodus" and "Kaya."
Among the creative flurry of that period, Marley wrote and recorded a song that spoke directly to his assassination attempt that was included on "Exodus." "No bullet can stop us now/ we neither beg nor we won't bow/ Neither can be bought nor sold," Marley sang on "Jamming." Beyond addressing the shooting, the song is also about unity and has sexual overtones all wrapped up in what at first appears to be a simple party song, according to "Bob Marley: Lyrical Genius."
Politics and bullets
Abzee/Getty Images
On the "Exodus" album, "Jamming" kicks off side two. "The first side is more political, the second side showed him being happy, in a good mood," Chris Blackwell, the founder of Island Records, recalled in a 2017 interview with Billboard. Yet, it seems that with "Jamming" like many of the album's songs, Marley can't shake his near-death experience. Blackwell admitted that Marley "was very depressed after the assassination attempt and really shocked that people in Jamaica would want to kill him."
Jamaica in 1976, was a political powderkeg and Bob Marley was hoping to cool things off by headlining a free concert in Kingston, the capital. But then the People's National Party, then in power, thrust politics into the concert by announcing early elections timed with the concert, according to Rolling Stone. Two days before the free concert, Marley was shot by unknown assailants although many believe it was tied to Jamaican politics. Unwilling to back down, Marley performed a 90-minute set at the show with his arm still bandaged. Shortly thereafter, he left Jamaica and headed for London.
Jammin' in Jamaica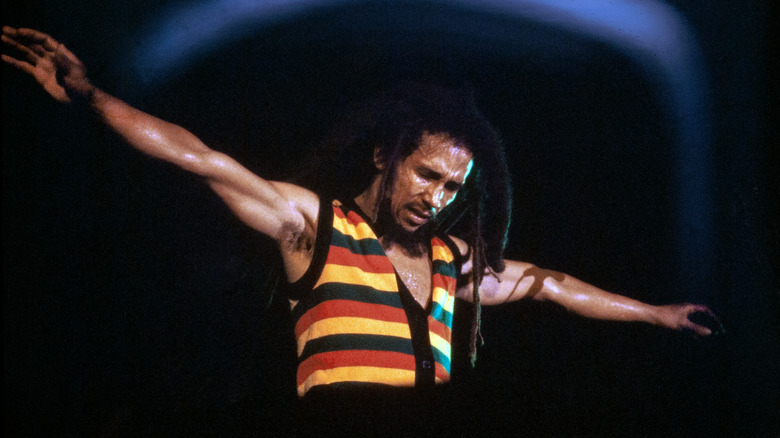 Charles Steiner/Getty Images
In "Jamming," besides referencing the failed assassination, Bob Marley suffused the song with several layers of meaning. The title of the song comes from the Jamaican Patois word "jammin" and refers to a celebration or party, according to "Jabari: Authentic Jamaican Dictionary of the Jamic Language." And the song with its funky guitar licks by Junior Marvin and the thumping bass of Aston "Family Man" Barrett certainly provides the perfect backbone to get the party started. But Marley's lyrics go beyond simple fun.
Vivien Goldman, in her "The Book of Exodus: The Making and Meaning of Bob Marley and the Wailers' Album of the Century," recalled seeing Marley perform "Jamming" live at his first concert back in Jamaica following his sojourn in London and concluded that "the tune had yet another edge, in addition to praising and dancing survival: jamming became the life force, the very breath and pulse of existence."