MLB Fights That Went Too Far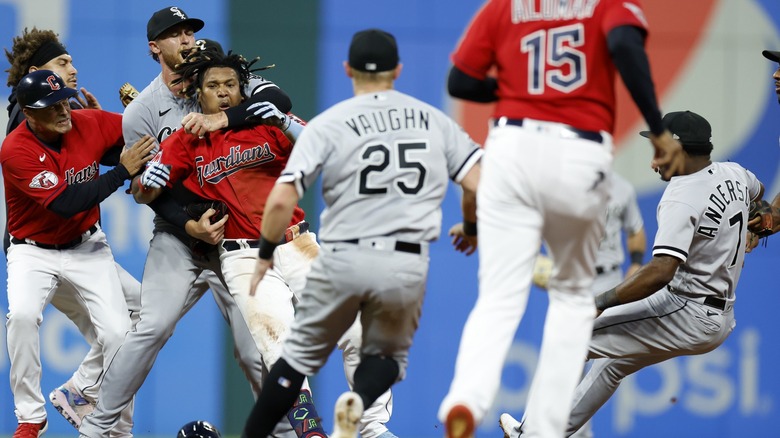 Ron Schwane/Getty Images
Normally, when one thinks about Major League Baseball, fighting isn't the first thing to come to mind. That's not to say it doesn't happen, but it is far from typical — it's not hockey, after all. Still, some of the most famous — or perhaps infamous — moments in MLB history have resulted from a bench-clearing incident.
Most of the time, fights happen due to a fastball that was just a little too far inside, but that's not always the case. Sometimes, it's a hard tag-play, a hard slide, or if you're Roger Clemens, it could just be Mike Piazza hitting a foul ball. Usually, the benches clear and there are some words exchanged, but rarely does it actually devolve to the point of serious violence. With all the trades and team-changing during free agency, players typically have at least a few former teammates on the opposing side, which often helps to cool the temperature.
However, sometimes things get out of hand and the fists start flying. It's definitely not the most family-friendly aspect of the game, but it's certainly exciting. Looking back, these are some of the craziest MLB fights that went too far.
Jose Ramirez vs. Tim Anderson (2023)
It's no secret that the Chicago White Sox and Cleveland Guardians are not fans of each other. As rivals in the American League Central, they get several chances each year to unleash their frustration, but usually it's baseballs the players are hitting hard, not each other.
That wasn't the case on August 5, 2023, when Guardians third baseman José Ramírez got into a wild fight with White Sox shortstop Tim Anderson. The fight followed a double from Ramírez and what he deemed was a hard tag from Anderson at the bag. Ramírez immediately stood up and started arguing with Anderson, who quickly dropped his gloves and gestured to start fighting. Unfortunately for Anderson, Ramírez responded by knocking him down with a right hand, and the benches erupted. White Sox pitcher Michael Kopech threw Ramírez in a sloppy headlock, as players scrambled to drag their teammates away. Even the coaches started screaming at each other, leading to a brief flare-up after things had died down. Both Anderson and Ramírez received ejections, as well as both teams' coaches, and it took several minutes to calm the tension.
According to Ramírez, he felt that Anderson had been disrespecting the game for a while at that point by tagging people too hard, which could potentially lead to injury. Anderson and Ramírez each received multi-game suspensions for their parts, which were both later reduced upon appeal.
Yordano Ventura vs. Manny Machado (2016)
Due to Yordano Ventura's unfortunate passing in 2017 at the age of just 25, this one is a bit painful to highlight, but it is definitely worthy of inclusion. The incident happened back during a June 2016 game between Ventura of the Kansas City Royals and Manny Machado of the Baltimore Orioles.
During Machado's at-bat in the second inning, Ventura threw two extremely close fastballs that nearly hit him, before Machado flew out and exchanged some heated glances at Ventura. During the next at-bat in the fifth inning, Ventura's first-pitch fastball plunked Machado, who immediately began running toward the mound. Machado started swinging at Ventura and connected, before Ventura tackled him and both of the benches cleared. Ventura was stunned by Machado's punches, and the entire scene was chaotic as both teams tried to pry their teammates off their opponents. Several side scuffles broke out over the next minute, and it was pandemonium.
Following the fight, both Machado and Ventura received ejections and suspensions, and Machado also got slapped with a $2,500 fine. Ventura's suspension was more than twice as long as Machado's at nine games, likely because he had a history of throwing at players previously. Considering Ventura used to throw as much as 102 mph, it's little surprise Machado took umbrage to such hard pitches aimed at his ribs, and they're both lucky he wasn't injured.
Pedro Martinez vs. Don Zimmer (2003)
Most discussions involving baseball inevitably turn to the Boston Red Sox versus New York Yankees rivalry, and as it happens, they've had quite a few brawls over the years. Probably the most infamous occurred back in 2003, during the third game of the American League Championship Series.
In the top of the fourth inning, Red Sox hurler Pedro Martinez threw a fastball at Yankees slugger Karim Garcia, which briefly caused a commotion, but things stayed civil. However, in the bottom of the inning, the always level-headed Roger Clemens threw a high pitch that Manny Ramirez felt was too close, and soon both teams were on the field coming at each other. By far, the craziest part of the brawl was when Yankees bench coach Don Zimmer came charging at Pedro Martinez, who grabbed him by the head and threw him to the ground. Zimmer was 72 years old at the time, and had to be helped up by several team members and personnel to get back to the dugout.
For his part, Zimmer later said he was ashamed of his actions and took responsibility. Martinez would claim that he was not trying to hit Garcia and that it was the result of fatigue. While many people have questioned whether or not Martinez was truthful with his assertions, there's no doubt it was one of the most infamous moments in the storied rivalry between the Yankees and Red Sox.
Robin Ventura vs. Nolan Ryan (1993)
If social media had been around in the 1990s, you can bet the Robin Ventura versus Nolan Ryan fight would have quickly gone viral. The shot of Ryan holding Ventura in a headlock while raining down repeated blows is one of the best memes in baseball history, though probably one Ventura would rather forget.
The brawl began when Ventura charged the mound after Ryan hit him with a pitch. Yet, when Ventura finally made up to Ryan, who was much bigger than him, he appeared unsure of what to do. Ryan quickly grabbed him in a headlock and hit him repeatedly until both teams came together in a massive fracas. Players from both Ryan's Texas Rangers and Ventura's Chicago White Sox started punching each other, and just when things started to calm down, Gene Lamont from the White Sox started it up again, and another brawl broke out. This one ended with Rangers' bench coach Mickey Hatcher bleeding from his temple.
Amazingly, this was the last of the 158 times Ryan would hit a batter, and definitely was the most violent. Even more incredible is the fact that only Ventura and Lamont received ejections, while Ryan not only stayed in the game but even earned the win. It was one of baseball's biggest fights, and will forever remain one of its greatest memes.
Detroit Tigers vs. New York Yankees (2017)
The Detroit Tigers 2017 season was unfortunately one of the least impressive and most frustrating in history, and the lowest point was probably the massive brawl that took place against the New York Yankees that August. Following an inside pitch to Tigers superstar Miguel Cabrera, he got into a shoving match with Yankees catcher Austin Romine, which soon led to them squaring up and exchanging blows.
Romine tackled Cabrera to the ground, and both teams came charging out of the benches and into a massive quarrel with each other. There were punches thrown, the bullpens came sprinting out, Brett Gardner tackled James McCann and threw him down: it was pandemonium. And that wasn't even the end. Later, in the seventh, Yankees' pitcher Dellin Betances hit McCann in the head with a fastball, which led to another bench-clearing incident. But that still wasn't the end. An inning later, Tigers' pitcher Alex Wilson hit Todd Frazier with a fastball in the leg, leading to the third clearing of the benches in as many innings.
The punishments from MLB for the brawl were pretty severe. Cabrera received the most, with a seven-game suspension, and five others also got suspensions, including his manager Brad Ausmus, Romine, and Wilson. It was an extremely ugly incident, which was made all the more awkward two years later, when the Tigers signed Romine to be their catcher — with Cabrera still on the team.
Juan Marichal vs. John Roseboro (1965)
One of the craziest fights in MLB history happened back in the 1960s, when Juan Marichal took things way too far against John Roseboro. It happened during an August 1965 game, when the San Francisco Giants took on the Los Angeles Dodgers. Marichal was up at bat against the Dodgers, and he was upset at the Dodgers' catcher, Roseboro, who had buzzed Marichal's temple with the ball when he was throwing back to the pitcher. 
Marchical's response was to blast Roseboro twice in the head with his baseball bat. Hitting someone in the head with a bat is probably the worst possible thing you can do during an MLB fight, given they can be extraordinarily dangerous weapons in the wrong hands, and can even kill if someone is hit hard enough. Luckily, Roseboro was no worse for the wear, minus a few cuts and bruises, but it was a crazy moment. Predictably, both sides came streaming out of their dugouts, and the field was a massive fight club for nearly a quarter of an hour.
Marichal was ejected, suspended, and fined, but he later apologized. Years later, in an incredible display of sportsmanship and character, both men were able to put the incident behind them and become friends. Marichal even served as a pallbearer at Roseboro's funeral when he died in 2002, almost 40 years after their famous fracas.
Braves vs. Padres (1984)
Typically, it's pretty uncommon for even one player to get ejected, let alone the 17 that found themselves heading to early showers during a 1984 game between the Atlanta Braves and San Diego Padres. Leading up to the eighth inning, there had already been four ejections, but things were just getting started.
To lead off the bottom of the eighth, Padres pitcher Craig Lefferts hit Braves pitcher Pascual Perez with a pitch. This had followed several missed attempts to hit him earlier, resulting in Perez hitting the first Padres batter of the game with a pitch. Following the Lefferts plunking, the benches predictably cleared, and at least three different fights broke out, with players tackling and punching each other all over the place. Things briefly calmed down, until Champ Summers rushed at the Braves bench, flaring things up again — with even the fans throwing drinks at the players on the field. Afterwards, another four received ejections.
Yet, in the ninth inning, things flew off again when Braves pitcher Donnie Moore hit Padres batter Graig Nettles, who charged the mound in retaliation. In the end, 17 players were ejected, several fans were arrested, and everyone who wasn't on the field playing or managing had to go into their teams' clubhouse for the remainder of the game — like children being put in timeout. It was probably the craziest series of fights in one game, and likely will never come close to happening again.
Jason Varitek vs. Alex Rodriguez (2004)
The 2003 and 2004 seasons were the height of the modern New York Yankees and Boston Red Sox rivalry, and the 2004 American League Championship Series (ALCS) was one of the most memorable of all time. The Don Zimmer versus Pedro Martinez scuffle had happened the year prior, and tensions were still extremely high in 2004.
During the 2004 ALCS, Red Sox pitcher Bronson Arroyo hit Yankees slugger Alex Rodriguez with a pitch, prompting Rodriguez to yell several expletives at him — all of which were clearly visible to the millions watching at home. In response, Red Sox catcher Jason Varitek put his mitt in Rodriguez's face, and then everyone started fighting. Varitek and A-Rod were trading punches and falling on top of each other, while several other brawls broke out between separate players. Yankees pitcher Tanyon Sturtze was bleeding from the ear by the end, and things got incredibly ugly for a few tense minutes.
It was one of the most infamous playoff brawls of all time, and was made all the more memorable a few weeks later when the Red Sox won the World Series for the first time in nearly a century. The fight was one of the most brutal and violent in the Red Sox and Yankees' history, which is saying something considering how long and intensely they have feuded.
Jose Bautista vs. Rougned Odor (2016)
No matter what happens, the Jose Bautista versus Rougned Odor fight will forever be one of the absolute craziest moments in MLB history. It occurred during a May 2016 game between the Toronto Blue Jays and Texas Rangers, between whom tensions had been simmering since the season prior. In 2015, Jose Bautista of the Blue Jays hit one of the most memorable playoff home runs ever against the Rangers in the American League Divisional Series, which led to a huge bench-clearing brawl and several ejections.
With both teams still on edge in 2016, a hard slide from Bautista into Odor in the eighth inning set things off again. Following the slide, the two immediately stood up and started to square off, with Odor shoving and then hitting Bautista directly in the face with a right hand. Odor's blast hit Bautista so hard his sunglasses went flying off and he fell over. This ignited an even larger fight between both teams, with players tackling and fighting each other all over the infield.
It took several minutes to finally calm things down, as players and coaches kept getting agitated and starting the commotion up again. In all, six players were ejected over the fight, eight overall were thrown out of the game, and MLB later issued disciplines to 14 players and coaches from both teams.
Amir Garrett vs. Pittsburgh Pirates (2019)
As far as MLB fights go, the Amir Garrett incident from 2019 was certainly one of the wildest. Garrett seemingly tried to take on the entire Pittsburgh Pirates bench during a blowout loss that July, and things quickly turned ugly. There was only one out left in the game, and Garrett was on the mound for the Cincinnati Reds. He was in the midst of a very heated discussion with his pitching coach, when he abruptly walked off the mound and started sprinting at the Pirates bench.
Garrett immediately started swinging on anyone who was within arm's reach, which happened to be several Pirates players. Soon, players from the Reds ran over to help Garrett, and things devolved into a massive melee. Several players on the ground were scuffling with each other, there were multiple fights between players, and Reds' manager David Bell was at Pirates' skipper Clint Hurdle's throat screaming at him. Tensions kept flaring up, especially with Reds outfielder Yasiel Puig, and it took a full five minutes for things to finally calm down so the teams could play the final out and end the game.
Five players received ejections, and it was actually a Pirate, reliever Keone Kela, who received the harshest punishment with a ten-game suspension, one of eight to receive a ban. Garrett later expressed remorse over the incident, but soon found himself in another massive brawl two years later, against the Chicago Cubs.
Detroit Tigers vs. Chicago White Sox (2000)
Though most fans probably don't remember it today, the Detroit Tigers versus Chicago White Sox brawl from 2000 was one of the most violent in MLB history. Even though the Tigers had just joined the Sox in the American League Central two seasons prior, in 1998, they already had a fierce rivalry with each other by 2000. During a game in April, tensions came to a head following a series of hit-by-pitches.
The first plunking was done by the Tigers' Jeff Weaver to the Sox' Paul Konerko, who then hit Carlos Lee two innings later. This was followed by Sox pitcher Jim Parque hitting Dean Palmer, who then charged the mound and threw his helmet at Parque before swinging at him. Later in the commotion, Tigers' outfielder Bobby Higginson blasted Parque in the mouth with a forearm, blindsiding him and knocking him over. That wasn't the only fight, as a second transpired in the ninth inning, following another hit-by-pitch.
As a result of the madness, Sox pitcher Kevin Foulke was cut on the eye, and Parque had a black eye — among several other likely injuries. In the end, a total of 16 players and coaches were suspended, 11 received ejections, and an additional eight received undisclosed fines. One of the Tigers coaches got a 15-game suspension, which was more than any of the players. It was an infamous beginning to the rivalry between the Tigers and White Sox, which is still going strong today.