The Fascinating History Of Music's Nudie Suits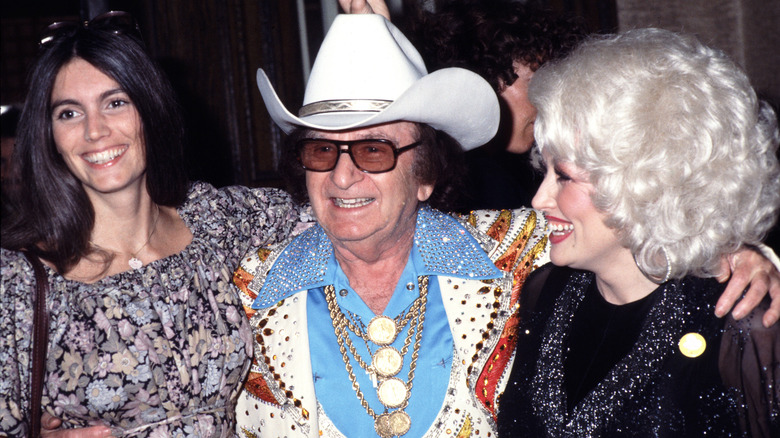 Chris Walter/Getty Images
Hank Williams wore them. So did Elton John and Keith Richards. Even President Ronald Reagan sported them back when he was in Hollywood. They were called Nudie suits and featured wild and intricately hand-embroidered flowers, guitars, cacti, and a plethora of Western-themed imagery studded with sequins and rhinestones, often in bright colors.
The Nudie suit was the brainchild of an immigrant tailor from Eastern Europe named Nudie Cohn, who built on traditional Western wear to create some of the most elaborate clothing ever worn by a who's who of legendary musicians and actors. "'Real men wear rhinestone' — that's what he always used to say," Jamie Nudie, Cohn's granddaughter, told CNN. Cohn's trajectory took him from being a poor Jewish tailor's apprentice who fled Russian violence as a child to the rhinestone cowboy who outfitted Elvis Presley in gold lamé.
From Kyiv to Hollywood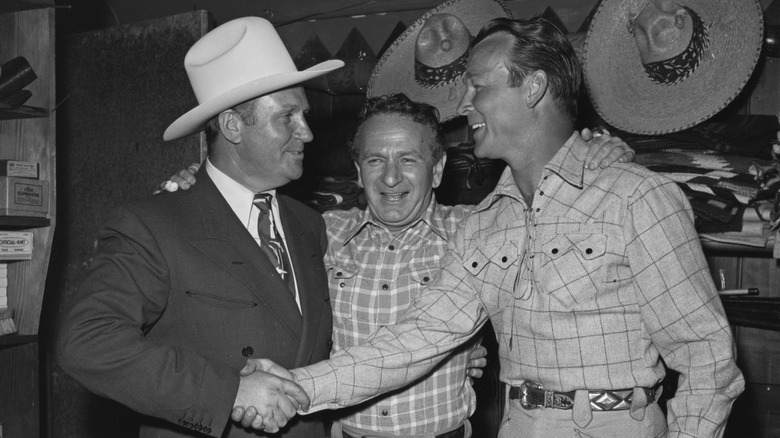 Archive Photos/Getty Images
Nudie Cohn was born Nutya Kotlyrenko in Kyiv, then part of the Russian Empire, in 1902. By 8 he was already an apprentice tailor, and three years later, his Ukrainian-Jewish parents sent him to the United States in hopes of a better life away from Russian antisemitic violence. It was in New York City where he got a new moniker — by the time he left Ellis Island after his processing, he had become Nudie Cohn thanks to an immigration officer who wrote down the wrong name.
After traveling the country and working various jobs, Cohn met and married Helen "Bobbie Nudie" Kruger, and the couple moved to Manhattan. They opened the women's lingerie shop Nudies for Ladies, which catered to burlesque dancers who wanted tailor-made G-strings. In the 1940s they moved to Los Angeles and began working out of their garage making custom Western wear for such famed country musicians of the era as Lefty Frizzell and Tex Williams.
From Honky-Tonk to Hippie to today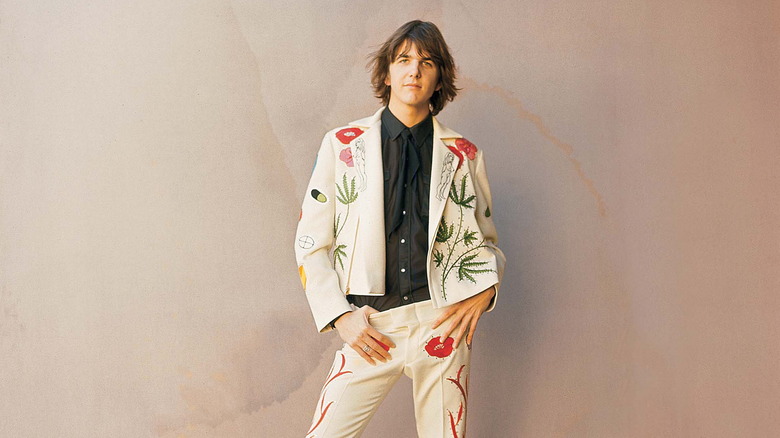 Jim Mccrary/Getty Images
In 1947, the Cohn family moved the business out of the garage, opening Nudie's of Hollywood — now Nudie's Rodeo Tailors — where Nudie Cohn took the already flamboyant cowboy clothing style created by two other Eastern European tailors, Nathan Turk and Rodeo Ben, and supercharged the look. Cohn added even more intricate designs that incorporated rhinestones, a holdover from his days as a tailor for showgirls. "He thought: 'Why not put rhinestones on it? Why not add some embroidery? Why not make a themed suit out of embroidery?'" Jamie Nudie told CNN. "And now it's something that's just part of our Americana culture."
Soon everyone from Elvis to Johnny Cash wanted a Nudie suit. But it was Gram Parsons, whose band the Flying Burrito Brothers helped popularize country rock in the late 1960s, who made the Nudie suit hip for the counterculture rock set, extending its allure even further, per GQ. Cohn died in 1984, but his suits continue to be popular with musicians like Beck, while newer designers have carried the Nudie suit torch by creating similar outfits for the likes of Post Malone.