How Freddie Mercury Really Felt About John Lennon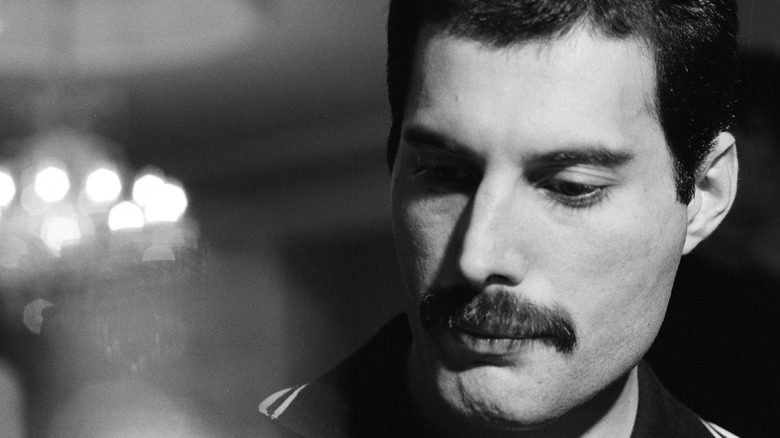 Midori Tsukagoshi/shinko Music/Getty Images
Queen opened many doors for Freddie Mercury and introduced him to many people. But he was never able to manage a meeting with one of his heroes. Asked in 1984 what historical figure, living or dead, he would most like to meet, Mercury replied, "The only person I wish I had met was John Lennon. 'Cause he's the one that I did idolize and I just thought that he was a very beautiful human being" (via Twitter). Mercury did get a chance to meet Lennon's old partner Paul McCartney at the 1985 Live Aid concert. And he had many musical idols; per U Discover Music, they ranged from Elvis Presley to Ella Fitzgerald, with the likes of Luciano Pavarotti thrown in for good measure. But Lennon always loomed large for Mercury.
It was a sentiment he expressed more than once in public. Mercury said that even in the early days of the Beatles, he had an ear, and a preference, for Lennon's work. "He was the greatest, as far as I'm concerned." Lennon was such a larger-than-life figure to the Queen frontman that he resisted any comparison with him. For Mercury, Lennon was on another level. "It's not a matter of having less talent," he once said, shrugging off self-deprecation, "just that some people are capable of doing certain things better than anybody else, and I feel that I'm not equipped to do the things that Lennon did." He went so far as to say that he didn't think anyone should attempt to imitate or follow Lennon, as it would be an impossible task.
Mercury sang Imagine as a tribute to Lennon after his death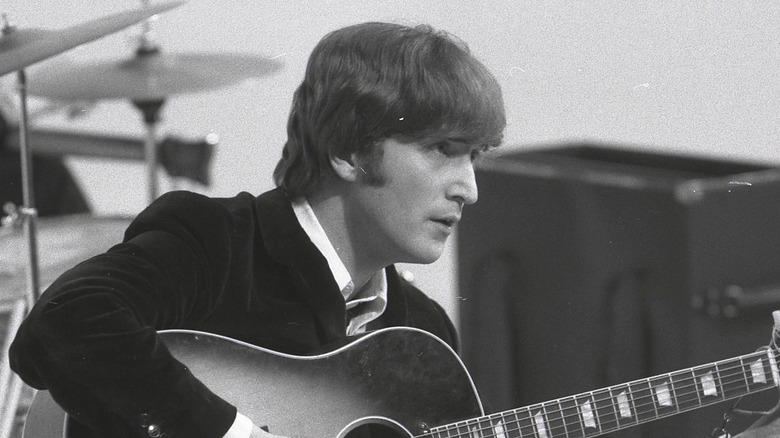 Max Scheler - K & K/Getty Images
Some musical artists relish being able to cover the work of their idols; others find it daunting. Freddie Mercury seemed to be in the latter camp, at least when it came to singing anything done by John Lennon. "To be honest, I would never like to put myself on a par with John Lennon at all," he said in an interview (via U Discover Music). "I don't think anybody should, because John Lennon was unique, a one-off, and that's the way it is. I admire him very much and that's as far as I want to go." Singing "Do They Know It's Christmastime At All?" alongside Paul McCartney at Live Aid (via Facebook) was one thing, but a deliberate cover of anything from the Beatles catalog was another story.
However, Queen found themselves in London on December 8, 1980, the night John Lennon was murdered in New York. As a tribute, Queen hurriedly prepared and rehearsed a cover of Lennon's "Imagine" and added it to their set for a Wembley Arena show the next night, per Mark Blake's "Is This the Real Life? The Untold Story of Queen." The tribute was heartfelt but imperfect; chords and lyrics were fumbled before it was over. But a few days later, Mercury and the band gave their tribute cover again in Frankfurt, Germany, a bootleg recording of which has since surfaced on YouTube. According to Smooth Radio, Queen kept the cover in their playlist for the rest of their 1980 tour.
Mercury wrote a tribute song to Lennon
"When I heard that [John] Lennon was dead, I was shocked and dumbfounded," Freddie Mercury once said (via U Discover Music). In the immediate aftermath of Lennon's death, Mercury used his hero as a measuring stick for his own songwriting ability. Per Mark Blake's book "Is This the Real Life? The Untold Story of Queen," Mercury's self-assessment was: "I don't believe that I have a talent to write deep messages ... John Lennon can do that but I can't." He gave that self-critique shortly after Lennon's murder, but he may have changed his mind by 1982, or at least felt willing to try reaching further. That was the year that Queen put out the album "Hot Space," an eclectic and experimental release that leaned heavily into funk. Contemporary and retrospective reviews have rarely been kind to it.
But "Life is Real (Song for Lennon)," Mercury's tribute to his slain idol, did receive some positive notice. Per Gold Radio UK, Mercury took the unusual (for Queen) step of coming in with the lyrics fully formed before collaborating with the rest of Queen on the music. The primary motive was less a direct comment on Lennon's work than Mercury coming to terms with the fact that Lennon was gone for good. Since Mercury's own untimely death, live performances of the song by Queen have been repurposed into a tribute to him, with photos of Mercury played behind the band.