What Buster Murdaugh's Life Has Been Like Since His Father Was Sent To Prison
On March 2, 2023, former South Carolinian lawyer Alex Murdaugh was found guilty for the June, 2021 murder of his wife Margaret and younger son Paul after only three hours of jury deliberation. One day later Judge Clifton Newman gave Murdaugh the maximum prison sentence possible: two life terms. Money, it seems, was Murdaugh's motive. He'd defrauded and laundered his way into millions between 2005 and 2021, per ABC News, and murdered his family as some kind of bizarre delay or distraction tactic.
But Murdaugh didn't murder his entire family. Buster Murdaugh, the family's eldest son and heir to the Murdaugh's multigenerational legal legacy and fortune, lived. He received a phone call on the night of the murders from his father, who testified that his dad "sounded odd, and then he told me that my mom and my brother had been shot," as Men's Health recounts. Buster held himself together during his father's trial, but as soon as he was away from the public eye "collapsed ... crying uncontrollably," a source at the scene told the New York Post.
In the months since then, Buster has apparently been laying low and living at his girlfriend's house in Hilton Head Island, South Carolina, as Men's Health says. He's taken a break from law school, a decision he made to follow in his family's footsteps, and for which his father paid $60,000 to gain his reentry after Buster had been discovered plagiarizing. Buster also stepped forward to speak about his father's trial for the upcoming documentary, "Fall of the House of Murdaugh."
Taking an extended break from law school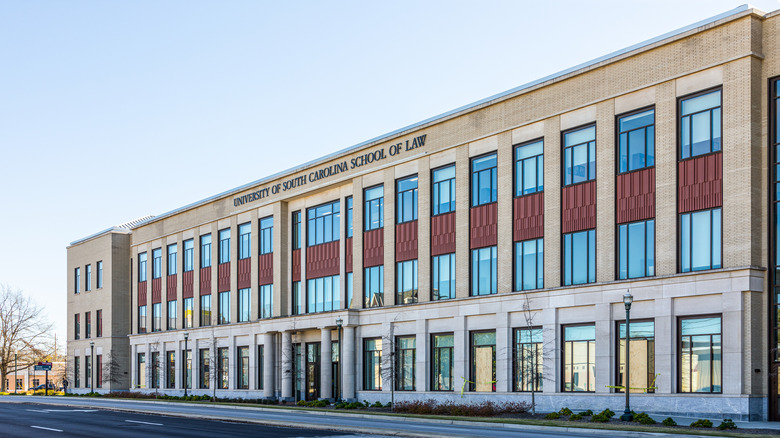 J. Michael Jones/Getty Images
Pre-conviction telephone conversations between Alex Murdaugh and his son provide insight into Buster Murdaugh's life then and now, and depict a surprisingly typical father-son relationship. In a November 2021 conversation, per The Post and Courier, Alex doles out advice about Buster's law studies at the University of South Carolina, saying, "You need to get ready for this law school, now okay. I mean, you've got to really buckle down. You've got to treat it like a job. You're going to have to read these cases two and three times if you don't fully understand them ... Because you know there's not going to be another chance ... I mean, no way shape or form is there going to be another chance. You do truly understand that?" 
Alex's reference to the lack of another chance assumedly refers to how he paid $60,000 to get Buster back into school following poor grades and a plagiarism incident, per The State. Now, Alex's words seem doubly related to his own inability to ever again intervene on his son's behalf, and his son's ability to outlive his father's deeds. And indeed, in September 2022, Murdaugh's lawyer Butch Bowers told The Post and Courier of Buster, "He has put his desire to go to law school on hold for now. There is no plan for him to start school in the fall or in the spring." According to The State, Buster was not enrolled in law school in September 2023. 
Laying low and speaking out
Besides Buster Murdaugh not going back to law school, the only other thing we can confirm about his activities is that he was residing with his girlfriend, Brooklynn White, who is a lawyer at the South Carolina-based Olivetti, McCray & Withrow. White, who specializes in estate planning and asset administration, was seen from time to time appearing in court with Buster during his father's trial, as Today says and shows. 
Beyond such basics, clips from the upcoming "Fall of the House of Murdaugh" special depict Buster appearing exceptionally put-together and composed considering what's happened to him and his loved ones. In one clip from Fox Nation Buster says that he wants to speak out about his father's trial because "I hold a very unique perspective that nobody in that courtroom ever held." He also says that in his opinion, his father didn't head to the family kennels on the night of the family murders — which is where the murders occurred — specifically to kill his mother and brother. This implies that Buster believes that his mother and brother got caught in the crossfire of a larger, convoluted plot. 
Such conclusions further imply that Buster has been doing a bit of thinking and soul-searching since his father's trial, in addition to whatever else he's been doing. We'll be able to tell more about Buster, his family, and his goings-on when "Fall of the House of Murdaugh" airs on September 12.