Inside The Tragic 1988 Death Of Scott Johnson And How The Killer Was Found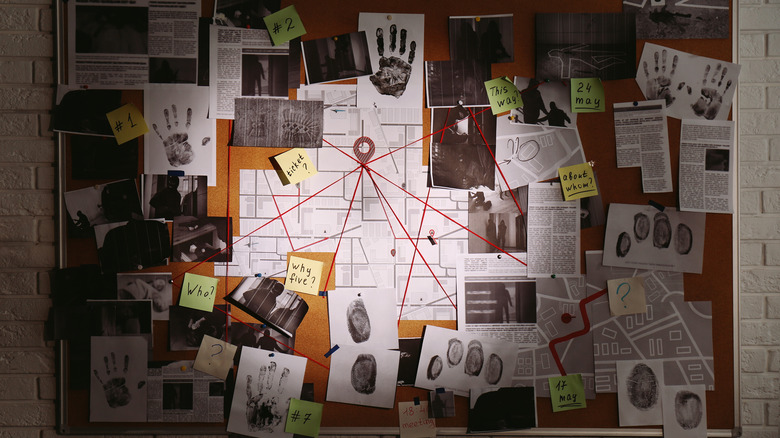 Liudmila Chernetska/Getty Images
In the late 1980s, the future seemed bright for Scott Johnson. The 27-year-old gifted American mathematician, a gay man, had moved to Sydney, Australia in 1986 to be with his partner. Johnson studied math at Cambridge University and was close to completing a doctorate in mathematics from the Australian National University in Canberra. Then in December of 1988, Johnson's dead body was found naked at the bottom of Sydney Harbor cliffs, and his belongings were at the top, The New York Times reported. At first, his death was ruled a suicide, but his brother, Steve, a successful tech mogul, never bought the official story.
After decades of dogged determination on the part of his brother, coroners recommended Johnson's case be reopened twice, first in 2012 and then again in 2015. Two years later, in 2017, his death was ruled a hate crime, and in 2020, then-49-year-old Sydney resident Scott White was arrested and charged with murder. At least 80 men had died in the same time period, and through the reopened Johnson investigation — among others — a dark history of Australian homophobic hate crimes was uncovered. With his brother's killer in custody, Steve said (via BBC News) "This is a very emotional day. [Johnson] was my best friend and he really needed me to do this." 
Scott Johnson's brother hired a private investigator
In the year 2000, Stephen Page, a former detective in New South Wales, where Sydney is located, received a letter from a mother whose young son, Ross Warren, disappeared around the same time as Scott Johnson. Warren's remains were never recovered, but some of his belongings were found near a cliff, similar to Johnson's case. By 2005, Warren's cause of death was ruled to be murder — he was likely pushed over the edge. Moreover, evidence emerged that Warren wasn't the only man killed in that manner.
Back in the U.S., Johnson's brother Steve (pictured) learned that similar cases to his brother's death had been reopened and took matters into his own hands, hiring private investigator and journalist Daniel Glick. With Glick's help, among others, Johnson's case was reopened in 2012 and viewed through the lens of a possible hate crime — gangs of young men were believed to have harassed, beaten, and killed gay men in the area where Johnson was found dead.
In the 2012 inquest, though, a coroner declared Johnson may have accidentally fallen or been murdered in a hate crime. Johnson's initial cause of death — suicide — was thrown out. The next year, Steve told The Sydney Morning Herald, "[W]e started hearing from other families and other men who had survived vicious assaults around the time Scott died. I was shocked to learn how many gay men had died ... there were hundreds, possibly thousands, of assaults against gay men during this era."
Rewards, arrest, and sentencing
When Scott Johnson's initial cause of death was dismissed in 2012, a sizable reward was offered for information. Three years later in 2015, the case was looked into again with similar results. It wasn't until 2017, though, that Johnson's death was officially declared a hate crime, and the reward offer increased the next year. Also around that same time, it was determined that scores of men had died or been killed in the same area because they were gay.
In 2018, Johnson's brother Steve told BBC News that in the '80s, "The gay community were second-class citizens. They weren't well protected. The gangs would attack these cruising areas because they knew the police wouldn't come after them. They also knew that the gay community were afraid of the police, so they wouldn't come and report the crimes." Two years later, in 2020, Australian police arrested Scott White for the death of Johnson. At first, White (pictured) pleaded guilty to murder, but in 2023, he pleaded guilty to a lesser charge, manslaughter, and was sentenced to nine years in prison. 
According to the judge in the case, it could not be proven that White meant to kill Johnson or that he was motivated to punch him because of Johnson's sexuality, the Australian Broadcasting Corporation (ABC) reported. Still, with the person responsible for his brother's death sentenced, Steve said (via ABC), "[W]e're one of the lucky families that has a killer behind bars. I think our family has got some peace and I would even say closure."