Where Is Christina Boyer 'Poltergeist Girl' Now?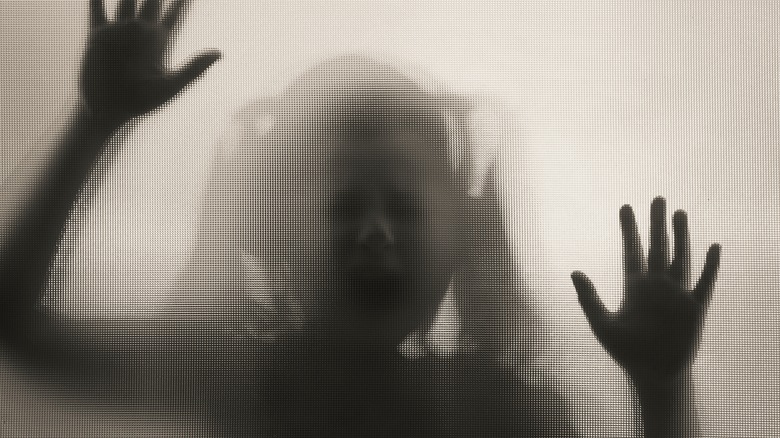 Melinda Nagy/Shutterstock
The following article contains disturbing descriptions of murder and child abuse.
Christina Boyer's 1992 arrest for the death of her 3-year-old daughter Amber was not her first brush with infamy. In 1984, reporters from The Columbus Dispatch visited the home of Boyer's parents, John and Joan Resch, according to ABC News. They were there to document the purported supernatural abilities of 14-year-old Boyer, then Tina Resch. The next year, United Press International referred to her as the "Columbus Poltergeist."
After that early media attention for her supposed mental powers and discrediting by skeptics and paranormal investigators, Boyer ran away from home at the age of 16. But before long, she was back in the headlines. In 1992, Boyer's daughter Amber died from a reported blow to the head. But according to Boyer's supporters, she's not guilty for one simple reason: She wasn't there when her daughter died — an alibi corroborated by two people, including Boyer's then-boyfriend, David Herrin.
In 1994, Boyer was convicted for her daughter's murder. But in 2019, three Georgetown University students learned about Boyer's case in a class, and they formed what they call "Team Tina" in support of her exoneration. Meanwhile, as of 2023, she's serving a life sentence plus 20 years at Pulaski State Prison in Hawkinsville, Georgia, per ChristinaBoyer.org.
How Amber died
In the early 1990s, Christina Boyer arrived in Carrollton, Georgia. She was there to collaborate on a book with psychologists Jeannie Lagle and Bill Roll about the media attention she received after her religious parents called for an exorcism — and subsequent exposure as an apparent fraud for supposed supernatural abilities, including the power of telekinesis. She said she'd recently left an abusive marriage and was dating Carrollton local David Herrin.
On April 14, 1992, Boyer returned home and found her daughter, who had been in Herrin's care, unresponsive. Boyer left that morning to work with Lagle on the book, and both Lagle and Herrin confirmed her whereabouts. According to the medical examiner, Amber seemed to have suffered physical child abuse over several days and died from a head injury, ABC News reported. Though Boyer wasn't around at the time, Herrin and Boyer were both arrested for Amber's death.
Herrin was acquitted of the child's murder but received a 20-year sentence for his role in Amber's abuse. Per ChristinaBoyer.org, he said the apparent injuries on Amber's head, face, and lip — which happened in his care — were accidental. He served 12 years. The medical examiner who performed Amber's autopsy said her behavior would likely be affected by the blow to the head within minutes, implicating Herrin. It could not be ruled out, however, that the injury happened earlier — while Christina was home. Boyer took a plea bargain, and in 1992, she was sentenced to life plus 20 years in prison.
A history of abuse
Years before her daughter's death and after her controversial media coverage in Ohio, Christina Boyer said she was severely abused as a child by her strict, religious parents. After running away at the age of 16, Boyer also alleges abuse at the hands of her former husband, James Bennett. While married, Bennett also reportedly called Child Protective Services, alleging Boyer abused their daughter Amber. Meanwhile, in the Hulu series "Demons and Saviors," Georgia District Attorney Peter Skandalakis said if her daughter's death had gone to trial, witnesses would have testified Boyer abused her daughter, Amber, too.
In 1992, Boyer accepted what's called an "Alford plea," a legal term admitting guilt for a lesser punishment while still maintaining innocence to avoid a more serious consequence — which in Boyer's case could have been the death penalty. In light of that uncertainty, Boyer's heartened to now have Team Tina's support. Via ABC News, she said, "I'm more hopeful now actually, because there's so many more people all around that are involved. I sat here for years with very few people really knowing what had happened and caring. So I have more hope now that if there's anything that can be done, somebody will find it."
In response, former Georgia police detective Mike Bradley, who worked the case, said (via ABC News), "If we could put this whole case file back together and set [Team Tina] down, I guarantee you I could change their mind."
If you or someone you know may be the victim of child abuse, please contact the Childhelp National Child Abuse Hotline at 1-800-4-A-Child (1-800-422-4453) or contact their live chat services.