Who Was Deborah Brandão, The Woman Killed By Escaped Convict Danelo Souza Cavalcante?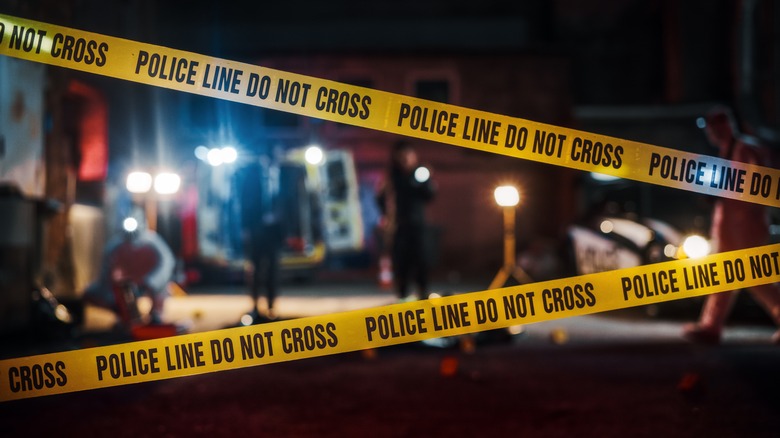 Gorodenkoff/Shutterstock
On the afternoon of April 18, 2021, Deborah Brandão was in the front yard of her Schuylkill Township, Pennsylvania home when her ex-boyfriend Danelo Souza Cavalcante showed up. Her two children, a 7-year-old girl and a 3-year-old boy, were also in the front yard. He told the family he was "going to do something bad to [their] lives," according to The Philadelphia Inquirer. Cavalcante then pulled out two knives from a bag, dragged Brandão to the ground, and stabbed her 38 times, according to a Facebook post from the Chester County District Attorney's Office.
Brandão, a 33-year-old single mother, had come from Brazil to give her children a better life, according to CNN. When she met Cavalcante, a neighbor who was also Brazilian, she thought she'd found a good match. But over time, he began to change, growing jealous and abusive. Brandão eventually filed a restraining order against Cavalcante, but on that April afternoon, he brutally murdered her before fleeing to Virginia where authorities caught up to him.
A close relationship with her sister
Deborah Brandão and her sister Sarah were inseparable. In an interview translated from Portuguese to English, Sarah told CNN she was already living in the U.S. when Deborah and her children arrived looking for a better "quality of life" than she was able to give herself and her children in Brazil. "She wanted to give a better life for both of them," Sarah said. Deborah and her sister lived near each other and worked together at Sarah's house cleaning business.
Not only did the two sisters work together, but when they were apart they spoke to each other on the phone constantly. When Deborah began dating Danelo Souza Cavalcante, who lived in the same county, everything appeared to be fine. "She said he was nice to her, he was nice to her children, that he helped her," Sarah told CNN. "He kept her company. She didn't feel alone anymore." They dated for about a year and a half, and by the end, he had become physically abusive and had threatened to kill her, according to a Facebook post from the Chester County District Attorney's Office.
A tragic end
It was what Deborah Brandão learned about Danelo Souza Cavalcante's past that precipitated the tragic ending on her front lawn in the spring of 2021. Deborah had found out that Brazilian authorities were looking for Cavalcante for an alleged murder he committed in 2017 before fleeing to the U.S., per the AP. Deborah threatened to report what she knew after Cavalcante hacked her Instagram account, according to Forbes.
On August 16, 2023, a jury found Cavalcante guilty of first-degree murder and other charges, and a judge later sentenced him to life in prison without the possibility of parole. At the time of Cavalcante's conviction, District Attorney Deb Ryan, who prosecuted the case, commented via Facebook that "Ms. Brandao's children are now left motherless and she will never have the opportunity to watch her children grow up, finish school, or have families of their own." Cavalcante escaped from Chester County Prison on August 31, 2023, and remains on the run, per CNN.
If you or someone you know is dealing with domestic abuse, you can call the National Domestic Violence Hotline at 1−800−799−7233. You can also find more information, resources, and support at their website.