The Most Underappreciated Movie Gems Of 2018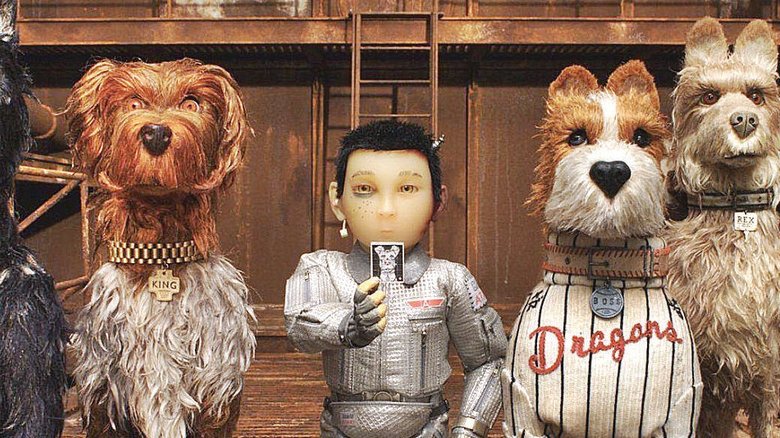 There were a lot of great movies in 2018 and although it was a solid year for Stan Lee's creations (RIP), not all of 2018's awesome flicks featured legendary Marvel characters.
You've probably checked out Black Panther, Avengers: Infinity War, and Deadpool 2, and you may have even caught some non-Marvelous films like Incredibles 2, Jurassic World: Fallen Kingdom, or the Lady Gaga-powered remake of A Star Is Born. Good grief, you could have even watched the non-franchise hit (gasp!) A Quiet Place. But a lot of great films might have flown under your radar. We're here to help. From cinematic adaptations of true stories to ambitious sci-fi, from animated flicks about dogs to animated flicks about superhero sidekicks, these films didn't get enough hype. Some of them address rather serious subjects, while others involve zombies, creatures from another dimension, and superheroes jonesing to transcend sidekick status.
Here are the most underappreciated movies of 2018.
Overlord: World War II meets World War Z
It's kind of like Abraham Lincoln: Vampire Hunter, in that it adds sci-fi elements to a period piece. In this (probably) fictional tale of World War II, the German army has discovered a mysterious substance, which, when injected into human bodies, gives those bodies super-strength and a rather annoying resistance to bullets. As their bodies get more powerful they become increasingly aggressive and their minds descend into madness. Like another underappreciated film, From Dusk 'Til Dawn, Overlord starts out as one kind of movie — in this case, a World War II adventure — and morphs into something much weirder.
It's a perfect popcorn flick and a classic 2000s B-movie. It has everything you need to spawn a new franchise, except for its box office take: It only made $10 million in its opening weekend and barely recouped its budget at the time of writing. In its first month, it made a little over $20 million domestically. That's not even as much as Slender Man, one of the most poorly reviewed films of the year. Maybe they should have put the word "zombies" in the title.
Tully: Growing up is hard to do
One of the great tricks of parenthood is that kids generally think Mom and Dad know what they're doing. Once you get older, you realize parents are generally just figuring it out as they go along.
In Tully, Charlize Theron's Marlo is a pregnant mother of two, one of whom has a developmental disorder that doctors have not been able to diagnose. Once her third child, Mia, is born, she becomes seriously overwhelmed. Her husband, Drew (Ron Livingston), is nice enough, but spends more time playing video games than helping her with the kids. So she takes up her rich brother's offer of hiring a "night nanny" to care for the baby at night. It's a game changer for her. She soon develops a tight bond with the night nanny, Tully (played by Mackenzie Davis). We'll leave it at that.
Theron, as she often does, prioritized performance over vanity, putting on 50 pounds for the role, and it seems like the type of role that Oscar voters love. Sadly, it fizzled at the box office, earning less than $10 million in its first six months.
Boy Erased: A harrowing true-life tale
You may have seen Lucas Hedges in powerful supporting roles in Manchester By The Sea, Lady Bird, and Three Billboards Outside Ebbing, Missouri. In Boy Erased, he takes the lead, playing the role of Garrard Conley in this cinematic version of Conley's 2016 memoir of the same name. Conley is the son of Baptist parents in rural Arkansas, played by Russell Crowe and Nicole Kidman, who send him to a gay "conversion center" to try and "fix" him into straightness. Director/writer Joel Edgerton plays Victor Sykes, the head honcho of the Love In Action conversion center, and goes a little over the top ... or maybe he doesn't. There are also great performances by singer/songwriter Troye Sivan as a patient who has figured out how to fake his way through Love In Action, Cherry Jones as a doctor who understands that there's nothing "wrong" with Garrard, and Flea playing against type as Brandon, a humorless and mean Love In Action employee.
The film is enjoying an 82 percent fresh average from critics on Rotten Tomatoes, but it barely earned $1 million in its first weekend and only cracked $5 million after a few weeks in theaters.
Teen Titans Go! To The Movies ... And Have A Blast
Which was worse: Batman v Superman: Dawn of Justice or Justice League? Who cares? The Justice League's best cinematic moment thus far was easily in Teen Titans Go! To The Movies, where they scold the Titans — Robin, Cyborg, Raven, Starfire, and Beast Boy — for not taking superheroing seriously enough. Superman (voiced by Nicolas Cage, in one of the film's many inside jokes: he was slated to play Superman in a Tim Burton-directed film that never happened) calls them "goofsters," while Halsey's Wonder Woman points out their penchant for fart jokes. (There are some good poop jokes in the film as well.) Then there's Lil Yachty's Green Lantern, who makes a crack about DC's disastrous 2011 Green Lantern movie. It's a superhero movie that has fun making fun of superhero movies. It's simplistic enough for kids, but with enough inside jokes for older comic book fans.
Great cameos abound: Jimmy Kimmel voices Batman, Michael Bolton plays a singing tiger, and Stan Lee accidentally stumbles into the film, making one of his last cameos. But the movie's true joy is watching Robin's ridiculous attempts at getting his own movie, even going "Back In Time" — to the Huey Lewis song — to interrupt other superhero origins in order to eliminate the competition. But what's really bonkers is that this movie didn't even do as well as Peppermint at the domestic box office, and Peppermint was just awful.
Isle Of Dogs: A sweet, strange tail
Wes Anderson's second stop-motion animation film doesn't quite live up to the promise of his first one, 2009's The Fantastic Mr. Fox, but it still is a weird and heartwarming story about the love between people and their dogs ... or dogs and their people.
The plot is a bit crazy, but it goes something like this: In near-future Japan, a strain of dog flu threatens the human population, so the mayor of fictional city Megasaki decrees that all dogs will be banished to Trash Island, starting with his ward Atari's dog, Spots. Six months later, Atari steals an airplane and goes to Trash Island to find his pal. He meets up with a group of talking dogs: Chief (Bryan Cranston), Rex (Edward Norton), King (Bob Balaban), Boss (Bill Murray), and Duke (Jeff Goldblum). It's very sweet, and very Wes Anderson. And somehow, it didn't do as well at the box office as Alpha, an odd movie supposedly documenting the origin of the friendship between humans and dogs. In the decades to come when movie buffs talk about the best dog movie of 2018, this will be the one they talk about.
Eighth Grade: Middle school is hell
Eighth Grade is a film about a girl finishing eighth grade ... that most eighth graders won't be able to see because of its R rating. If you're older and it's been a while since middle school, you'll instantly be taken back as the universal anxiety and awkwardness wash over you. If you're younger and you dealt with middle school or junior high during the social media era, you'll recognize even more: As one viewer said, "It is so absolutely perfect in the way it gives a voice to its main character [Kayla Day] and the people in her life," noting that it nailed some important details, even down to the bookmarks in Kayla's web browser.
Elsie Fisher's Kayla is an awkward tween who has almost no friends and makes motivational YouTube videos that hardly anyone watches. The only person who wants to talk to her is her single dad — who of course, she mostly ignores. Her struggles to get through the day will resonate with anyone who's been there, but it also has a bit of sweet optimism about the future. Ninety-nine percent of critics liked the movie per Rotten Tomatoes, but it only grossed $13.5 million in its first four months. This poster child for awkward eighth graders could also be a poster child for underappreciated films.
Blindspotting: Hamilton star takes on modern racism
Blindspotting has genuinely funny moments and genuinely tense ones. Collin (played by Daveed Diggs, from the original cast of Hamilton) has three days left on his probation and needs to keep his nose clean. That isn't easy, given that his best friend Miles (Rafael Casal) has a penchant for getting into trouble and dragging Collin with him. When Collin sees a police officer gun down an unarmed man, things get even more complicated. Co-written by real-life pals Diggs and Casal, the film explores racism, police brutality, and gentrification in Oakland. There's plenty of tension in the film. While Collin deals with being judged as a black man, Miles conversely feels he always has to prove himself to his community because he's white. Both deliver excellent performances, as does Janina Gavankar as Val, Collin's ex. If more Americans saw this film, it might actually help us to understand each other a little bit more, so it's a shame that it grossed less than $5 million in its first four months.
Annihilation: Mind-blowing sci-fi
Science fiction used be a niche, designed to appeal to the brainiest film-goers. These days, sci-fi movies are aimed at the widest possible audience. But while cerebral films in the genre are scarce these days, there have been a few rewarding exceptions: 2016's Arrival, 2014's Ex-Machina, and 2011's Another Earth come to mind. Add Annihilation to that list. Natalie Portman stars as Lena, a college biology teacher with a personal reason for going on a secret expedition into a mysterious meteor landing zone in Florida where the laws of nature don't apply. The all-female expedition team doesn't get along — this isn't a feel-good flick — but the film provides them all with reasonable back stories. It's a visually beautiful and haunting sci-fi film with action and adventure that also explores heartbreak, depression, and guilt. Portman is excellent, as is Tessa Thompson (when is she not?) as scientist Josie, also on the expedition. If you complain about soulless special effects movies and you want something better, you ought to be supporting this one.
Sorry To Bother You will get under your skin
Sorry To Bother You starts out as one kind of movie and then becomes a completely different one. In an alternative present-day version of Oakland, Cassius "Cash" Green (played by Lakeith Stanfield) lives in his uncle Sergio's (Terry Crews) garage with his girlfriend, Detroit (Tessa Thompson). To pay his bills, he gets a job as a telemarketer. He's pretty bad at it until a coworker (Danny Glover) explains to him that he needs to use his "white voice" to be successful at the job. David Cross provides the very white "white voice." The movie gets way weirder from there, as he begins selling for a company called WorryFree, which offers clients a life free from paying bills and with free food and lodging, but at the cost of a lifetime work contract. (Feels reminiscent of slavery, huh?) And then it continues to get weirder. Sorry To Bother You is the writing and directing debut from hip-hop artist Boots Riley (of the Coup and Street Sweeper Social Club). It's not a perfect film, but it's a wild ride, it's funny, and it sticks with you long after it ends.
Widows: One of the best heist flicks ever
With Viola Davis, Michelle Rodriguez, Elizabeth Debicki, Cynthia Erivo, Colin Farrell, Brian Tyree Henry, Daniel Kaluuya, Carrie Coon, Robert Duvall, Liam Neeson, and Jon Bernthal, Widows easily boasts the cast of the year for 2018. But the movie's strength lies not only in its movie stars, but in its wild story and excellent directing (courtesy of Steve McQueen). 
Veronica, Linda, and Alice (Davis, Rodriguez, and Debicki, respectively) are strangers to each other, connected by the fact that their husbands were killed by the police while trying to pull off a robbery. It turns out their husbands stole money from a powerful and dangerous man who now hits the wives with the debt, so they have to come up with $2 million in a month. Luckily, Davis' late husband (Neeson) left a notebook with plans for a $5 million heist. Problem solved, right? Of course not. You don't want to know any more than that before going to see the film.