Whatever Happened To The Evolution Of Dance Video Guy?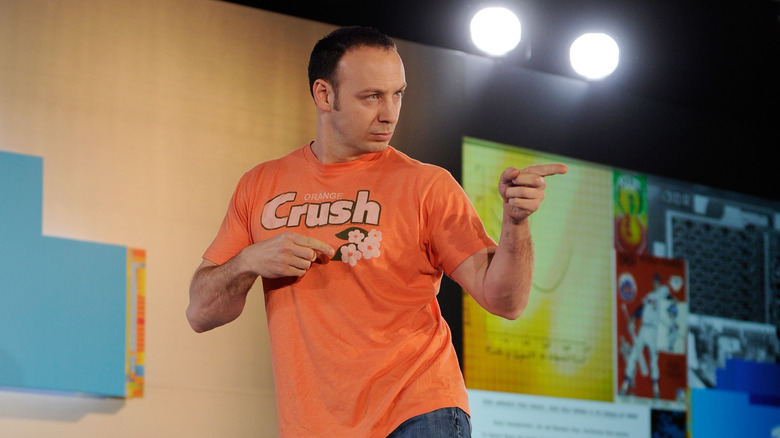 David Becker/Getty Images
Back in the early days of YouTube in 2006, before content was optimized with appealing thumbnails and titles that scream for your attention, someone uploaded a simple video of a man in bootcut jeans and an orange T-shirt emblazoned with the words "Orange Crush" dancing alone on stage under a warm spotlight. It was simply titled "The Evolution of Dance" and involved the man — whose name is Judson Laipply — vividly going through various dance moves from the early days of rock 'n' roll to more recent styles like '90s indie, boy band pop, and hip-hop.
It's a simple concept, but "The Evolution of Dance" is far more entertaining than it sounds on paper, thanks in no small part to Laipply's impeccable performance. He gives each move his all, and the unexpected cuts between dance styles are wholesomely hilarious. It is little wonder then that this humble video went on to become a viral classic. According to Laipply's LinkedIn profile, the video received an astonishing 70 million views within six months of being uploaded, and his website said it was at one point the most viewed video in YouTube history. 
At the time of writing, "The Evolution of Dance" has more than 300 million YouTube views, but many might not be aware of what the snake-hipped historian did next — so here it is.
Judson Laipply hit the mainstream
The success of "The Evolution of Dance" as one of the internet's most watched viral videos got Judson Laipply a lot of attention from both web users and the mainstream media, and it seemed that everyone who caught the original video wanted Laipply to give the world more. And he certainly did — in the years that followed, Laipply was happy to give his newfound audience what they wanted. In 2009, he released an "Evolution of Dance 2," which was part of a viral marketing campaign. In 2016, "Evolution of Dance 3" arrived on the platform in 2016 as part of the 10-year anniversary of the first. The sequels each employed different sets of songs but maintained the same playful style and structure.
TV stations were also keen to exploit Laipply's viral celebrity. In the months following the 2006 upload of "Evolution of Dance," Laipply appeared on several high-profile TV shows, including "Ellen," "Inside Edition," "Oprah," and "The Today Show."
He is now an in-demand motivational speaker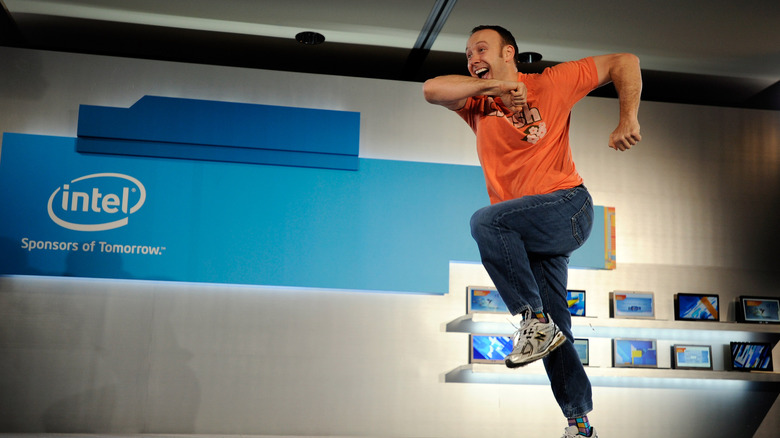 David Becker/Getty Images
The runaway success of Judson Laipply's "Evolution of Dance" video buoyed him to the level of viral fame that most content creators can only dream of. Part of the appeal her Laipply's performance is his joyfulness on stage, and this has become central to his brand in the years since he became an internet sensation.
Laipply has worked as a motivational speaker since 2000, years before he uploaded his "Evolution of Dance" video, which was recorded in 2001. According to his LinkedIn, he now enjoys a lucrative career as an "inspirational comedian" who makes audiences laugh while at the same time weaving motivational bon mots into his performance. "My aim is always the same. Entertain and educate. Make people laugh and make people think," he writes on his website. "Time is our most precious resource and if someone is going to give me theirs — I want to make sure I'm giving them something of value in return."