A Look At Cyndi Lauper's Decades-Long Relationship With Rod Stewart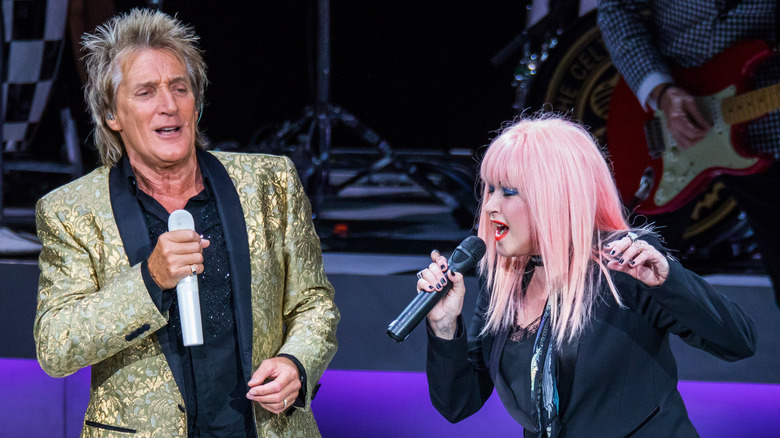 Scott Legato/Getty Images
Rock legend Rod Stewart's first American solo hit, "Maggie May/Reason to Believe," topped the charts in 1971. Meanwhile, new wave singer Cyndi Lauper burst onto the scene in 1984 when her song "Time After Time" reached the top spot on the Billboard Hot 100. But although their early hits came out in two different times, Lauper and Stewart share more than just distinctive hairdos and iconic singing styles — they've been friends for decades.
According to Lauper, she first met Stewart for dinner at the Sunset Marquis Hotel in West Hollywood, before they appeared on stage together at a 1985 Los Angeles AIDS benefit concert. In 2018 the pair did an interview with People, and Stewart recalled how Lauper made fun of the suit he wore on stage that year. "It was electric blue. You said it was too loud," he said. Lauper responded: "I didn't think it was rock 'n' roll. I said that to him. He was sad."
Three years later, Stewart and Lauper were together again at the 1988 MTV Video Music Awards, presenting the viewer's choice award winner. Since then, the "Maggie May" and "Girls Just Want to Have Fun" singers have done more than stay in touch: They've toured together three times. During their first joint tour in 2017 Lauper joined Stewart on stage for a rendition of The Isley Brothers' classic "This Old Heart of Mine." The musicians went back on the road in 2018 and againin 2023 for dates in New Zealand and Australia.
They share a similar sense of humor
Back in 2017, Rod Stewart and Cyndi Lauper appeared on "Access Hollywood" to promote their concert dates that year. "He's great, one of the great, great rock singers," Lauper said. "When I was coming up, I was singing his songs." Stewart also said he and Lauper have the same humor. "We like the same music, and we're just bouncing off each other so I know it's going to be fun," he said. 
Speaking with "Today" that year, Lauper called touring with Stewart "a bucket list thing," later saying, "Singing with this guy, here, Sir Rod is a big deal to me." A year later in 2018, Stewart told People when they met, "I thought [Lauper] had a soulful voice." He then mentioned Lauper's hit, "Time After Time" — "I'd love to have recorded that," Stewart added.
In 2018, on Smooth Radio, Lauper commented on Stewart's dance moves and their stage performance. She said, "I thought it would look good if we were both dancing the same way, like a team. He would watch me and start laughing, and he would start to do nutty moves and look at me and see if I was doing it." More recently, in a 2023 Instagram post, Stewart shared a picture of him with his old friend at the 1988 VMAs and the spiky updo both musicians sometimes share. "Cyndi's been stealing my hairdo since 1988! Love you, Cyn!" the post said.
Stewart sent Lauper a gift
In advance of the 2023 Australian tour, Cyndi Lauper spoke to the Sydney Morning Herald. "Now I'm going on the road with Rod Stewart!" she said. "I've been on the road with him before and he's a lot of fun. And his shows are kind of incredible. It's like, oh my god. That was a hit. And that was a hit ... It's part of what you grew up listening to and now, the fact that I know him? Come on! What are the chances that my life would turn around from what I felt like in high school — like, 'What is wrong with that girl?' ... This journey; this road is remarkable. I got an angel that's getting a purple heart somewhere."
But in March, 2023, Stewart fell ill and had to cancel one Australian concert with Lauper. "As a singer, when we get sick or get a cold, we can't sing. It's that simple," Lauper told People. And like a good friend, she added, "I wasn't worried. I sent him some homeopathic remedies."As well as touring Australia and New Zealand, Stewart released his own brand of whisky in 2023 called Wolfie's Whisky. He sent his old friend Cyndi Lauper a bottle, and she opened the package on Instagram. Alongside the video, Lauper wrote, "I received something rascal-y from my buddy Rod Stewart today! How cool is this!" And she later shared a picture of herself with the gift. "Thanks again @sirrodstewart! It's a rascal of a thing," the post said.