Inside The Stephenville, Texas UFO Sightings Of 2008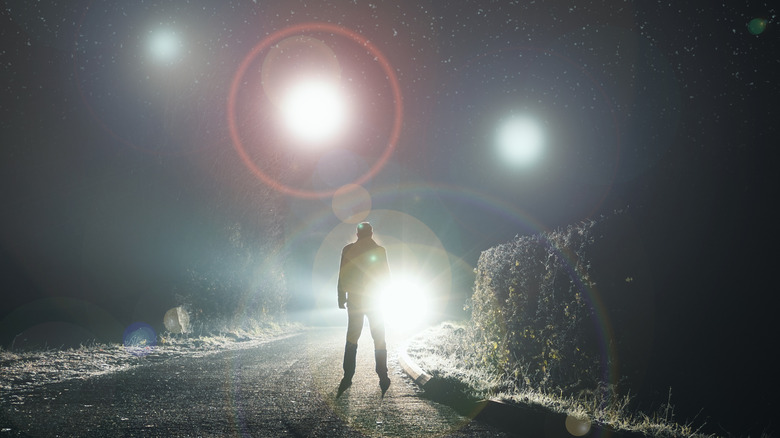 Raggedstone/Shutterstock
A less than two-hours drive from Dallas-Forth Worth, Stephenville, Texas became the focus of UFO researchers in 2008 when dozens of residents reported unexplained lights in the evening sky on January 8 that year, ABC News reported. As reports of the UFO sightings spread, national and international media descended on the small Texas town, while local newspapers like the Stephenville Empire-Tribune and the Dublin Citizen covered the story, according to Popular Mechanics. Lights were also reported in Dublin, Texas, a short distance away from Stephenville.
Early on, officials from the Naval Air Station Joint Reserve Base Fort Worth about an hour away said no aircraft flew that night. But on January 19, the Mutual UFO Network (MUFON)— a leading U.S. volunteer nonprofit UFO research group — held a hearing in Stephenville. Hundreds turned out to share what they witnessed and told similar stories dating back decades. By January 23, the Air Force backtracked: 10 F-16s were in the air over Stephenville, and by July, MUFON confirmed the story. The MUFON report did, however, say there was one other unexplained object in the skies that night.
According to MUFON, on January 8, the object was tracked on radar for more than an hour and either remained stationary or traveled at relatively slow speeds before it rapidly accelerated to an extreme speed and then decelerated again in a short amount of time. Stephenville local Claudette Odom told NPR, "I've never seen anything that fast — maybe a rock or a missile or something."
The F-16 theory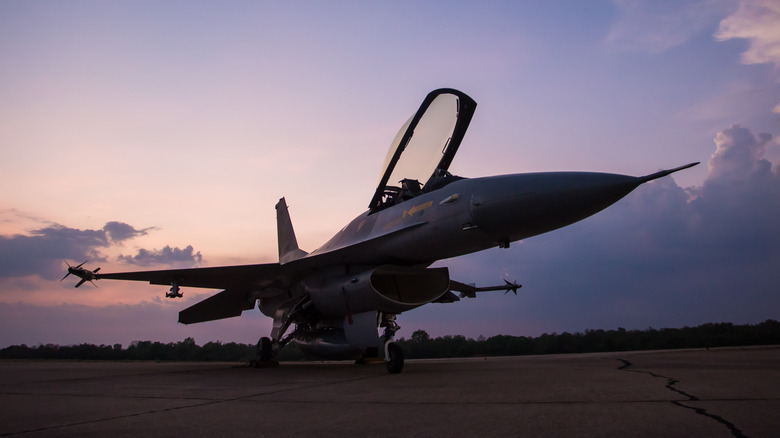 GP PIXSTOCK/Shutterstock
Though picked up on radar, the large object the MUFON report mentioned could have possibly been a radar anomaly caused by low-level temperature inversions, casting some doubt on the group's findings. Some witnesses who came forward said they witnessed F-16s that seemed to engage with an object in the skies near Stephenville. According to NPR, retired pilot and Stephenville resident Steve Allen saw something he described as "bigger than a Wal-Mart," and two F-16s attemped to confront it — but whatever it was traveled so fast the planes were unable to catch up to it. Allen also saw strange flashing orbs. "The jets looked like they were chasing the lights, and the lights seemed to be toying with them. It was like a 100-hp car trying to keep up with a 1000-hp one," he told Popular Mechanics.
Although the military blamed an internal communications error for the about-face, some still suspected a cover-up. Reporter Angelia Joiner, then with the Stephenville Empire-Tribune, first broke the story and told NPR the revised report "makes it seem like something's going on. The military coming out with this at this point is just going to fuel the fire." According to Air Force Major Karl Lewis, there are no known F-16 pilot reports of similar sightings that night. It was also unclear at that time if any pilots were interviewed.
Flares, test aircraft, and secret operations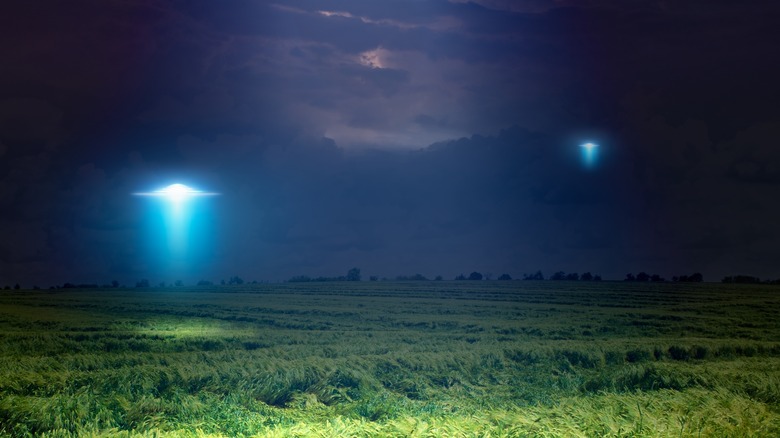 IgorZh/Shutterstock
What happened over Stephenville on January 8, 2008 may forever remain a mystery. Flares, optical illusions, experimental aircraft, or some other top-secret military operation all remain possibilities. As the Los Angeles Times reported, training exercises do take place in Erath County, where Stephenville is located. But with thousands of declassified CIA documents regarding UFOs (or UAPs) available to the public, interest in what thousands report seeing in the skies is stronger than ever.
Former Air Force navigation specialist James Huse — a Stephenville resident who witnessed the lights on January 8 — told Popular Mechanics, "I didn't call them flying saucers or extraterrestrials. All I said was that it was unidentified flying objects, and I'm sticking to that. I couldn't identify them." Similar sighting resumed around Stephenville in fall that same year. Separate from the January flurry of sightings, Stephenville police's Constable Lee Roy Gaitan and Sergeant Jim Clifton of the Erath County Sheriff's Office saw more balls of light near Stephenville. "In my 35 years of law enforcement, I have never seen anything like it," Clifton told the LA Times.