What Happened To Bob Ross' First TV Painting, A Walk In The Woods?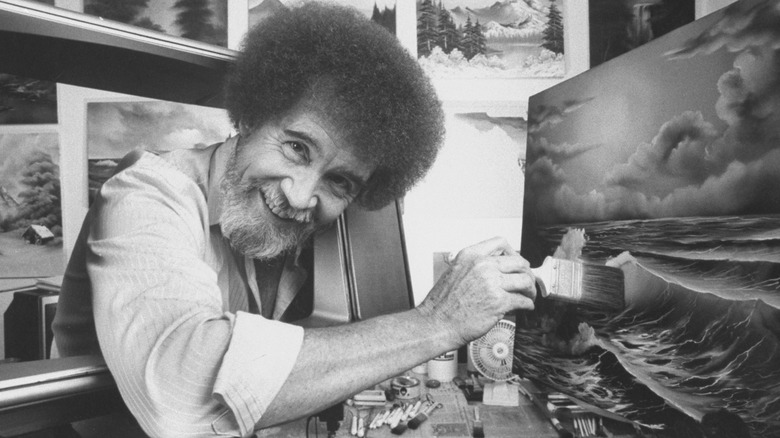 Acey Harper/Getty Images
"A Walk in the Woods," the first ever painting Bob Ross produced on TV, was put for sale in September 2023 for nearly $10 million, according to The Guardian. Ross' instructional half-hour program "The Joy of Painting" premiered on public television stations in 1983. Since then, his poofy hairdo, soothing presence, and positive tone have made him an icon. Ryan Nelson, owner of Modern Artifact — the Minneapolis gallery that put the piece up for sale —said "A Walk in the Woods" is like Ross' "rookie card."
A pleasant nature scene with water, a path, and trees — everything Ross fans might look for — the painting's handsome asking price is all the more impressive in light of the fact Ross donated the work to a Virginia PBS Station for an auction the same year his show premiered. The unidentified woman who bought the painting at that time kept it in her possession for decades, and no one knows for sure how much she paid for it. 
Nelson told NPR, "I don't know the exact number that she paid at that point, but knowing what others paid around the same period, I'd assume it was somewhere under $100." Nelson also did not disclose how much it cost his gallery to own it. He did, however, tell The Washington Post, "It's a truly irreplicable, one-of-a-kind painting."
Ross produced over 400 paintings on TV
Bob Ross' show "The Joy of Painting" was on the air until 1994, and in that time, he produced more than 400 works of art.  A popular public broadcasting show in its own time, interest in Ross has only grown on platforms like YouTube and Twitch. Meanwhile, both "The Joy of Painting" and Ross' other show, "Beauty Is Everywhere," are still rebroadcast on some public television stations today, according to NPR.
Other Ross works have gone up for sale, but Modern Artifact's Ryan Nelson told NPR the ones he has sold typically don't break six figures. In 1991, four years before he died, Ross told The New York Times he produced almost 30,000 works in his lifetime. In 2019, The Times set out to locate more of his work. Reportedly, around 1,165 paintings are still in the possession of Ross' company, Bob Ross Inc, but where the rest are is anyone's guess. It all raises the question — where have all hs other works gone?
On the topic of Ross' output, gallery owner Ryan Nelson told NPR, "He sold them at malls, he gave them away at paintings lessons and so there are a lot of paintings that went out there. I believe, sadly, that a lot of those paintings didn't make it to the popularity that Ross is today."
A Walk in the Woods was authenticated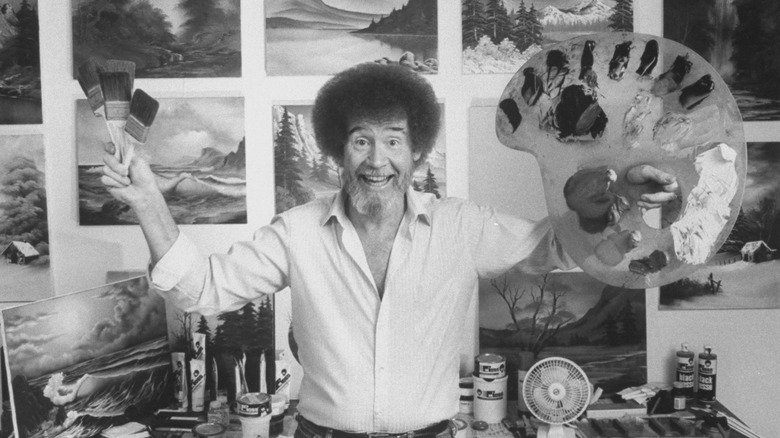 Acey Harper/Getty Images
It remains to be seen if "A Walk in the Woods" will get the $9.85 million Modern Artifact has asked for. Authenticity is paramount when it comes to art's value, and any prospective Bob Ross collector can feel certain they'll get the real thing. According to The Washington Post, experts determined the painting is not only authentic — it's the very first painting the artist produced on the show. Ross typically did three versions of each piece per episode: a reference, one seen on-air, and one for later publication. 
Joan Kowalski, president of Bob Ross Inc., told The Post, "We were able to really zero in watching the video, looking at the painting and being able to really, really tell just from very, very minute details that it was definitely that painting." It's also signed "Ross" in one corner. Meanwhile, Modern Artifact publicist Megan Hoffman told The Guardian, "[Gallery owner Ryan Nelson] would prefer to take [the painting] out, tour it around to museums and things like that so people can enjoy it and appreciate it." A Ross fan, Nelson was otherwise in no hurry to sell it, she said.