David McCallum Sat In On Autopsies For His NCIS Role. Here's Why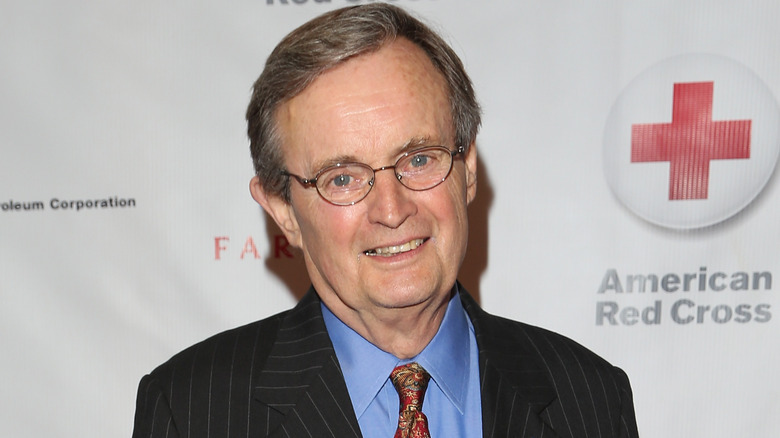 James Lemke Jr/Getty Images
When learning a role, some actors go far beyond making faces for the camera and go all in. Keanu Reeves, for instance, isn't pretending to know how to aim, fire, reload, etc., guns for the "John Wick" series — he trained to basically become John Wick. Tom Cruise also does his own stunts and actually knows how to do things like race around on a motorcycle and parachute to safety. These are high-profile, in-your-face examples, but other actors are no less dedicated to their craft. The late David McCallum, who played fan-favorite Donald "Ducky" Mallard on "NCIS" for over 20 years, didn't just portray a forensic pathologist — he trained with a coroner for the role.  
McCallum's rationale, as RadioTimes quotes, was simple: "You can't play a pathologist for 10 years and talk about pathology without knowing what you are doing." And so, when doing research for his role, he reached out to a Los Angeles coroner. At first, he watched from behind a pane of glass while the coroner conducted autopsies. McCallum didn't just watch a couple autopsies, though, or sit and stare at a coroner work one or two times — he did it for years. Eventually, the coroner allowed McCallum to join the process and help conduct actual, hands-on autopsies himself. As he once explained to The Scotsman, "I am known for being somewhat obsessive." 
Real-world, hands-on autopsy experiences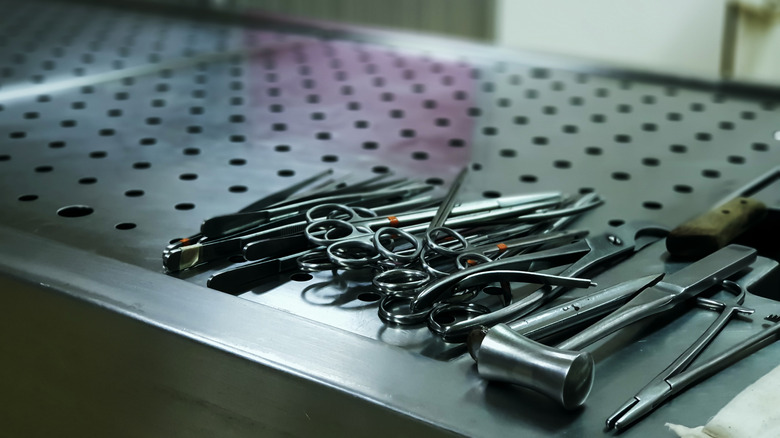 Arpatsara/Shutterstock
In the end, David McCallum wasn't just a perfect fit for his role as Donald "Ducky" Mallard on "NCIS" because of his demeanor, but because he was willing to do what was necessary to embody his character's level of expertise. Not only that, but he actually enjoyed his first-hand experience learning about autopsies. "It's the most exciting and astonishing," he told CNN in 2009. "It's two hours of learning more about the human body and what a miraculous business it is than you could ever imagine. It is quite extraordinary." 
McCallum spoke similarly to RadioTimes, saying, "So for two and a half hours he [the coroner] basically took someone apart, and showed me everything. I watched every detail and I saw exactly how the human body works. It's quite miraculous; it was one of the most exciting days of my life." Aside from examining the innards and workings of actual human bodies, CNN said McCallum also "immersed himself in the subject of pathology" and pored through "extensive reading materials." 
When McCallum first got his role, as he told CNN, he immediately took to his bowtie-wearing character. "It was love at first sight," he said. The only problem was he "knew nothing about pathology." But after doing such an excellent job portraying Ducky's medical expertise, RadioTimes says that McCallum himself often got approached and thanked by grateful pathologists. 
Technical expert and naval lecturer
Not only did David McCallum view and participate in autopsies until he got savvy enough to convincingly play Donald "Ducky" Mallard on "NCIS," he got so adept and knowledgeable that series creator Donald Bellisario made him technical advisor on the show, as The Hollywood Reporter says. McCallum even attended conventions for actual medical examiners. 
Even more impressively, in 2009 — only six years into McCallum's 20-year "NCIS" turn — CNN said said that McCallum "has become so advanced in his knowledge" that U.S. Armed Forces Medical Examiner Commander Craig T. Mallak asked him to give a presentation at the Armed Forces Institute of Pathology. The reader will remember that "NCIS" stands for "Naval Criminal Investigative Service," which isn't just a cool TV show acronym but the Navy's real-world law enforcement agency. McCallum said of his visit, "We designed the whole lecture together with me talking about NCIS, the show, and him [Commander Mallak] talking about NCIS, the real organization, dealing with all the bodies that come from Iraq. It was just so wonderful to be accepted by that group of pathologists who are, I think, some of the most dedicated people I have ever met."
Sadly, McCallum died in September 2023 of natural causes at the age of 90. On CNN, his son Peter McCallum said, "He was the kindest, coolest, most patient and loving father. He always put family before self."