The Untold Truth Of 'The Most Dangerous Woman In The World'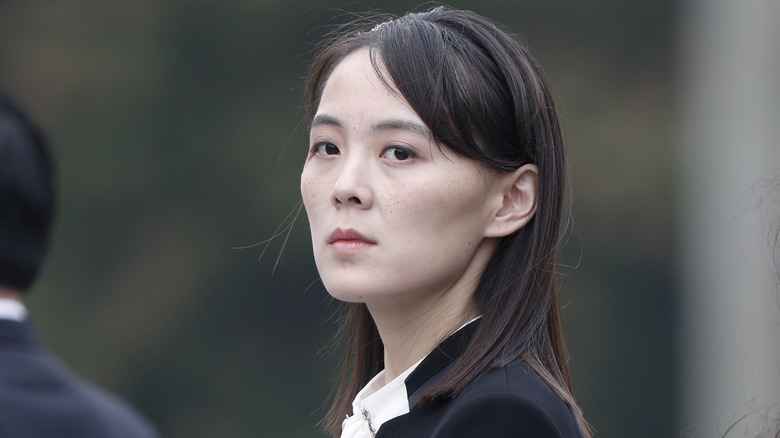 Bloomberg/Getty Images
Understanding who is or isn't dangerous can be a tough proposition, but when a person not only threatens war on a regular basis but also controls nuclear weapons, perhaps that individual is rightfully feared. Not too many people fit that description, but of those that do, more than one is part of the government of North Korea. Officially known as the Democratic People's Republic of Korea (DPRK), the nation on the northern end of the Korean Peninsula is infamously closed-off and despotic. Since former guerilla fighter Kim Il-sung took power (with Soviet support) in 1948, his family has taken the reins of the nation. After Kim Il-sung's death in 1994, his son Kim Jong-il stepped into the role until 2011, after which his own son and current leader, Kim Jong-un, took over.
But Kim Jong-un doesn't work alone. Once analysts began looking closely at documents and news footage, they began to notice a younger woman in the background. As she went from smiling on the periphery to making speeches of her own, it became clear who she was: Kim Yo-jong, the younger sister of the country's leader.
Kim Yo-jong has since become a figure of fascination. Where did she come from? How did she get to such a high position? Could she really have power over North Korea's nuclear arsenal? Here's the untold truth of Kim Yo-jong, who, as analyst Sung-Yoon Lee told Fox News, may be the most dangerous woman in the world.
Outsiders aren't sure when and where she was born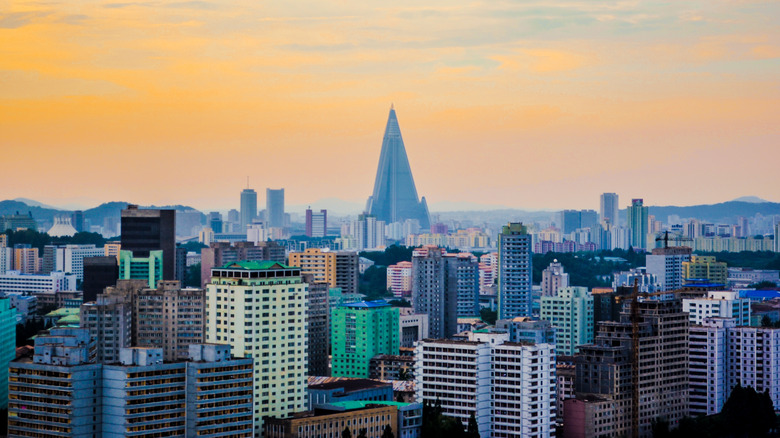 Chintung Lee/Shutterstock
In an era where we're intimately tracked via our online presence, our grocery store purchases, and even our genetic code, how can someone keep basic details of their background under lock and key? They might start off by being born in North Korea. The nominally communist nation is strictly closed to most outsiders, who are left to speculate on what's really going on within the borders of the DPRK.
As a daughter of the country's most elite family, few exemplify this state of unknown affairs as thoroughly as Kim Yo-jong. Despite what some sources may claim, we're not even sure in what year she was born. The U.S. Treasury has claimed that her birthday is September 26, 1989, while South Korea maintains that she was actually born two years earlier. The most some can guess with any level of certainty is that she's somewhere in her mid to late thirties. Likewise, it's assumed that she was born in the capital of Pyongyang, or at least grew up there in the rarefied environment of an opulent Kim family home. 
Observers can confirm that she has two elder brothers, including North Korea's current leader, Kim Jong-un. She also has at least two half-brothers (one, Kim Jong-nam, was assassinated in 2017, almost certainly on the orders of Kim Jong-un). However, it wouldn't be beyond belief to learn that her father, who had multiple mistresses, produced unacknowledged children elsewhere.
Kim Yo-jong studied in Switzerland alongside her brothers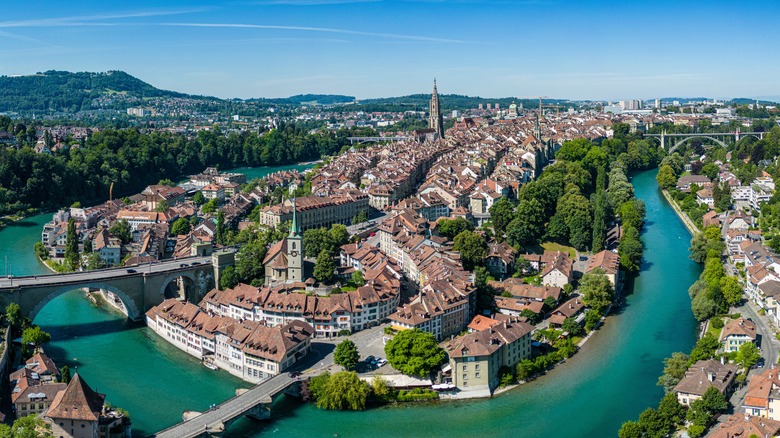 4kclips/Shutterstock
Kim Yo-jong's older brothers, Jong-un and Jong-chol, were sent to study abroad — seriously abroad. In 1994, Jong-chol made his way from North Korea to Bern, Switzerland, where he posed as the son of diplomats who were actually his maternal aunt and uncle. Kim Jong-un followed two years later. That aunt, Ko Yong-suk, told reporter Anna Fifield that they all lived a fairly normal life, complete with play dates, birthday parties, and classes at a pricey private school (via Politico).
Eventually, the siblings shifted to the somewhat less prestigious Liebefeld-Steinhölzli public school, where Kim Yo-jong joined them. Very little is known about what, exactly, Yo-jong did during her years in Switzerland, but it's reasonable to assume that she lived a fairly normal life for a high-status European kid — but a remarkably open and casual one for a child of North Korea's most elite family. Observers from this time have claimed that she was often accompanied by multiple attendants who acted as drivers, bodyguards, and companions for the young girl.
She reportedly took ballet lessons during her school years in Bern, then returned to North Korea by 2001 to complete her education there. It's likely that she took some classes at Kim Il-sung University in the nation's capital and began voicing her ambitions around this time, as her father once proudly told visitors of her political interests while she was still fairly young.
She reportedly showed political talent early on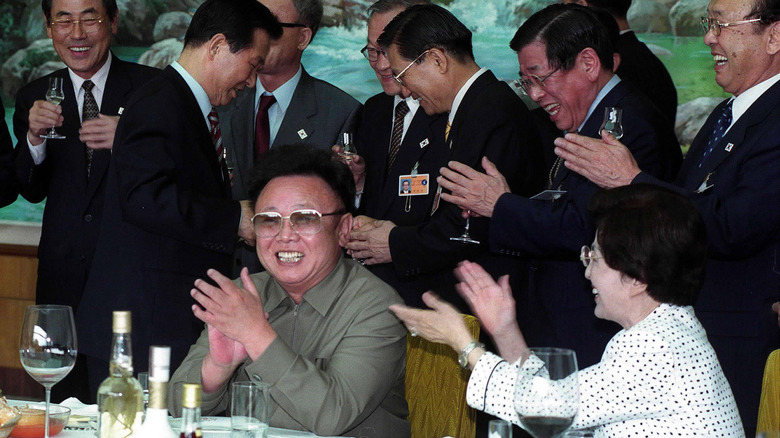 Getty Images/Getty Images
When it comes to the Kims, birth order doesn't have much to do with who ascends to power. Kim Jong-il's eldest son, Jong-nam, was a disappointment to the regime and went on to live abroad. Younger son Jong-un apparently showed the right dictatorial talent to lead the nation. Youngest sister Kim Yo-jong has reportedly displayed similar ambitions from an earlier age. By 2002, Kim Jong-il was boasting to visitors about his youngest daughter's career goals. He also reportedly referred to her as both "sweet Yo-jong" and "Princess Yo-jong" (via The Washington Post).
Yo-jong's political ambitions weren't without precedent, as Yo-jong's elder half-sister, Kim Sol-song, has been considered a potential high-flying political figure with serious decision-making power (though the scarcity of reports about what, exactly, Sol-song does makes it hard to come up with a definitive picture of her life and career).
Despite the patriarchal nature of North Korean society, Kim Jong-il was more than merely proud of his youngest daughter. As insider reports would have it, he even once admitted that, if only Yo-jong had been born a boy, she would have been the real successor to the North Korean regime. As it stands, she's achieved quite a few political appointments and gained international notoriety, all stemming from the early promise her dictator father saw in his youngest daughter as well as his youngest son.
She began her career early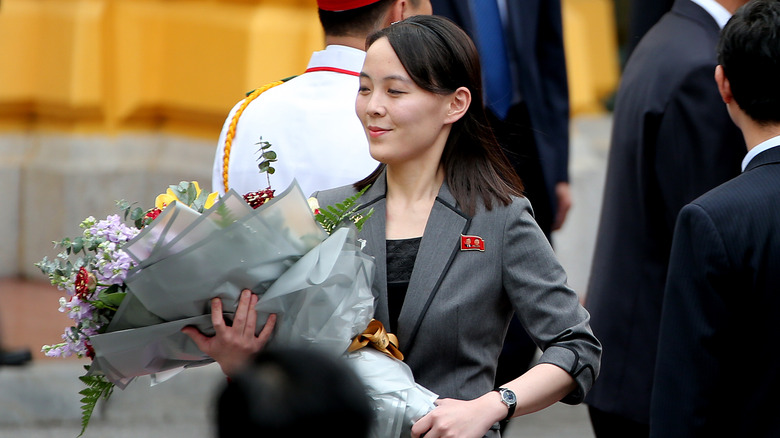 Bloomberg/Getty Images
Though Kim Jong-il was speaking of his youngest daughter to foreign visitors around 2002, it's not clear what she was doing at that time. However, five years later, she was appointed to a junior position in the central party of North Korea and likely began working either for her father directly or with her politically well-positioned aunt (and Kim Jong-il's sister), Kim Kyong-hui. After her father suffered a series of strokes in 2008, she took on even more prominence as an aide and appeared at some events with her father, though practically always as a background figure standing to the side or as an unidentified figure in a group.
In the years that followed, Kim Yo-jong became more involved in ironing out the details of her brother's succession, as it must have become increasingly clear that their father's ill health was not going to improve. She also continued to travel with her father as he made trips throughout the country and to friendly nations like China and Russia (though the details of what trips she went on and when aren't always clear to those outside the regime). By the time of Kim Jong-il's public funeral in December 2011, she was seen in prominent positions next to Kim Jong-un and several senior party officials.
Kim Yo-jong made uncredited first appearances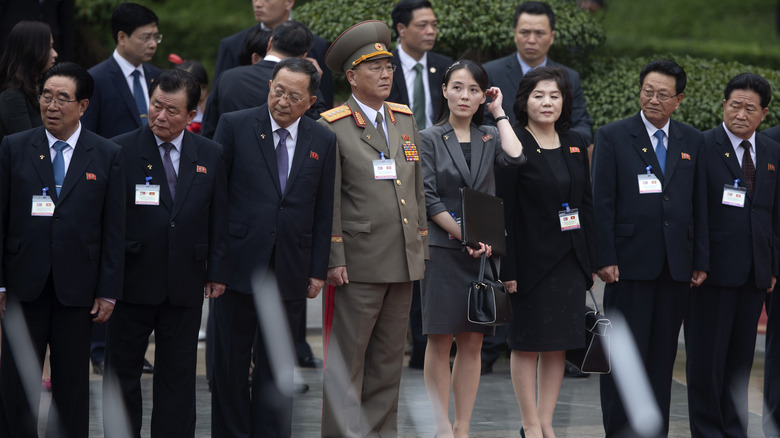 Getty Images/Getty Images
Despite her growing status within North Korea and increasing visibility, it wasn't always clear who the young woman standing next to or near Kim Jong-il (and, later, Kim Jong-un) actually was. Clearly, she must have been someone of prominence — you don't let just anyone stand near the dear leader, holding his ashtray. Unimportant people likewise wouldn't be allowed to attend the old leader's funeral in such a public way. Still, her identity was hard for outsiders to define.
But careful observers have been able to pick out Kim Yo-jong's earliest appearances, even if she wasn't officially credited by sources such as state media. South Korean analysts were able to find her attending the 3rd Korean Workers' Party Conference in September 2010, apparently as a member of her father's entourage. She was also seen traveling internationally with Kim Jong-il shortly before his death, though it's not clear whether she was spotted on a trip to China in May 2011 or a Russia-China visit in August of the same year. Later, she had a fairly prominent — if seemingly silent — role in the state funeral for Kim Jong-il in December 2011.
It wasn't until March 2014 that Kim Yo-jong was officially identified by North Korean state media. On that occasion, she was spotted next to the new leader, brother Kim Jong-un, at the Supreme People's Assembly elections.
She may intend to replace her aunt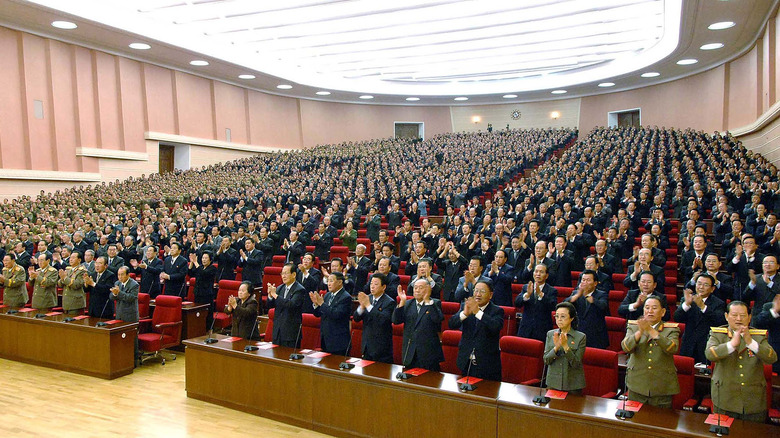 Handout/Getty Images
Though, as a woman in the North Korean political system, Kim Yo-jong is unique, she isn't singular. Her aunt, Kim Kyong-hui, already had high standing as the daughter of Kim Il-sung and sister of Kim Jong-il. She also became a high-ranking woman in government and, when her brother had a stroke in 2008, Kyong-hui and her husband, government official Jang Song-thaek, rose even higher. The pair reportedly acted as mentors to Kim Jong-un and took on more responsibility as Jong-il's health failed. Some analysts even began to consider her to be a sort of regent.
Things went wrong fairly quickly after her nephew took power. In 2013, Jang Song-thaek was accused of planning a coup and was executed. Kyong-hui quickly left public view and generated speculation that she, too, had been executed. However, she reappeared in 2020, though she appears to have little real power anymore.
But she may have had a successor of her own, at least in a fashion: Kim Yo-jong. It's hard to ignore the parallels between the two women's careers. Kyong-hui also worked her way from appointment to appointment, and, tellingly, her position in the state's Politburo went to none other than her ambitious niece. It may even be of her own doing, as some reports indicate that she also guided Yo-jong through North Korea's treacherous political system at the beginning of the younger woman's career.
Her family origin myth may help her override patriarchy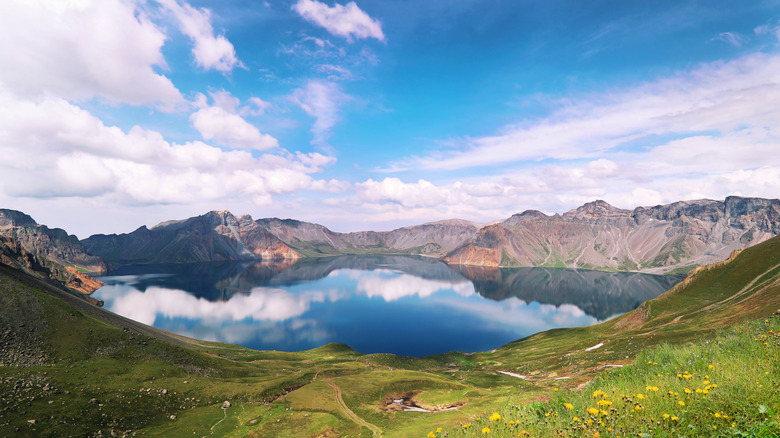 Poongkyung/Getty Images
One inescapable fact makes Kim Yo-jong's current political successes all the more remarkable: she is a woman. North Korea is a highly patriarchal society in which men dominate and women are to be submissive and focus on the home — definitely not a seat in the Politburo. North Korea's communist system does complicate things, as theoretically everyone is supposed to be on the same level and the 1946 Law on Sex Equality made men and women legal equals. But the everyday reality is different. Few women have made it in North Korean politics, and it's difficult to ignore the long-standing cultural background of Korean society.
Yet, Kim Yo-jong has not only gotten a rare seat in the nation's Politburo and appeared in the background of her brother's events but has even issued statements on her own behalf. For that, she may have her family's cult of personality to thank. Oftentimes, it's referred to as the Mount Paektu bloodline, in reference to the peak in the north of the country (pictured) where the first supreme leader, Kim Il-sung, is said to have fought off capitalist invaders. It's also where Kim Jong-il was reportedly born (though records indicate his birthplace was really over the border in Russia). This near-mythical association has been used to bolster the Kim regime and almost certainly opened doors for Kim Yo-jong that would have been soundly shut in the face of any other North Korean woman.
Kim Yo-jong is in charge of her brother's image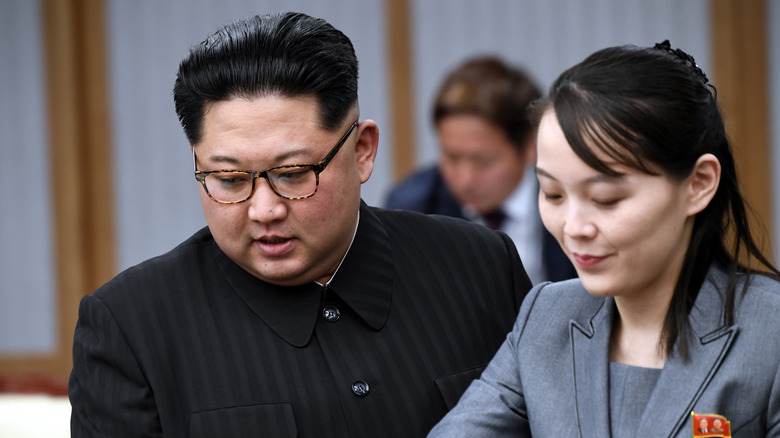 Pool/Getty Images
In a dictatorial regime, few things are more important than image. Few governments have done more for the image of its dictators than North Korea, where the cult of personality has elevated the Kim family to mythical proportions. Today, revered portraits of its leaders are everywhere, while North Koreans have been reportedly forced to attend celebrations in honor of Kim Jong-un's 10th anniversary of rule.
Much of that may be down to the work of Kim Yo-jong. That's because, in 2014, she was appointed the vice-director of the Workers' Party of Korea Propaganda and Agitation Department, a role that she likely still holds. Despite the title of second-in-command, sources maintain that she is the one who truly manages the department, thanks in part to Kim Jong-un's trust in his sister's unwavering loyalty.
She's also believed to be the mastermind behind Kim Jong-un's everyman image, which has presented him as a paternal, benevolent leader in the vein of their grandfather, Kim Il-sung. All those photos of Kim Jong-un smiling with happy North Korean schoolchildren and cuddling adorable orphans? Kim Yo-jong's work. And remember the odd 2013 revelation that Kim Jong-un and former basketball star Dennis Rodman were kind of friends? Yes, Rodman's multiple visits to the DPRK — and, by extension, his subsequent defense of the regime and Kim Jong-un — are almost certainly the result of Kim Yo-jong's propaganda initiatives.
Her husband and children's identities are murky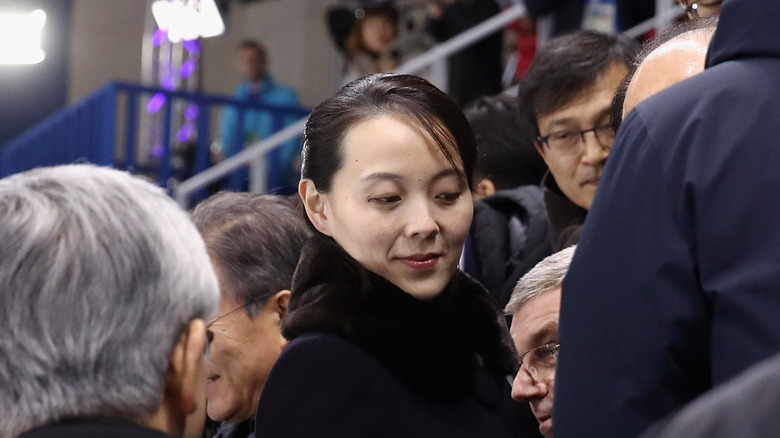 Bruce Bennett/Getty Images
Kim Yo-jong may be one of the more familiar faces of the North Korean regime, but finding information about her immediate nuclear family is tricky. It's often reported that she's married to a man named Choe Song, the son of North Korean official Choe Ryong-hae. Other sources say that she's married to Woo In-hak, a seemingly unremarkable middle-class guy, but nothing has been currently confirmed by official North Korean sources. It would make some sense if it were the son of a high-ranking party official like Choe Ryong-hae, given that they would have the sort of social connections and party loyalty that would make someone more primed to be Kim Yo-jong's spouse. If the reports are to be believed, she's been married to Choe Song since around 2015.
But what about children? In 2018, while Kim Yo-jong was in South Korea for the Winter Olympics, she reportedly told officials that she was pregnant, as per local outlet Chosun Ilbo. Onlookers had already been speculating about a possible pregnancy given Kim's body shape, but that is hardly a definitive answer and the South Korean government couldn't confirm the news. If the unconfirmed reports were to be believed, however, this would have been her second child. Yet, given that North Korean state media has said nothing about Kim Yo-jong's marriage, much less her possible motherhood, most of the world remains in the dark on this matter.
Kim Yo-jong has achieved other major political roles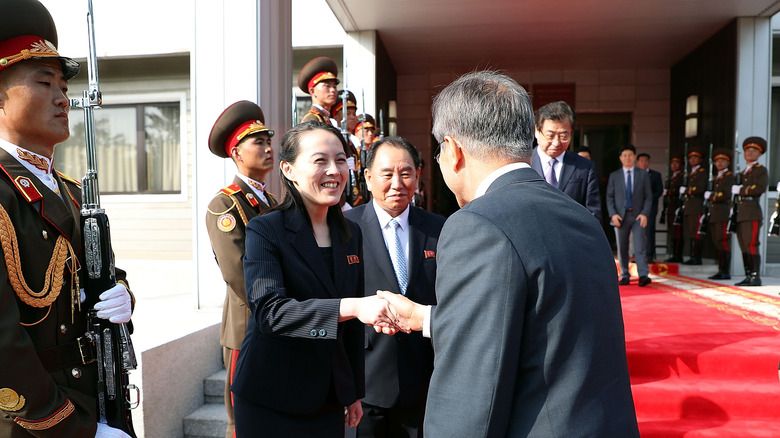 Handout/Getty Images
Besides effectively heading up the propaganda division of the North Korean Workers' Party, Kim Yo-jong has collected quite a few other titles and positions throughout her political career. In 2016, she became a member of the Central Committee and, in 2017, she was made an alternate member of the nation's influential politburo. Kim Yo-jong was only the second woman ever to gain a seat in the body after her aunt, Kim Kyong-hui. She also set out on her own to act as an envoy for North Korea to nations such as South Korea during the 2018 Winter Olympics.
Things may not have always been so easy for Kim Yo-jong, however. In 2021, her name was missing from the list of Politburo members, though she was still part of other government groups like the Central Committee. Was this evidence of a demotion? Observers weren't so sure. Getting at what exactly is happening in the closed-off world of North Korean politics is famously tricky, after all. And it's worth noting that Kim Yo-jong still made public appearances at this time, which would hardly be the case if she was on the verge of being ousted. Either way, she seems to have regained some level of status in the interim, as she not only makes public speeches and issues statements as of 2023 but was promoted to the State Affairs Commission in 2021 — her highest position yet.
She was the first Kim to visit South Korea since the Korean War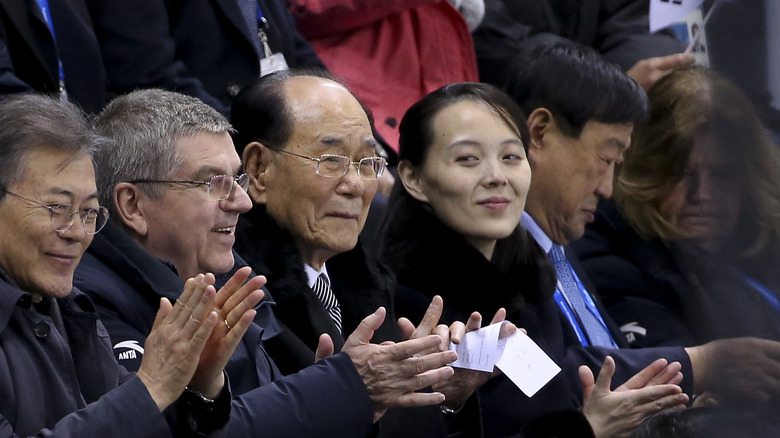 Jean Catuffe/Getty Images
One thing outsiders are well aware of when it comes to North Korea is the state's animosity towards certain other countries. Its greatest enemy, at least according to state propaganda, is the United States and its imperialist doctrine. But the U.S.-allied South Korea hasn't been singled out for easy treatment, either, even if the Korean peninsula was only split into the two nations at the end of World War II. In short, the idea of a Kim family member officially meeting with South Korean leaders long seemed like a delusion — until 2018.
That's when Kim Yo-jong traveled to PyeongChang, South Korea for the 2018 Winter Olympics. She attended the opening ceremony and received a flurry of media attention after shaking hands with the then-president of South Korea, Moon Jae-in, as did other members of the North Korean party. The trip was especially significant for Kim, however, as she was the first member of her family to enter South Korea since the beginning of the Korean War.
The day after the Olympic opening ceremonies, Kim Yo-jong and her delegation met with Moon at Cheongwadae, at the time the official presidential residence and office often known in English as the Blue House. While there, she invited Moon to Pyongyang and delivered a letter from Kim Jong-un expressing a desire to ease the tensions between their two countries.
Kim Yo-jong doesn't hesitate to use bellicose language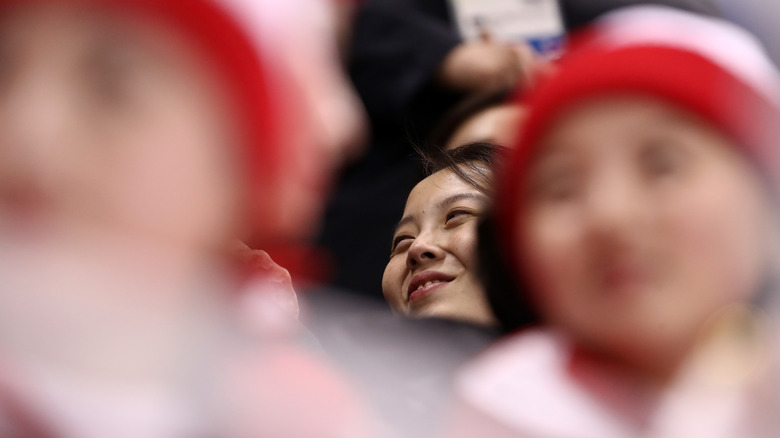 Ronald Martinez/Getty Images
While Kim Yo-jong has seen an easing of tensions between North Korea's traditional enemies (to the point where Kim Jong-un and U.S. President Donald Trump met for talks in 2017 and 2019), she hasn't always eased up on one of her country's most often deployed tactics: scary language. This isn't just a cute phrase, either, as North Korea and its spokespeople have often promised to rain death and destruction down upon its enemies.
In June 2020, when North Korean defectors sent anti-government leaflets back into the country, Kim Yo-jong threatened to shut down thawing relations between North and South Korea, while also referring to activists as "human scum" and "mongrel dogs." In fact, the border liaison office she considered shutting down in her speech blew up shortly after her remarks.
The next year, she directed public ire towards the U.S. after it and South Korea conducted joint military exercises, a particular pain point in inter-Korean relations. In an official statement published in March 2021, warning the newly-minted Biden administration that "if it wants to sleep in peace for the coming four years, it had better refrain from causing a stink at its first step." In 2022, she also spoke of "unimaginably terrible disaster" if South Korea undertook military action (via NBC News) and, the same year, vowed "deadly" retaliation against the nation for supposedly introducing the COVID-19 virus into North Korea (via AP News).
She occasionally speaks and acts for her brother
Handout/Getty Images
One of the most telling signs of Kim Yo-jong's power may be the fact that she is often deployed to speak directly for her brother. There was the time she acted as a special envoy to South Korea during the 2018 Winter Olympic Games, for instance. While there, she had the ability to invite South Korean President Moon Jae-in to North Korea, a fairly high-ranking task that would have had to have gotten the okay from Kim Jong-un prior to the trip.
Though Kim Yo-jong didn't make her first official statement in her own name until March 2020, she's definitely made high-level statements and decisions that are usually reserved for Kim Jong-un. In June of that same year, she responded to the appearance of anti-North Korea leaflets in the country by claiming that she had ordered action focused on the international joint liaison office. The next day, that office exploded, indicating that it may have been done so under Kim Yo-jong's order.
In 2022, Kim Yo-jong rejected an offer of economic help from South Korea in exchange for shutting down North Korea's nuclear weapons program. In her response, she proceeded to tell South Korean President Yoon Suk to "shut his mouth," a bold and direct statement that one might expect to come from Kim Jong-un himself. To date, she's made an estimated 40 statements while representing her brother and the country.
Kim Yo-jong may occasionally step in for her brother in a more practical way
Pool/Getty Images
Speeches and statements are one thing, but could Kim Yo-jong truly take power in North Korea? According to some reports, she already has, at least for a short period. Some analysts have speculated that she may have briefly led the DPRK in October 2014 while Kim Jong-un underwent some sort of medical treatment. Of course, North Korea isn't often ready to admit that its leader might be incapacitated (though, in 2022, state media admitted that Kim Jong-un had COVID), so we can't be sure that Kim Yo-jong had the opportunity to truly run the nation so early in her career.
That doesn't mean the opportunity won't present itself sometime in the future, however. In the event that Kim Jong-un dies before any of his children are old enough to take power themselves, it could be that Kim Yo-jong would act as a regent before the successor (presumably a son) comes of age. In this hypothetical scenario, many variables would make such a situation almost unpredictable. Would old-school military officials, who have a fair amount of power in North Korea, be willing to accept a woman-led government? Would Kim Yo-jong attempt to seize longer-lasting power? Would the Kim family mythos be enough to stabilize an otherwise unstable situation? With Kim Yo-jong in the mix, it can be hard to tell.
She may be part of a bad cop-good cop routine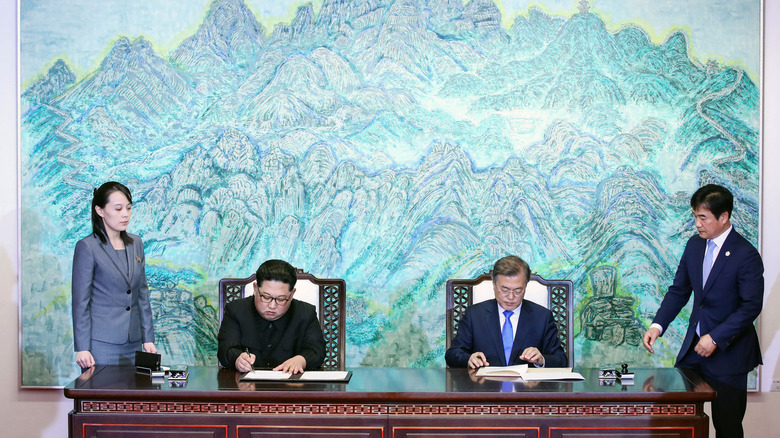 Bloomberg/Getty Images
At this point in history, Kim Yo-jong has established herself as something of a hard-liner in the North Korean media machine. She's not shy about using downright frightening language that threatens war, retaliation, building explosions, and the occasional mention of nuclear annihilation. Is this sincere? Perhaps — but perhaps not, or at least not exactly. It could be that Kim Yo-jong is the bad cop in the classic good cop-bad cop tactic sometimes employed by interrogators and public officials. The good cop here would be none other than current leader Kim Jong-un.
Take Kim Yo-jong's statement in March 2020, in which she warned of retaliation after South Korea commanded the North to stop military exercises. Mere days later, Kim Jong-un sent a downright cuddly letter to South Korean President Moon Jae-in offering support and friendship as COVID-19 hit the country.
While some have wondered if there is an ideological disconnect within the regime, it's also possible that Kim Yo-jong is leaving room for her brother to change his perception. Not only does it allow Kim Jong-un to appear far more approachable than he might otherwise, but this technique may give him the space to change course. If his sister says it, he could claim that it wasn't an official statement and go the other way if things appear to be going poorly.
Kim Yo-jong likely has some control over North Korea's military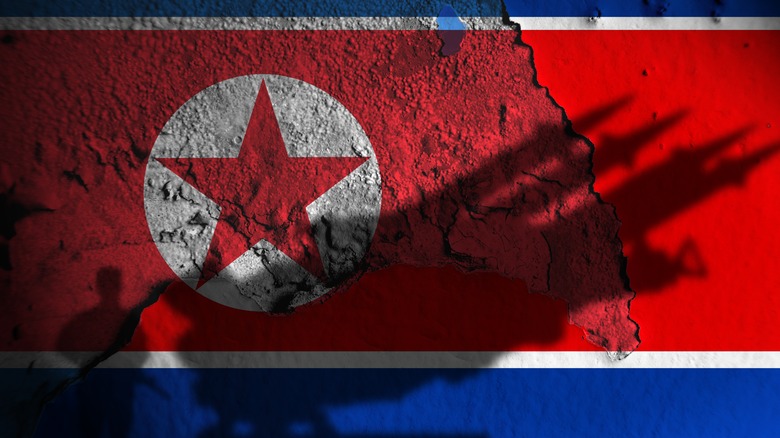 hapelinium/Shutterstock
While intense speeches and tight control over her brother's propaganda image may be pretty unnerving, for many it's not quite enough to earn Kim Yo-jong the title of the most dangerous woman in the world. Instead, the real issue is with her possible control of the North Korean military. While the DPRK's military may not seem all that advanced, it does possess an estimated 20 to 60 nuclear-armed warheads, with the potential to make more. Given the destructive power of such weapons, even a handful would be cause for serious concern. When Kim Yo-jong and other members of the regime talk of retaliation, that deadly arsenal looms behind every word.
Because Kim Yo-jong has made so many declarations on behalf of her brother's government, professor Sung-Yoon Lee told Fox News that it's likely she has some level of control over North Korea's military capabilities, and in particular its nuclear weapons. Whether she is a mouthpiece for Kim Jong-un or would use some of that power under her own direction remains unclear.
She may direct cash flow in North Korea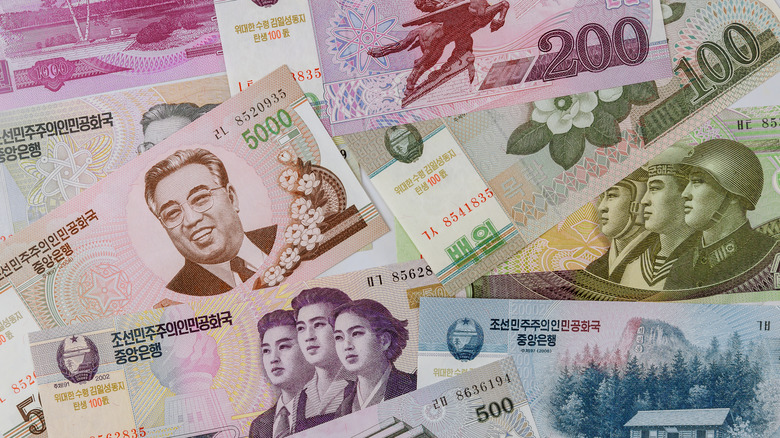 ungvar/Shutterstock
Kim Yo-jong might oversee the flow of foreign cash into the country. Given that North Korea is one of the poorest countries in Asia and has a GDP that's currently 57 times smaller than that of neighboring South Korea, an influx of foreign currency can be a big deal. So, too, would be the person who controls where it goes.
It's all linked to a mysterious subsection of the country's ruling Korean Worker's Party, commonly referred to as Office 39 for the number outside its rooms in the party's headquarters. While it's not confirmed, sources suggest that Kim Yo-jong and her husband have significant roles in Office 39. That would mean they could be directing foreign money that comes into the country into an array of accounts that fund government and family activities. Given the number and intensity of economic sanctions that have been imposed on North Korea over the years, this money flow may not always be entirely legitimate.
It is telling that, not only is the U.S. government terribly interested in figuring out where the money comes from and where it goes, but that the U.S. Department of the Treasury specifically picked out Kim Yo-jong for sanctions in 2017. While the department said that it did so because of her links to the propaganda arm of the DPRK, officials told TIME that her appearance on the list was actually due to her suspected links to Office 39.
Some wonder if she could become North Korea's next leader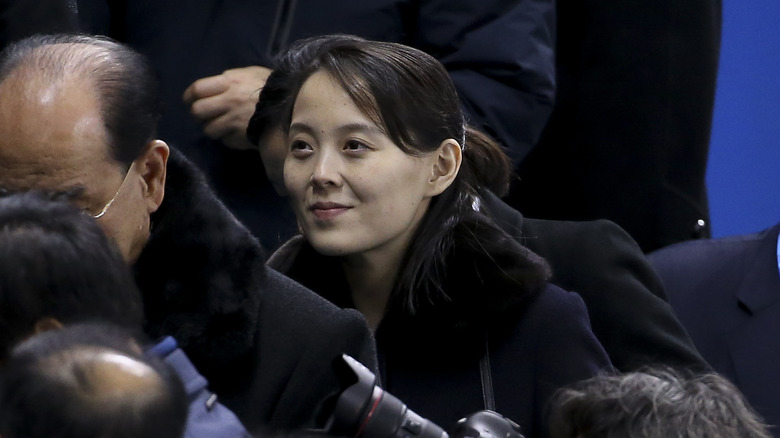 Jean Catuffe/Getty Images
As of 2023, Kim Yo-jong appears to remain a formidable figure in North Korean politics. Given that a major part of the nation's political system hinges on dynastic succession within the Kim family, and that power may be allocated to the most capable members of that family instead of the oldest son, it stands to reason that she may be next up for the supreme leader seat. But how realistic is that scenario?
There are some significant roadblocks that stand between Kim Yo-jong and the job. North Korea's patriarchy makes the idea of a female leader hard to stomach for some. Speaking to Fox News, analyst Sung-Yoon Lee suggests that her Kim family bloodline may still trump entrenched sexism, but her gender would not make things easy.
If she went for the supreme leader role, military leaders could rise up against her and attempt to seize power for themselves. Then, there are the treacherously shifting loyalties within the political system, which left Yo-jong's elder half-brother, Kim Jong-nam, assassinated and uncle Jang Song-thaek brutally executed via firing squad. Finally, there's Kim Yo-jong herself. She may have realized relatively early on that, to maintain a balance of power and safety, she has to keep herself on the sidelines. Making speeches, traveling abroad, and working behind the scenes may be as far as she is willing to go, even if the supreme leader spot opens up sometime soon.