The Horrific 2005 Murder Of Beauty Queen Nona Dirksmeyer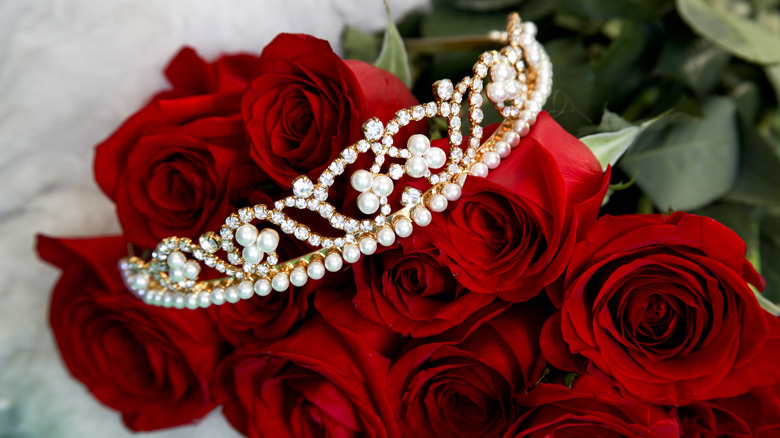 Lisaison/Getty Images
The death of any teenager is deeply disturbing, but when a teen is murdered it can cause untold and long-lasting trauma for a whole community. On December 15, 2005, the town of Russellville, Arkansas was rocked by the news that 19-year-old Arkansas Tech University student Nona Dirksmeyer had been found dead inside her apartment.
She had been brutally murdered and left in a pool of blood with multiple stab wounds to her neck and shoulders. She also had injuries to her neck and head, the latter of which had been caused by her being struck repeatedly by the base of a lamp that she kept in the apartment.
Dirksmeyer was remembered as a popular, social, and high-spirited young woman, who found great pleasure in making friends and helping others. She was a regular competitor in beauty pageants, including the prestigious Miss Arkansas competition. That her young life should end in such horrifying circumstances was deeply shocking to all who knew her, but for her long-term boyfriend Kevin Jones, the crime would truly turn his life upside down.
The arrest and trial of Kevin Jones
It was Kevin Jones who first discovered Nona Dirksmeyer's lifeless body in her Russellville apartment. Though they lived apart and studied at different institutions, Jones and Dirksmeyer were a couple that remained in close contact with one another, with Jones usually receiving responses from Dirksmeyer soon after sending her a text message. After Dirksmeyer became uncontactable, Jones reportedly got in touch with a friend who lived near his girlfriend to check in on her, but she didn't answer the door. Jones then traveled with his mother to Dirksmeyer's house, where he found her semi-naked and blood-soaked body.
Investigators immediately turned their attention to Jones, who was interviewed repeatedly, and whose alibi on the day of the murder came under scrutiny (via NBC News). Jones was later charged as Dirksmeyer's murderer, with prosecutors pointing to Jones' bloody fingerprints at the crime scene as evidence that he had killed his girlfriend, with whom they said Jones had become enraged after coming to believe she had been seeing other men. However, his defense team argued that the prints were left during the horrifying discovery of Dirksmeyer's body and that there were other prints on the lamp from an unidentified person who they said was the real killer. In a turn of events that surprised many of Dirksmeyer's family who had turned against Jones, he was acquitted at the end of his trial.
A new suspect emerges
Following Kevin Jones' acquittal, it seemed that the investigation into the murder of Nona Dirksmeyer had run into a dead-end. Investigators claimed there no more suspects apart from the man they had first brought to trial. However, in 2008 attention turned to a new suspect: Gary Dunn, a neighbor of Dirksmeyer's who at the time of her murder was on parole after violently attacking a female jogger in 2002. 
After Dunn was arrested, an investigation found that his DNA was present on a condom wrapper that had been discovered at the murder scene. Dunn was then charged with her murder, but after two trials ended in hung juries, he walked free.
Nevertheless, Dunn was once again put behind bars for other violent crimes against women, which for a while was a reassuring development that made Arkansas a safer place for the women who live there, though upon being paroled in 2018 he continued attacking strangers, according to ABC 7. In 2019 he was convicted of attempted kidnapping according to the Arkansas Department of Corrections. Justice for Dirksmeyer has yet to be found.