12 Great Christmas Songs You've Never Heard Of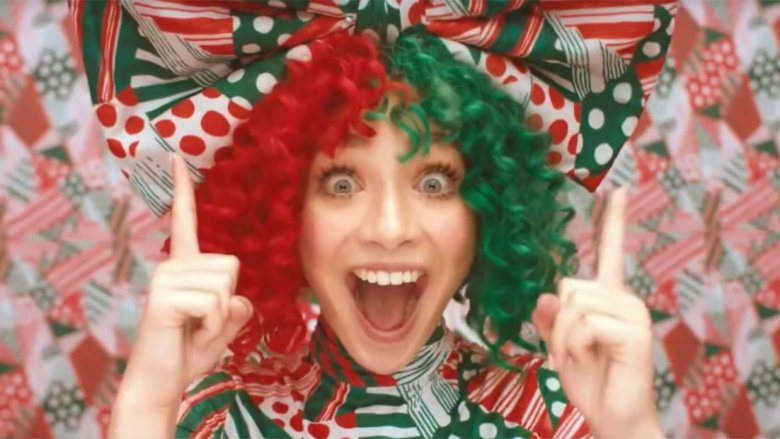 Christmas music is pretty much impossible to ignore. Even if you're not mellowing out to the Vince Guaraldi Trio at home, every single shopping mall, grocery store, gas station, radio station, and doctor's office will be pumping out those wintry jams everywhere you go. Unfortunately, they all tend to draw from the same shallow roster of standards, and you can only hear "Simply Having a Wonderful Christmastime" so many times before it makes you want to strangle an elf.
Despite that reliance on all the familiar hits, there's a nearly endless amount of Christmas music out there, with more being added every year. There's so much that it's nearly impossible to listen to it all, but buried somewhere underneath all those endless replays of "Feliz Navidad" and confusing songs about asking Santa Claus to bring you teeth — we really don't talk enough about how weird that is — there are some genuinely great tunes hiding out there. Here are a dozen fantastic Christmas songs that you've probably never heard of.
Sufjan Stevens - "C'mon Let's Boogey to the Elf Dance"
Let's be real here: If you're going to check out only one Sufjan Stevens song from the (no joke) 42 tracks on Songs For Christmas, it should probably be the relentlessly weird "Christmas Unicorn," which clocks in at 12 minutes and at one point incorporates a cover of Joy Division's "Love Will Tear Us Apart." Seriously, if you have never experienced the thrill of people at a Christmas party slowly stopping in mid-conversation to try to figure out what they're listening to, it's pure Christmas magic.
If you'd rather not confuse your party guests, though, go with "C'mon Let's Boogey to the Elf Dance." Despite the fact that it sounds like an insufferable singalong track from an album for babies, it's a bright, undeniably joyful tune about getting together with your family that balances genuine sentiment with weird, cute lines like "Jesus and Mary, what a great day!" More than anything else, it's like if Vince Guaraldi's classic soundtrack to the Peanuts Christmas Special was done by an indie rock group instead of a jazz trio.
If you like it, there's a similar song in the collection called "Put the Lights on the Tree," and while it has a better title by far, it's also much shorter and lacks the gentle crescendo of this one. It's the audio equivalent of running through a crisp new snowfall on Christmas morning on your way to get presents, and that's never a bad thing at the holidays.
Darlene Love - "All Alone At Christmas"
Along with producer Phil Spector, Darlene Love is responsible for what might be the single greatest Christmas song of all time, the classic "Christmas (Baby Please Come Home)." The plaintive yearning, the resounding church bells blasting through the Wall of Sound, the sheer epic power of Love's voice begging for her lost love to return — it basically defines the sad Christmas song.
Far less beloved, though, "All Alone At Christmas," which might be because it was written and recorded to be the theme to Home Alone 2: Lost In New York. Despite its connection to the movie, the song (written specifically for Love by Steven Van Zandt of the E Street Band) has nothing to do with a child who was cursed with the most neglectful parents ever committed to film. Instead, it's a another soaring paean to the loneliness that we've probably all felt one time or another when everyone else seems to be enjoying the holidays.
Make no mistake, it's absolutely a second-rate version of "Baby Please Come Home," and that's not just because of Love's presence and the similar themes. It even references that song, both through musical callbacks and and an explicit lyric about listening to it, which is a pretty bold move considering that it invites a comparison to an all-time classic. That said, the second-rate version of the best Christmas song ever is still a pretty darn good song in its own right.
Sia - "Puppies Are Forever"
Sia's "Everyday Is Christmas" was released in 2017, and unlike a lot of Christmas albums put out by pop stars, there wasn't a single cover on the whole thing. Instead, she loaded up her album with 13 all-new and delightfully bizarre tracks, including great new songs like "Ho Ho Ho," which weirdly seems to be pirate-themed rather than Santa-themed, and "Candy Cane Lane," which makes a pretty good attempt at adding an entirely new location to the Christmas canon.
If you're only going to add one to your playlist, though, the crowd-pleaser of the bunch is absolutely "Puppies Are Forever." The premise here is pretty simple: If you get a puppy for Christmas, it's not going to be a cute little baby forever, and will one day grow up to be a dog that also needs your love. Like a lot of great Christmas songs, there's an edge of sadness to it, but "older dogs need to be loved" might be the only thing that literally everyone in the world can agree is a good message during the holidays. Plus, the upbeat pop style and the way Sia repeatedly belts out "puppies are forever!" are bound to make you smile. After all, even the Grinch loved his dog (sort of).
Dude York - Breakup Holiday"
It's easy to argue that the best Christmas songs are sad songs. "Christmas (Baby Please Come Home)," "Have Yourself a Merry Little Christmas," "Last Christmas," "Blue Christmas," "I'll Be Home For Christmas" — the list of holiday tunes with that element of missing something when you ought to be happy goes on and on. Even "White Christmas," the best-selling single of all time, is a song about wishing you were somewhere else.
Dude York's "Breakup Holiday," which came on their 2017 album Halftime for the Holidays, perfectly captures one very specific kind of modern holiday sadness: breaking up right before the holidays and just knowing that you're going to run into your ex. With a rocking, rapid-fire guitar, the vocals go through all the different stages of emotion that come with that particular problem: angry, drunk, depressed, and then angry again.
Simply put, it's a great song, and while it's explicitly a Christmas song, it lacks any of the traditional (literal) bells and (figurative) whistles that usually mark yuletide music. For some listeners, that's a drawback, but for us, that just means that you can keep this one in rotation all year long.
Glam Chops - "Baby Jesus Was the First Glam Rocker"
There is no shortage of Christmas parody songs, but the vast majority of them aim for humor and wind up falling face-first into being phenomenally annoying — looking at you, "Dominick the Donkey." Every now and then, though, you can find a song with a sense of humor that's also not painful to listen to.
"Baby Jesus Was the First Glam Rocker" is one of those. Recorded by Art Brut's Eddie Argos as one of his many, many side project bands, it imagines the birth of the Savior as the dawn of David Bowie-esque catsuits, platform boots, and glitter getting everywhere. Admittedly, it might be just a tad too sacrilegious to have on while Grandma's over for a turkey dinner, but there's nothing actually offensive in this one beyond the image of the Christ Child belting out "Moonage Daydream," and it's just enough of a change from the norm to work well on a playlist full of classics.
Wizzard - "I Wish It Could Be Christmas Everyday"
If you want to get a taste of some genuine Christmas glam rock, look no further than Wizzard's booming, glittering ode to the holidays. Like Slade's "Merry Xmas Everybody," which beat it to the celebrated #1 Christmas chart when it was released back in 1973, "I Wish It Could Be Christmas Everyday" is still a popular song in the U.K., and it's been covered by everyone from the Spice Girls to Nick Lowe. It's far less well-known in America, and that's a shame. It's a great song, mainly because ... well, because it's a whole lot of song.
It has everything you could want in a Christmas song: jingle bells, a children's choir, a horn section, a line about Santa flying through space — it even has what seems to be a new Christmas character, the Snowman, who brings the snow, which is not a thing. That's before you get to the truly weird video, too, which adds face paint, wigs, and fake beards to the mix. It's an undeniably catchy song, and if you don't find yourself humming it for days after you listen to it a couple times, then you might as well prepare for a visit from three spirits on Christmas Eve because you are most definitely a Scrooge.
The Darkness - Christmas Time (Don't Let The Bells End)
If you've watched the romantic holiday classic Love Actually, then you might already have an idea about how big a deal it is in the U.K. to be the #1 single on Christmas Day. As a result, December is always flooded with an endless string of re-recorded classics and brand new novelty songs, some of which go on to become standards in their own right.
In 2003, "Christmas Time (Don't Let The Bells End)" from the hair metal throwbacks in the Darkness didn't quite make it that far, but that doesn't stop it from being a pretty great song. It's pretty much exactly what you'd think a Christmas song from the band that did "I Believe In a Thing Called Love," with soaring falsettos from Justin Hawkins and heavy guitars combined with those classic church bells. It also has a tongue-in-cheek sense of humor to it — if you don't know, a "bell end" is British slang for ... well, something you don't usually talk about on Christmas, but it's just obscure enough that you can get away with playing it at work to break up the monotony.
Hanson - "Everybody Knows The Claus"
Of all the songs on this list, "Everybody Knows the Claus" is the one you have the best chance of having heard before — if you were a '90s kid, anyway. In 1997, after their debut album introduced an army of tweens to a little thing called "MMMBop," the brothers Hanson decided their next move should be a Christmas album. The result was Snowed In, which included classics like "White Christmas" and "Little Saint Nick" along with a handful of originals.
"Everybody Knows the Claus" is one of the originals, and, well, we can just call it divisive. Musically, it doesn't really sound like Christmas. Instead, it sounds like the late '90s, and if they weren't singing about Santa, it could pass for a standard-issue pop song that might as well be called "MMMBop 2: The Reckoning." There is one thing about it that stands out, though: the line "don't forget the donuts," which is shouted above the rest of the music when talking about the approach of everyone's favorite jolly old elf. Your opinion of the song is probably going to be entirely based on whether you're angry or laughing when you yell "Santa eats cookies, not donuts" back at the Hanson boys, but we still think it's worth a spot on the playlist.
Sharon Jones and the Dap Kings - "Ain't No Chimneys In The Projects"
Sharon Jones spent most of her career working as a prison guard at Rikers Island between jobs as a backup singer, but when she finally teamed up with the Dap Kings, whose horns served as the launchpad from which Jones' rich wrecking ball of a voice could soar, it was magic. She won a Grammy in 2014, and the following year, they released "It's a Holiday Soul Party," which pulled off the amazing feat of including one of the best Christmas songs ever and one of the best Hanukkah songs ever.
"Eight Days of Hanukkah" is a cheerful tune about family, fun, and latkes, but as you might expect from the title, "Ain't No Chimneys in the Projects" goes for a different sort of emotion. It's not a sad song, though — instead, it's about Jones growing up and realizing it wasn't Santa Claus who made her Christmas special, it was her mom who worked hard to hide those gifts under the tree without taking any credit for it so her daughter could be happy. With a driving soul groove that's straight out of Marvin Gaye or James Brown and just a hint of jingle bells, it's a phenomenal example of how much emotion Jones could bring to her work, and the melancholy joy of giving gifts at Christmas.
The Kaisers - "Merry Christmas Loopy Lu"
On your first listen, it's easy to mistake the Kaisers for a product of the '60s. They've got that surf guitar sound, the Fab Four vocals, and even a scratchiness to the recording that makes "Merry Christmas Loopy Lu" sound like a forgotten classic of the British Invasion. In reality, the Scottish garage rock band actually formed in 1992, and released this one as a single in 1996.
Regardless of its vintage, "Loopy Lu" is a holiday banger of the highest order. The high-energy rock 'n' roll sound gives it a flavor that could pep up a party faster than a glass of spiked eggnog, and it's got just enough holly-jolliness in the form of the echoing church bells underneath the chorus to become a wintertime classic.
Ella Fitzgerald - "The Secret of Christmas"
Along with Bing Crosby and Nat King Cole, Ella Fitzgerald might be one of the best-known recording artists when it comes to Christmas songs, with her version of "Sleigh Ride" being one of the most popular classics on the airwaves every year. This song, however, is relatively unknown, having only been released as a single in 1959 and left off her popular 1960 Christmas album until it was finally included as a bonus track in 2012. And that's a shame.
Even if you've never heard "The Secret of Christmas," there's a warm familiarity to it that allows it to connect with listeners instantly, mainly because it's speaking the sort of language that we all know from decades of holiday classics. The song was written for Crosby, but Fitzgerald's melodic, almost haunting voice, is the perfect complement to the sheer beauty of the music and lyrics. It has the feeling of "The Christmas Song," but with the added benefit of its sincere, sentimental message about keeping kindness in your heart all year long, because, after all, "the little gift you send on Christmas day will not bring back the friend you've turned away." Well known or not, this one should be on everyone's playlist.
Dolly Parton - "Hard Candy Christmas"
Okay, first things first: This is not actually a Christmas song. The "hard candy Christmas" of the title is a metaphor for a happy time, used to assure friends and family that you're doing all right after a devastating breakup when you are not, in fact, doing well at all. It has nothing to do with presents, trees, Santa, or anything else that's Christmasy.
That said, Joni Mitchell's "River" isn't actually a Christmas song either, and if that gets played every December just by mentioning the holiday in its opening line, we can make an exception for Dolly Parton's heart-rending classic, too. Besides, Dolly put it on her Once Upon a Christmas album with Kenny Rogers and plays it at her Dollywood theme park along with "Jingle Bells," and what's good enough for Dolly is good enough for us.
Originally written for The Best Little Whorehouse In Texas, Dolly made it into what Noisey called "the real-as-hell Christmas song we need," and it definitely is that. As seasonal depression and the kind of loneliness that appears in other songs on this list gets to be a little too much to bear, the acknowledgement of "barely getting through tomorrow" by clinging to the hope for the future is a good message to hang onto until the days start finally getting longer again.