How The Assassination Of 2 Colleagues Catapulted Dianne Feinstein's Career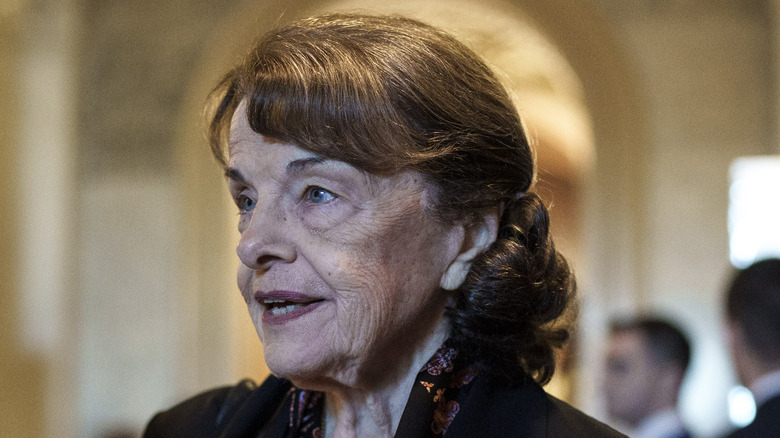 Drew Angerer/Getty Images
California Senator Dianne Feinstein's life may have turned out quite differently if not for the tragic assassination of San Francisco Mayor George Moscone and city politician Harvey Milk, who sat on the San Francisco Board of Supervisors, ABC News reports. In 1978, when Moscone and Milk died, Feinstein was serving her third term as president of the governing body Milk belonged to — next in line for the mayorship, and she was Milk's direct superior. At that point, with two failed San Francisco mayoral bids, Feinstein intimated the end of her third term could signal her exit from politics. Those plans changed, though, once Moscone and Milk were shot and killed.
Disgruntled former San Francisco Board Supervisor Dan White assassinated Milk and Moscone, who were targeted because White — who had recently resigned from his position and had a conflict with Milk — believed there was a conspiracy between the two to keep him away from the Board of Supervisors after White asked Moscone for his seat back and was denied. With Moscone dead, Feinstein became mayor of San Francisco and remained in politics. That sad day is now seen as a definite turning point in her long career, Forbes reports.
Feinstein found Milk's body
Diane Feinstein was in San Francisco City Hall the morning  Mayor George Moscone and Harvey Milk — the first openly gay politician elected in California — were killed. Speaking with SFGate in 2008, she remembered seeing Moscone and Milk's assassin, Dan White, enter the building. She called out to her former colleague but he didn't answer. " ... [White] went by, and I heard the door close, and I heard the shots and smelled the cordite, and I came out of my office. Dan went right by me. Nobody was around, every door was closed," Feinstein said.
Feinstein was also the first person to find Milk's dead body. "I found Harvey on his stomach. I tried to get a pulse and put my finger through a bullet hole. He was clearly dead," she told SFGate. " ... [I]t was one of the hardest moments, if not the hardest moment, of my life ... For San Francisco, it was a day of infamy," she said. At a press conference, Feinstein told the shocked audience the news (via the Los Angeles Times), "Both Mayor Moscone and Supervisor Harvey Milk have been shot and killed."
Once appointed mayor of San Francisco in 1978, Feinstein won two subsequent elections and remained in City Hall until 1988. She missed her chance at California governor in 1990, but reached the U.S. Senate in a special election in 1992, according to The New York Times. The longest-serving female senator in United States history, Feinstein's death was announced on Friday, September 29, 2023. She was 90.