Whatever Happened To Yik Yak?
CarlosBarquero/Shutterstock
In the mid-2010s, Yik Yak was a popular social media app on college campuses that allowed users in close proximity to anonymously interact. Over time, Yik Yak's chief selling point — anonymity — became a liability as Yik Yak was embroiled in negative publicity over reported threats of sexual and racist harassment and violence on the app. As a result, Yik Yak downloads ebbed, and the founders sold it to Snapchat partner Square Inc. in 2017 and closed up shop, The New York Times reported that year. In 2021, though, the app returned with new, unidentified Nashville-based ownership as well as changes intended to curtail misuse, TechCrunch reported.
In 2023, though, TechCrunch reported the app sold yet again, this time to the makers of a rival messaging platform called Sidechat. Fans were reportedly displeased by still more changes to the Yik Yak experience, and before long, Yik Yak disappeared from the Google Play store, dismaying loyal Android consumers. From school shooting scares to bomb threats and other forms of abuse to what various owners have done to try and keep Yik Yak relevant, here's a closer look at the app's meteoric rise and swift descent — and what the future may hold for "Yakkers."
Yik Yak started strong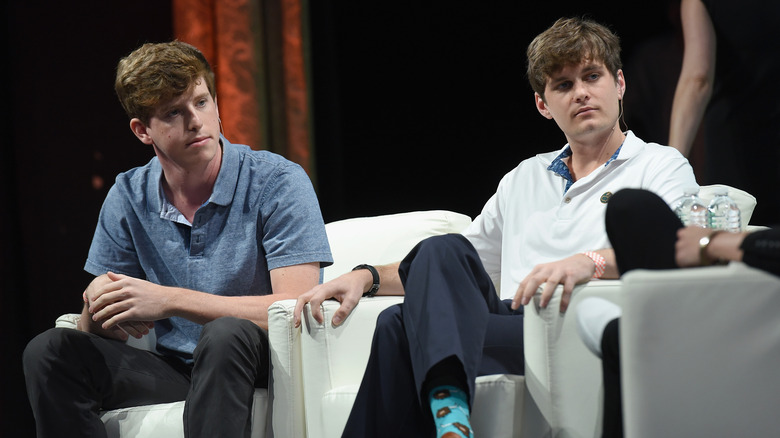 Noam Galai/Getty Images
According to Yahoo! Finance, Yik Yak was founded in 2013 by Brooks Buffington and Tyler Droll, two young tech entrepreneurs, pictured together above. Their concept was to capitalize on the boom in social media with a twist. In a Twitter-style feed, users from similar ages and demographics in a limited geographical range could make anonymous posts called "yaks," which could then receive upvotes or downvotes, increasing or decreasing visibility. One proof of concept early on was medical fundraising among people who may not know the person in need but live in the same area or go to school with them. Downloads exploded, and in 2014, Droll and Buffington's company raised $73 million in venture capital financing.
Droll said that year, "Our goal with Yik Yak was to create an open forum for mobile users to easily communicate, or Yak with one another, providing a virtual bulletin board of sorts for community engagement within a specific location." Buffington added, "We are excited to pioneer what we see as the future of social engagement: Geographically-focused, anonymous user-generated content sharing." But as downloads pushed the 2 million mark in September of that year, the Yik Yak balloon soon deflated. 
Among other issues, in March 2014, Patch reported two anonymous Yik Yak bomb threats at a high school in Massachusetts. In October of the same year, an open letter about campus Yik Yak-based harassment was published in The Middlebury Campus. A month later, in November, a threatened shooting controversy erupted at Michigan State University, per the Lansing State Journal. 
The 2017 Yik Yak shut down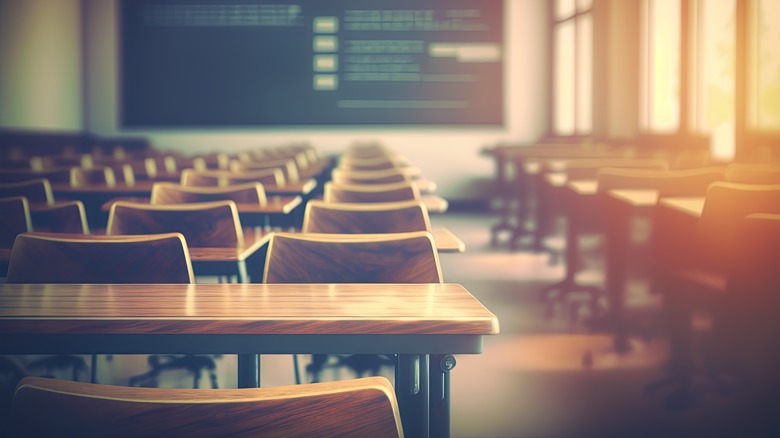 Aquir/Shutterstock
By September 2016, Yik Yak downloads plummeted to just 125,000, down from from nearly 2 million the same month in 2014, the New York Times reported. In August 2016, New York Times Magazine described how Yik Yak tried to right the ship by adding geo-fencing and filters and getting rid of anonymity in an effort to cut back on harassment. At that time, users were required to build a profile and adopt a handle, much like other social media platforms, but those features proved unpopular. After massive layoffs at the end of 2016, Yik Yak founders Brooks Buffington and Tyler Droll sold Yik Yak to a mobile payment processor, Square Inc., and Yik Yak, as most knew it, was gone. 
Four years later, though, in 2021, Yik Yak returned under new, unidentified ownership, Forbes reported that year. Again, the new owners tried to curb abuse by implementing "community guardrails." Despite all that, Yik Yak 2.0 was still controversial among the app's target audience: college students, Inside Higher Ed reported the next year. By 2023, TechCrunch reported the app was purchased again by the developers of Sidechat, a similar product. Later that year, Yik Yak disappeared from the Google Play store, per The Hilltop Monitor.
As of fall, 2023, Yik Yak was still available on the Apple app store, but never seemed to return to its former glory. Proving the ever-changing nature of social media, on the official Yik Yak Instagram page, officialbliss commented, "You all should download clacku."