The Disturbing Internet Searches Kouri Richins Made Before Her Arrest
On the face of it, the life of Kouri Richins and her husband Eric was a happy and balanced one. The couple, who lived in Kamas, Utah, appeared on social media to have a loving relationship and adore their two young children. Kouri had a passion for writing children's books while also working in real estate, having set up her own business in 2019. Meanwhile, Eric had amassed a small fortune through his successful masonry business. But in March 2022, the Richins family became headline news after Kouri called the emergency services to say she had found her husband dead one morning in the bedroom of their house (per NBC News). She claimed that she had fixed Eric a Moscow mule the night before but had slept in the bedroom of one of their children, who was having difficulty sleeping.
An investigation revealed that Eric had died from an overdose of fentanyl, with five times the lethal dose discovered in his system. Kouri was soon arrested for the poisoning of her husband, with later evidence suggesting the author had specifically bought fentanyl from a drug-dealing contact she had known only as "C.L." Though Kouri denies any wrongdoing, prosecutors point to prior wrangles over money, specifically Eric's life insurance policy, and also prior statements from the victim, who believed Kouri was trying to poison him. Then there are the suspicious internet searches that seem to show Kouri was trying to work out her chances of getting away with it.
Suspicious searches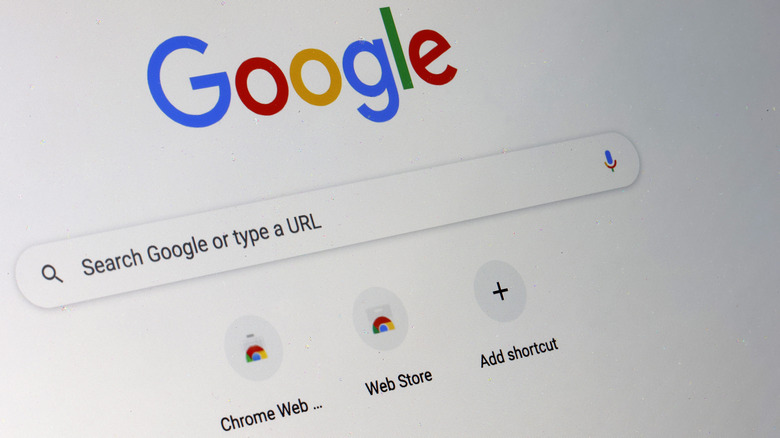 Chesnot/Getty Images
Kouri Richins painted herself as a mourning wife who, along with her children, was struggling to come to terms with Eric's unexpected death. A year after his body was found, Kouri Richins made several appearances on television to promote a new children's book she had written. The book was intended to help kids come to terms with loss and grief. She dedicated it to "my amazing husband and a wonderful father," according to NBC News.
But while Kouri was presenting one face to the world through her writing, her purported internet search history tells a different story. As reported by CNN, it is alleged that the accused researched the amount of fentanyl that would constitute a lethal dose and conducted several other searches concerning police investigations, prisons, and life insurance law. These include: "Can cops force you to do a lie detector test," "Luxury prisons for the rich in America," "If someone is poisoned what does it go down on the death certificate as," "Death certificate says pending, will life insurance still pay," and "How to permanently delete information from an iPhone remotely."
'Incriminating' evidence?
The internet searches that have been unveiled in the Kouri Richins case undoubtedly look suspicious on paper, and indeed the prosecution in the case has gone as far as to describe them as "incriminating," CNN reported. Speaking to NewsNation, defense attorney and former prosecutor Josh Ritter — who is not directly involved in the case — has described the revelation of Kouri's search history as "very problematic" for her defense. In June 2023, it was declared that the accused would be held without bail.
In the months since her arrest, Kouri has continued to blend fact and fiction — quite literally. In September 2023, prosecutors submitted a letter written by Kouri as evidence in her case, alleging that it was part of a witness tampering effort. According to People, she has rebuffed the claims by saying the document was part of a "fictional mystery book" that she is writing based on her experiences.