Huge Scandals That Hit Famous Podcasters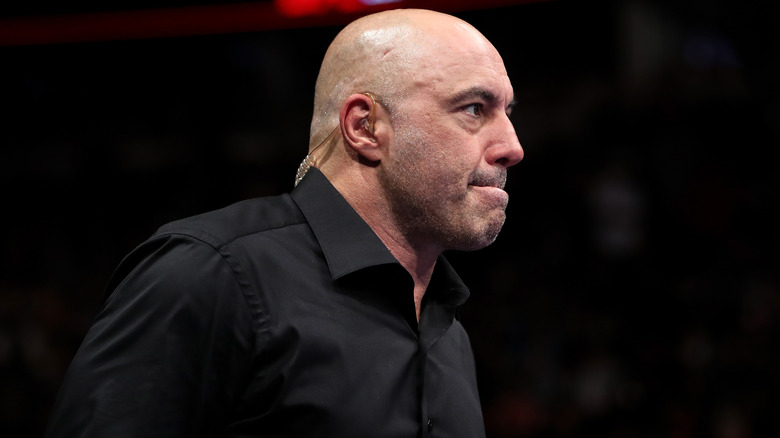 Dylan Buell/Getty Images
The world of podcasting is rife with scintillating topics, twists and turns, and big personalities. It's safe to say that in order to find success in that world, one must greatly enjoy the sound of one's own voice, and a Herculean level of self-confidence. Indeed, a flair for the dramatic never hurt anyone's chances of becoming the next podcaster, and to see the endeavor that began in their basement acquired by a giant media company for ridiculous sums of money. 
This slice of media has become big, big business, particularly after the proliferation of smartphones made our favorite podcasts available to us anywhere we can get a signal. As of 2023, podcasts rake in north of $2 billion per year in annual revenue, a figure that is expected to double in just a few short years. The personalities who are the most prominent in this space, then, are nothing short of huge celebrities — and, like lots of celebrities, they sometimes tend to find themselves in the middle of questionable situations of their own making. Here are some podcasters who got a bit more attention than they bargained for, in the form of scandal and controversy.
The following article includes allegations of addiction, mental health issues, and sexual assault.
Ashley Flowers and Brit Prawat hit with plagiarism allegations
Of all the flavors of podcasts, the true crime genre is among the most popular. Of all the ker-billions of true crime podcasts to choose from, one reigns supreme: "Crime Junkie," created and hosted by author and digital media veteran Ashley Flowers, which debuted in 2017. Flowers and her co-host Brit Prawat take deep dives into all manners of crimes in their informed, humorous, conversational style, but despite its informal tone, a podcast as successful as "Crime Junkie" requires a tight script. If its recent detractors are to be believed, that can sometimes involve just cribbing big swaths of other peoples' material.
In 2019, Arkansas Democrat-Gazette journalist Cathy Frye dropped in on the podcast's Facebook group to level a jaw-dropping accusation at Flowers and Prawat. "You relied on my series about Kacie Woody to air your podcast ... At one point, you quoted a portion of MY copyrighted story almost verbatim," she wrote, before going on to question the pair's diligence in citing sources. Since that post, others have come forward to accuse the pair of ripping off material from Reddit, episodes of the cable series "Investigation Discovery," and even other podcasters. In a statement to Variety, Flowers defended her use of this material and insisted that all sources were properly cited on the podcast's website — but also admitted that the decision had been made to pull several episodes whose citations she said were lacking or out of date.
David Choe makes a jaw-dropping admission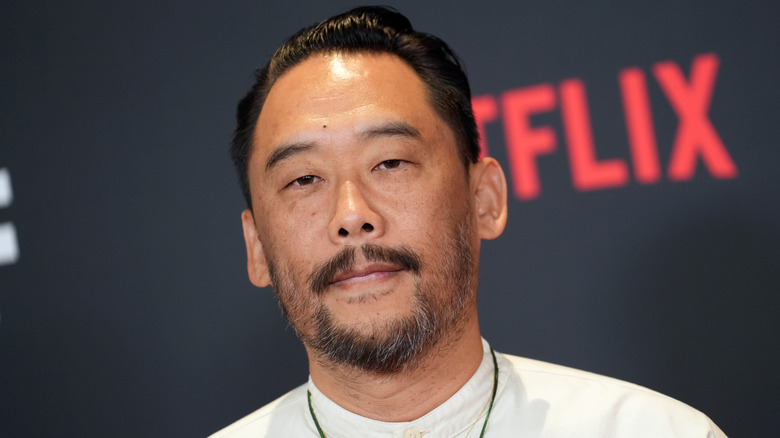 Jc Olivera/Getty Images
Actor and street artist David Choe has dipped his toes into many pools in his career, including podcasting. His series, "DVDASA," was a filthy, conversational lifestyle chat co-hosted by adult film actress Asa Akira, and which ran for over 100 episodes through 2014. That year, Choe found himself in a bit of hot water when he told a story on the podcast about how, during a session with a massage therapist, he engaged in behavior that he called "rapey," going so far as to describe himself as a "successful rapist." While he has since claimed that the story was not true and was intended as a joke, it's safe to say that — while staying far, far away from the details — if the alleged incident did in fact occur as described, then that might be an accurate description.
In 2023, Choe appeared in a supporting role in the hit Netflix series "Beef," starring Ali Wong and Steven Yeun, and the series' dragged the podcast, which ended in early 2015, right back into the spotlight. While Choe's 2014 statement addressing the brouhaha left a little to be desired — "I'm sorry if anyone believed that the stories were fact," he wrote — the updated 2023 version was just a bit more contrite. "Though I said those words, I did not commit those actions," he wrote. "I am deeply sorry for any hurt I've brought to anyone through my past words. Non-consensual sex is rape and it is never funny or appropriate to joke about."
Adam Friedland's famous guest gets shockingly racist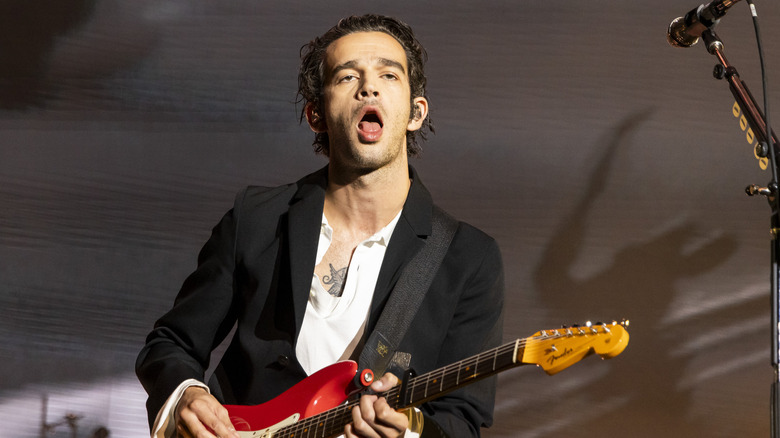 Scott Legato/Getty Images
Comedian and podcaster Adam Friedland is no stranger to courting controversy; it's kind of his bread and butter in his popular podcast, "The Adam Friedland Show." But in February 2023, Friedland's mouth got him into a bit of trouble during a sit-down with Matty Healy, frontman for pop rockers The 1975. During a conversation about rapper Ice Spice, Friedland and his co-host Nick Mullen made a few choice and racially insensitive remarks about Ice, punctuating these with mocking, stereotypical renditions of a non-American accent or two; Healy chuckled and enthusiastically engaged with this nonsense, before encouraging the hosts to — there's no delicate way to put this — imitate Japanese people laboring in concentration camps, for some bizarre reason.
The podcast's episode was pulled from major streaming services after the inevitable and justified blowback, and while Friedland and Mullen have largely clammed up about the whole matter, Healy has not. In a New Yorker profile, he was contrite, apologetic, and — oh no, wait, he was an absolute cad about the whole thing. "It doesn't actually matter. Nobody is sitting there at night [worrying about it]," he said. When the interviewer opined that maybe it did matter a little, Healy responded, "If it does, you're either deluded or you are, sorry, a liar. You're either lying that you are hurt, or you're a bit mental for being hurt."
Billy Jensen accused of sexual misconduct
When it comes to true crime bonafides, author and podcast host Billy Jensen has them. He was the co-host of the "Murder Squad" podcast with retired homicide detective Paul Holes, and they are a formidable pair; Holes helped to bring down Joseph James DeAngelo, the infamous Golden State Killer, who had eluded authorities for decades leading up to his 2018 arrest and eventual conviction. Jensen contributed to the essential tome about the case: the 2018 bestseller "I'll Be Gone in the Dark," which Jensen completed after its author Michelle McNamara passed away. With a successful three-season run under its belt, it came as a bit of a surprise to fans when it was suddenly canceled in May 2022 — but the reasons soon became clear.
In June, fellow podcaster Jenn Tisdale came forward with allegations that, during a consensual encounter, Jensen had been sexually abusive toward her. From this allegation sprang more, as multiple women began reaching out to Tisdale to share their experiences with Jensen. More of those acquainted with Jensen began to pile on, such as author Paul Haynes, another contributor to McNamara's book, who took to a Reddit thread about Jensen to drag him for his character and his response to the allegations being full of "lies, omissions, and false contexts." Jensen himself accused his accusers of taking part in a smear campaign against him — and while he basically denied any wrongdoing to Rolling Stone, he also mentioned that he was entering rehab to address alcohol misuse and mental health issues.
Reply All and The Test Kitchen accused of hypocrisy
Begun in 2014 by former public radio hosts Alex Goldman and P.J. Vogt, "Reply All" is a podcast focusing on the strange ins and outs of life in the internet age, which at its peak boasted a base of four million active listeners. In 2021, the podcast sought to spin off a new series: "The Test Kitchen," hosted by freelance journalist and "Reply All" senior reporter Sruthi Pinnamaneni. Its first run was to focus on a compelling subject — a decade at the iconic food publication "Bon Appétit," which had been dealing with public allegations of creating a hostile work environment, along with racist hiring and promotion practices. Initially, the new podcast was a smash — but it was soon called into question whether this was a story being told by the wrong people.
In March 2021, it was reported that employees at Gimlet Media, the parent company for both podcasts, had come forward to accuse Vogt and Pinnamaneni of fostering the exact same toxic work environment at Gimlet that they were reporting on in their new podcast. In particular, Eric Eddings — a Gimlet employee and host of podcast "The Nod" — took to X (formerly known as Twitter) to explain that the pair had "actively and AGGRESSIVELY worked against multiple efforts to diversify Gimlet's staff [and] content," and had tried to squash unionization efforts at the company. Goldman released an apologetic statement, Vogt took a leave of absence that ended up being permanent, and "Reply All" ended in June 2022.
Rukmini Callimachi and The New York Times falls victim to a fraudster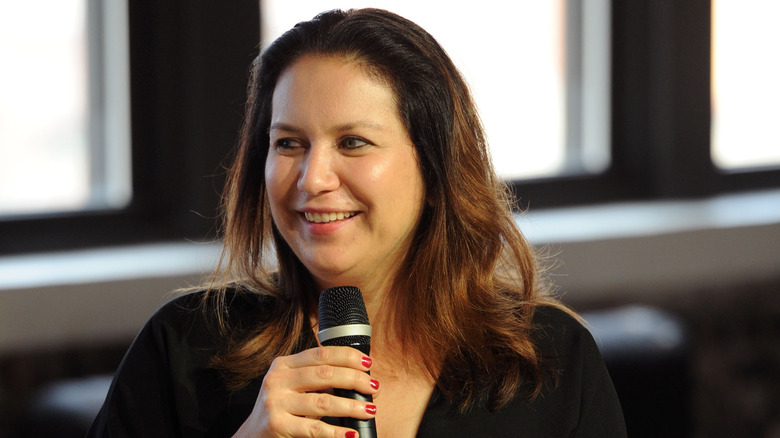 Craig Barritt/Getty Images
In 2018, The New York Times and reporter Rukmini Callimachi fielded a podcast with a truly fascinating premise: "Caliphate," which detailed the true story of a Canadian man who had traveled to Syria and somehow fallen in with ISIS, becoming a feared executioner for the terrorist organization before changing his ways and escaping back to Canada. It was an in-depth look at a confounding phenomenon — how an average Joe, raised in the Western world, could find himself aligned with radical Islamic terrorism. There was only one problem: none of it was true.
In 2020, the Times was forced to retract the near-entirety of "Caliphate" — which had been wildly successful, and had even won a Peabody Award — when its subject, Shehroze Chaudhry, was found to have fabricated his story out of thin air. Canadian authorities even criminally charged Chaudhry for the hoax, saying that it had carried the implicit threat of terrorism — but it was later determined that there was no factual basis for this. Charges were dropped when Chaudhry admitted his mistake, which his attorneys simply chalked up to immaturity and a craving for attention. Times executive editor Dean Baquet had some egg to wipe off his face during an interview with NPR, during which he said, "I think we were so in love with [Chaudhry's story] that when we saw evidence that maybe ... he was making some of it up, we didn't listen hard enough."
Last Podcast on the Left's Ben Kissel is a little troubled
Filmmagic/Getty Images
True crime and conspiracy theory podcast "Last Podcast on the Left" has built its audience on the strength of its hosts' knowledge of and love for their subject matter, to be sure — but also, because it consistently sounds like what it is, a conversation between old friends on a topic they love. Begun in 2011 by producer Marcus Parks and comedian Ben Kissel (who were joined from the third episode by comic Henry Zebrowski), the long-running podcast evolved from a Spotify exclusive series into a SiriusXM powerhouse with a spin-off weekly radio show — but in 2023, it hit a major snag.
During a segment in September of that year, Parks and Zebrowski told their audience that Kissel would be taking a hiatus to focus on his physical and mental health, which the co-hosts explained they had been concerned about for awhile. Around the same time, though, one of Kissel's ex-girlfriends made a since-deleted TikTok post (via Distractify) mentioning that one of her exes, who happened to be a podcaster, was an alcoholic who had been physically violent and verbally abusive toward her. While she didn't mention Kissel by name, fans put two and two together — and in October, the series announced via Instagram that Kissel had officially departed for good.
Joe Rogan is a walking controversy magnet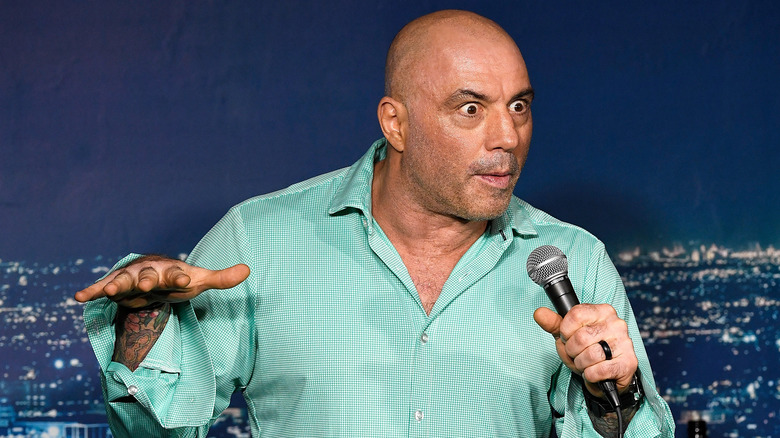 Michael S. Schwartz/Getty Images
Joe Rogan is the host of one of the most popular podcasts in existence, "The Joe Rogan Experience," and while this obviously means he has a whole lot of fans, he may have an equal number of detractors. This is because, as opinionated as he is on politics and social issues, it is impossible to place Rogan into a box. He's not exactly a liberal, although he's a fan of Michelle Obama; this fandom means that he's by no means a conservative, but that hasn't kept him from taking decidedly right-leaning stances on, say, LGBTQ+ issues. It is this very refusal to be pigeonholed that endears him to his fans — but like all extremely opinionated people with huge platforms, he tends to get himself into trouble with ill-advised words.
In one glaring example, Rogan was taken to task by pretty much the entirety of the mainstream media for his platforming of COVID-19 misinformation, giving time on his show to debunked vaccine skeptics and championing pseudoscientific "treatments," like the horse de-wormer Ivermectin. In the midst of this scrutiny, it was pointed out that Rogan has an unfortunate, troubling history of using a certain racial slur on his show, often in the context of questioning why it's okay for Black comedians to say, but not white ones (yep, that old winner). Rogan has apologized for both of these circumstances, and if the controversies have hurt his stock, it's not evident by the Spotify podcast charts, where "Experience" remains among the top-rated series.
Alex Jones banned and hauled into court for spreading misinformation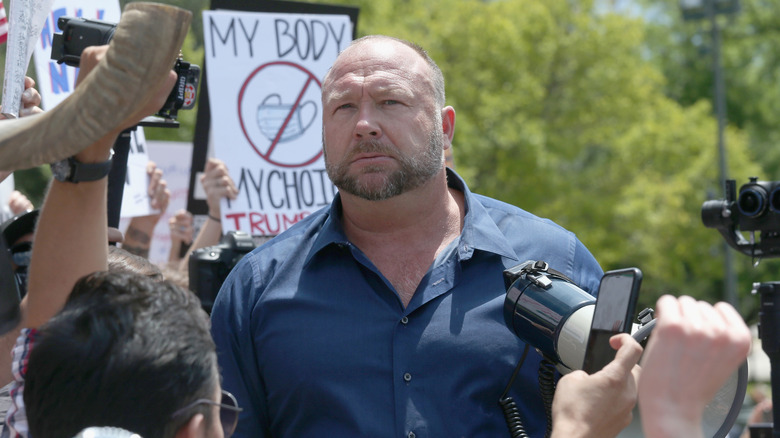 Gary Miller/Getty Images
Alex Jones, the founder of conspiracy theory website Infowars and host of a podcast bearing his name, is not and never has been a man who should be taken seriously. Since his ascension as a public figure, Jones has trafficked in stunningly blatant misinformation with a paranoid right-wing bent, claiming that such events as the September 11 terrorist attacks, the shooting of Congresswoman Gabby Giffords, and the Boston Marathon bombing were all parts of sinister "deep state" plots or "false flags." According to Joens, these are government mind control operations designed to soften up the populace so nefarious lefties can swoop in and take away all of our rights, or some such. One such theory, though, landed Jones in more hot water than any podcaster before or since: his assertion that the 2012 Sandy Hook school shooting was fake, and the grieving parents were no more than paid "crisis actors."
This is, of course, the highest order of nonsense, and inevitably, a group of Sandy Hook parents filed a series of lawsuits against Jones for defamation. While Spotify scrambled to pull offending episodes of Jones' podcast, Jones was hauled into court on multiple occasions to answer for his actions — and answer he did, as juries in Texas and Connecticut ordered him to pay a combined total of nearly $1.5 billion to the victims' families. To nobody's surprise, as of late 2023, Jones has yet to pay a dime, and is reportedly spending nearly $100,000 monthly on personal expenses despite having filed for bankruptcy in December 2022.
Mike Pesca picks a terrible hill to die on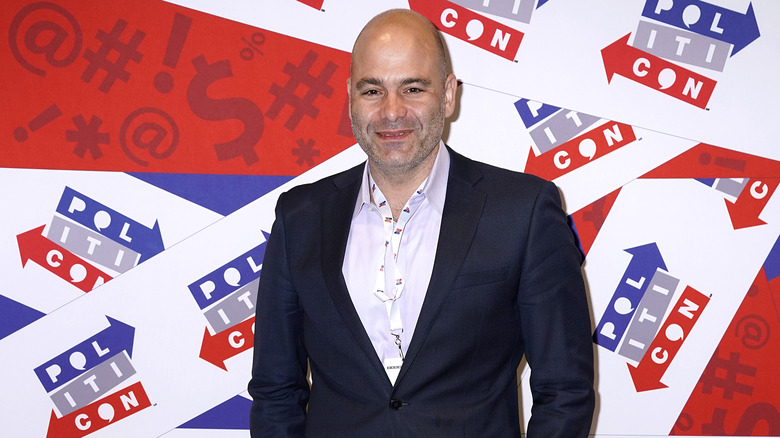 Ed Rode/Getty Images
Podcaster Mike Pesca, according to his website, has the distinction of hosting the longest-running daily news podcast ever produced: "The Gist," hosted by news and culture website Slate since 2014. Pesca's controversy was a unique case, in which the trouble he found himself in was not the result of anything he said during a podcast (at least not one that was made available to the public), nor was it exactly the result of abusive or violent behavior — he managed to earn himself a suspension by choosing, during a discussion on the Slate company slack, an absolutely absurd hill to die on.
It seems that in 2019, Pesca was sharing the story of a security guard, who happened to be Black, who was fired for using that most common and abhorrent of racial slurs. In one version of the recording, Pesca used the word himself; in another, he referred to it in the abstract, and that was the version that was used. Pesca deferred to the editorial process at the time, but in the Slack discussion, he implicitly defended his use of the word, suggesting that it should be just fine for non-Black people to use in certain contexts. Slate CEO Dan Check put a stop to the Slack chat, and Pesca was slapped with a suspension that shortly turned permanent, with "The Gist" moving to an independent platform. 
Rising right-wing star Elijah Schaffer is an alleged serial groper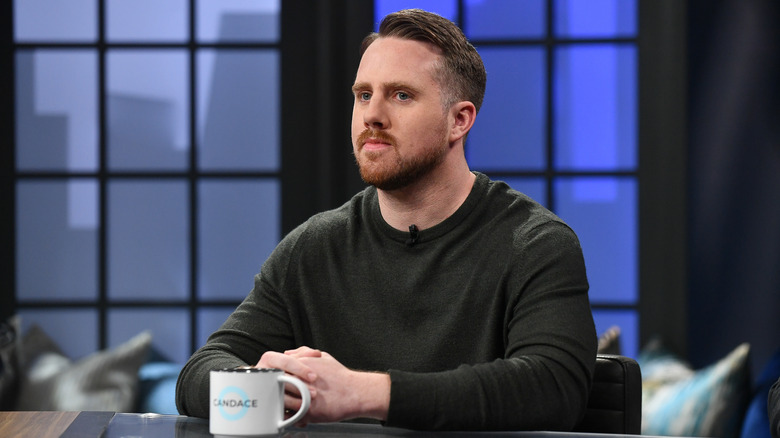 Jason Davis/Getty Images
Right-wing personality Glenn Beck knows a thing or two about crossing lines; he was booted from Fox News in 2011 after making disparaging remarks about then-President Obama, and had his SiriusXM radio show suspended in 2016, after agreeing with a guest who opined that maybe presidential assassinations weren't so bad. This trait apparently carried over to one of his proteges, podcaster Elijah Schaffer, who was a rising star in Beck's media outlet, The Blaze, before himself getting dumped by Beck in 2022. 
This came after an internal investigation discovered that Schaffer had drunkenly groped Blaze personality Sara Gonzales at a movie premiere, a circumstance that was compounded in short order by host Sydney Watson, who claimed that Schaffer routinely used misogynistic and sexist language toward her on their show, behavior that she says spilled over to other female employees. Watson's accusations came to light in a lawsuit against The Blaze, who opted to fire her for complaining rather than do anything about Schaffer's behavior; after finally getting canned by the network, Schaffer announced his intention to go indie.
Bryan Callen's podcast dropped after sexual abuse allegations
John Lamparski/Getty Images
In 2020, comedian Chris D'Elia was at the center of a social media firestorm due to allegations of inappropriate sexual behavior towards a 16-year-old girl, allegations which were quickly followed by an avalanche of others. Twitter users familiar with D'Elia suggested that D'Elia's behavior was common among his circle of friends who were also in the business — and among those friends was comic, actor, and podcaster Bryan Callen, who quickly found himself at the center of his very own firestorm.
This came when a former acquaintance, Kathleen Tigerman, came to feel emboldened enough by the controversy swirling around D'Elia to come forward with a startling accusation against Callen: that he had raped her years ago. "I've known how terrible this person is for 20 years," she told the Los Angeles Times, "and maybe I'm not the only one." As it turned, out, there were indeed others willing to speak up about Callen's history of awfulness, and within weeks, his podcast "The Fighter and the Kid" was suspended, and Netflix scrapped an in-the-works prank show featuring Callen and D'Elia.
If you or anyone you know needs help with addiction issues, mental health issues, or may be a victim of sexual assault, contact the relevant resources below:
The Substance Abuse and Mental Health Services Administration website or contact SAMHSA's National Helpline at 1-800-662-HELP (4357).
The Rape, Abuse & Incest National Network website or contact RAINN's National Helpline at 1-800-656-HOPE (4673).