Inside Madonna's Previous Relationship With Vanilla Ice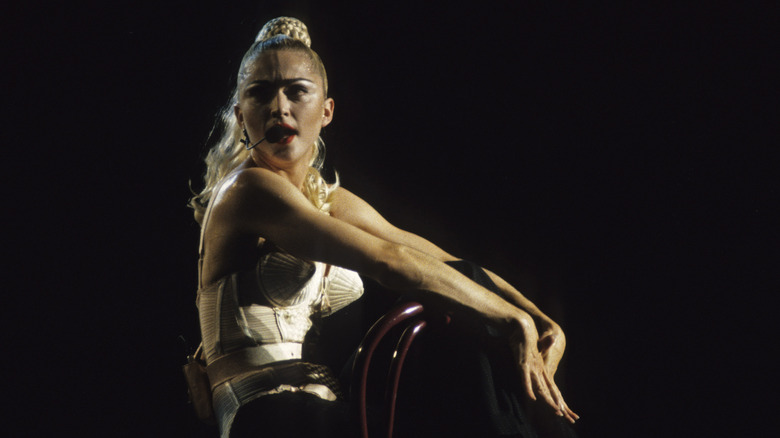 L. Busacca/Getty Images
In the realm of strange pop culture pairings — Lisa Marie Presley and Michael Jackson, for instance — Madonna has had more than a few, including the King of Pop. There was the much older actor Warren Beatty and much taller pro baller Dennis Rodman, and then there was Vanilla Ice, aka Robert Van Winkle.
The two dated for eight months in the early 1990s at the height of their careers, although Vanilla Ice's would be much shorter than Madonna's. They met at one of his sold-out shows in New York City, Vanilla Ice said on Jenny Hutt's "Just Jenny" podcast. It ended months later when Madonna's risque photo book "Sex" came out in the fall of 1992. "She put me in that book without my consent, without my knowledge, without anything. ... That book came out and I thought it was so slutty, I didn't want to be a part of it,' Van Winkle told Hutt.
They met at a Vanilla Ice concert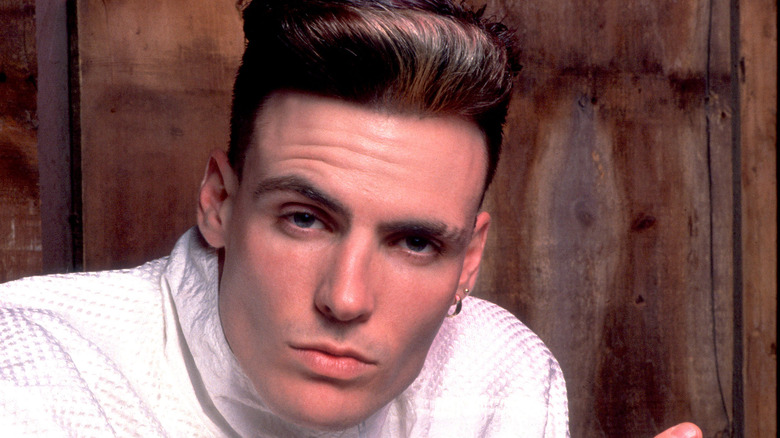 Paul Natkin/Getty Images
Today Vanilla Ice is probably best remembered for Queen and David Bowie suing him over ripping off the baseline from their song "Under Pressure" for his biggest hit, "Ice Ice Baby." But in the early '90s, he was at the top of his game. His debut album "To the Extreme" sold 15 million records, and its lead single shot to the top of the charts, according to The Ringer. So perhaps it's not that strange that Madonna came to one of his New York City concerts.
"I look out in the audience and there's Madonna ... dancing right in the middle of the crowd with all the other kids screaming and everything," Vanilla Ice recalled to Jenny Hutt on "Just Jenny." He said that after the show, Madonna came back to his dressing room and "kinda gave me the sexy eyes." He said he initially didn't believe Madonna was flirting with him because of their age difference — Madonna is nine years older than Vanilla Ice, who was then 24. They eventually began dating, and the relationship progressed from there.
Madonna proposed?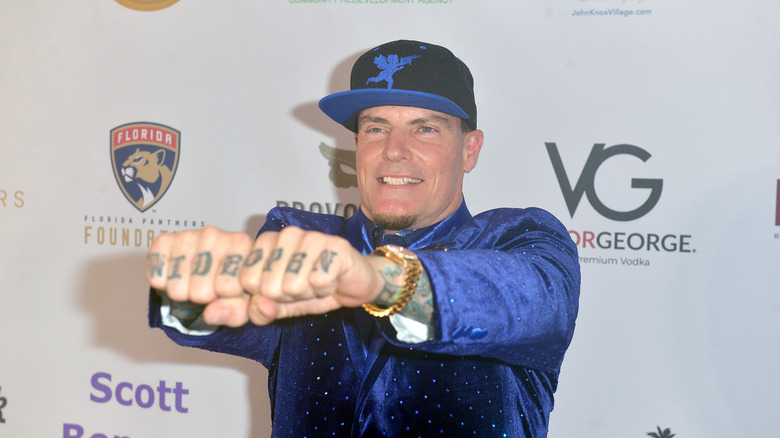 Johnny Louis/Getty Images
In order to avoid being recognized, the couple would sometimes wear disguises to the movies or to dinner. "I had a mustache and a hat with hair coming down and she would go as an old lady," Vanilla Ice recalled on "George Stroumboulopoulos Tonight." But according to Andrew Morton's "Madonna," Vanilla Ice felt Madonna wanted to take the relationship further and faster than he did. "There was a desperate neediness about her, an impatience to get married," he said in the book (per People). "She even proposed to me," he told Jenny Hutt. "I mean, things were going so crazy and fast."
After Madonna released her coffee table book "Sex" in 1992, which included photos with Vanilla Ice, he told her they were over. "You can go your way and I'll go mine," he recounted to Hutt. But with the hindsight of several decades, the rapper's thoughts on the relationship have mellowed. "She was a sweetheart," he said on "George Stroumboulopoulos Tonight." "We had great times. I mean you take away the fame and everything and you got two people who just basically had a normal relationship." For her part, Madonna told Us Weekly if she had to choose between being on a desert island with either Vanilla Ice or Dennis Rodman, she would choose the latter. "He has a better sense of humor," she said. "Plus, he could always wear my clothes."