The Real Reason Blink-182 Once Stopped Playing Adam's Song
There are a number of reasons a band might stop playing their biggest hits live. But according to NPR, it took a personal tragedy for punk trio Blink-182 to temporarily shelve one of their most well-known tunes, "Adam's Song." In 2009, the emotional ballad dealing with teenage depression and suicide became too much for Blink-182 bassist and vocalist Mark Hoppus to sing. Around that same time, Adam Goldstein — a musician friend of the band who also happened to be named Adam and performed as DJ AM — died from an overdose. In a 2012 Reddit AMA, Hoppus, who wrote the song, said it might be "permanently retired" from the band's repertoire because it was "too hard" to perform.
Already a departure for the typically upbeat and fun pop punk band, "Adam's Song" was a hit for Blink-182, reaching No. 2 on the Billboard Hot Modern Rock Tracks chart. Speaking with MTV News, Hoppus recalled the first time he played it for Travis Barker and Tom DeLonge, his Blink-182 bandmates. "[T]hey were like, 'Wow, that's a pretty heavy song. It's really good,'" the bass player said. But according to Hoppus, the band never questioned whether the tune belonged on Blink-182's third record, "Enema of the State," or if its overall sound was the right direction for the group to go. Sad or not, "Whatever song we write, if it's a good song, we'll put it on the record," he added.
[Featured image by Journalist 2nd Class Denny Lester via Wikimedia Commons | Cropped and scaled]
Columbine controversy
The 2009 death of Adam Goldstein was not the only sad footnote in the "Adam's Song" story. The song itself was partially inspired by a teenage boy's suicide letter, which Mark Hoppus received in an email. And then in the year 2000 — one year after "Enema of the State" was released — a 17-year-old Columbine high school shooting survivor killed himself with the song set on repeat, The Denver Post reported that year. Speaking with MTV News, Hoppus recalled what it was like when he found out what happened. "I was actually out shopping, and management called me up and told me the story of what happened, and I was like, 'But that's an anti-suicide song!'" he said.
"It felt awful," he continued. "I mean, the things that the kid had to go through in his life were very saddening, and then to end it that way was really depressing." The hit single, he said, "is about having hard times in your life, being depressed, and going through a difficult period, but then finding the strength to go on and finding a better place at the other side of that."
A 2018 comeback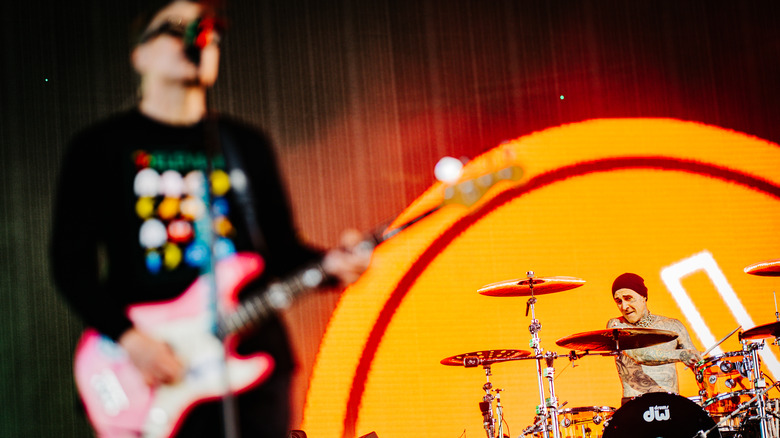 Matt Winkelmeyer/Getty Images
Although Blink-182 stopped playing "Adam's Song" around the 2009 death of Adam Goldstein, it wasn't gone for good. In 2018, the band started performing the track live again as part of their Las Vegas residency setlist that year. Around that same time, Hoppus said (via American Songwriter), "I think of it more, now, as almost a celebration of hardships gone through and friends lost."
That same year, Brittney Berlin — a Blink-182 fan who also lost a friend named Adam to suicide and experienced similar issues in her own life — told NPR, "['Adam's Song'] connected me with Adam, and it also helped me feel everything." After her friend Adam died, she said, "You feel so many different emotions all at once. Then you feel bad for some of those emotions, because some of them are just really, really ugly. But that song just ... I felt like it was for Adam. I mean, it was. It's him."
If you or someone you know is struggling or in crisis, help is available. Call or text 988 or chat 988lifeline.org.
If you or anyone you know needs help with addiction issues, help is available. Visit the Substance Abuse and Mental Health Services Administration website or contact SAMHSA's National Helpline at 1-800-662-HELP (4357).