The Brutal 2010 Murder Of Stephany Flores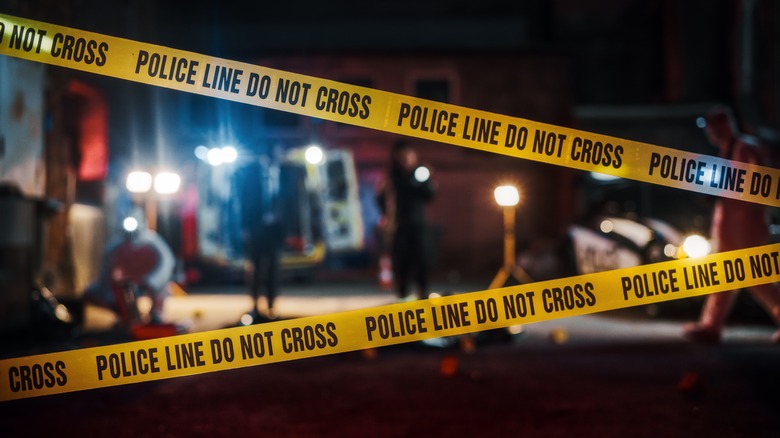 Gorodenkoff/Shutterstock
Joran van der Sloot, 22, was in Lima, Peru, for a poker tournament. It was May 30, 2010, exactly five years since Alabama teen Natalee Holloway disappeared on the island of Aruba, according to ABC News. Van der Sloot had been the main suspect in her vanishing, and now, he was in his hotel room with another young woman. Her name was Stephany Flores, she was 21, and she'd met van der Sloot at a casino and later visited him at his hotel, per the Daily Mail.
The pair were playing online poker on van der Sloot's computer when he got an instant message related to his involvement in the Holloway case. After learning who he was, Flores struck him in the face, according to van der Sloot's confession. "At that moment, impulsively, with my right elbow. I hit her in the face exactly on top of her nose," he told the Peruvian police (via ABC News). It only got worse from there.
Choked and beaten
When Joran van der Sloot began his attack on Stephany Flores, she was on the bed. When he struck her, Flores' head snapped back and hit the wall. She began to pass out as blood poured down her face. "Immediately I get on top of her and with both hands I begin to strangle her, keeping her that way for a minute," van der Sloot told the police (via ABC News).
Flores was still breathing so van der Sloot took off his bloody shirt and suffocated the young woman. He then stole the equivalent of $300 U.S. in Peruvian currency, her credit cards, and her van, with which he made his escape, according to CNN. He told the hotel staff not to bother "his girl" as he left the hotel carrying a backpack, per CNN. On June 2, an employee of Miraflores Hotel Tac discovered Flores' body in van der Sloot's blood-soaked room, per ABC7. The authorities caught up to the Dutch national in the neighboring South American country of Chile on June 3.
Sentenced to 28 years in prison
Stephany Flores had been studying business at the University of Lima and was helping to run her family's business at the time Joran van der Sloot murdered her. Her father, Ricardo Flores, is a former race car driver and well-known businessman in Peru. "My sister is very friendly ... always smiling, always nice to everyone," her brother Enrique Flores told CNN in 2010. "I think about how she felt with him, that she probably did not think ... and it is ... so hard to think about that."
In January 2012, van der Sloot pleaded guilty to murdering Flores and the court sentenced him to 28 years in prison. The defendant claimed he killed Flores after snapping from the stress of being "hounded" for his ties to the Holloway case. Flores' family disputes van der Sloot's reasons, believing he had intended to kill and rob her from the get-go. On October 18, 2023, van der Sloot appeared in federal court in Alabama and admitted he killed Natalee Holloway, per CNN. A judge sentenced van der Sloot to 20 years in prison for trying to extort Holloway's family, a sentence he will serve concurrently with his prison stint in Peru, ABC News reported.