The Untold Truth Of Robert Duvall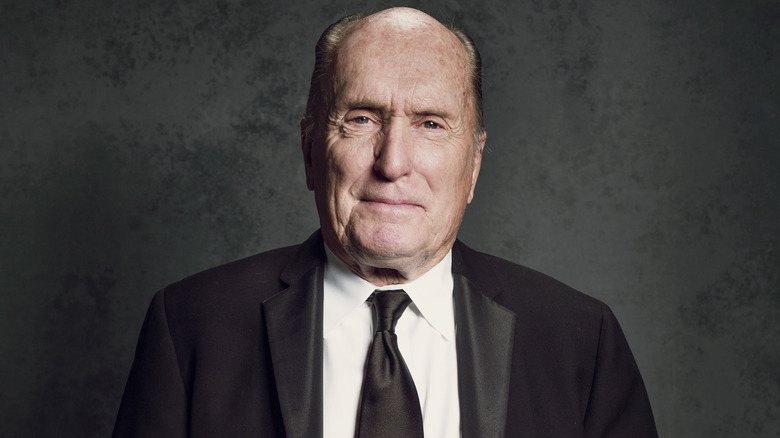 MJ Kim/HFA2014/Getty Images
In the entertainment industry, the word "legend" gets thrown around a little too freely at times. However, in the case of Robert Duvall, it's an apt description, fit for an actor who has won all there is to win and delivered some of the finest performances ever captured in film and television history. Arguably, his most recognizable role is in "The Godfather" series, as he stars as the Corleone family's consigliere Tom Hagen, appearing alongside other icons such as Marlon Brando, James Caan, Al Pacino, Robert De Niro, and Diane Keaton. However, Duvall doesn't stand on the shoulders of giants here; he stands alongside them and proves he belongs. Throw in other timeless performances, such as Boo Radley in the film adaptation of "To Kill a Mockingbird" and Gus McCrae in "Lonesome Dove," and his career is about as perfect as it comes.
When the camera turns off, though, there's another side to Duvall that most people don't know about. From growing up in a military family to sharing an apartment with Dustin Hoffman and protesting the building of a data center in his hometown, he possesses an interesting life story begging to be told. So, with that said, let's find out more about one of Hollywood's greatest and last thespians.
Robert Duvall came from a military family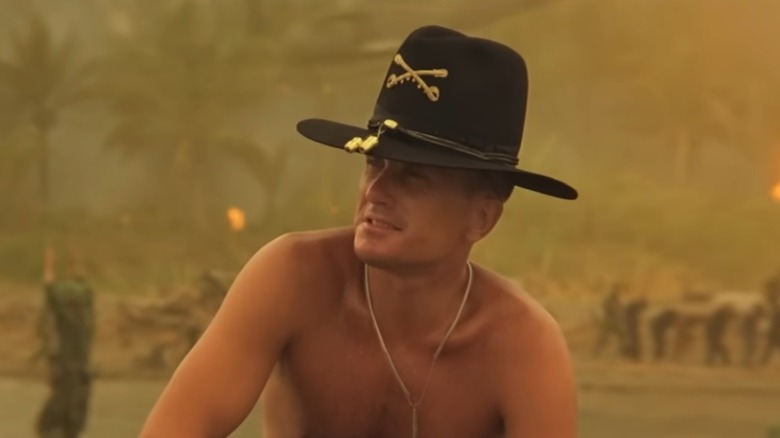 United Artists
One of Robert Duvall's most famous lines as an actor comes from 1979's "Apocalypse Now," where he plays Lieutenant Colonel Bill Kilgore. In the film, he utters the much quoted: "I love the smell of napalm in the morning." The Francis Ford Coppola-directed war movie is widely regarded as one of the best in its genre, and remains a highly debated and studied film to this day due to its complex themes about soldiers and the effects of war. Duvall also has a closer connection to it than most, since he comes from a military family and also served in the U.S. Army.
Duvall's father was Navy Rear Admiral William Howard Duvall. The elder Duvall enlisted in the Naval Academy from the age of 16, and continued to be on active duty after his children were born. He hoped Robert would follow in his footsteps and join the Navy as well, but Robert decided against it. In 1958, Robert signed up for the U.S. Army and served two years, achieving the rank of private first class before being honorably discharged from service.
He shared an apartment with Dustin Hoffman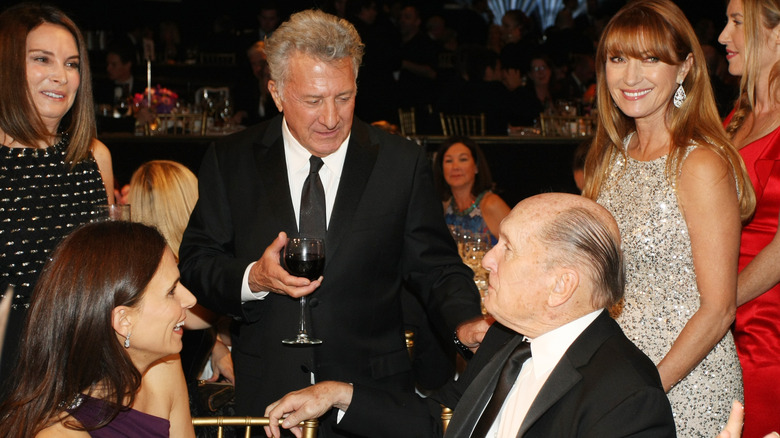 David Buchan/bafta La/Getty Images
It isn't unusual for actors to share apartments with other actors while they are new to the industry and trying to cut down costs by sharing the bills. Considering the high cost of living in New York City, Robert Duvall combated this by sharing a three-bedroom apartment with several others, including three actors, in the 1960s. One of his roommates was none other than Dustin Hoffman.
Reminiscing with Esquire, Duvall said they lived it up back in the day. He explained how Hoffman, whom he refers to as Dusty, was something of a ladies' man and never had a shortage of female companions. "He got more women than anybody, that guy," Duvall said. "More than Joe Namath. I don't know how it worked with him, but he read poetry. He was always getting girls up to our apartment. I wasn't so lucky. I was just the worst."
Interestingly, it was Gene Hackman who brought Duvall and Hoffman together in the first place. Per Vanity Fair, Hoffman arrived in New York City in 1958 with only $50 to his name. He slept on Hackman and his then-wife Faye's floor for a few weeks, before Hackman found a spot for Hoffman in Duvall's apartment.
He and his Godfather co-stars used to do Marlon Brando impressions on set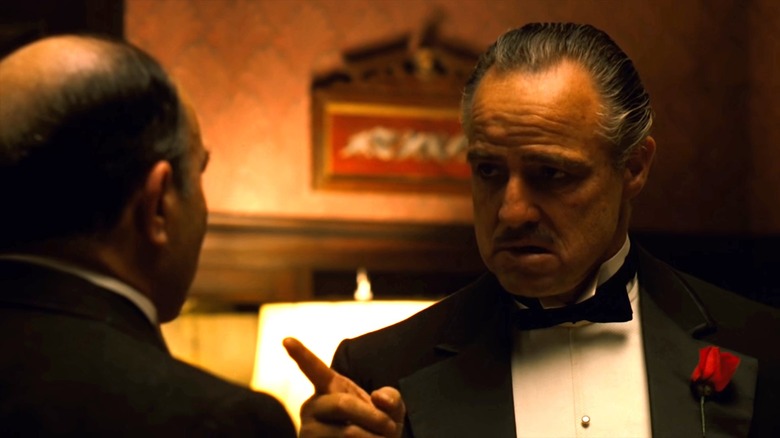 Paramount Pictures
Marlon Brando's genre-defining performance as Vito Corleone in Francis Ford Coppola's "The Godfather" redefined how mobsters are portrayed in cinema. At the same time, the mumbling and exaggerated gestures inspired numerous parodies and skits in the years that followed. As it turns out, Brando's co-stars also found the humorous side of his performance, having fun at his expense.
In an interview with Decider, Robert Duvall discussed how the cast made their own impressions of Brando whenever he wasn't looking. "We all did it," he said with a laugh. "We did a lot of crazy stuff, but it kept the set relaxed. Coppola would say, 'Come on, guys, be serious now.' But he knew that by fooling around, it relaxed the set, and a relaxed situation is better than anything tense."
Despite the seriousness of the subject matter in "The Godfather," Duvall explained how the cast would partake in occasional tomfoolery to lighten up the mood. In a separate chat with Esquire, he recalled an incident when he and Brando mooned each other on set. While Coppola advised them against doing it, they didn't listen to the director and dropped their pants and drawers to elicit a laugh.
Tom Hagen isn't his favorite role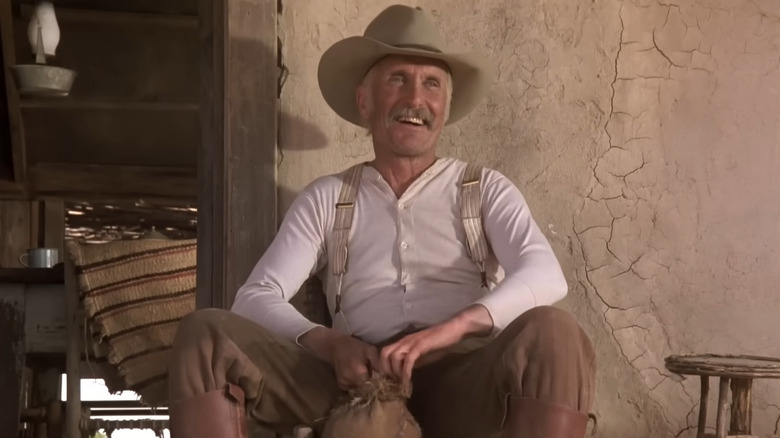 CBS
Considering the cultural impact of "The Godfather" and how Robert Duvall received an Academy Award nomination for his portrayal of Tom Hagen, one would expect it to be his favorite — or close to his most cherished — part. While the actor has praised the role and movie on several occasions, there is another performance of his that he favors.
"The casting in 'The Godfather' was pretty impeccable," he told The Daily Beast. "But 'Lonesome Dove' is maybe my favorite part. I came in the mess hall one morning and said, 'Boys, we're making "The Godfather" of Westerns.' Down here, it's an icon. I ran into a woman who was a Texas Ranger and she said, 'I wouldn't let my daughter marry her fiancé until he saw "Lonesome Dove."'"
In the 1989 miniseries, which is an adaptation of the 1985 novel by Larry McMurtry, Duvall portrays former Texas Ranger Gus McCrae, who heads out with Woodrow F. Call (Tommy Lee Jones) on a cattle drive. Duvall received an Emmy Award nomination and Golden Globe win for his performance as Gus.
Robert Duvall turned down Jaws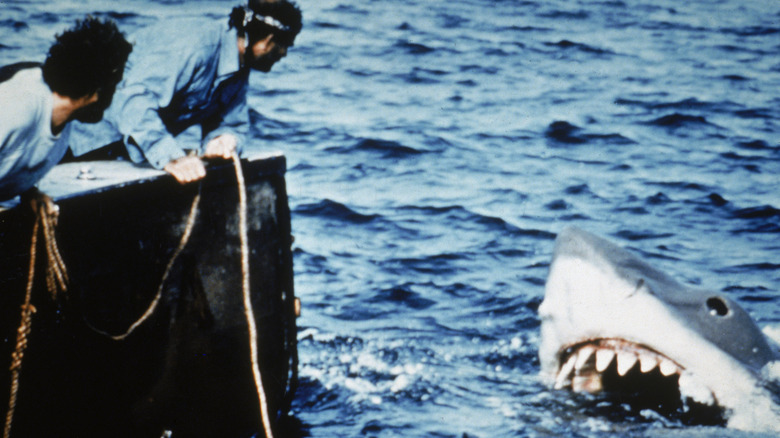 Universal Pictures/Getty Images
After "The Godfather" was released in 1972, Robert Duvall's profile skyrocketed in the film industry. Offers came in thick and fast — including the opportunity to sink his teeth into an intriguing film by an upcoming director named Steven Spielberg. That movie was 1975's "Jaws," which became the highest-grossing film of all time upon release and developed the blueprint for the Hollywood summer blockbuster. For Duvall, he didn't turn down the chance to star in "Jaws" because of a lack of faith in the project or money, but because he wanted a different role than what was on offer. 
Speaking to Ain't It Cool News, the actor explained how Spielberg wanted him for the lead role of Martin Brody, which went to Roy Scheider in the end, but Duvall had his eyes and heart set on Quint. "We talked for, like, two hours, me and Spielberg," he said. "There's a lot of Portuguese [influence] up there, so I wanted to play [the Quint role] Portuguese, but I was too young." Despite not getting the role he wanted, Duvall complimented Robert Shaw for his performance as Quint and "Jaws" as a film overall.
He almost had to turn down a Kevin Costner movie because of an accident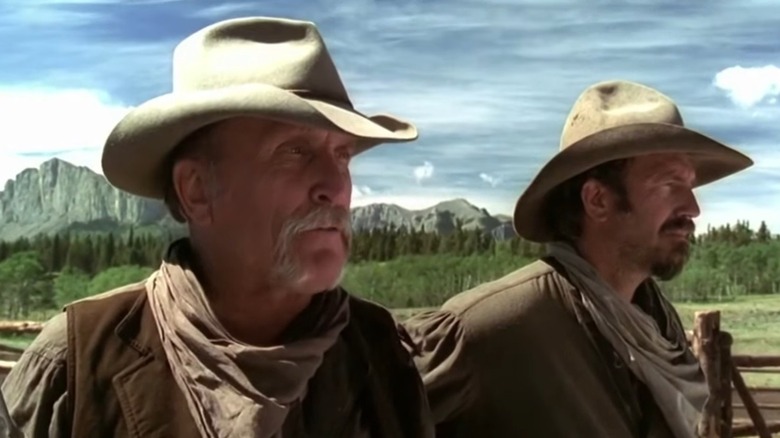 Buena Vista Pictures Distribution
An actor knows they have made it when a director earmarks them for a part, telling them they are only one person they want for the role. This is exactly what happened to Robert Duvall before he signed on to play Boss Spearman in Kevin Costner's 2003 western "Open Range." Speaking to IGN, Duvall explained how his agent received a call from Costner's representatives, asking for the actor to not accept any other roles since there was a script and offer for a specific part on the way. Duvall liked what he read — especially since he's a fan of westerns — and decided to do it.
The role required horse riding, which wasn't an issue for Duvall since he was an equestrian in his own personal capacity. Yet, fate possesses a cruel sense of humor, and Duvall was injured after a horse-riding accident as the start of the production loomed around the corner. "About two months before the shoot, I was riding and got bucked off pretty bad," he said. "I was laid up for about six weeks — I guess if it had happened just a couple of weeks later, I wouldn't have been able to do the movie." Fortunately, Duvall recovered in time and was ready to go — even for the horse-riding scenes.
He didn't want to do The Judge initially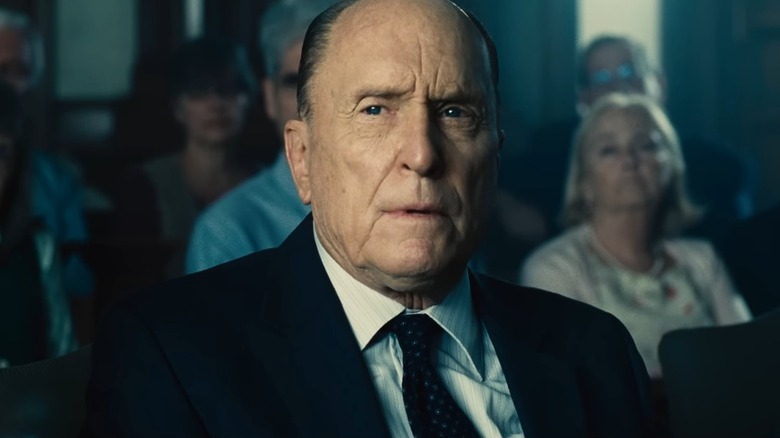 Warner Bros. Pictures
In 2014, director David Dobkin paired Robert Duvall with Robert Downey Jr. for the drama film "The Judge." It tells the story of lawyer Hank Palmer (Downey), who fights for his estranged father, Judge Joseph Palmer (Duvall), after he is accused of a crime. At the same time, Hank discovers his father has terminal cancer and is beginning to feel the effects of the treatment. While the film received a mixed reception from reviewers, holding a 48% critical approval rating on Rotten Tomatoes, Duvall's performance secured him several major award nominations.
In an interview with GQ, Duvall revealed he didn't want to do "The Judge" at first. When asked the reason for his reluctance, he said, "The character," he said. "He's an incontinent guy, s*** all over himself, had cancer. And then I was talked into it. And sometimes when I go back a second time, it goes better."
In a separate interview with GQ UK, Duvall again expressed how he was uncertain about the part in the beginning. He discussed the initial hesitancy he had surrounding the scene in which Hank helps his father into the shower; however, he and Downey remained professional and gave it the care and attention it deserved to serve the story.
He called Stanley Kubrick an actor's enemy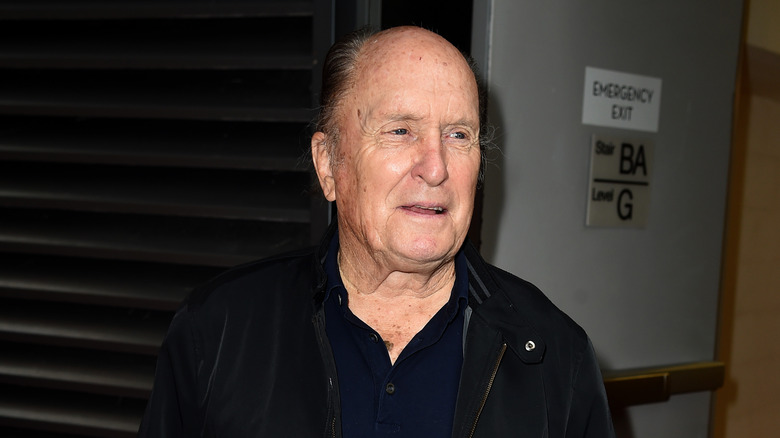 Kevin Winter/Getty Images
Stanley Kubrick remains one of the most celebrated directors in film history. From "2001: A Space Odyssey" to "The Shining," he possesses a legendary filmography to envy. However, Robert Duvall isn't a fan of the filmmaker's methods. In fact, he inflicted some pretty harsh criticism on Kubrick's approach to making movies.
While appearing at The Hollywood Reporter's Actors Roundtable, Duvall called Kubrick "an actor's enemy." He took particular umbrage with the director's perfectionist attitude and notoriety for wanting a large number of takes to get a scene right. "I can point to movies that he's done with the worst performances I have ever seen in movies," Duval said, before listing them. "'The Shining.' 'A Clockwork Orange.' Terrible performances. Maybe they were great movies, but they are terrible performances. How does he know between the first take and the 70th take? What's that about?"
Duvall elaborated on how it's important for directors to let actors lead rather than force performances through an absurd number of takes. He questioned the processes of directors like Kubrick and David Fincher, even suggesting he could start a fight if someone wanted over 50 takes for a scene.
Robert Duvall is good friends with Billy Bob Thornton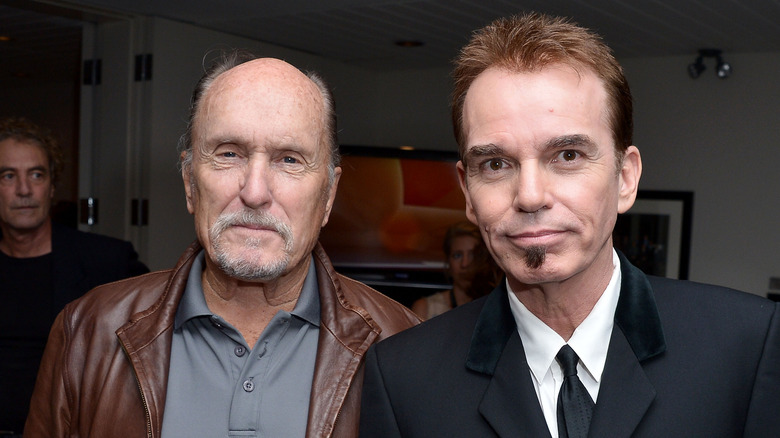 George Pimentel/Getty Images
Over the decades, Robert Duvall formed friendships and relationships with other actors of his generation, such as Dustin Hoffman and Gene Hackman. Yet, he also built a strong bond with an actor almost a quarter century his junior: Billy Bob Thornton. The two actors have been friends for a long time, and Duvall always welcomes the opportunity to work with Thornton, whom he refers to as the "Hillbilly Orson Welles."
Speaking to Collider, Duvall explained how highly he regards Thornton, stating: "It's interesting because, many years ago, the great Russian director, Nikita Mikhalkov, came and I told him I wanted him to meet someone. I got Billy Bob from Arkansas and Nikita Mikhalkov from Moscow together. Two great talents met. We sat for two or three hours and talked. He's the real deal, that guy."
Thornton is only complimentary of Duvall as well. The "Sling Blade" actor told Rolling Stone that he looks up to Duvall as a performer and sees him as a "mentor" figure for his own career, while praising their long-time friendship as well.
He said money was the reason he didn't do The Godfather Part III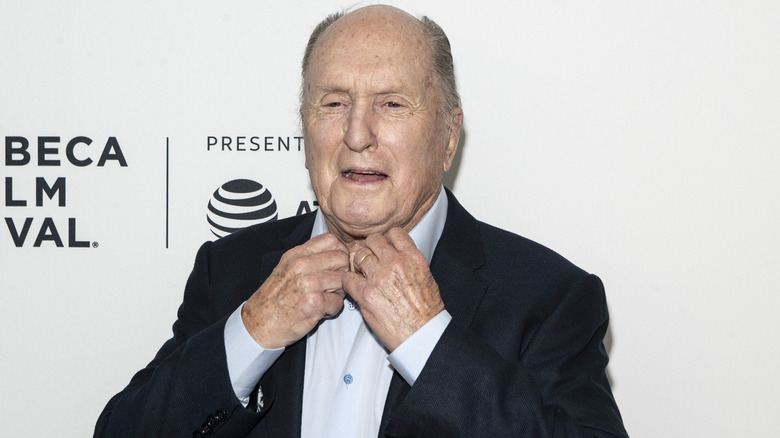 Ira L. Black - Corbis/Getty Images
Among both critics and fans, "The Godfather Part III" is considered the weakest of the trilogy. For various reasons, the film didn't connect in the same way the other two entries beforehand. Unquestionably, the absence of Robert Duvall's Tom Hagen didn't help matters much, especially considering the importance of his character to the overall story.
Speaking to "60 Minutes," Duvall revealed how money proved to be the sticking point for "The Godfather Part III," and he wasn't happy with the offer on the table. "I said I would work easily if they paid [Al] Pacino twice what they paid me, that's fine," he said. "But not three or four times, which is what they did."
Duvall told Larry King that it also came down to a matter of principle. He explained how director Francis Ford Coppola visited his home to discuss the movie, and the actor expressed his uncertainty about it. However, when the director called again, he was far more concerned about discussing the recipe for the Maryland crab cakes he ate at Duvall's home than the role. Nonetheless, Duvall later revealed how there were no hard feelings between him and Coppola for turning down "The Godfather Part III."
There's one movie he's particularly proud of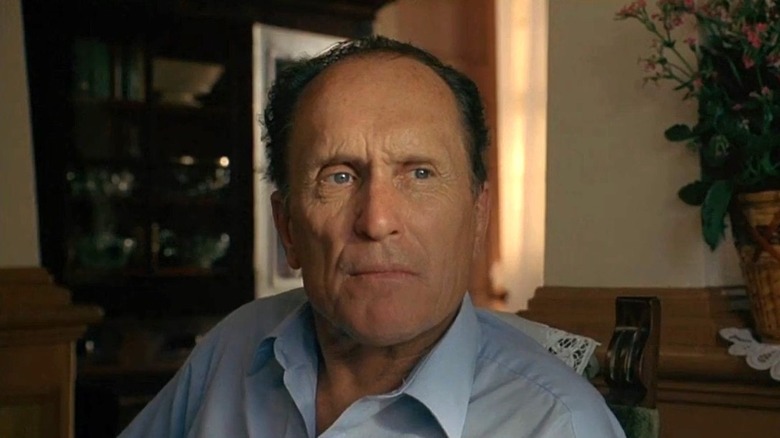 October Films
Taking into account his storied career, Robert Duvall has many films and television shows to be proud of. He has never been shy of discussing his past projects and addressing what he thinks worked and didn't. Speaking to The A.V. Club, Duvall opened up about his pride for 1997's "The Apostle," a film that he wrote, directed, and starred in. The story centers on Texan preacher Sonny Dewey (Duvall), who attacks his wife's lover and flees to Louisiana, where he begins to preach to a new congregation while dealing with the consequences of his actions.
Duvall explained how he received some criticism for the film, but the positive feedback from certain individuals more than made up for it. "I got a terrific letter from Marlon Brando," he said. "I showed him that and he really appreciated it. And I heard that Billy Graham appreciated it. So I got it from the religious and I got it from the secular, after that film on religion. But I enjoy directing too, somewhat." Duvall received an Academy Award nomination for his performance as Sonny as well.
He opposed the building of an Amazon data center in his hometown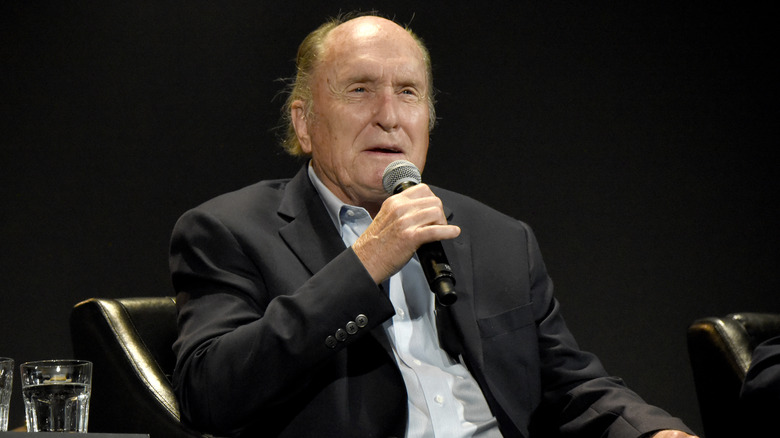 Kevin Mazur/Getty Images
Robert Duvall has called Fauquier County, Virginia, home for almost three decades. In 2023, he joined his fellow townsfolk to debate the building of an Amazon data center in their hometown. Duvall lent his voice to the opposition at a special meeting, as he also wanted to keep the town free of the planned construction.
As reported by Fox Business, Duvall participated in the eight-hour session, explaining how important Fauquier County is to him, and he doesn't think the data center should be built there. He said: "The remarkable outpouring of opposition to this proposal indicates that the vast majority of the town and county believe this is a bad use of this site." Amazon argued that the data center would create jobs, as well as help to generate more tax revenue that could go toward the communities. Despite Duvall's protests, the town voted to provide Amazon with a permit to build its data center.