What Happened To MTV Spring Break?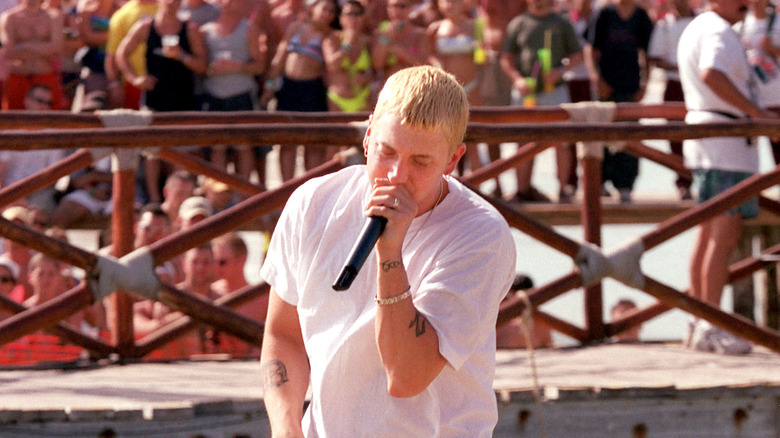 Frank Micelotta Archive/Getty Images
When you think of the term "spring break," you probably think of good vibes, sunny beaches, and partying until you drop, and that's exactly what MTV'S "Spring Break" aimed to bring to your television screen. However, in recent years, the once-popular show lost some of its original allure. The official answer to what happened to MTV's "Spring Break" is that it stopped airing in 2014 when it was canceled due to an assumed decline in popularity. Still, for the time it did air, there was a whole lot of chaos to be seen.
Over the course of its run, the show boasted multiple musical guests, ranging from R&B princesses like Destiny's Child and Aaliyah to punk rockers, including No Doubt and Blink 182, to rappers and hip-hop artists like Eminem and Missy Elliot, and iconic pop groups like the Backstreet Boys and The Spice Girls. Airing in 1986, the first official MTV "Spring Break" took place in Daytona Beach, Florida, and was basically an extended MTV music video (dubiously, it was live streamed without the knowledge of those being filmed). Musical guests that year included Mr. Mister and the Beastie Boys, according to The Cut. 
The show was all about embracing fun and freedom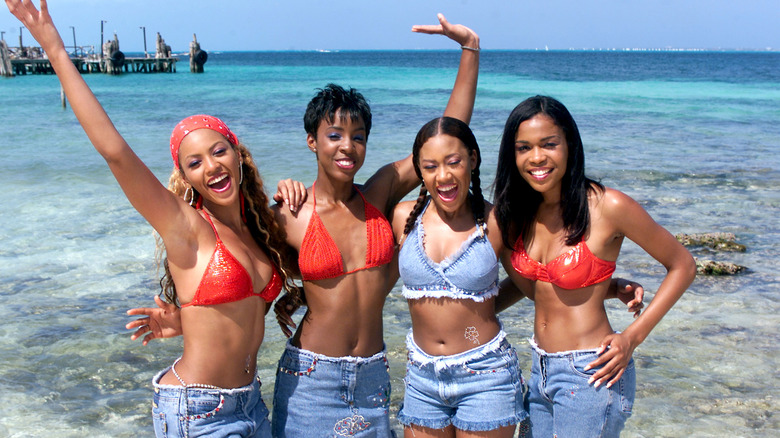 Frank Micelotta Archive/Getty Images
After the first event in 1986, "Spring Break" proved to be a massive hit. For three years until 1989, the annual event took place in Daytona Beach before it began to move to different locations like Panama City Beach, and Cancun, Mexico. The appeal of the event came from the fact it combined regular people (although you arguably had to look a certain way to make it on camera) with celebrities like Carmen Electra and Ja Rule, all partying, having fun, wearing very skimpy clothing, and taking shots. It was essentially a parent's worst nightmare — MTV didn't shy away from filming anything, whether that was people drunkenly kissing each other or someone literally throwing up.
The show reached its peak in the 1990s and continued to be popular throughout the early 2000s.  According to Yahoo!life, the show is sometimes brought up on social media by those who were too young to attend at the time, which actual attendees find weird to think about. Speaking to the outlet in 2008 "Spring Break" attendee Greg Sherman shared, "I'm like, 'Oh my God, they're reminiscing and wishing they went to something that we actually went to' ... It does make me feel old at the same time." 
COVID-19 and #MeToo?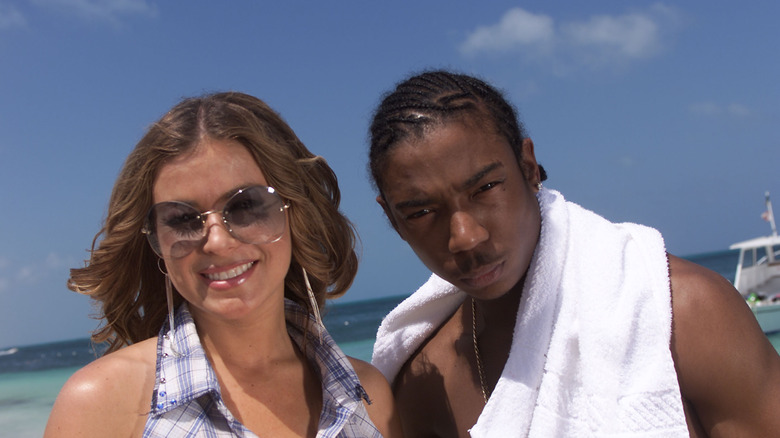 Scott Gries/Getty Images
The biggest evidence of the show's declining popularity was when it was moved to MTVU — a station that broadcasts exclusively to college campuses — from MTV in 2005. Considering that it used to be peak programming just a few years before, this decline seemed relatively sudden. Nevertheless, it still pulled big musical stars up until the end. Bruno Mars and B.o.B performed the quintessential hit "Nothin On You" in 2010, and Pitbull, Ne-Yo, and Nayer took to the stage to play the major 2010s hit "Give Me Everything" in 2011.
Additionally, the program did return in 2019 for a special that took place in Cancun with Tyga performing, among others. However, presumably due to COVID-19, MTV did not continue to put the spring break shows together in subsequent years. Overall, what truly happened to MTV's "Spring Break," may be chalked up to a confluence of the times. Decider wrote in 2019 that in the #MeToo era, the show's emphasis on scantily clad drunk people exuding sexuality may not hit the way it once did. Between changing attitudes about respect for women and a worldwide pandemic, MTV's "Spring Break" seems to have quietly snuck out of the party.