Were Tony Hawk And Kurt Cobain Friends?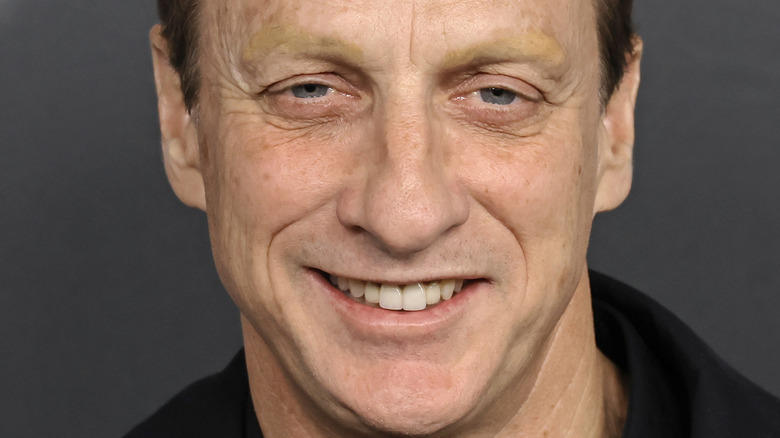 Kevin Winter/Getty Images
Tony Hawk and Kurt Cobain were born a year apart, Hawk in May 1968 and Cobain in February 1967, and both rose to fame in their respective fields in the late 1980s and into the 1990s. It seems the closest the skateboarding legend ever came to meeting the Nirvana frontman was in 1991 when he attended one of the group's concerts in Houston. Hawk spoke of the encounter in one of his October 21, 2021 tweets on X, formerly known as Twitter.
"I stood in the front row until the band started playing ... and then found myself in a heaving mosh pit that seemed to never end," he recalled. "It was the best place to be on October 20, 1991." Less than three years later, on April 5, 1994, Cobain died by suicide. But while the two 1990s icons may not have known each other in life, they are directly linked in another way.
Their children are married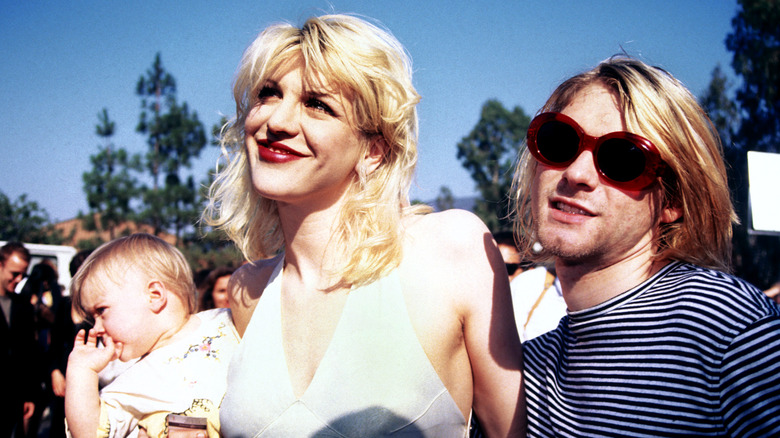 Vinnie Zuffante/Getty Images
It is neither skateboarding nor music that directly connects the two Tony Hawk and Kurt Cobain. Their children, Frances Bean Cobain and Riley Hawk, are married, per TMZ. The couple wed in Los Angeles on October 7, 2023. Frances, 31, began dating Riley, 30, sometime in January 2021, per TMZ and People. The wedding ceremony was officiated by another 1990s icon, Michael Stipe, the lead singer of R.E.M., who is Frances' godfather. 
So while the two icons never met in person, their children have helped complete the circuit for an ultra-'90s pop culture climax, and social media reacted accordingly, per the Daily Mail. "Daughter of the most nineties dude ever is dating the son of the second most nineties dude ever," one user wrote. "If they had a child, their grandparents would be two of the largest icons from the nineties. Insane," another added.
Weird Al and a Kurt Cobain skateboard
Tony Hawk is connected to Kurt Cobain in less direct ways, as well. Notably, the skateboarder appeared in "Weird Al" Yankovic's "Smells Like Nirvana" video in 1992. The song parodied Nirvana's "Smells Like Teen Spirit," which came out the year before. "Our team manager at the time ... was tasked with getting extras for his video. ... We went up to LA and I'm in the background of the 'Smells Like Nirvana' video," Hawk recalled to Yankovic on a 2023 episode of his podcast "Hawk vs Wolf." Cobain reportedly liked the results. 
In 2022, Hawk also bought a one-of-a-kind skateboard painted by Cobain, which the Birdhouse owner later reproduced as actual skateboards, stickers, and prints. He sold the items, and all proceeds went to two non-profits — one advocates for mental health issues, and the other builds skateparks for disadvantaged youth, per a 2023 Instagram post. The skateboard was a Jeff Phillps model. Like Cobain, Phillips died by suicide. "Kurt and Jeff's influences still resonate greatly in our worlds, so we hope to honor their legacies with these unique items," Hawk wrote in the post.
If you or someone you know is struggling or in crisis, help is available. Call or text 988 or chat 988lifeline.org.