Who Is Robert Card, Suspect In The 2023 Maine Mass Shooting?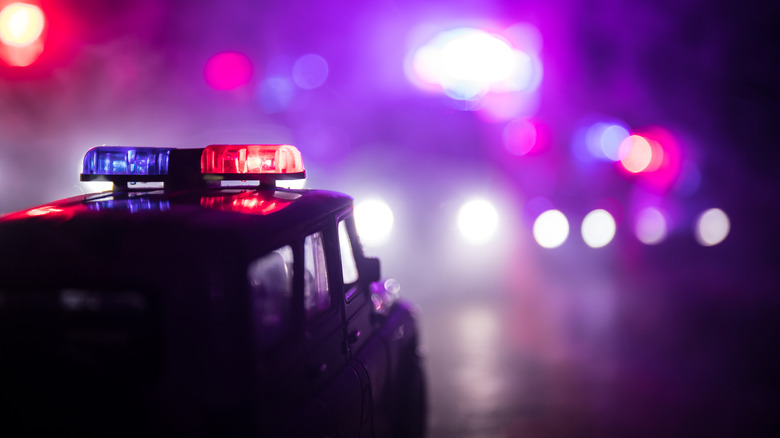 zef art/Shutterstock
On October 25, 2023, a man killed at least 18 people and injured 60 others in two mass shootings in Lewiston, Maine, NBC News reported. A police bulletin claims the incidents took place at Schemengees Bar & Grille Restaurant and the Sparetime Recreation bowling alley. The suspect was 40-year-old Robert Card, who was found dead on October 27 after a two-day manhunt, CBS News reported.
A U.S. Army spokesperson told CBS News that Card was a petroleum supply specialist in the U.S. Army Reserve. Speaking to the Associated Press, a military official said Card was moved to Keller Army Community Hospital at West Point for evaluation after acting erratically while training with the Army Reserve's 3rd Battalion, 304th Infantry Regiment. The exercise was taking place at the U.S. Military Academy at West Point in New York.
The police bulletin says Card was in a mental health facility for two weeks in summer 2023. He reported "hearing voices and threats to shoot up the National Guard base" in Saco, Maine. Clifford Steeves, who served in the Army Reserve with Card, told CNN the suspect had firearms training — but saw no combat deployments.
'A rational, understanding person'
Robert Card's sister-in-law, Katie O'Neill, told CNN that the incident was "an acute episode" and said he did not have an extensive history of mental health issues. "This is not who he is. He is not someone who has had mental health issues for his lifetime or anything like that," she said. Speaking to The Daily Beast, she echoed these sentiments, saying, "He is quiet but the most loving, hardworking, and kind person that I know. But in the past year, he had an acute episode of mental health, and it's been a struggle." O'Neill added, "He truly believed he was hearing people say things. This all just happened within the last few months."
According to Clifford Steeves, Card was a "rational, understanding person." "He was a very nice guy — very quiet," Steeves told CNN. "He never overused his authority or was mean or rude to other soldiers. It's really upsetting." Another person who served with Card told CNN he was a "nice guy" who "never had an issue with anybody."
A 'gun fanatic'
Not everyone had positive things to say about Robert Card. Speaking to NBC News (above), Liam Kent, who grew up near the suspect, described him and his family as "gun fanatics." "Well I grew up about a mile or half mile away," Kent said. "The family and Robert, they're all gun fanatics. They are for all intents and purposes are very much associated with right-wing militias. It's known in the town to stay away from them and to not approach them. If you see them just turn around and walk away." As a child, Kent said he saw Card at a waystation at the "town store" after he had just killed a deer. "He was covered in blood with a gun on his back with a giant grin on his face," Kent said.
According to Newsweek, Card had an account on X, formerly known as Twitter. He reportedly liked tweets by former president Donald Trump, GOP Rep. Jim Jordan, and conservative firebrand Tucker Carlson. Notably, Card allegedly liked a post by Carlson that read, "The trans movement, it turns out, is the mirror image of Christianity, and therefore its natural enemy. People who believe they're God can't stand to be reminded that they're not."