What John Lennon's Rumored Last Meal Was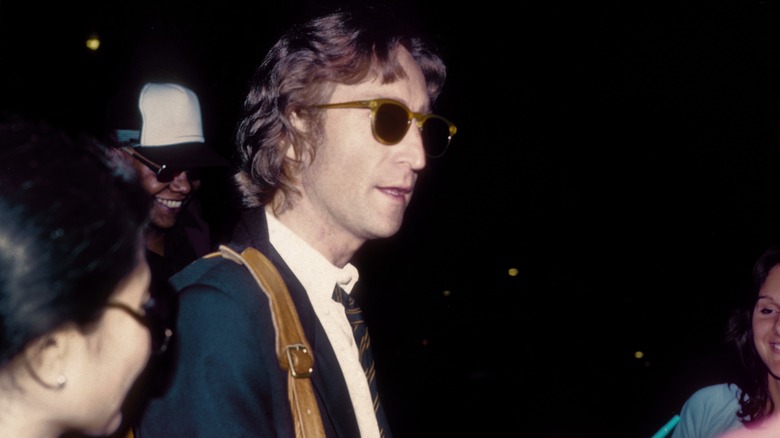 Vinnie Zuffante/Getty Images
When John Lennon was shot at the entrance of his New York apartment on December 8, 1980, it cut short a comeback for the former Beatle, who had largely hidden from the public eye for around half a decade. Nevertheless, his tragic death was headline news, with ABC sportscaster Howard Cosell interrupting "Monday Night Football" to break the news to the nation.
Lennon first moved to New York in 1971, over a year after Paul McCartney officially announced The Beatles had split for good. As noted by Variety, though Lennon was still a rock megastar, he took to the city like anyone else would and was regularly seen out walking or buying groceries. Though New Yorkers often left Lennon in peace as he went about his day, when fans did approach he would often talk and sign autographs, as he did on the day he was shot and killed. Apart from the attention of fans, sessions in recording studios, and photoshoots, Lennon in many ways lived the life of an everyday New Yorker. And rather than high-end restaurants, he was fond of New York delis. Indeed, James Dickerson's book "Last Suppers," the author said Lennon ate his final meal — a corned beef sandwich with a cup of hot tea — at a deli.
John Lennon's humble tastes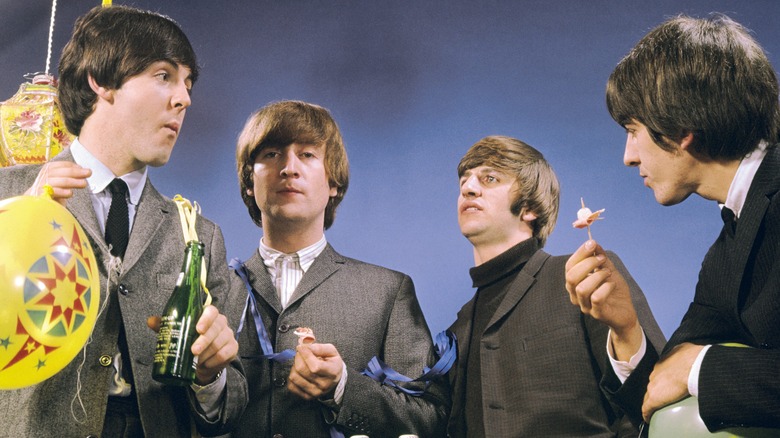 Mark And Colleen Hayward/Getty Images
You may think that being in the biggest band of all time might lead you to develop a taste for the finer things in life, such as sumptuous meals cooked by your personal chef and reservations at the most exclusive restaurants. But from what John Lennon revealed about himself in interviews, it seems that he preferred the more straightforward culinary fare that he knew from his early years.
His favorite regional foods were reportedly Indian-style curry and Chinese food, and he ate the latter often in New York, per "The Beatles Revolution" and "Instamatic Karma." But Lennon also maintained a taste for the humbler dishes of his home city of Liverpool. This includes the British staple fish and chips — which in Lennon's youth was typically served in newspaper and seasoned with salt and vinegar — and full English breakfasts. In an interview for the June 1964 issue of 16 Magazine (via "Who's Your Fave Rave?"), the songwriter also listed jello — or jelly as it is known in the U.K. — as one of his favorites, and he had a quintessentially British love of hot tea.
So it makes sense that Lennon's final meal might have been something as simple as a corned beef sandwich, especially as it was reportedly eaten with a cup of tea.
He may have been killed before eating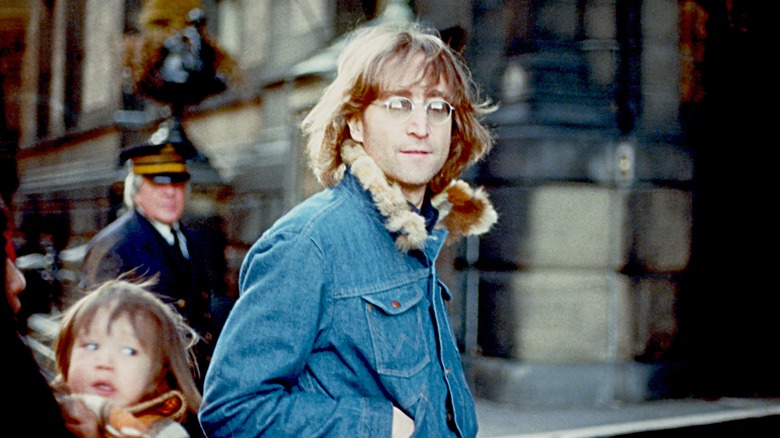 Vinnie Zuffante/Getty Images
John Lennon famously sang: "Life is what happens to you while you're busy making other plans." Indeed, the final days of John Lennon's life were some of the busiest he had known since the height of Beatlemania. The songwriter had recently returned to the public eye after a five-year period in which he focused on domestic life and raising his infant son, Sean. He had seemingly lost interest in music for several years, but riding a new wave of inspiration, Lennon and his wife Yoko Ono had been busy promoting their new album, "Double Fantasy," and recording new compositions including "Walking on Thin Ice" (Lennon was allegedly still holding a cassette of the latest mix at the time of his murder).
Returning to the music industry, Lennon and Ono found themselves trying to balance the demands of public life and raising a family. As such, some accounts of Lennon's final day differ from that offered by James Dickerson in "Last Suppers." According to the music historian Kenneth Womack, following a photo shoot with Annie Leibovitz and a recording session in the studio, Lennon and Ono planned to head to the Stage Deli for something to eat. Producer Jack Douglas specified in an interview with Rolling Stone that they wanted sandwiches. But according to Womack, they decided to visit their son at their apartment first to say goodnight (via Smithsonian). Sadly, they encountered Lennon's killer on the way.