True Stories Behind Popular Queen Songs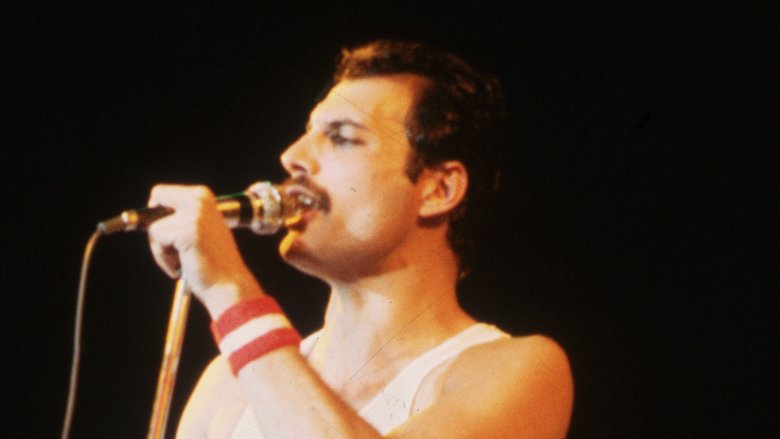 Getty Images
Queen's songs have fascinated fans for over four decades. Queen has written some of the most famous songs in existence, and their greatest hits are perilous earworms that can make even the largest stadium audience sing and clap hands like there's no tomorrow. But how many people know exactly what it took to create these massive tunes? After all, it's not like the band just woke up every morning with yet another finished smash hit added to their catalog. 
As everyone who has seen Bohemian Rhapsody can attest, the band fine-tuned their tracks until they became the songs we know today ... but in the beginning, each and every one of their pieces started with an idea. It could be just a passing fancy, or a band member making a strange observation, or even a long, life-changing period that they felt compelled to express through music. Regardless of the song's eventual popularity, they often started out very small and personal. Let's take a look at some of the stories behind Queen's most popular songs.
​"We Will Rock You" and "We Are The Champions" were inspired by the same, insane concert
Queen has many crowd-pleasing singalong tracks up their sleeve, but if you hear one played at sports arenas or other mass events, there's a good chance it's going to be either "We Will Rock You" or "We Are The Champions." They're so catchy and easy to join in on, it almost seems like they were specifically designed that way. Well, they were. 
As Rolling Stone describes, both songs were actually inspired by the same, insane concert Queen played at a U.K. venue called Bingley Hall on May 29, 1977. The band was already accustomed to gigs where fans were singing along, but Bingley Hall was a game-changer. According to Brian May, the audience was so loud that they essentially turned the event into a giant rock choir, to the point where the band actually had to stop the show and allow the crowd to perform to them, instead of the other way around. 
After that, both May and Freddie Mercury thought that it would be interesting to craft songs specifically meant for audience participation. May's contribution to the idea was the stomping, hand-clapping "We Will Rock You," while Mercury went in another direction and came up with the powerful, anthemic "We Are The Champions." It's probably safe to say that both of these experiments were reasonably successful.
"Don't Stop Me Now" was about a particularly hedonistic period in Freddie Mercury's life
"Don't Stop Me Now" is exactly what it says on the tin — an empowering anthem to feeling completely unstoppable and taking on the world. However, according to Smooth Radio, Brian May has always felt uncomfortable with the track because of his notion that it's essentially "Freddie Mercury's most hedonistic sex, drugs, and rock 'n' roll phase: The Song." After Mercury's death in 1991, May revealed that the song was about a particularly difficult period in the vocalist's life. At the time, Mercury was having lots of sex and his drug intake was significant, to the point where the rest of the band members (who were not exactly strangers to decadence themselves, according to Roger Taylor) were worried about their friend. 
Still, even the singer's death wasn't enough to cast a shadow over the song's gleeful ode to decadence. Despite not performing particularly well on the charts when it was released as a single, "Don't Stop Me Now" has become one of Queen's most popular tracks.
​"Love of My Life" was about Freddie Mercury's relationship with Mary Austin
If you've seen the Bohemian Rhapsody movie, you probably know that Freddie Mercury had a life-long relationship with a woman called Mary Austin. According to Vintage News, they started out as lovers in the early 1970s, though their story began a little differently than the movie describes. Austin actually briefly dated Brian May first, and she met Mercury after she and May (amicably) broke up.
The singer's feelings toward Austin were quite genuine, as they lived together for seven years and he reportedly said she was the only person he truly loved. However, Queen's popularity grew, and Austin felt uncomfortable in Mercury's new celebrity circles. Thinking that Mercury would eventually lose interest in her, she tried to break up with the singer. Mercury also saw the writing on the wall but refused to let go, tried to keep them together through music, and wrote several songs about Austin. 
"Love of My Life" was the most famous of those songs, but ultimately, it wasn't enough. Mercury soon came clean with numerous infidelities with men, and the surprised Austin finally left him. However, they remained extremely close for the rest of Mercury's life, and Austin became something of a muse to him. Their relationship was so strong that Austin dropped everything to devote herself to the dying Mercury's care ... and Mercury left her the lion's share of his fortune.
"Under Pressure" was a rock music version of getting to know each other
In 1981, Queen and David Bowie met in Switzerland, where Queen was recording. According to Vintage News, the five musicians decided the best way to get acquainted would be to jam together. John Deacon broke the ice with the iconic seven-note bass line, and the group descended into a wine-and-drug-fueled marathon jam-fest that spontaneously turned into a song. The famous vocals were recorded by the tripping singers letting out whatever crossed their minds. Of course, rock stars being rock stars, this peaceful coexistence endured a small crack the very next day, when Bowie remixed the track into a version that Freddie Mercury disliked, and the two had an intense row.
"Under Pressure" was not the first time Bowie and Mercury joined forces. As Rolling Stone describes, they first interacted in the late 1960s, when Bowie was still at the "lunchtime sets at Ealing Art College" part of his career, and Mercury was a fanboy following him around, offering to carry Bowie's gear and helping him build a makeshift stage. The two met again at Kensington Market, where Mercury was working at a clothing stall that Bowie visited. When the "Space Oddity" star lamented that he didn't have money to buy the pair of boots he was eyeing, the stall's owner decided to give them to him for free. Shop assistant Mercury helped fit Bowie for the boots.
"Now I'm Here" is an ode to touring that Brian May wrote from his sick bed
"Now I'm Here" is one of the rare Queen songs about the most classic of rock song subjects: The endless miles of road that a touring band must face. As Queen: Complete Works describes, Brian May started working on the song while the band was literally on the road, supporting Mott the Hoople in 1974. The song and its lyrics are about May's experiences on the tour, which he enjoyed immensely. However, the actual writing process was difficult because the guitar player's year was plagued by illness. In January, he fought with gangrene. In May, he contracted hepatitis. For summer he developed a duodenal ulcer, and to cap things off, he was so worried that his bandmates would grow tired and replace him because of his health troubles that he became deeply depressed.
Fortunately, the guitarist's fears never became reality. Instead, the rest of the band doubled down on their support, and they focused on writing new material as they waited for him to heal. May thanked them for the vote of confidence with "Now I'm Here," which became one of the most performed songs in the band's career.
"You're My Best Friend" was written while John Deacon taught himself to play the electric piano
If you pay attention to the lyrics, you'll find that "You're My Best Friend" isn't actually about friendship, as such. According to Queen: Complete Works, it's actually bass player John Deacon's love song to his wife, Veronica, and by all accounts, it should have been a mediocre album track at best. After all, the year was 1975, and the only song "Deacy" had written for the band was the unassuming "Misfire." Besides, his writing process was far from conventional. The band had an electric piano that Freddie Mercury hated, so Deacon hauled it home and started learning to play it. He describes "You're My Best Friend" as the song that simply came out of the piano when he was practicing, and to this day, he feels that it sounds best on that particular instrument. When he presented the song to the rest of the group, they were so positively floored that they even released the poppy tune as the follow-up single to the bombastic "Bohemian Rhapsody."
As an interesting side note, it's possible that the notoriously humble Deacon downplayed the musical effort he put into the song. After all, he went on to craft a number of massive hits for the band, and technical analysis by Bass Player reveals that "You're My Best Friend" is a master class of a bassist maintaining a tight musical role while still remaining in the background.
"Radio Ga Ga" freaked out the record company
One of Queen's most famous songs seems like a harmless tune that longs after the good old days of radio. Yet, this was one of Queen's most controversial single choices. Queen: Complete Works describes that the band's new North American record company, Capitol Records, were far from pleased that their expensive signing's first single release was going to be a song that turned the downfall of radio into a rock chant. Fearful of angering every radio station in the country, Capitol President Jim Mazza even drafted some new, less controversial lyrical ideas and sent them to the band. Sadly, it's unclear if any of the changes were ever implemented — and if they were, exactly what Roger Taylor's original lyrics were.
Ironically, Taylor says the song wasn't meant to be a statement against radio, and actually criticized the era's emphasis on music videos. Even more ironically, the band had acquired some clips from Fritz Lang's Metropolis from Giorgio Moroder, and decided to use those in the music video for the song. As a result, the song that's criticizing music videos had one of Queen's finest music videos. Incidentally, said video is also responsible for the famous "double-clap" in the song's chorus. The recorded version just features a single hand-clap that's electronically repeated, and it is the music video that shows it as the double one that became a hit with live audiences.
"Bicycle Race" has many amazing, contradicting origin stories
There are several stories of "Bicycle Race" and its conception. We Love Cycling tells the popular version which, unsurprisingly, interprets the song pretty literally. The legend goes that Freddie Mercury was inspired to write the song when he saw the Tour de France peloton drive past his hotel room window, and the sudden appearance of the formation before they disappear into the horizon can even be found in the structure of the song itself. However, this might actually be a mere myth. According to Queen: Complete Works, the band was nowhere near the route of the Tour de France of 1978, so it's unlikely that Mercury could have witnessed the peloton.  
Another rumor says the song's subject matter is actually sexual, and the fact that "Bicycle Race" has a music video that features footage of the naked bicycle race at Wimbledon Stadium in 1978 doesn't exactly alleviate these suspicions. This theory, as described by one blogger, posits that "Bicycle Race" is actually code for bisexuality ... which, if nothing else, would have given Mercury a healthy excuse to make his bandmates yell "Bi!" onstage on a nightly basis. 
Of course, it could also be that the song's lyrics are just as deliberately nonsensical as the deceptively complex structure. After all, as Exploded Queen points out, Mercury did not really enjoy riding bicycles.
"Somebody to Love" deals with the big questions while paying homage to Aretha Franklin
According to Denise Sullivan of All Music, "Somebody to Love" is Freddie Mercury's heart-wrenching testimony to the universe (which is not to be confused with the Jefferson Airplane song of the same name). The singer created the ballad as a pleading, soul-searching question that asks the listener: In a life without love, what is God's function? It's easy to see all this desperation and heartbreak as the singer's own, taken up to 11. Then again, Roger Taylor has offered an alternative approach in an interview with Circus Magazine. He said the band was actually just influenced by Aretha Franklin, and they were deliberately playing things pretty loose to get that gospel style.
It's up to the listener whether they want to read into the lyrics and interpret the song as Freddie Mercury's personal scream of anguish at the uncaring skies, or accept the drummer's explanation of a rock band attempting to pay homage to the Queen of Soul. In fact, it's entirely possible to do both at the same time, since they don't exactly rule each other out. Still, one thing is certain: Leave it to Queen to create a gospel song about how God may not be all that and still have it reach #2 on the charts.
"I Want It All" is about Brian May's wife and marriage
"I Want It All" is an anthem to determination. Queen: Album by Album says the track was inspired by Brian May's second wife, Anita Dobson. When they were still a new couple, Dobson was present at the band's concert at Wembley Stadium. Some people recognized her and applauded for her, but instead of being intimidated with the huge masses, she said what would become the song's chorus: "I want it all, and I want it now." 
Queen: Complete Works describes how May placed Dobson's ambitious saying at the heart of a powerful riff-rock anthem that he submitted for The Miracle. Although the band was at a point where they had agreed to split all writing credits equally, John Deacon noted that "I Want It All" was essentially a finished song before they even headed into the studio. Unfortunately, due to Freddie Mercury's failing health and inability to tour, the powerful track was never performed live by its original singer.
"Killer Queen" is about a high-class call girl
You'd think that a call girl and a boxing impresario would be fairly easy to tell apart, but the assorted stories behind "Killer Queen" make an exception to the rule. The book Queen quotes the generally accepted story that the #1 single from 1974 is about a high-class courtesan. According to Somebody to Love: The Life, Death and Legacy of Freddie Mercury, the singer himself confirmed this when asked about it. Mercury said he wrote the song about a high-class prostitute and that he wanted to express that even people from the upper echelons of society can still have, well, flexible morals. 
However, if you read into the song with a little of the band's history, you come to a boxing agent and media personality called Eric Hall. According to Hall's presenter profile at the BBC, the song is actually about him. Louder confirms that Hall was actually in the band's atmosphere during the era, and even worked as their radio plugger at the time. Still, they immediately go on to repeat Mercury's statements about the song being about a completely fictional call girl, so it's possible that Hall has just respected Mercury's wish that people should find their own meanings to the song.
"Save Me" is about Brian May's friend's failing relationship (and maybe badgers?)
"Save Me" is a tragic and emotional song about a man whose relationship is falling apart and who is truly at his wits' end. According to the Guardian, it actually chronicles a very specific relationship, though it's not anyone from the band. Instead, Brian May wrote it about his friend, who was undergoing the fracturing marital situation described in the song. 
Even though he composed the track, May wasn't the only one pouring emotion into it. Freddie Mercury liked to belt the power ballad out like it was a personal statement, which might not be too far from the truth. As Rolling Stone points out, the singer's own emotional and relationship issues also fit into the lyrics surprisingly well. Lines such as "I have no heart, I'm cold inside/I have no real intent ... Save me/I can't face this life alone" held a perfect mirror to Mercury's life, which he has described as one of voluntary loneliness.
Was the friend May was writing about secretly Mercury all along, or did the vocalist just appropriate the song? Regardless of the answer, this incredibly heartbreaking song has recently given its name to one of May's current pet projects: The Save Me Trust, a foundation for ... uh, protecting badgers? All right, maybe people are reading too much into the song.
"Another One Bites The Dust" is about a massacre
In early 1980, John Deacon stopped writing simple pop songs and ushered the rest of the band into the world of funk. Queen: Complete Works describes just how different "Another One Bites The Dust" was from the rest of their output. Although they had flirted with funk on a couple tracks, the songs had always sounded like, well, Queen. Deacon's song introduced crisp, dry drums, a bass-driven rhythm, and a relatively simplistic production where Freddie Mercury's voice was the only element that was a recognizable Queen staple. Though Roger Taylor vocally opposed releasing the song as a single, others disagreed, and "Another One Bites The Dust" became a #1 hit in the U.S. It was so different from their usual fare that some radio stations actually labeled it as an obscure single by a little-known African-American R&B band. 
This being a Queen song, it had another layer to it — the unexpectedly dark lyrics. Although official comments about the words are few and far between, the bullet-slinging lyrical content is generally agreed to be inspired by the notorious St. Valentine's Day Massacre in Chicago in 1929. (Basically, Al Capone got some cops to kill several rivals, probably.) When you look past Mercury's cool vocals and the funky bass line, the song does indeed hide some surprisingly straightforward descriptions of violence ... including the chorus itself, when you put it in the context of the gunfights taking place in the verses.
"Bohemian Rhapsody" is one big question mark
This might be one of the biggest unanswered questions about Queen: Through ups and downs and Scaramouches and fandangos, by all that is holy, what is "Bohemian Rhapsody" really about? The answer to "what do the literal words mean," according to a leaflet included with an Iranian cassette of Queen's greatest hits, is that the song is "about a young man who has accidentally killed someone and, like Faust, sold his soul to the devil" (via BBC). He later calls out to God ("Bismillah"), and God helps him get his soul back from the devil.
Okay, fine, that's interesting, but why would Queen write this song? Is it a coming-out song? Maybe it's about Freddie's childhood? Or, is it ... a coming-out song? (Some people are really into that interpretation.) Sorry, but we don't know. The best we can do is gather some tiny snippets. No one who was around for the production of the song will say what Freddie was imagining or describing to them when they worked it all out. Producer Roy Baker was there, but he told the New York Times it was generally agreed with Queen that the primary songwriter (in this case, Freddie) was allowed to keep or share the true stories behind their songs as they liked. Freddie only ever said the song was about "relationships," and the other people who know have all kept buttoned up so far.