Who Inherited Charlie Chaplin's Money After He Died?
Bettmann/Getty Images
Charlie Chaplin remains one of the 20th century's most instantly recognizable stars, and his cinematic works still have a huge influence on filmmakers and comedians today. In his own time, his reputation was enormous. But just like celebrities today, Hollywood stars in Chaplin's era also found themselves under close scrutiny, especially when details of their private lives leaked into the press. 
Chaplin was an icon, and as such the public became hugely interested in his private life — particularly his relationships with women. The comedian was married a total of four times and had eleven children, though another was alleged to be his in a high-profile paternity claim. Upon his death on Christmas Day 1977 at the age of 88, it is believed that his fortune was worth at least $415 million in today's money (per Celebrity Net Worth). All this went to his last wife, Oona O'Neill, whom he married in 1943 when he was 54 and she was 18.
Charlie Chaplin's many marriages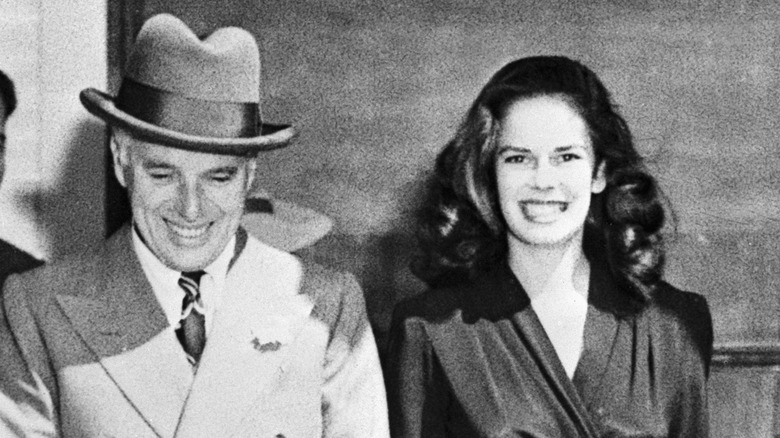 Bettmann/Getty Images
Charlie Chaplin and Oona O'Neill's (pictured) marriage lasted 34 years, which on paper suggests a settled love life for the world's greatest silent clown. But their union actually came after many years of tumultuous relationships for Chaplin. Even around the time of their first meeting, a paternity suit put the comedian in court. (The court ruled against Chaplin, though blood tests indicated that he was not the father, and debate still rages as to the truth of the matter.)
Chaplin had been married three times before he met O'Neill, the daughter of the playwright Eugene O'Neill. His first wife, Mildred Harris, was an actress, and they married in 1918 after a pregnancy scare when she was just 16. After they were wed, Harris became pregnant for real and gave birth to Chaplin's first son, Norman, who tragically died three days after birth. They divorced in 1920, and in 1924 Chaplin married another 16-year-old actress, Lita Grey, who had starred opposite him in his movies "The Kid" and "The Gold Rush." They had two children together — Charles Jr. and Sydney Ear — before divorcing acrimoniously. Chaplin married a third time to a woman named Paulette Goddard of "Modern Times" and "The Great Dictator" fame, but though they were married for six years, they had no children together.
An enormous family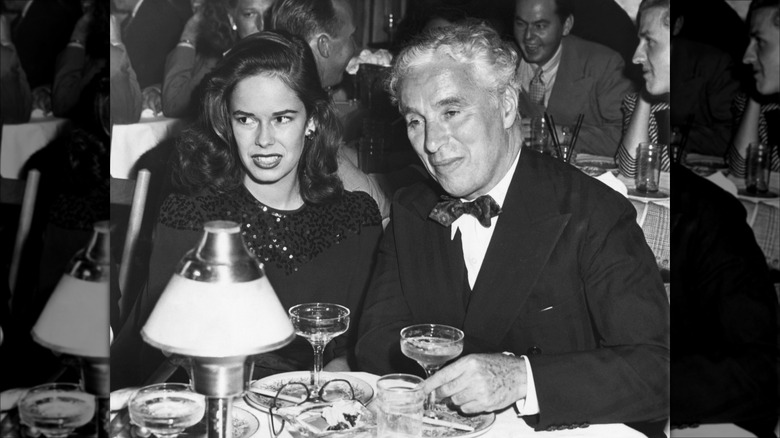 Bettmann/Getty Images
Charlie Chaplin seemed ready to make up for lost time with Oona O'Neill. Over the course of their marriage, they had eight children together: Geraldine, Michael, Annette, Josephine, Eugene, Victoria, Jane, and Christopher. Despite their unusual age gap and a paternity suit against Chaplin at the start of their relationship, theirs was seemingly a happy marriage, so it is no surprise that she inherited the majority of his known fortune.
"Known" is an important word here, for as Celebrity Net Worth notes, Chaplin and his family lived in Switzerland in the later years of his life, which is commonly described as a tax haven. Per the same source, Chaplin was raised in abject poverty and was known to squirrel away money where possible, including $1 million that he buried in his garden in the U.S. Oona reportedly smuggled it to Switzerland for him in the lining of her mink coat. The exact amount she inherited from her husband may be higher than estimated, but however much it was, it has set Chaplin's descendants up for generations, with many of them making headway in the entertainment industry.