What To Know About Bettie Page's Ex-Husbands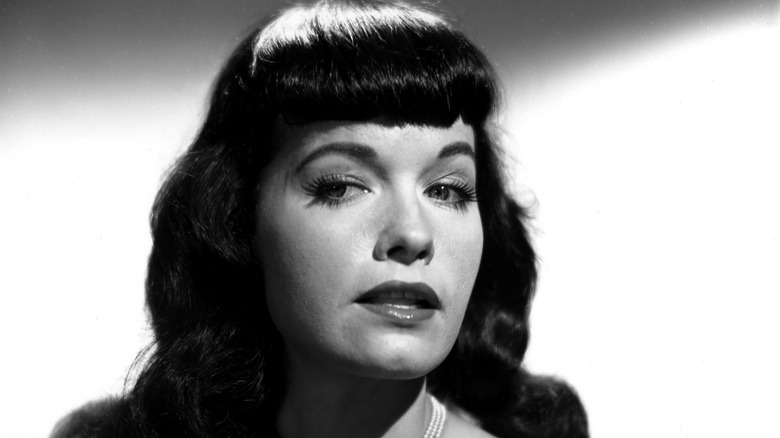 Michael Ochs Archives/Getty Images
Bettie Page, with her jet-black hair, bangs, wicked smile, and prop whip was known as the "Queen of Pinups." But before her brief yet far-reaching career as a model in the late 1940s and 1950s, she was married to her high-school sweetheart Billy Neal and attending Peabody College in Nashville, Tennessee, ahead of what she believed would be a teaching career, per The New York Times. She and Neal had married in 1943, but were a terrible match, as it turned out, with "nothing in common," her biographer, Karen Essex, told Closer Weekly.
Their eventual divorce helped push Page to her modeling career and away from teaching. She would remarry and then divorce Neal again in between husband number two, Armon (sometimes written Armond) Walterson, and her last ex-husband, Harry Lear, per "The Little Book of Bettie: Taking a Page from the Queen of Pinups." In the end, she ended up alone.
Billy Neal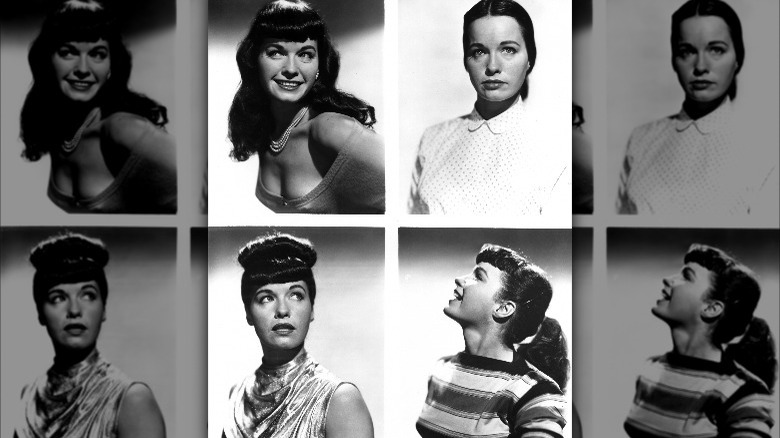 Michael Ochs Archives/Getty Images
Billy Neal didn't want Bettie Page to go to college after she graduated second in her high school class in Nashville, per "Hellions: Pop Culture's Rebel Women" and the New York Times. But she did anyway, before starting a brief teaching career, which she soon quit. "I couldn't control my students, especially the boys," she later recalled. The couple moved to San Francisco, where Page modeled fur coats. After the Navy drafted Neal during World War II, everything changed. When he returned from service he was still recovering from a terrible bout of dysentery he contracted during the war and was bitter and jealous, according to "The Real Bettie Page: The Truth about the Queen of the Pinups." The marriage began to falter.
They divorced in 1947 and Page moved to New York to pursue an acting career. Neal eventually followed her there in an attempt to get her back, but his penchant for fighting — he beat up one of Page's male friends — pushed Page away. Even so, she still had feelings for Neal. "Someday, when I decide I really want to be a wife, we'll probably get married again," she told her sister Goldie in 1949 (via Bettie Page: The Lost Years: An Intimate Look at the Queen of Pinups." "I've dated oodles of other fellows but somehow can't get interested in anybody but Billy — it's a funny thing, but true."
Armon Walterson, Billy Neal (again), and Harry Lear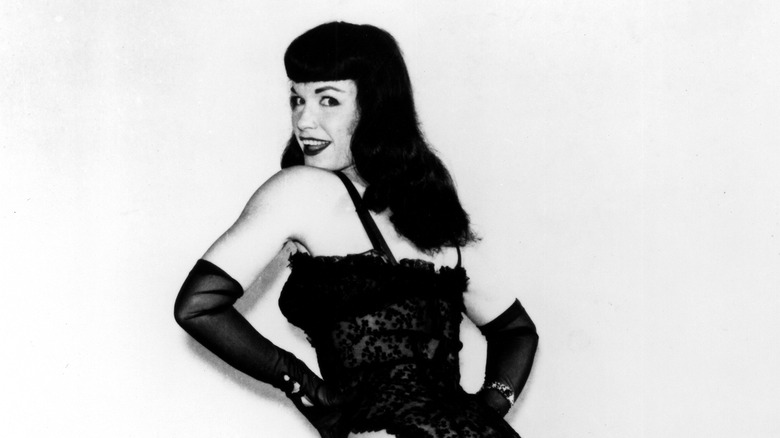 Michael Ochs Archives/Getty Images
Bettie Page married Armon C. Walterson, who was 12 years her junior, in 1958 while living in Florida after she'd retired from her modeling career, according to "The Little Book of Bettie." They too were mismatched. His two biggest passions were "hamburgers and sex," and when Page became a born-again Christian the pair drifted further apart. They divorced in 1963. Page returned to Nashville and began pursuing a graduate degree in English at the same university where she'd gotten her B.A. and, just as briefly, reconnected with Billy Neal. Neither her relationship nor her studies panned out. 
Ever restless, Page moved back to Florida in 1967 where she met her third and final husband, Harry Lear, while out dancing one night. They fell in love and married the same year. "Harry and I had a good marriage," she told Playboy. "He was a wonderful provider and a good lover. But he had one bad fault. He was a Mr. Milquetoast." Page said Lear refused to stand up to his ex-wife who believed Page was a bad influence on their three children. "Harry's ex-wife was so jealous of me that it ruined the marriage and my health," she recalled in the Playboy interview. They divorced in 1972 amid Page's ongoing mental health issues. "I am sorry for the trouble I had with Harry Lear and his ex-wife and their children," she said.