Why People Think Audrey Hepburn Had An Affair With JFK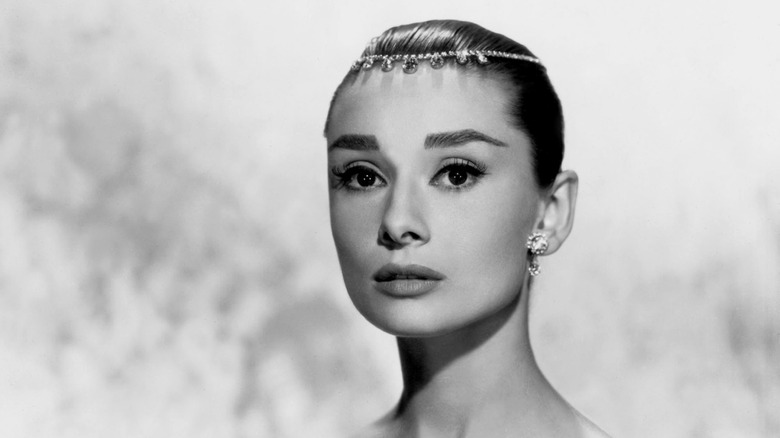 Donaldson Collection/Getty Images
John F. Kennedy is one president to whom the old adage "when legend becomes fact, print the legend" has been generously applied. Everything from possible conspiracies behind his death to the minutia of his affairs has been tinged with myth. The evidence for his relationship with Marilyn Monroe, for instance, is remarkably thin. According to Donald Spoto's "Marilyn Monroe: The Biography," they likely knew each other briefly and had sex only once. Yet it's widely accepted that they had a passionate love affair. And according to at least one biographer, Monroe wasn't Kennedy's only dalliance with an iconic actress — Audrey Hepburn also allegedly got involved with him.
The claim was made by Christopher Andersen in "Jack and Jackie: Portrait of an American Marriage." According to him, Kennedy and Hepburn first began seeing each other in the early 1950s, at the same time that Kennedy was courting Jaqueline Onassis. Both relationships were meant to be a secret, and besides keeping two affairs going at once, friends said that Kennedy seemed not to like being too affectionate in public. One such friend, Betty Spaulding, later volunteered that Kennedy and Onassis shared "emotional blocks and panics ... In their strangulated way they loved each other."
Hepburn might not have shared any emotional blocks with the then-senator, but she was a glamorous and adored actress, and her profession allegedly helped to obscure th purported affair. Anderson quoted one Washington journalist as saying Hepburn was seen leaving Kennedy's home, but "it seemed so improbable back in those days for a United States senator and a movie star to be involved — the worlds were just so different back then — that nobody thought much of it."
Hepburn was allegedly sexually 'naughty' with Kennedy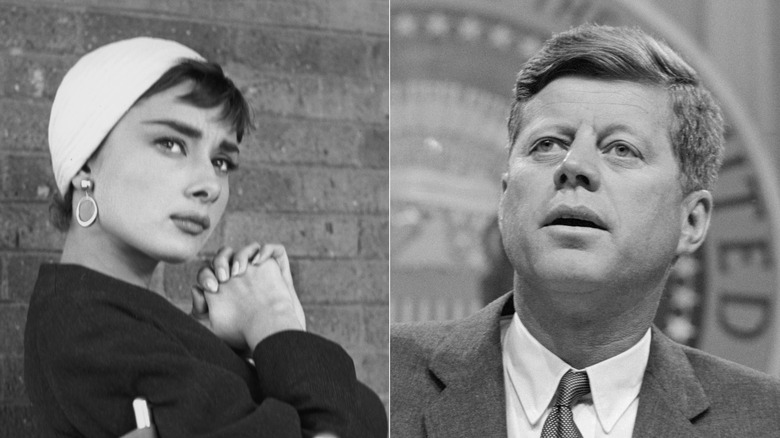 Bettmann/Getty & Archive Photos/Getty Images
Christopher Andersen's allegation that John F. Kennedy and Audrey Hepburn had an affair while he was courting Jaqueline Onassis has not been echoed by other biographers, whether they be Kennedy's or Hepburn's. Per Vanity Fair, at the time Anderson says she was cavorting with the future president, Hepburn had just left a relationship with James Hanson, whom she had been engaged to before calling off the wedding due to their incompatible lifestyles. She went on to marry fellow actor Mel Ferrer in 1954. It's in between those two serious romances that she allegedly had her affair with then-Senator Kennedy.
Anderson's brief account of their relationship is built on anonymous sources and second-hand accounts. Kennedy's secretary, Mary Gallagher, went on record as seeing Hepburn in his Senate office and said she impressed everyone who saw her. One person claimed that Hepburn "out-Jackied Jackie" but was not prepared to share their name. However, they did tell Anderson that while Hepburn's personality was fairly close to her screen persona, "she also had this very sexy, very naughty side that the public never saw."
Keeping their affair a secret supposedly turned up the heat for both Kennedy and Hepburn, but anything more than an affair wasn't in the cards. As an ambitious politician of his era, Kennedy couldn't afford to marry a foreign-born woman or an entertainer, and as a scion of a Catholic family, he couldn't marry someone outside the church. In Anderson's telling, after Kennedy proposed to Onassis, Hepburn entered an affair with her "Sabrina" co-star Bill Holden before becoming involved with Ferrer.
Hepburn and Monroe aren't the only actresses linked to Kennedy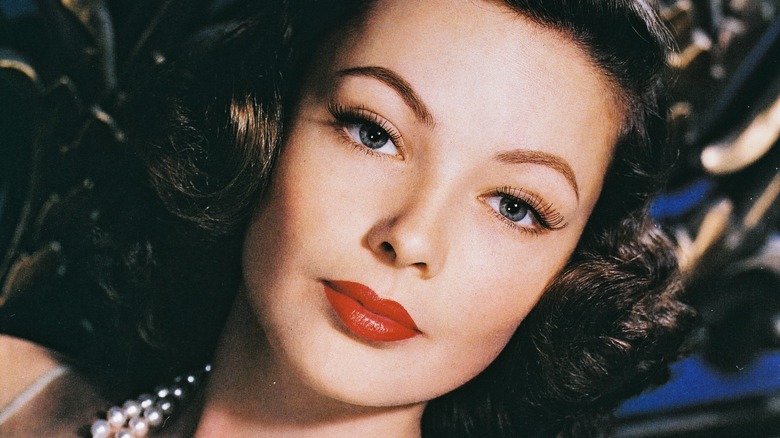 Silver Screen Collection/Getty Images
In "Jack and Jackie: Portrait of an American Marriage," Christopher Andersen writes that John F. Kennedy briefly reunited with Audrey Hepburn after his marriage at the Mayflower Hotel while his wife was house-hunting. Anderson also claims that, around the same time, Kennedy was seeing actress Lee Remick in the Mayflower as well. And they're only two names on the extensive list of actresses that "Jack and Jackie" says Kennedy slept with — Gene Tierney, Angie Dickinson, Sophia Loren, and Marilyn Monroe are all named as well.
Monroe's relationship with Kennedy has been confirmed but exaggerated. Dickinson told author Mark Updegrove (via People) that she and Kennedy "had a lot of fun thinking" about an affair but did not confirm they had one. Kennedy's relationship with Tierney has a more solid basis in fact. Per Irish Central, they met in the mid-1940s, before Kennedy was involved with Jaqueline Onassis or (allegedly) Hepburn. Theirs, by Tierney's own account, was a short-lived but passionate romance that got as far as thoughts of marriage, but Kennedy told her it was impossible. They remained friends, and Tierney later sent Kennedy a congratulatory telegram when he was elected president.
As for Hepburn, Anderson claims that she kept a similar goodwill toward her former lover. A year after Monroe's famous serenade of Kennedy for his 45th birthday, Hepburn did the same honors.