The Tragic Death Of Dolly Parton's Baby Brother Days After His Birth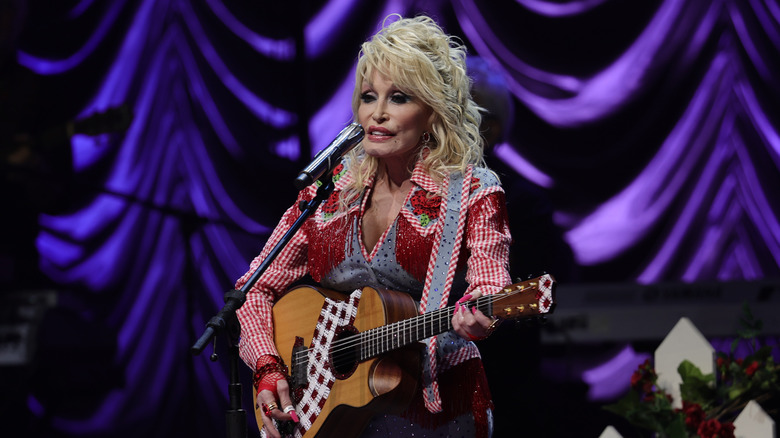 Michael Loccisano/Getty Images
In case you didn't know, Dolly Parton is from an extremely large family. With 11 siblings – six brothers and five sisters — there's no doubt that the country music icon grew up surrounded by people. However, one of Parton's brothers never got to grow up. Born in 1955, Larry Parton sadly died only four days after his birth, per People. He was buried at Angel Hill Cemetery in Sevierville, Tennessee. 
If he had lived, Larry would have been one of the youngest of his siblings. When Parton was born in 1946, she already had three older siblings: Willadeene, David, and Coy. Following her birth, Parton gained new siblings in 1948, 1949, 1951, and 1953 before the birth of Larry. After Larry's death, Parton's other siblings were born in 1957 and the youngest in 1959, meaning Larry would have been the third youngest. Parton was only 9 years old at the time of his death, but her baby brother seems to have had a profound impact on her.
Parton helped produce a film about her childhood including the death of Larry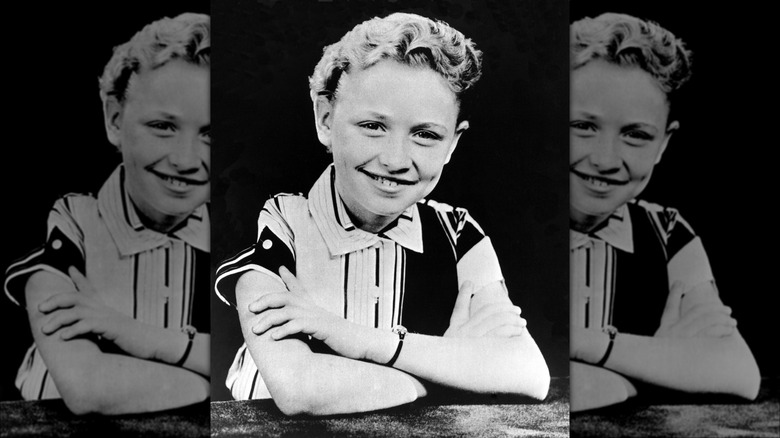 Michael Ochs Archives/Getty Images
In 2015, Dolly Parton served as the narrator and executive producer for a film called "Coat of Many Colors." Based on Parton's childhood and the struggles she and her family faced, including the death of her brother, it's named after Parton's 1971 song of the same name. As reported by Fox News, Parton told critics regarding the movie, "My mother, through the years, when we were born, since there were so many of us, used to say, 'This one is gonna be your baby.' That just meant that you got to take extra care of it. You have got to get up with it at night and rock it back and forth. This particular baby that passed away in the movie was my baby," she revealed.
Parton went on to say that she felt a lot of "heartache" over her brother's death and that bringing back the memories of her brother passing were painful. "All things are hard, but that is what makes your memories. That is what makes you who and what you are," she shared. The film did well in terms of viewers, with Variety reporting that 13.03 million people tuned in to watch Parton's ultimately heartwarming story.
Dolly Parton has spoken about her brother on several occasions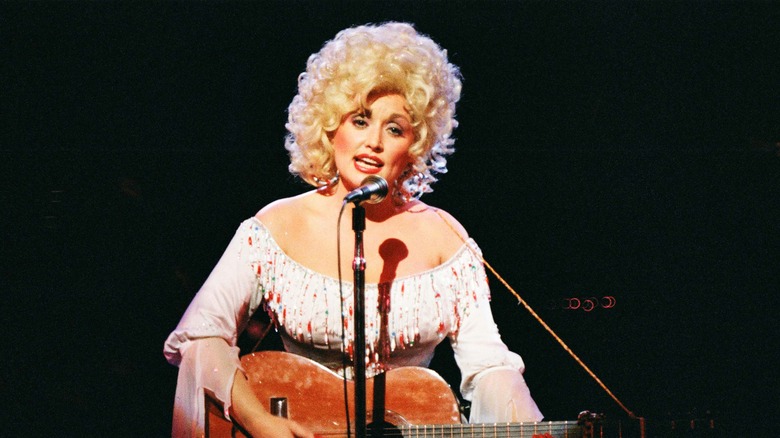 Pete Still/Getty Images
In the 2020 book "Dolly Parton, Songteller: My Life in Lyrics," Dolly Parton explained how she felt about her baby brother Larry dying. "I had planned and worked so hard to be ready for him, to be his "little mama." Then when he died, it just absolutely crushed me, crushed me," she wrote. "I still start crying when I think about little Larry. I was at a very vulnerable age. It was like I'd lost a baby of my own. Death was new to me at that time. I was trying so hard to deal with death, with sorrow, with grief ... so now when I sing songs like "Jeannie's Afraid of the Dark" or "Me and Little Andy," I always think of Larry and how he touched my life."
Also within the book, Parton explained what the lyrics of "Jeannie's Afraid of the Dark" meant. On the surface, the song is about a little girl who died and was afraid of the dark, but the deeper meaning is that children do die and often unexpectedly, like her brother Larry. Although Parton noted it didn't do well commercially, it was always popular when she played it at shows.