The Mystery Surrounding Michael Jackson's Final Meal And Last Hours Alive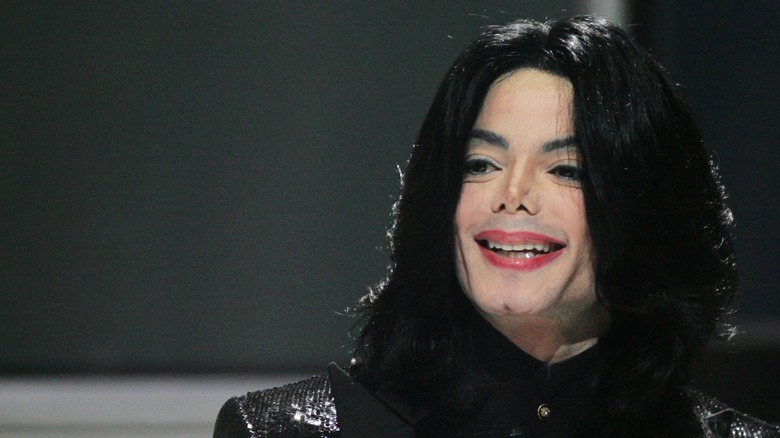 Dave Hogan/Getty Images
Michael Jackson remains one of the most popular entertainers in living memory — and one of the most controversial. Having won the world over as a child star, he became an icon in his own right as an adult performer with the release of such seminal albums as "Off The Wall," "Thriller," and "Bad." But his career eventually became overshadowed by his personal life, which included eccentric behavior, reported addiction, and child abuse allegations that besmirched his image in his later years. Indeed, though he remained a constant presence in the tabloids, he failed to perform publicly at all during the last decade of his life.
Despite living a turbulent life that often played out in public, Jackson's sudden death on June 25, 2009, was met with a wave of genuine shock. After decades spent making more disturbing tabloid headlines than hit songs, it seemed the entertainer was finally in a position to give his career the attention it deserved. Notably, he had signed on for a 50-night residency at London's prestigious O2 Arena to perform a comeback show titled "This Is It," a retrospective of his stellar career that promised to be an extravaganza. 
But Jackson's fans knew little of the extent of his health struggles at the time and the race he and his team faced to get him stage-ready. This involved managing the insomnia and drug dependency he had developed in his later years and eating a healthy diet. We can see this in the meals he ate during his final 24 hours, which have often been incorrectly reported.
A light lunch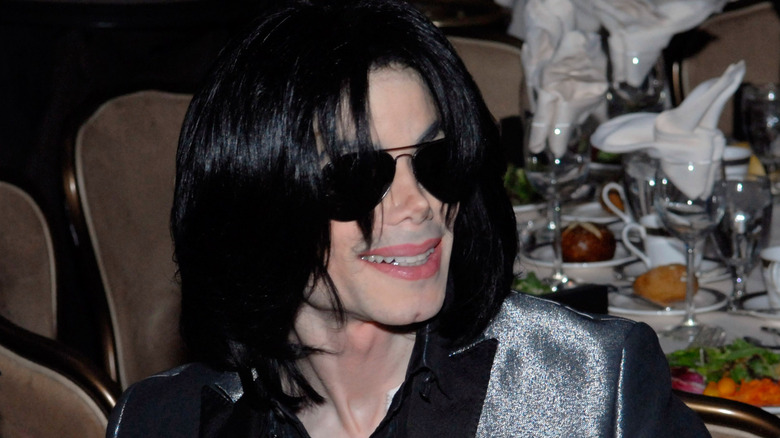 Dr. Billy Ingram/Getty Images
Michael Jackson's final meal at home came the day before his death — June 24, 2009 — with his family. Though the 'This Is It" residency was due to take place in London, rehearsals took place at the Staples Center in Los Angeles, just a short drive from Jackson's home on Carolwood Drive. He ate with his children, Prince, Paris, and Blanket, who lived at the house with him. The Jackson family had a personal chef, Kai Chase, who was charged with preparing healthy food for the star and his family. She recalled on "Larry King Live" that she would make three meals a day for Jackson, some of which he would take with him to rehearsals for "This Is It." If he was at home, Jackson would always eat his meals downstairs with the children. 
According to the Associated Press (via The Mercury News), Chase said the final meal Jackson ate with his children at their home was seared ahi tuna with organic salad, accompanied by a blend of carrot and orange juice. Some outlets claimed that Jackson had chicken and spinach salad, though it appears Chase's general recollections of the family's favorite meals were misreported as the specific meal he ate that day. Several outlets have also claimed erroneously that Jackson's meal with his family was his final. However, another witness claims that the star ate again before rehearsals on what would prove to be his last night alive.
A working dinner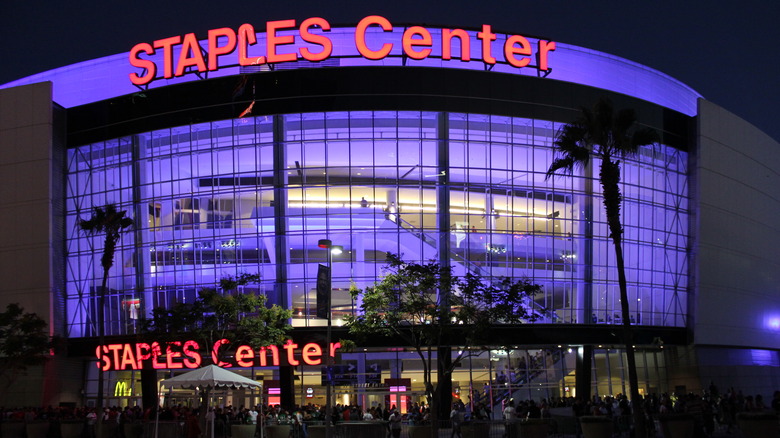 Stevezmina1/Getty Images
"This Is It" was, of course, planned to be one of the biggest live-stage shows imaginable. According to Randall Sullivan's "Untouchable: The Strange Life and Tragic Death of Michael Jackson," as well as showcasing Michael Jackson's incredible suite of hits, the show was to feature numerous eye-popping set pieces and 3D effects. And amid all this, Jackson was expected to be in peak form, singing and dancing at a level he hadn't accomplished for more than a decade. Sadly, Jackson had long suffered from chronic back pain, the result of an onstage accident in 1997. He had become dependent on pain medication, which at the time of "This Is It" affected his sleep patterns. The promoter, AEG Live, entrusted responsibility for Jackson's health to Dr. Conrad Murray, who came to administer prescription drugs to the pop star. 
At the same time, the production crew was concerned that Jackson seemed frail, especially considering the feats expected of him. He was encouraged to maintain a healthy diet to keep him in shape and energized throughout the arduous rehearsal schedule. Per the "Untouchable," one of those who worked closely with him in those final days was Ed Alonzo, an accomplished magician whose job was to mastermind large-scale feats of magic for the show. Alonzo claims that before rehearsals began on June 24, he saw Jackson eat what was likely his final meal: chicken and broccoli, which he finished at the Staples Center just before rehearsals began at 9 p.m.
Jackson's last rehearsal
The pressure on Michael Jackson to consistently deliver showstopping performances throughout his 50-night residency was immense. While he was undoubtedly motivated to give his fans the show they deserved, the singer was reportedly in dire financial straits, and he agreed to the shows to help rejuvenate his career, his reputation, and his bank balance. As such, early rehearsals were apparently tough. With the King of Pop still in poor health and struggling to get enough sleep, the production team was worried. Indeed, Jackson was a no-show for several rehearsals early on, and by the end of June, with the opening night of "This Is It" due to take place in London in just a few weeks' time, things had to start going right.
And according to various witnesses — including Ed Alonzo — that final rehearsal at the Los Angeles Staples Center was a great success. Jackson reportedly looked happier and in better health than he had at any rehearsal up to that point. The session went on until midnight and involved Jackson performing a full set of his hits, and by the end the team was convinced they were on the right track. Jackson was reportedly pleased, too, and thanked the team for a job well done. The night ended on an optimistic note — but tragically this was the last the team saw the King of Pop.
The King of Pop returns home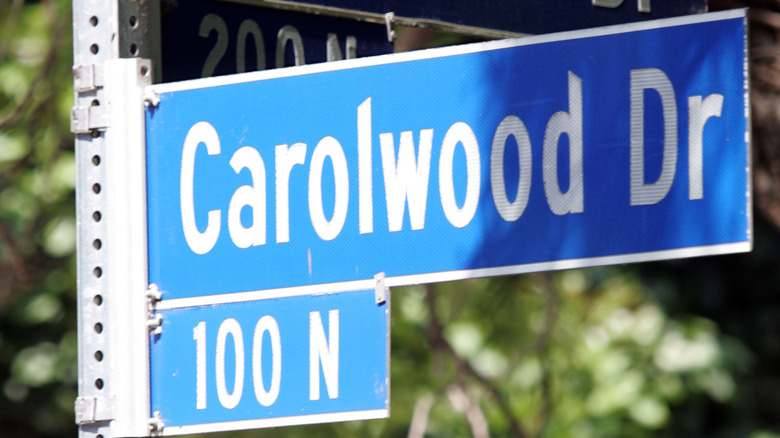 Ringo H.w. Chiu/Getty Images
Despite Michael Jackson's energy and enthusiasm during his final rehearsal, he still had issues to deal with at home, particularly when it came to getting sleep. And with the performer genuinely excited by the quality of the performance of "This Is It" that he had just run through, he had trouble calming himself at home, according to "Untouchable." Nevertheless, he reportedly went straight to bed, with Dr. Conrad Murray preparing medications that were intended to help the overworked star get the rest he so dearly needed for his comeback residency. Between 1:30 a.m. and 3 a.m., Murray gave Jackson three different sedatives: Valium, Ativan, and Versed, and administered later doses during the night when his insomnia persisted.
Disturbingly, it has been reported that Jackson's last request to Dr. Murray was for some "milk." However, this was no innocent bedtime drink. Instead, it is said that this was Jackson's nickname for propofol, the medication on which he had become dependent after developing chronic pain. "Untouchable" says Murray administered this at 10:40 a.m.
The death of Michael Jackson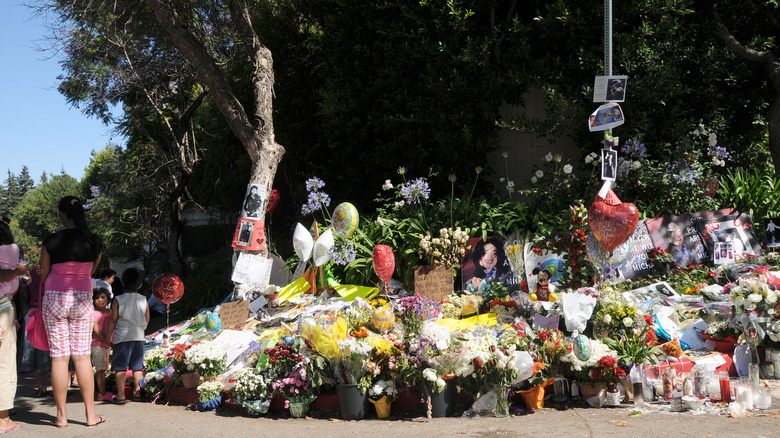 Barry King/Getty Images
In an interview with the Associated Press (via The Guardian), Kai Chase recalled the moment the next morning when she realized something was badly wrong. She was used to Dr. Conrad Murray coming downstairs around 9 or 9:30 a.m. to fetch Michael Jackson's breakfast — usually granola and juice — which he would take upstairs. However, on the morning of June 25, 2009, Murray was late. She originally thought that the King of Pop had overslept. But around lunchtime, Murray ran down the stairs screaming for Jackson's son, Prince. Soon, paramedics arrived and ran up to Jackson's room while the family gathered downstairs, where they began to pray. Chase was asked to leave the house while Jackson was taken to hospital.
Murray had left Jackson alone after giving him propofol and returned to find that he was not breathing. He attempted to resuscitate Jackson, who had suffered respiratory arrest, but was unable to revive him. Murray was later found guilty of involuntary manslaughter and sentenced to four years in prison. He served two.
If you or anyone you know needs help with addiction issues, help is available. Visit the Substance Abuse and Mental Health Services Administration website or contact SAMHSA's National Helpline at 1-800-662-HELP (4357).