What Happened To The Wailers After Bob Marley Died?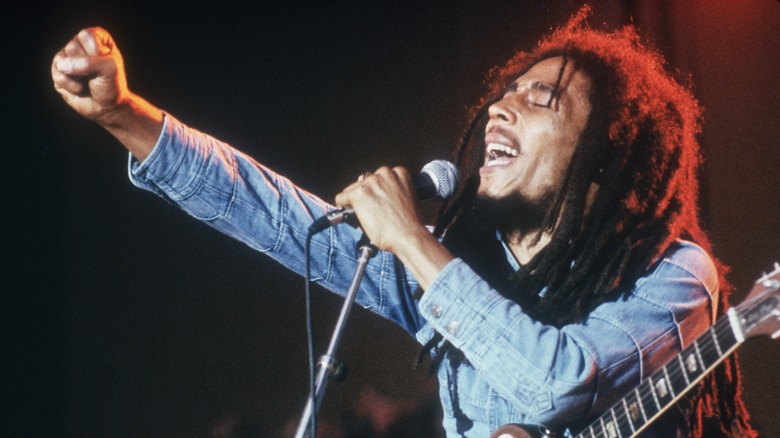 Hulton Archive/Getty Images
The late, great Bob Marley was more than just the most iconic reggae artist of all time — he virtually personified the genre. Before him, reggae was a purely Jamaican form, extremely limited in its global reach; after his rise to fame, it became a global phenomenon, making him the rising tide that lifted the boats of every reggae artist to come after him. As a songwriter, performer, and lyricist, he was simply extraordinary — but even though he was reggae's most recognizable and accomplished ambassador, he wasn't alone in elevating reggae from the slums of Trenchtown to the world stage.
Since Marley's first professional dabblings in music in 1963, he partnered with some of the greatest musicians to ever play reggae — and after cycling through a couple of early monikers, Marley's band became known as the Wailers. The band underwent several lineup changes even before Marley's death from cancer in 1981, and after his passing, virtually everyone who had ever been a Wailer had at least some degree of continued success either as a solo artist or with other outfits. Some lived to a ripe old age, more than one died tragically young, and some are still living today — and all of them, in their own ways, honored the legacy of the man who shined a light on their talents for the world to see.
Peter Tosh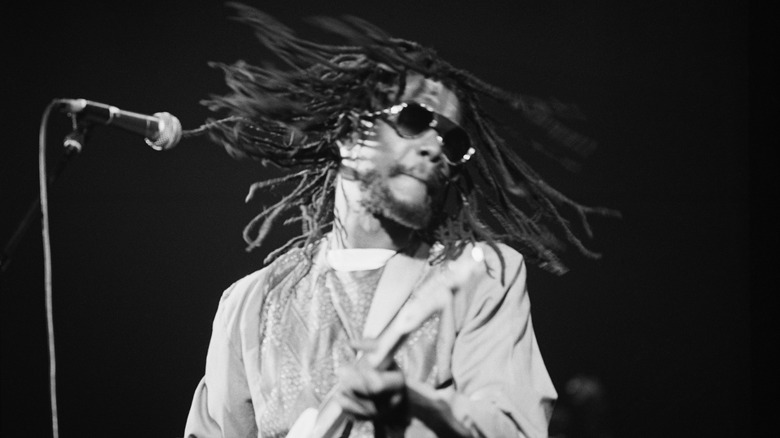 Fin Costello/Getty Images
Perhaps the most famous ex-Wailer, Peter Tosh co-founded the band, and helped to anchor them with his guitar and songwriting skills during their early years. His desire for a solo career and a tense relationship with Bob Marley forced him to quit the band in 1973, and in 1976, his solo album "Legalize It" — with its iconic cover featuring Tosh puffing down while standing in a literal field of ganja — became an international hit, eventually selling 1.5 million copies in the United States. Tosh continued his solo career both before and after Marley's passing, signing with the Rolling Stones' label and notching a couple of Hot 100 singles (including "Don't Look Back," a duet with Mick Jagger) — but as he was on the verge of breaking through to true stardom in the U.S., tragedy struck.
In September 1987, Dennis Lobban, a house guest of Tosh, returned to the musician's home with a group of friends after arguing with Tosh's girlfriend. He later claimed he hadn't actually planned to harm Tosh, but the situation went sideways, gunfire broke out — and when the smoke cleared, Tosh and two others were fatally wounded. Lobban was arrested and sentenced to death, though his sentence was commuted to life in prison in 1995. Just months after his death, in March 1988, Tosh was awarded a posthumous Grammy for Best Reggae Recording for his final album, "No Nuclear War."
Bunny Wailer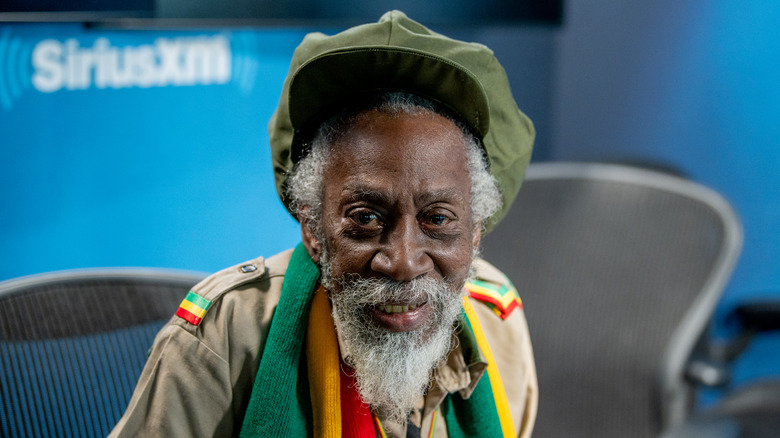 Roy Rochlin/Getty Images
Born Neville Livingston, Bunny Wailer — the only member of the band to christen himself as such — had been close with Bob Marley since the two were children. They were both teenage musicians under the tutelage of Joe Higgs, a Jamaican musician considered to be the "Godfather of Reggae," when they met Peter Tosh and took on several other members, including Franklin "Junior" Braithwaite and a pair of backing vocalists, to form the first iteration of the Wailers. 
Livingston also departed the band around the same time as Tosh, after the strain of their first international tour caused tensions within the band to come to a boiling point. Over the course of a quarter-century both before and after Marley's death, he recorded no fewer than 18 albums, scoring himself three Grammy awards (two of which were for Marley tribute albums). Since 2000, he had been retired from recording, although he had a difficult time staying off the stage. Asked about his legacy in a 2016 interview with Afropop, he said, "I would just like to keep on singing. That's my legacy. To be here to sing for you people, and to teach you people of what I've known by singing this music." In 2020, Livingston was hospitalized after suffering a stroke — his second — and he passed away in March 2021 at the age of 73.
Carlton Barrett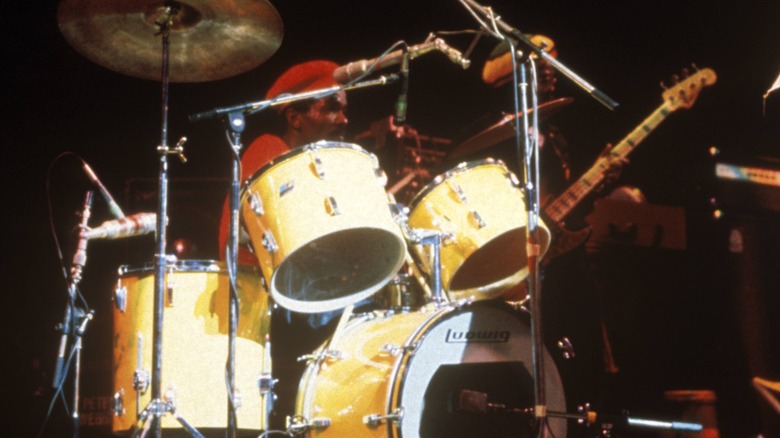 Estate Of Keith Morris/Getty Images
The Wailers were a simple vocal trio consisting of Bob Marley, Peter Tosh, and Bunny Wailer when they hooked up with the Barrett brothers — drummer Carlton and bassist Aston — in 1969. After cutting a few tunes together, the pair figured they had better go ahead and just join the band, for they were the rhythm section that the Wailers had been sorely lacking. Carlton Barrett played a simple five-piece kit, but his favored snare drum configuration — high tension on the head, with the snares partially disengaged — and his tendency to remove the bottom heads from his tom-toms lent his drums a wholly unique sound, authoritative and ringing, and his swaggering style served as a model for many a reggae percussionist who followed him.
The Barretts stuck with the Wailers through their mid-'70s lineup change, and after Marley's death, Carlton continued to play on the Jamaican dancehall circuit. In 1987, as he was arriving at his home in Kingston, he was shot dead — and, shockingly, his wife Albertine was arrested and charged with conspiring with two other men, one of whom she admitted to having an affair with, to carry out the crime. The case dragged on through the legal system for several years, and Albertine Barrett was eventually sentenced to seven years in prison for her role in planning the murder; after two trials and an appeal, charges against all three were thrown out by a jury in 1994.
Junior Braithwaite
Even though he left the band before the period of their greatest success, the credentials of Franklin "Junior" Braithwaite as a Wailer are unimpeachable. The fourth founding member of the group, Braithwaite lent his strong lead vocal to "It Hurts To Be Alone," the stellar follow-up to their breakthrough hit in Jamaica, "Simmer Down" (which featured Bob Marley on lead). Braithwaite appeared on dozens of early Wailers tracks produced by Coxsone Dodd, who presided over the boards for the legendary Jamaican record label Studio One — but despite his regular presence (and the contributions of backup vocalists Beverley Kelso and Cherry Smith), the Wailers were often billed as a trio, which may have something to do with why Braithwaite chose to relocate to the U.S. to pursue a medical career in the mid-'60s. 
Unfortunately, that didn't work out, and Braithwaite foundered in the United States. After Marley's death, he returned to Jamaica to take part in a new Wailers project, an LP titled "The Never Ending Wailers," with Bunny Wailer and Peter Tosh. That LP failed to set the world on fire, but Braithwaite was doggedly pursuing a return to reggae stardom when he was tragically murdered in 1999, at the home of a friend in Kingston who was apparently the target of a robbery. According to MTV News, Kingston Police spokesman Roland Layne said that Braithwaite was simply "in the wrong place at the wrong time" — a sad end to a man whose exclusion from the spotlight during the Wailers' glory years was perhaps undeserved.
Tyrone Downie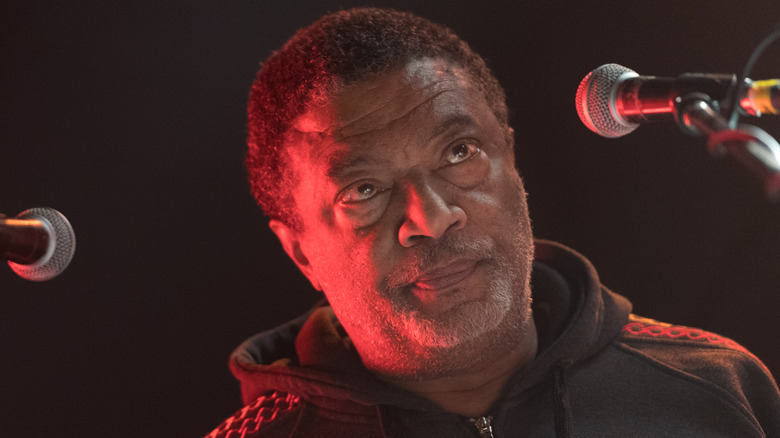 Roberto Ricciuti/Getty Images
Tyrone Downie was just a 17-year-old kid playing keyboards for various bands around Kingston in the early '70s when he was discovered by Lee Jaffe, a photographer who was documenting the rise of the reggae scene. Speaking with Variety, Jaffe called the youngster "mesmerizing ... it was evident to me that he was a prodigy." Jaffe insisted to Bob Marley that he check the kid out — and after observing his next gig, Marley promptly offered him a spot with the Wailers. 
As the decade went on, Downie exerted a powerful influence on the band's sound; with Marley, he co-wrote such classics as "Jammin'," "Exodus," and "Waiting in Vain." After Marley's death, Downie's talent made him a sought-after session performer, and the list of his collaborators reads like a who's-who of reggae giants — he performed with the likes of Burning Spear, Black Uhuru, Sly & Robbie, Beenie Man, and Steel Pulse, and recorded several albums with Bob Marley's son Ziggy and his outfit the Melody Makers. He even worked extensively with a laundry list of stars from other genres: pop songstress Deniece Williams, country superstar Kenny Chesney, singer-songwriter Ben Harper, and rock legends Talking Heads all enlisted his services over the years. In 2022, Downie passed away in a Kingston hospital after falling ill; he was only 66 years old.
Earl Lindo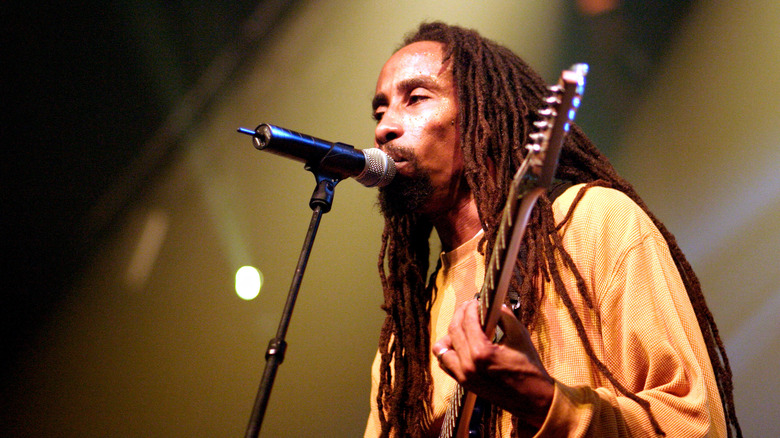 Roland Wagner/Getty Images
In the late '70s, the Wailers already had one extraordinary keyboard player in Tyrone Downie — but when Earl "Wya" Lindo, who had played with the band on their 1973 release "Burnin'," decided he wanted back into the fold, Bob Marley couldn't say no. Wya (from the Jamaican pronunciation of "wire," as Lindo was a skinny dude) had taken off in 1974 to play for Taj Mahal, but he rejoined the Wailers four years later to contribute his own special brand of keyboard magic, alongside Downie, to three of the band's most iconic LPs: 1978's "Babylon By Bus," 1979's "Survival," and 1980's "Uprising." 
After Marley's death, Wya remained with the Wailers — playing on several LPs for the incarnation of the outfit known as the Wailers Band — while carving out side work as a session player for the likes of Delroy Wilson, Alpha Blondy, and even the late, great singer-songwriter John Denver. Unfortunately, Wya struggled with drug addiction, and in 2017, he was admitted to a London hospital, where he died of heart failure at the age of 64. Speaking with the Jamaica Observer, Marcia Griffiths — a backing vocalist for the Wailers — had praise for his singular talent. "He had a signature sound ... He was the best musician," she said. "Bob Marley did love [his] sound, that's why he had two keyboard players, Tyrone Downie and Wya."
Aston Barrett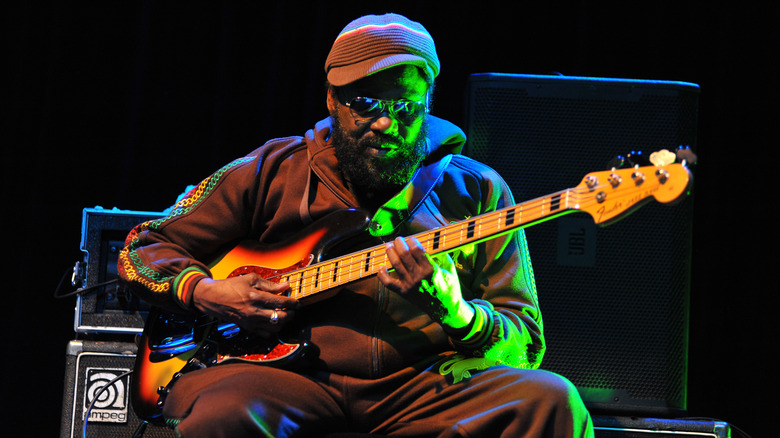 C Brandon/Getty Images
Reggae wouldn't be reggae without a strong rhythm section, and along with his brother Carlton on drums, bassist Aston Barrett laid the blueprint. His towering, ultra-clean, fluidly melodic bass anchored the Wailers' tunes throughout the '70s; he and Carlton played on all of the band's most iconic releases, and "Family Man," as he was known, was an important-enough piece of the unit that he eventually served as its musical director. Alongside Bob Marley, he was also its co-producer and audio engineer in the studio. 
After Marley's death, Barrett remained with the Wailers, continuing to anchor the unit even after the tragic death of his brother in 1987. On the side, he worked with Burning Spear, Ziggy Marley and the Melody Makers, reggae titan Lee "Scratch" Perry, and Bunny Wailer on his 1995 Grammy-winning effort "Hall of Fame: A Tribute to Bob Marley's 50th Anniversary." Barrett effectively retired from performing in 2019 due to health issues, but his legacy is more than secure; in 2020, he placed at No. 28 on Rolling Stone's Greatest Bassists of All Time, and in 2021, he was awarded the Order of Distinction by the Jamaican government.
Al Anderson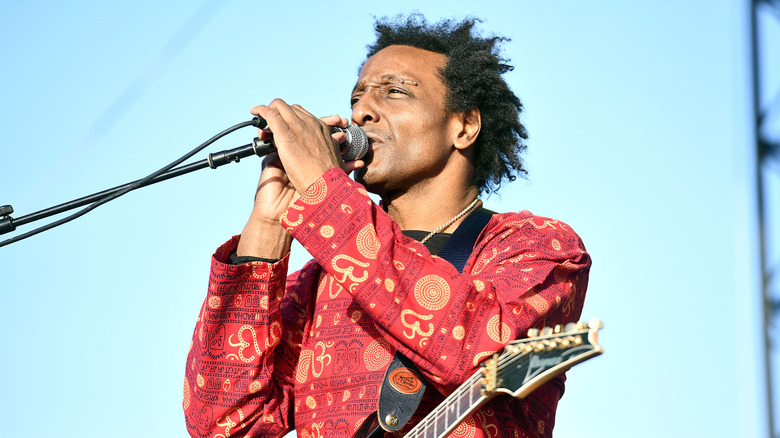 Scott Dudelson/Getty Images
American Al Anderson was a session guitarist for Island Records in the early '70s, with experience working with the likes of Aerosmith and Traffic, when he received a daunting appointment: He had been tapped to play lead guitar on the Wailers' album "Natty Dread," for which Bob Marley and producer Chris Blackwell were in search of a little international flavor to expand the band's sound. In a 2010 interview, Anderson revealed that with the tracks mostly finished, he showed up for what he called one of the hardest sessions of his career, a session during which he learned to orient his playing style — which leaned toward bluesy rock — to the context of each song. "I geared on what I heard and how [Marley] worded the song, where the emotion of the song was," he said. "It was a real tough session for me."
It was one that paid off. He went on to play on a number of classic Wailers records including "Survival" and "Uprising," and he remained with the band after Marley's death, accompanying them on a European tour alongside Black Uhuru. In 2008, after a falling out with Aston Barrett, he convened a band he called "The Original Wailers" — which, as he explained in the 2010 sitdown, refers more to the original spirit of Marley's music than to the band's membership, which in fact features no actual original Wailers. The band received a Grammy nod for its album "Miracle" in 2013, and continues to perform to this day.
Junior Marvin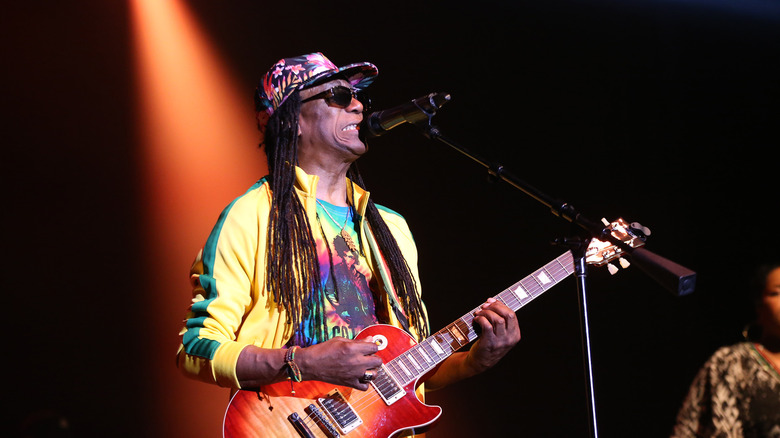 Al Pereira/Getty Images
Jamaica-born Londoner Junior Marvin joined the Wailers in 1977 at the behest of Island Records co-founder Chris Blackwell, after making his name as a session guitarist for the likes of Ike and Tina Turner, Traffic, and Billy Preston. As he explained in a 2016 Washington Post interview, the offer presented him with a near-impossible decision to make: "The same day that I got the call from Chris Blackwell, I also got a call from Stevie Wonder and I ended up having to choose one of the two," he said. "My family and friends advised me that because I was from Jamaica, I should really sign with the Jamaican."
Marvin played on the final four Wailers albums, and he stayed on with the band after its leader's passing. As he explained to the Post, "Before he passed, he told us to keep the Wailers together and by doing that you keep [him] alive through the music ... we tried to fulfill our promise to him and keep the music going." Marvin joined Al Anderson to form the Original Wailers in 2008, but soon departed to form his own version of the band known as the Legendary Wailers — meaning that, at present, there are three different iterations of the band, as Aston Barrett's Wailers also continue to be active.
Rita Marley
Jamie Mccarthy/Getty Images
It may not surprise you to learn that Bob Marley's wife Rita is known as the "First Lady of Reggae," and she has earned the title. As one-third of the I-Threes, the Wailers' backing vocal combo, she helped to lend an expansive, soulful sound to their recordings; the group was put together by Rita in 1974 in response to Peter Tosh and Bunny Wailer (and their distinctive harmony vocals) departing the band. In the wake of her husband's death, Rita was often consumed with handling the legal issues associated with his estate — but she found the time to continue on as a solo artist, making her debut with the 1981 LP "Who Knows It Feels It."
The same year, she garnered her first Grammy nomination for "Reggae Sunsplash '81: A Tribute to Bob Marley," a feat she repeated with her 1991 effort "We Must Carry On." In between, she helped to guide her son Ziggy Marley in his musical endeavors, which worked out pretty well; to date, he has recorded no fewer than 19 albums, taking home eight Grammy awards on 15 nominations. In a 2022 Guardian interview, Ziggy Marley acknowledged his mother's pivotal role in his father's life and career, saying simply, "Bob wouldn't be Bob without Rita." Rita Marley released her last studio album in 2004, and has essentially retired, performing live for the last time in 2012.
Marcia Griffiths and Judy Mowatt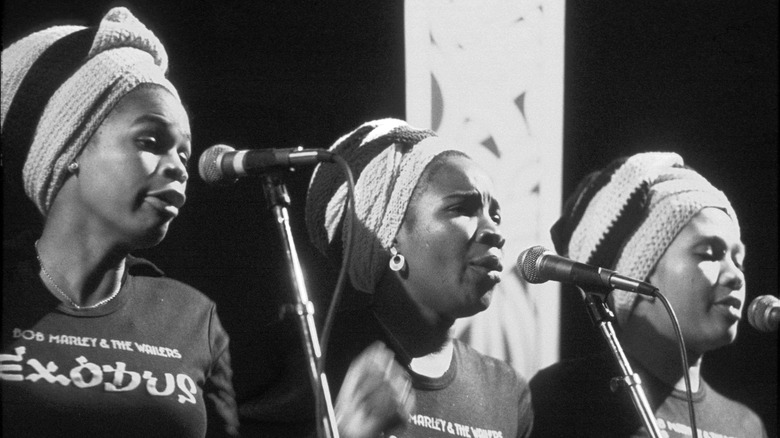 Graham Wiltshire/Getty Images
The other two voices in the I-Threes, Marcia Griffiths and Judy Mowatt, had both achieved a certain level of success before joining that fabled unit — Griffiths as a solo artist and as part of the duo Bob & Marcia with singer-songwriter Bob Andy, and Mowatt as lead singer of the reggae girl group the Gaylettes. Such was their level of clout that even after hooking up with Bob Marley, they were allowed to retain their autonomy, cutting solo records and working as a unit with artists including Peter Tosh and Big Youth — and so potent was their chemistry that after Marley's death, they continued to work sporadically together, releasing the LP "Beginning" in 1986 and reconvening in 1995 for the tribute album "Songs of Bob Marley."
Griffiths has continued to record and perform, releasing no fewer than 17 albums over the course of her six-decade career; her latest LP "Golden" dropped in 2023. Mowatt also remained active as a solo artist, releasing eight albums between 1980 and 2003; her 1985 effort "Working Wonders" picked up a Grammy nomination. In 1994, she became a convert to Christianity, with her 2002 studio album "Something Old, Something New" reflecting her newfound spirituality; today, she runs an outreach ministry.
Seeco Patterson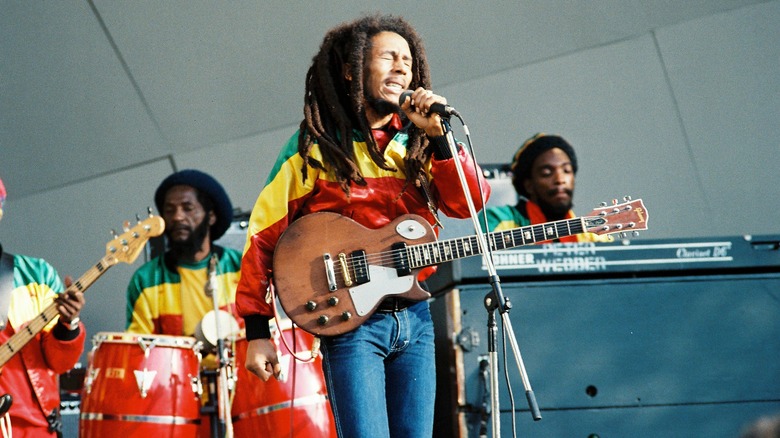 Pete Still/Getty Images
Alvin "Seeco" Patterson (pictured left) became acquainted with Bob Marley when the latter was just a teenager; 15 years Marley's senior, he developed a paternal attitude toward the young man, and he could hardly have played a more pivotal role in his journey. Patterson was the man who dragged the newly formed Wailers into Studio One for an audition, leading to the recording of "Simmer Down" — the outfit's first hit record. A miner by trade, Patterson was convinced to leave his dangerous profession behind as the Wailers grew in prominence, accepting an invitation to join the band as a percussionist.
When Peter Tosh and Bunny Wailer exited the band, Patterson's musical contributions grew, and he entrenched himself as a core member of the outfit, remaining so until Marley's death. Patterson was actually with Marley when the latter collapsed while jogging in New York's Central Park ahead of his first big U.S. tour, which led to his cancer diagnosis, and he stayed by his friend's side throughout his treatment. Patterson continued on with the Wailers after Marley's passing, but his musical career was cut short by a medical issue of his own — a 1990 brain hemorrhage, which prompted his near-complete retirement from music. Patterson passed away at the age of 90 in 2021.