Here's Who Inherited Leonard Bernstein's Money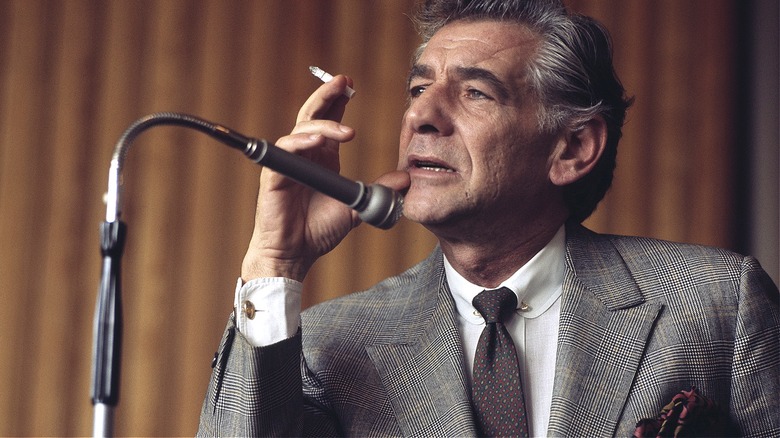 Peter King/Getty Images
By the time Leonard Bernstein died in 1990, he'd amassed a staggering multitude of awards and honors, including 22 honorary degrees, 13 decorations from global governments, 21 Grammys, 10 Emmys, 17 gold or platinum records, more arts awards than you can count, and much more, as the Leonard Bernstein Office shows. But as impressive as this is, Bernstein left something much more relevant than records of accolades: an imprint of his deep, abiding love of music on the American public. This was especially the case through his 53 Young People's Concerts televised from 1958 to 1972, which also made Bernstein the world's first media-age composer-superstar, as Classic FM notes.
At the time of his death, Bernstein was worth about $10 million (about $24 million currently, according to Celebrity Net Worth), a figure that couldn't begin to capture or describe his impact. His funeral was private, as The New York Times said at the time, while a public memorial concert at Carnegie Hall came later. Those two facts alone help compose a portrait of Bernstein's priorities, and the difference between his private and public life.
Simply put, Leonard Berstein's fortune went to those closest to him. As reported by the Los Angeles Times, Bernstein's three children equally inherited his estate, while three close friends — Schuyler G. Chapin; Harry J. Kraut; and Paul H. Epstein — were charged with administering the will's provisions. Bernstein also allocated $1 million to Spring Gate Corp., which managed his philanthropy.
What Bernstein left to his children and friends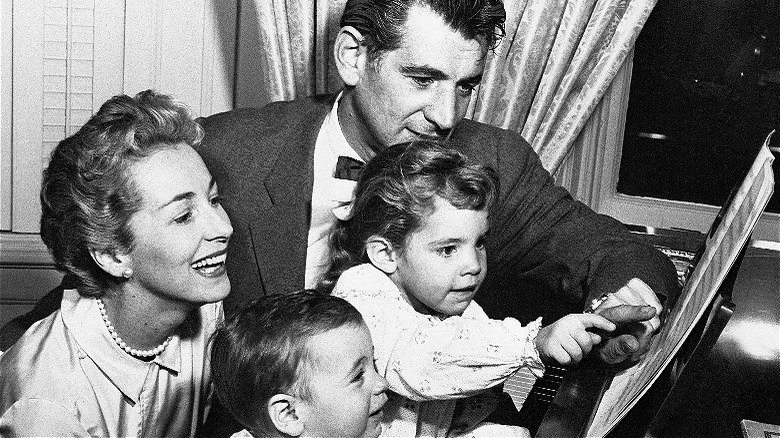 Bettmann/Getty Images
In its article, published on December 14, 1990, the LA Times provided a good overview of the distribution of Leonard Bernstein's fortune following the composer's death. It doesn't say what percentages of money his children received (only that it be equal among them), nor any details of wealth distribution, although the overall disbursement is well-organized and well-structured.
Bernstein also left up to 3% of his estate's value to the above-mentioned Schuyler G. Chapin, Harry J. Kraut, Paul H. Epstein. Each of those people doubled up as Bernstein's friends and business associates, and all three of them served as executors and trustees of Bernstein's will. The Times also says the will mentioned other people, but doesn't discuss any allocations of funds to them. Specifically, the will mentions Bernstein's secretary, Helen Coates, who at the time of Bernstein's death had already died, and Bernstein's housekeeper, Julia Vega, whom the will insisted be kept in the employment of Bernstein's estate.
As far as Bernstein's main inheritors are concerned — his three children — there's no mention of quantities of funds, but debating such information might be disrespectful, anyway. Bernstein's children — Jamie Bernstein, Alexander Bernstein, and Nina Bernstein Simmons — have gone on to develop careers in the arts, or else help in the maintenance of their father's legacy and estate, as the Leonard Bernstein Office describes. All three children came from Bernstein's marriage to Felicia Montealegre, who died in 1978 from lung cancer, 12 years before Bernstein's own death (per Biography).
A legacy of charities, events, and exhibitions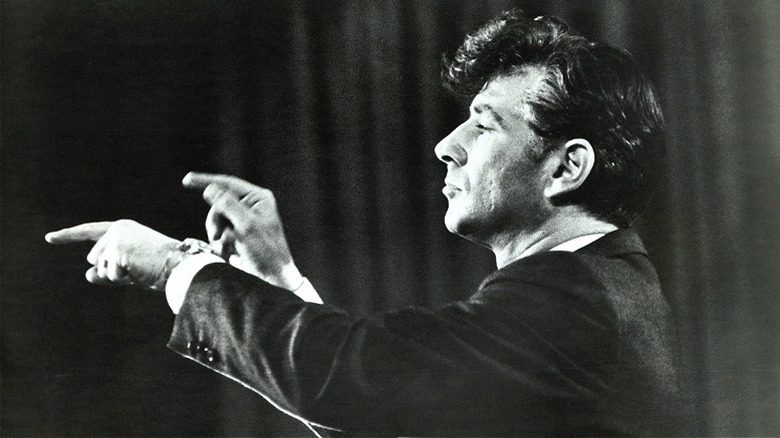 Bettmann/Getty Images
Beyond passing along funds to individual people, Leonard Bernstein worked to ensure that his estate used his wealth productively in charitable work and the promotion of music and art education. We mentioned that the Los Angeles Times cited Bernstein setting aside $1 million to go to Spring Gate Corp., an organization established in 1958 to not only handle Bernstein's charities, but the divvying up of his writings, manuscripts, notes, etc., to places like the Library of Congress (LOC). Judging by the over 400,000 items in the LOC's Leonard Bernstein collection, this must have been quite the task. In 1992, two years after Bernstein's death, The New York Times reported the composer's three, aforementioned trustees established the Leonard Bernstein Center for Education Through the Arts in Nashville, Tennessee, which would go on to become the research headquarters for Bernstein's Artful Learning model.
Besides the charitable and artistic organizations stemming directly from Leonard Bernstein's will, the decades since his death have seen concerts, events, and musical groups crop up in Bernstein's name. The New York Philharmonic, for instance — which Bernstein directed for 11 years — has its Leonard Bernstein Circle of musicians and events. While Bernstein didn't pass his money along to such organizations, it could easily be said they've inherited the fruits of Bernstein's labor. Along that note, Bernstein left us all his most prominent educational gift: his Young People's Concerts, every one of which is available to watch on YouTube.